Thursday March 1, 2007
On our way back from the beach last night I dinged the prop of our little 3 hp Mercury dinghy motor on a rock so we had to row back the quarter mile back to the boat. I thought I had just broken the little sheer pin that is supposed to give way in just such an eventuality. Usually it is a quick fix as you just have to take one cotter pin off and the prop falls off and you simply replace the sheer pin. Unfortunately, the last time the sheer pin broke I didn't have a spare so I cut up a soft cotter pin to the right size. However, when you hit something the cotter pin does not "sheer" and break but instead "bends" and so it embedded itself in the plastic hub of the prop preventing it from coming off. We wanted to leave early to start heading north but I had to fix this first. It required significant leverage and "mucho" struggle for over an hour to extract the prop without breaking it and have it still workable. This time, for the sheer pin I used an extra steel drill bit that I trimmed to the right size. The only problem is that it might be too strong and not sheer or bend but instead the prop might break. I will have to Casey and Amandah bring some down to me next month.
After the last minute repair and putting away the dinghy we said our final goodbyes to our many new friends, especially David and Judy on Deja Too, and departed Bahia Tenacatita. We have thoroughly enjoyed a great 24 days here. No doubt, we remember it fondly and yearn for it when we are back in Vancouver in a couple of years on a cold and wet February night.
The winds were light as forecast and so we made good time as we motored north into the usual swell. The swells were far enough apart that we were able to go up one side and down the other without pounding the boat. We made it into the protected waters of Bahia Chamela by 5 pm just as the usual afternoon winds picked up.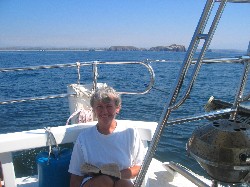 En route back north to Bahia Chemala.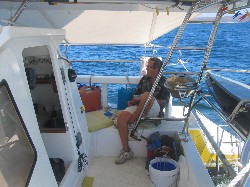 Relaxed captain enjoying a good passage,
the sunny day, and blue blue water.
As we pulled in we saw the familiar and friendly sight of Seascape and Sunny and Simon whom we hadn't seen in two months since La Paz, as they had headed up into the Sea of Cortez when we headed across to Mazatlan. We exchanged the usual stories and found out they were heading south on there way to Ecuador.
Friday March 2, 2007
We relaxed on the boat waiting for the winds to abate in hopefully two days. We met with Sunny and Simon and said our final good byes for a few years. We hope to meet up with them when they return back to Nanaimo down the road.
Saturday March 3, 2007
We spent another day in Bahia Chamela waiting for the weather window to open to round Cabo Corrientes. (C: There is an underwater canyon here over 10,000 feet deep, which generates big wave turbulence. Plus the headland itself causes big wind to build up quickly. Much like Cape Mendocino on the Northern California coast.) We went ashore for some groceries and then played in the surf for a little while in the average size waves but nothing like the big ones of four weeks ago. We went to sleep early as we had an early start ahead of us.
Sunday March 4, 2007
We woke up real early, like 4 am, to get a head start on the 55 mile leg to Ipala. The wind was calm but we motored into the big swells that had been generated by the strong north winds in the upper Sea of Cortez. As we headed north we were surprised that our speed was showing 6.5 knots which meant there was 1 to 2 knot current helping us along. With this aid we decided to miss Ipala and head a further 30 miles north, rounding Cabo Corrientes, to reach Punta Mita on the northernmost end of Banderas Bay (Puerto Vallarta is inside that 15-mile wide bay).
The wind blew very lightly from the south west and though the rollers were now 8 to 10 feet as we got to Cabo Corrientes it wasn't too bad. Some our friends came though here the next day and had 25 knot winds and very steep seas so we were very fortunate.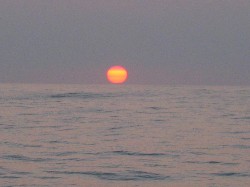 A big bold tropical sun sets on calm
waters for our peaceful passage to Punta Mita.
We finally arrived at Punta Mita at 9 pm happy that we had a successful 85 mile run along a stretch of the coast which can be quite rough.
Monday March 5, 2007
Because of all our hard work yesterday, we gave ourselves a day off and went 5 miles to the bird and marine sanctuary at Islas Marietas. These islands are in the north western entrance to the Banderas Bay and are often visited by the various charter boats from the hotel strip in Puerto Vallarta.
We got there early and carefully approached the rock infested shore, happily finding a satisfactory anchoring spot even though it was a little rolly with the swells that wrapped around the ends of the islands.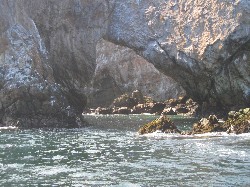 Anchored in rolly roadstead off one of the
Islas Marietas. We donned our Lycra wet suits
and snorkeling gear and swam closer to the
cliffs and rocks to snorkel and free-dive
with the fishies.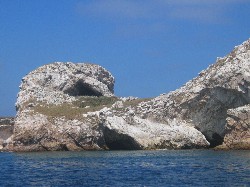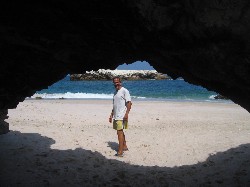 After dinghying over to a more hospitable
snorkeling beach, we walked through this
tunnel in the rock to the open beach on
the other side. Makes a good picture,
doesn't it?
We did two big snorkeling and dive expeditions. The one in the afternoon was the best as went to a protected cove which had the clearest water we had seen since our time in the Sea of Cortez in December. The most fun we had is when we would dive 15 feet and then hold onto a rock at the bottom and just wait there for 20 seconds as the fish come to examine you. It was just like being in the animated underwater movie "Finding Nemo." This has become a standing joke on the our diving trips these days am as we say, "Wow! Just like in 'Finding Nemo'".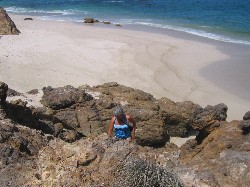 Carllie climbing down the rocks to the
outside beach at Islas Marietas.

Blue-footed boobie. Oops! I mean
Carllie (that's me) getting ready to
brave unknown waters at Islas Mariettas
to snorkel with the fishies.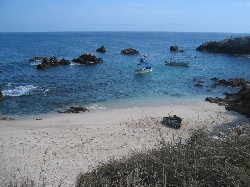 Looking out at the rocky reef-strewn
bay where we snorkeled (best places are
among rocks and reefs) at Islas Marietas.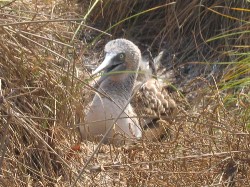 Our first sight of a nesting Blue-Footed
Boobie. We couldn't see her feet, so did
not realize until we visited Isla Isabella later
that this was in fact a Blue-Footed Boobie.
They are very different looking from the
Yellow-Footed Boobies, much prettier
we think.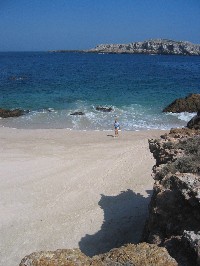 Carllie on the beach open to the
channel between the islands, which
is strewn with dangerous shoals and reefs.
No passageway.
Tuesday March 6, 2007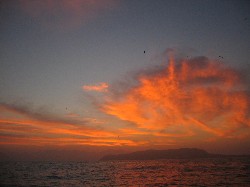 Sunrise at Islas Marietas, getting ready
to leave for our next leg north to San Blas.
It was another 4 am wakeup call so we could get another early start on our next leg north. By 5:30 we were motoring away from our noisy anchorage here. All the gulls, boobie birds, and frigate birds are making noise 24/7 here in their bird paradise.
Carllie: In fact, those lovely birds made sleep all but impossible. Thank goodness at the next rookery, Isla Isabella, while there were thousands of birds, many more than at the Marietas, they were much quieter, and quietened right down at night.
Garett: As we rounded Punta Mita and exited Banderas Bay and Puerto Vallarta we had another one of those fantastic sunrises. We had 55 miles to go so we pulled up the anchor and motored away. We continued to come across many big sea turtles now with a new twist as we kept seeing boobie birds perched on top of their shells using them as a very own personal island. On this leg, we must have seen 50 to 100 sea turtles swimming slowly along in the current.
By 1 pm the wind had come up from the northwest and we were able to sail the last 20 miles to San Blas. With two miles to go , just entering Mantanchen Bay off San Blas, we began seeing these disturbances in the water made by some type of under water creature. There were a couple of them off to port but about 100 feet off so we couldn't make it out. Then all of a sudden there was one of these creatures right in front of us. As we came right alongside, I thought it was a big manta ray covered in white spots. We missed it by just inches as we were sailing at 5 knots and I couldn't slow the boat down. When we were right next to it we realized it was a huge whale shark which we had heard about but never seen before. These very docile plankton eaters are 20 to 45 feet long and move very very slowly. They are big like a whale but they aren't mammals so they don't have the characteristic air hole on the top of their head, and a big shark tail fin waves back moving them through the water at 1-2 knots. Supposedly if you are in the water and one comes by (and you don't have a heart attack) you can actually swim up them and touch them. I can hardly wait. (Carllie: I can, wait that is. I have also heard that you can grab their dorsal fin and they will carry you along with them. No thanks. Their mouths are a big rectangular gash 2-3 feet wide, for swallowing plankton. Yes it would be very scary to encounter one while snorkeling, even though we know they are, if not benevolent as they don't have the brain capacity for that, not malevolent.)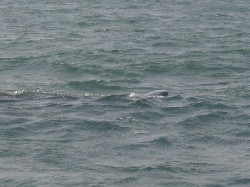 A very poor picture of a whale shark.
We arrived in calm Mantanchan Bay next to San Blas at 5 pm. No sooner than we had the anchor down we were being swarmed by the no-see-um biting gnats (C: the Mexican folks call these pint sized monsters jene-jene, pronounced he' nay he' nay) which the area is known for. After about 20 minutes we realized that this wasn't going to be much fun so we moved the boat about a half mile farther out from shore.
Two friends which we had met at Tenacatita, Robin and Rob, on the trimaran, Drue Ann, who were anchored nearby came over and asked if we wanted to share a panga to go up the escorted jungle river cruise up to Tovara Springs tomorrow morning. We had missed this excursion on our way down through here back in January so we jumped at the chance.
The day ended with another beautiful sunset.

Another beautiful sunset at Manchanten Bay,
off San Blas, where the no-see-ums reign.
Wednesday March 7, 2007
After a restless night fighting the bugs we made it to the beach for 9 am to meet Rob and Robin. After s short walk up the road we came to the launching area. The price was a very reasonable 110 pesos ($11 USD) per person for the 4 hour trip. Our local guide Jesus took us up the winding river not unlike the river in Tenacatita but a little wider. Robin rode up in the bow with her high speed camera, then Rob, and Carllie and I in the back seats. The wildlife we saw was truly something. There were large white herons, snowy egrets, a bird that had the body shape of a heron but the head and beak of a vulture, a lizard bird that looked like an iguana and blended in perfectly with the branch it was sitting on, a weird looking bird with a flat beak like a duck but very different. Jesus would identify each type in Spanish but unfortunately we could not remember them. We will have to get a good bird book to get their names.

Rob and Robin from the trimaran Drue Ann
shared this wonderful truly jungle ride with us.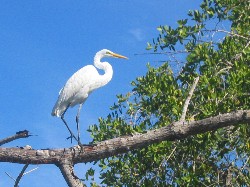 White heron.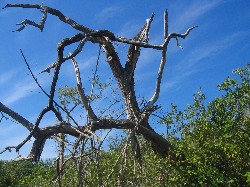 Weird tree.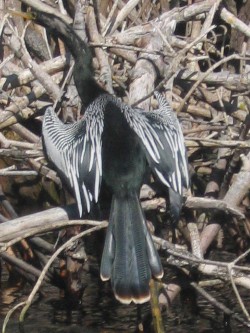 This beautiful bird spread its wings to put
on quite a show. Our elderly but keen-eyed
guide Jesus gave us all of the Spanish names of
the creatures we saw, but sorry we had no notebook!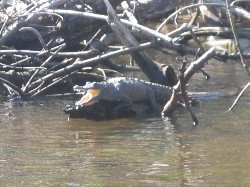 Well, we know what this is. It's a small
crocodile, cocodrilo in Spanish. The first of many
but they got bigger as we proceeded up the
river.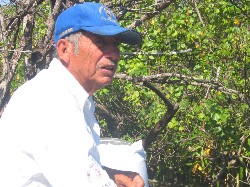 Our very knowledgeable and kind guide,
Jesus, whose keen eyes picked up everything.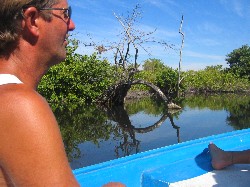 Rob enjoying our jungle ride.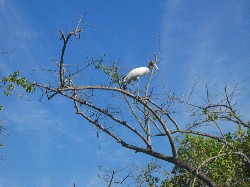 Another unusual bird in this jungle.
The heron that had the beak of a vulture.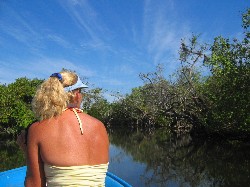 Robin was our mascot. Her unmitigated
enthusiasm made us laugh, though she
scared some of the turtles away!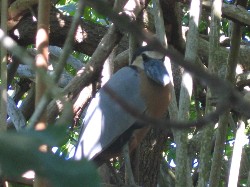 If you look very closely, you will see a very unusual
duck-billed type of bird facing you. The bill is
dark blue, long and flat.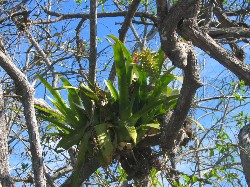 Air plants growing high in the trees.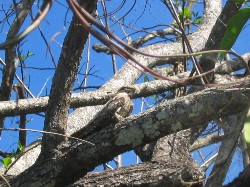 This is the lizard-type bird that Jesus spotted
from midstream, don't ask us how, as the bird
blended right in with the branches. It sleeps
during the day and hunts at night. Big legs and
feet, plus head, more like a lizard than a bird.
As we went farther up the river we started to see cocodrillos (crocodiles) of increasing size and many river turtles (about a foot across). About three-quarters of the way up, Rob yelled out a "Crocodile to starboard!" as we zoomed past an opening in the marsh to the right. Jesus quickly went into reverse and backed us up twenty yards and there he was. It was probably a 10 feet long. We got some great pictures. After that Robin kept calling out to all the birds that were floating on the water, "Fly away! Don't just sit there!".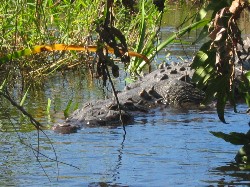 Okay, now we are getting to the BIG crocodiles.
This guy wasn't the least bit concerned that Jesus
edged the (thankfully big strong) panga right
up next to him. In a flash he could have thrown
open his jaws and lunged, but we would have
been safe in our sturdy fibreglass panga.
After 45 minutes we reached the "Cocodrilleria" which is a crocodile enhancement area which hatches them and protect or nourish other wildlife to release into the wild. We walked around the pens and pools and got some real close ups of the crocodiles. They have these amazing teeth.

Big turtles bask in the sun. If she saw
a small duck or turtle in the water, Robin
kept saying, "Get OUT of the water!"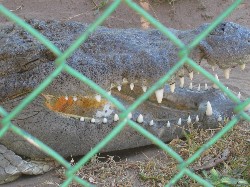 At the cocodorillia (crocodile farm), there are
several fenced areas separating groups of 2-3
crocodiles. This guy is very old, as evidenced
by the big rounded snout, and the worn leather
barbs down his body.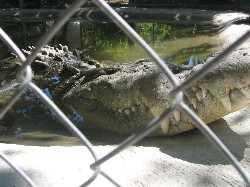 Close-up view of the oldest crocodile there.
Very big, and likely very agile still.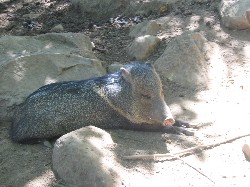 This cute little wild pig was in one of the
cages. Don't worry: they don't feed them to
the crocs. We figure they save wildlife
that has been abandoned in infancy.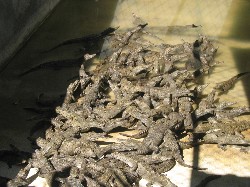 Hundreds of baby crocs ensure there are
lots to raise and release into the river, to
keep down the population of invading gringos!
We then backtracked a bit down the river and went up to Tovara Springs which is the source of the water for this river lagoon system and also the town of San Blas. The springs form a big swimming pool which has a small palapa restaurant. We all dove into the crystal clear fresh water which was a true joy after being in all the salt water for so many months. We swam around and took turns swinging off the rope that sent you out over the pool. Even Carllie, the brave one, tried it. We then had a quick lunch and then we were off back down the river. It was a great day shared with some new friends in Rob and Robin.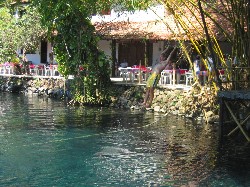 Garett swinging into the crystal clear water at
Tovara Springs. It was great to swim in fresh
water for a change. Very refreshing.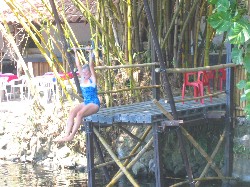 Carllie goes for it! I'm getting braver, folks!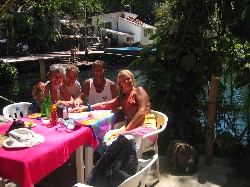 Lunch at Tovara Springs with good friends
Rob and Robin.
Carllie's version: Today was a banner day for the crew of catamaran Light Wave. We were to meet Rob and Robin, of the tri Drue Ann, at 9 a.m. on the beach of Matanchen Bay to share the cost of a panga for the lagoon jungle trip to San Cristoval Creek. Due to failing to put our clocks back one hour when we left Islas Mariettas (the time zone is actually between Puerto Nuevo and Puerto Vallarta, a few miles from each other at the head of Banderas Bay), we got up at 6 a.m. instead of 7, as planned. It was pretty hard to haul myself out of bed this morning as those pesky no-see-ums had landed on us like an invading army Iraq when we arrived just at dusk the night before, necessitating burning incense all the muggy night long. Once we got going and then discovered we had an extra hour, we enjoyed a more leisurely start to our exciting day of adventure. (Later we discovered the local custom of burning dried coconut husks. The smoke helps to keep off the jene jene, but it's outside on our barbecue, while we suffered in the heat inside with our incense!)
Garett and I had missed this jungle ride the last time we were in San Blas on our way south in January, and as we have in our money conservation efforts taken few trips, we were looking forward to this one. We were not disappointed.
The panga was the big sturdy open fiberglass boats pretty well all Mexican fishermen use, converted to a tour boat with the installation of 4 or 5 bench seats, beam to beam. Jesus, our rather elderly but very experienced driver guide with very sharp eyes, sat at the stern at the big Yamaha engine. Unlike the pangas that take tourists on the jungle ride at Bahia Tenacatita, Jesus kept slow steady pace, and within a couple of hundred yards he pointed out our first crocodrilo. This one was pretty small, but still it was exciting as it was our first. As we slowly made our way up the river lagoon, Jesus spotted several more crocodiles, of varying sizes, as well as large tortugas (turtles), and many different species of jungle birds. One was an amazing small lizard-like bird crouched on a branch and camouflaged to blend right in. It was so reptilian in color and shape, and even in the shape and size of its legs, that we were astounded. Jesus was able to edge the panga right into the tree so we all got pretty close-up views of this creature, as it was sleeping. Our well-informed guided told us this bird sleeps during the day, like a lizard, and hunts at night.
Jesus took us up one branch of the river leading to the cocodrilleria (crocodile farm). Here we saw huge crocodiles covered with their tyrannosaurus rex-type spiny protrusions, lethal teeth interlocking in their long, long, curved, and seemingly smiling jaws. Boy oh boy! You would not want to be swimming in this river, let me tell you. The crocodriloria also appears to be a quasi-zoo, as in other pens we found lovely large-eyed deer very similar to those we have in Canada, a small wild boar, raccoons housed with a very different anteater-like creature whose name we have not noted. The big crocs are housed two to a big enclosure with a pool in each. They just lie there, totally relaxed, but if you make the mistake of poking at them or disturbing them, SNAP!, suddenly those huge jaws burst open with a big hiss and it lunges. Never underestimate a dozing crocodile. Eventually, we found the fruits of the crocodriloria, two big pens filled with hundreds of baby crocs. Some had obviously just hatched while others were a few weeks (or months?) old and a little bigger. Being unable to read the whole information sign, nor having the time to attempt it, we took photos of it for future transcription efforts. But we gather the purpose of the crocodriloria is to revive the crocodile population. To what end, we are not sure. Perhaps to reduce the ranks of obnoxious gringos?
Garett: After getting back to the boat we motored the 4 miles over to the main river estuary that leads up to the town of San Blas where we had been back in January. On the way there we came across the same group of big 20 foot whale sharks. Since we were motoring we were able to cruise around them while they meandered through the plankton patches. They have these great big mouths, maybe 3 feet across, and they sort of hoover in the water and then sift it up. They are amazing creatures.
After anchoring in the estuary we went to town and did the money exchange thing as well as grocery shopping. Rob and Robin had told us that there might be some live entertainment at the Wala Wala Restaurant. We got there for a very reasonably priced dinner of camarones con ajo (prawns with garlic) and listened to Lou, from Nebraska, who played excellent trumpet, blues style, and sang some of the good old songs very well (Mack the Knife, and others). He was later joined by David, a fantastic blues harmonica player. They played many songs we know and liked like, Bill Bailey, Johnson's Rag, and many others. When they had a break, two local Mexican fellas who had been playing guitar together for 40 years, Carlos and Manuel, played some amazing music on Spanish guitars. (C: Carlos actually trained Manuel. Carlos plays original flaminco style, very dramatic base, while Manuel plays the very intricate Spanish guitar style we all recognize, involving very quick string plucking.) It was the best music we had ever heard especially their rendition of Ghost Riders. Periodically Lou would join in for some impromptu jamming. It was an amazing sound of the guitars with the trumpet.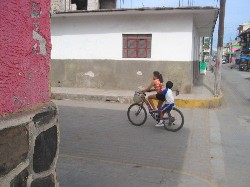 Lots of cyclists in San Blas! Here are a
few pics.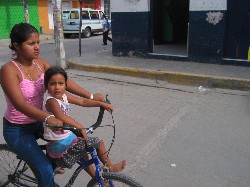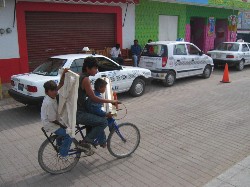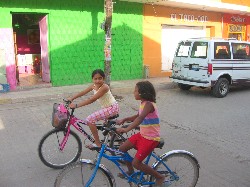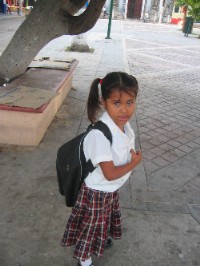 This is Gladys, a San Blas schoolgirl,
in her lovely uniform. It would be nice
if our schoolgirls, little and big, looked
so innocent in their school uniforms.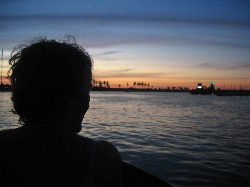 Enjoying sunset inspite of the no-see-ums
at San Blas.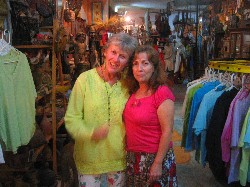 Cha Cha with her great dress and gift
shop in San Blas. Cha Cha also helped me
with my Spanish. Nice lady.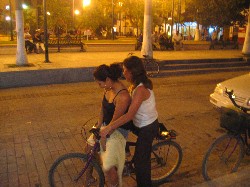 More cyclists!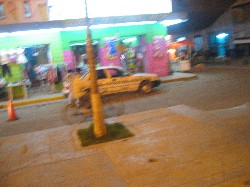 Night scene at San Blas.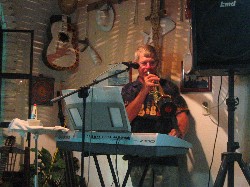 Lou, the fabulous trumpeter, who also played
a keyboard simultaneously. He sounded
like Louis Armstrong.
We made it back through the bugs back to the boat by 11 pm. Rob and Robin told us they were trying to arrange an inland trip up into the mountains to this beautiful waterfall and swimming hole for Friday and asked if we wanted to go. We jumped at the opportunity. This was great as it gave us all of tomorrow to work on our writing projects.
Thursday March 8, 2007
I spent the mornikng writing the web update, then Carllie worked on her next article. While she wrote I went into town to do the rest of our grocery shopping.
On the final walk back to the dinghy dock the purified water truck came by and so I made arrangements to buy two 5 gallon jugs. I quickly loaded them onto the boat as I had to return them the driver pronto. When I got to the boat I lifted the containers up onto the deck while Carllie got our small containers out. I then got out onto the transom. The only problem was that I forgot to tie the dinghy to Light Wave! When I saw it drifting away in the river current I had only a split second to decide if I could jump and grab it without falling into the river. I went for it and "partially" made it. Everything above my right shin made it but I scraped my right shin pretty good on the gunwale of the dinghy and both my feet were in the water. Lesson: don't rush and always, always tie the dinghy up first!
Rob and Robin confirmed that the trip to waterfall was on and that we had to be at the town plaza for 8 am the next day.
Friday March 9, 2007
We were up at 6 am and showed up the town plaza at 8 am. I thought it would be just six of us, Rob and Robin, Gary and Li, and ourselves but Rob had actually arranged is for an eight passenger van that was borrowed from the owner of the San Blas Social Club and restaurant. It turned out there were 13 of us for the trip. (C: The van was huge and they added some white plastic lawn chairs in the back for the extra people.) The other seven people were non boaters visiting the area. There was a young couple from Holland, Alette and Mes, Dano, who drove and actually knew the owner of the van and had borrowed the van, Dano's wife Sarah, Bob from New Mexico and his 14-year-old daughter, Starlight, Dave the blues harmonic player from the other night, and finally Li (pronounced Lee) and Gary from a cruising couple on a boat from Galiano Island.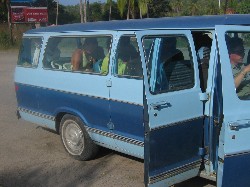 The big van ready to take us on inland trip
to the mountain waterfall and swimming hole.
We all piled into the van with four extra plastic chairs added to the back so we could fit everyone in. Rob didn't quite remember the way there as he had hiked the 15 miles there on back trails and Dano had been there about 8 years ago before many of the roads were paved and so with an old map we were off to waterfall at El Cora ("el cascada Del Cora"). There was bit of debate on which way to go but eventually we found on ourselves on the little spur road that lead the final 5 miles to the town of El Cora. We bounced our way through large tracts of mangrove orchards with a background of friendly chatter as we all got to know each other. Many of these orchards were newly planted with mango trees as the big hurricane of 2003 had wiped out almost all the palms and bananas. Prior to the Spaniards arriving, this area was beautiful forests of hardwood mahogany which was cut down by the invaders with much of it ending up in San Francisco.

Happy travelers getting to know each
other en route to cascada del Cora.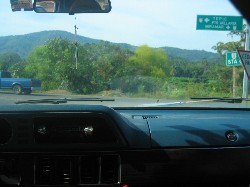 Garett likes taking pictures.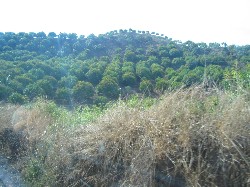 Newly planted mango trees in plantation
that prior to hurricane of 2003 contained
banana and coconut palms.
We finally arrived at the dead end of the road at the town of El Cora. Nobody remembered where to go from here so we got some directions from a local and then actually founds some signs.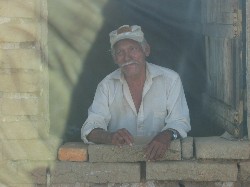 Local in El Cora.
We then were on rough dirt track for a couple of miles until we got to a small parking area. There was a small palapa that provided shade while we changed shoes and stuff. We then started walking.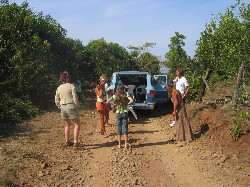 Walking the final bit to the
mountain ravine where we will walk
down to the base of the waterfall.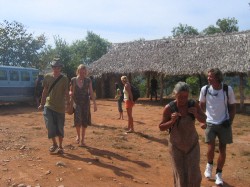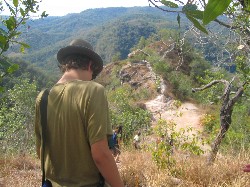 Starting the steep trek down.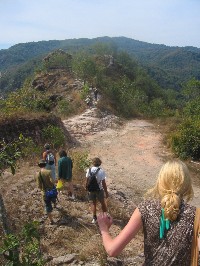 It was so steep that two of the women
who are afraid of heights had to be
helped along.
I didn't know what to expect as we started walking on a trail that was on this mountain ridge. It looked like something out of Tibet or Thailand more than Mexico as we passed a few bamboo lookout stations. We then got our first view of the falls.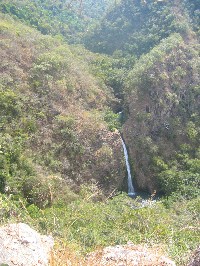 First view of waterfall. It gets better…
They were way down in the ravine! Somehow I though that we would be walking "up" to the falls. Nope, we had to now descend this very steep twisting path for about a mile descending about three hundred vertical feet. A few of the ladies were a little scared of heights were a little nervous as we made our way down. Finally reached the bottom and opening before us with a picture perfect swimming hole about hundred feet across and a small waterfall falling about 150 feet down from the cliff. We all quickly got in for our first swim and dives into the refreshing cool non-salt water.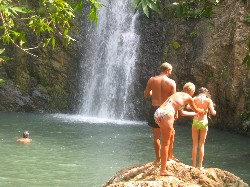 Carllie in the water while Rob and Robin
follow very enthusiastic 14-year-old,
Starlight.

Starlight gets back in the water:
she just won't let you get out once
you get in! Garett takes a dive.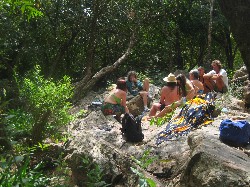 A happy group of explorers relaxing
on the warm rocks after a swim in the cool
mountain spring fed pool.
After swimming, we all gathered around and had our lunches on the sunning rocks and talked about everything under the sun. As time wore on we realized that people had becoming to this special place for thousands of years. It was very thought provoking. A few of us, Carllie, Rob, Robin, Mes, and I followed the creek that emptied the swimming hole. The creek lead to a second waterfall which filled another smaller swimming hole. We scrambled down along side the second waterfall. The lava rocks were actually smooth from the thousands of people climbing down them for thousands of years. (C: No doubt in an earlier age, these fresh water pools were essential to the existence of the people.) At the second pool the trail lead to yet a third waterfall and we followed this down to a bigger final pond. Robin, who has done a lot of traveling to Fiji and Asia and who had been to many of these remote waterfalls, said that these waterfalls were the most beautiful she had ever seen.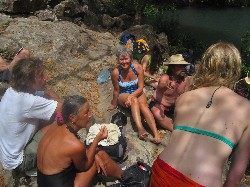 Carllie and friends relaxing at the waterfall pool.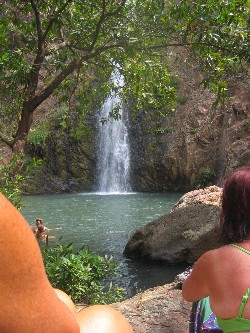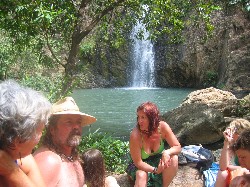 We heard many philosophical observations, and
learned about the Rainbow Tribe that organizes
gathering of like-minded people not cut of the
prescribed mold of acquisition.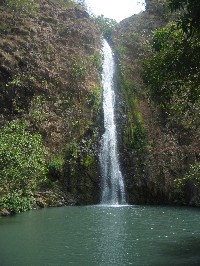 The fresh water was great, and very
invigorating to swim in. Really, it
wasn't all THAT cold!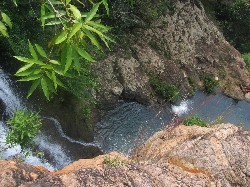 Photo looking down into the final pool. Garett
said it was a relatively easy climb down, but
I am glad I didn't try.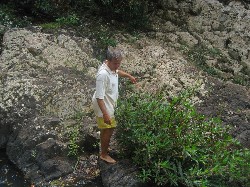 Garett, the fearless and enthusiastic
explorer.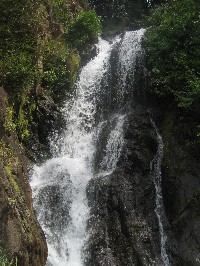 Looking up at the second fall.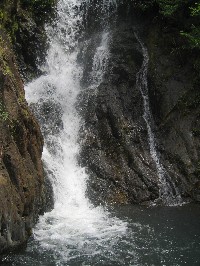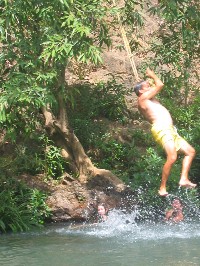 We found a rope to do Tarzan swings out and
into the pool. Carllie did it twice. Garett
about five times. Starlight wouldn't
let us go!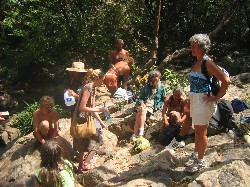 Packing up our stuff getting ready to leave
this idyllic, timeless place. To use an overused
phrase that nevertheless describes it well,
"Very good vibes here." This was a place of
good energy with the positive thoughts of
thousands of years of prior visitors.
Finally at about 3 pm we had leave our little paradise and head back to the coast. It will probably be the same in another thousand years. The hike out was easier than and not nearly as scary (C: going uphill rather than down where gravity tends to pull you). After a stop at a natural food store that had true organic and sun dried coffee (dried on roof tops, folks! no absolute no chemicals!) we made it back to San Blas at 5 pm. We all said goodbye to our new friends Carllie and I went back to Light Wave so we could have 1 few hours sleep before leaving at midnight. It was one of the highlights of our entire trip.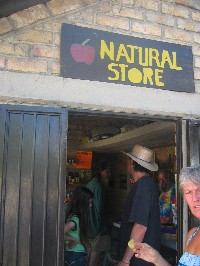 The store where our friends bought
sun-dried organic coffee that is supposed
to be unsurpassable, and where we bought
some natural bug treatments and salve.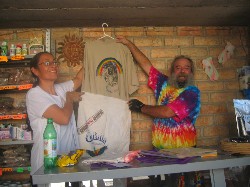 Natural organic coffee growers,
Martha and husband whose name
escapes us.
Saturday March 10, 2007
We were up at midnight. Rob and Robin on Drue Ann said that they were going to leave at 3 am so we were surprised to see they had already left. We quickly realized why as the bugs were still out in force even at midnight. We went into the full speed departure drill and were on our way within 30 minutes.
As we motored north into the flat calm waters we called Rob and Robin on the VHF radio and found out that they couldn't stand the bugs another minute and so they just decided to get out of the river at 11 pm. We arrived at the south cove anchorage of Isla Isabela at 10 am. When we were here back in January we had motored through the anchorage but didn't anchor because of the rock pinnacles all through the bay that came 15 feet off the bottom. These pinnacles can foul, cut and generally play havoc a nylon anchor rode like ours. This time we added another 40 feet of chain which allowed us to make sure our nylon rode wouldn't touch the bottom rocks. As well the water was crystal clear and you could clearly see the bottom in 30 feet of water so you could position yourself over a sandy spot. It turned out that even though it is heavier than a nylon road, the 50 feet of chain is easier to lift off the bottom if you use rubber gloves.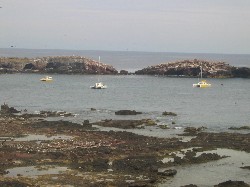 Our first anchorage at Isla Isabella.
Three multihulls: L-R: Light Wave,
Drue Ann, and Quinuituq.
Also as we came in to the anchorage we saw our friends Eva and Uwe on Light Wave's big sister yellow catamaran, Quinuituq. It was great to see them as we had hadn't seen them since back in September in San Francisco, but we had been corresponding with them by email so we kind of knew where they were and that we might bump into them. They were the first cruising friends we met on our trip back in September. We arranged to get together for dinner later.
Carllie: The anchorage here was good in that we held well, but there was a significant swell coming in from much further south where several days earlier there had been a storm in the Tehuantapec Bay, another infamous area dangerous for huge seas over this big (200 miles across) shallow stretch of sea. The swells rolled in all night long and flung themselves at the surrounding cliffs and rocks and into the blowholes, making a terrific and unsettling booming and crashing noises all night long. Eventually, we moved to the eastern side of the island where we were far more comfortable.
Garett: This island is a national park and is about 2 miles in diameter and is the prime nesting spot for frigate birds and Blue and Yellow Footed Boobies. We got to shore next to the pangas in front of the seasonal fishing camp that is set up here for the fishermen from San Blas. Within 100 yards of the beach you are surrounded by low, 10 foot trees, and most of them house a frigate bird nest. These large soaring birds never land on the water and can only land on cliffs and trees as they have to be able to take off from a height. The chicks are snowy white covered with fluffy white down, and they appeared to be a month or two old as they were almost falling out of nest. Carllie found one that had fallen out of the nest and was hanging upside down on a branch about half way down.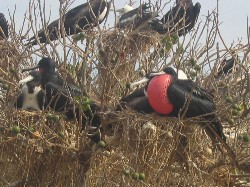 Male frigate bird puffs out his bright
red chest, seeking a mate.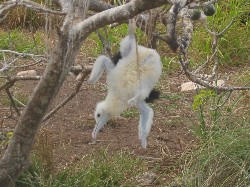 Baby frigate birds that fall out of their
nests, like this little guy, are in great
danger as the parents will not land on
the ground to feed them. I pointed out
two of these unfortunates to the biologists
who then either put them back in an existing
nest, or built a new one and put the baby in.
Unfortunately, the adult frigates immediately
zero in on the new nest, which they want,
and push the baby out. There is no
interfering with Nature.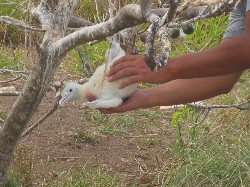 We were walking at the time with a park attendant, Jorge, who was able to help the bird back into the nest. We then climbed the hill to the south west for the view and to see the light tower. As we approached the top we came across all the boobie birds. The Yellow Footed Boobies (even though the color of their feet and beaks is actually a brilliant light green)P have had their chicks while the more spectacularly colored Blue Footed Boobies are just in the process of mating and laying their eggs. The boobies lay their eggs right on the ground and in the middle of trails, and kind of make a virtual nest by clearing the ground. Obviously their eggs are vulnerable to predators such as the numerous iguanas which we saw roaming around, and snakes that we did not see. The male and female Blue-Footed Boobies to us appeared to have identical coloring with their only difference being that their squawks our very different. The female is low and growly and the male is almost whistle like. We made our way around dozens of nests and got some excellent pictures.

Blue-Footed Boobie nesting.

Young Yellow Footed Boobie.

Guess what?

The mating dance of a pair of
Yellow Footed Boobies. Not much of a nest!
Just a place on the ground they have
cleared of twigs. More of an "anti-nest":.

Aren't they cute? Very diligent and wary,
but as they were nesting right on or next
to the trails, we got very close to many pairs.

Young frigate bird,
which hopefully will stay in
its nest until it can fly. If not,
its days are numbered.

A beautiful sunset marked a very memorable
day in Nature at Isla Isabela.

Garett enjoying the end of a perfect day.
We had a great dinner with Eva and Uwe as traded stories over Carllie's sushi and their fresh baked sour dough rye bread.
Sunday March 11, 2007
We hiked again this morning, but to the north side of the island and the mid-island lake formed by a crater.

Walking up the hot dry trail,
enjoying the bird life at Isla Isabella.
It was a great hike.

Yellow Footed Boobies don't seem as
"with it" as Blue Footed Boobies, and
nest outside on the cliffsides, versus in the
middle of trails. Well…maybe the Blues aren't
so smart after all?

Pair of Blue-Footed Boobies. They are
very diligent parents, and each makes a different
type of warning noise.

Yellow Footed Boobie (actually brilliant
light green).

Left hand view from the cliff.

Center view. Light Wave in foreground.
Thousands or millions of years ago This bay was the
caldera of a volcano. Well, I guess it still is!

Right view.

Alkaline lake mid-island, likely caused by
the runoff of guano from millions of birds over
the millenia.

Baby Yellow-Footed Boobie.

Young iguana. We saw iguana of varying sizes
and tiny lizards all over the island. The iguana
look for unwary nesting birds to snatch their eggs.

Pink-Topped Boobie hiking down a
precarious section of the trial. Nests on
Light Wave and at 402-1149 W. 11 Avenue
in Vancouver, British Columbia. Totally
dependant on mate. Mates for life.
A little on the dumb side. Related to a chicken. – C.

Look closely and you will see a young
frigate bird with its head down low peering
at us. There were nesting birds and
nestlings everywhere on Isla Isabella.
It was a wonderful experience.

Oh! Here's that Pink Topped Boobie again!
Looking for a good nesting site…

Maybe the beach will do?

Hoo boy! We finally came upon this
grandaddy of all iguanas. He was about
three feet long, including tail.
Carllie: This second hike over the eastern side of the island was much longer, taking about 2 hours. We loved it. With the thousands of Frigate and Boobie birds nesting all over the island, the air was filled with their hootings and whistles. The sounds reminded us, quasi movie buffs that we are, of Jurassic Park–very primal. Yet, very peaceful. (No Tyranassaurus Rex or Velociraptors lurking here.)
Garett: We took our dinghy to explore the snorkeling opportunities over the east anchorage near the Las Monas islets and found it to be much smoother so we decided to go back and get Light Wave and move her over.

Las Monas (the mannequins) off
the eastern bay where we anchored
on our third and fourth nights.
We were now in a great spot to snorkel right off the boat as the Las Monas ("the mannequins") islets were only 200 yards away. Snorkeling near reefs, rocks and islets is the best for snorkeling as the fish live among the rocks and reefs, and hide in the hundreds of little holes in the formations.

Carllie gets ready to snorkel
off of Light Wave. It was about
a 200 yard swim to the Los Monas islets
where we would see all the little fishies.

LIght Wave and her big sister Quinuituq
share an anchorage for the last time.

The dramatically beautiful Los Monas
must have been formed by ancient
volcanic activity.

My Brilliant Husband tackles another
repair job on the refrigeration unit of our
cooler. It is such a blessing to have a husband
who understands technical things and can
fix pretty well anything (knock on wood!)
The water was so incredible clear. We were anchored in twenty five feet water and you could see the fish swimming under Light Wave, and see their shadows on the sand below! We donned our gear had a great snorkel swim over to the islets. There were actually patches of live green coral with many new type of fish we had never seen before. We have to get one of those fish identification books so we know the names of them
Rob and Robin on their Searunner trimaran had invited all the people in the anchorages over for dinner snacks. There was about ten of us spread out over their huge decks under bright stars and balmy winds. (C: To our friend Casey: the Searunner 40 tri is very roomy and stable. Keep in mind for next year, amigo!)

Sun sets over trimaran Drue Ann
at Isla Isabella. Thankfully, here the
birds quieten down at night. At Islas Marietas
they must have been "on something" as
they hooted, screeched and whistled
all night long.
One of the fellas from a Canadian boat, Jean-Guy, gave us an astronomical tour of the bright moonless star-studded sky. By the end of the evening we were able to identify: Antares – the bright star that changes color low on the southern horizon (C: which I had noticed many times during our long night passages down the West Coast), Sirius – the brightest star, the twin stars of Gemini, Beetlejuice-the yellow star that is in the upper left corner of Orion, the Seven Sisters cluster, plus a few others.
Rob and Robin were still in the South Cove so when our get-together was over we had to motor in company with Uwe and Eva in the pitch black over a mile around the south point with its booming crashing surf over to where are two yellow catamarans were. Carllie was very brave as long as Uwe and Eva were leading the way (C: and I could pick them out with our high-beam flashlight!).
Monday March 12, 2007
It was a beautiful calm morning and the water was even clearer than yesterday. We alternated on the computer doing writing and listening to our Spanish CD's, and then at high noon went out on another snorkel expedition. My diving friend, Mike, whom I met up in Halfmoon Bay south of San Francisco had told me that half of the beauty of the Sea of Cortez was below the water, and Carllie and I are both starting to agree with him even at this early point in our snorkeling experiences.

Dramatic view of Los Monas from Light Wave,
the little catamaran that was!

Clear turquoise blue water off the stern
invites us to snorkel in 75 degree water.
Not too cold in Lycra wet suits.

Working on my next instalment for
Multihulls Magazine.First instlament
was in November-December issue. The
next will be published May June. Here (and
right now March 16), I am working on the
third instalment. If any of our friends or Garett's
folks want to read the articles, you can contact
Sue Daigle at multimag@aol.com

Beautiful shot of Quinuituq in the
dimming late afternoon light approaching
sunset at Isla Isabella. Isn't she beautiful?
If we had more dineros, we would buy her as
she is for sale!
This time I took our little underwater camera (not digital – yet) with me and tried my luck at some underwater photography. I think I need a better camera. Colors in real life are much more vivid but it gives a bit of an idea.

Carllie at the surface getting ready to dive.

A view of the living coral from below.

Some more coral.

Carllie diving down for a look-see.

A small as of yet unidentified reef fish.

Carllie diving again. This is a great exercise
as the water pressure stimulates your
whole body. I do need a bit more weight on
my belt, however, as it's tough to get down
and stay down.

Beautiful reef fish come closer when you are
on the bottom and they have a few seconds
to get used to you.

If you look just to the left of off the middle of
this picture you will see a bit of blue and orange
color. This is one of these very colorful gold and
blue tiny reef fish. I think I have
to get much closer….and get a better camera?
After a half hour we made our way back to the boat and while Carllie got out first, taking off her fins, weight belt, snorkel and Lycra suit while I cruised around the boat and dove down to check the anchor. When I returned to the boat I saw just off to port a huge school of fish, a great mass of thousands and thousands of very beautiful fish, yellow head and grey body about 2 feet long. The school was about 50 feet in diameter and was so thick I couldn't see the bottom when I snorkeled over them. I dove right through them a couple of times and they slowly parted to let me through but they continued to hang around the boat. It was my most amazing underwater experience yet. Another boater later told me that they are Green Jacks, and make good eating fish. (C: Once we get a good spearfish, Garett is going to be a provider and spearfish our dinner every day! Right now we have a Hawaiian sling, which you must use over much shallower water as once you shoot it, the sling goes out and you have to retrieve it.)
Carllie: Garett was so enthusiastic about this vast school of fish and kept after me to get back in the water so I could see them. I wanted to join him in his enthusiasm, and also was mildly curious about this phenomenon. As it was midday and still warm out, and the water was not cold, at 75 degrees F., I put my snorkeling mask back on and jumped in the water without my suit. A short swim brought me next to Garett where I too looked down in the water and saw these pretty fish in their big school.
Tuesday March 13, 2007
Garett: We were up at midnight for the 90 mile passage to Mazatlan. (C: These passages that are going to require an overnight section are much easier if we start at midnight after we have had a 3 or 4 hour sleep, as we are fresh to start the night and it doesn't creep up on us as it does when we start these passages early in the day. We find this way much easier.) We silently slipped away and said goodbye to this magical little island twenty miles off the Mexico mainland coast.
Carllie: We had already said goodbye to our good friends Uwe and Eva Keil from Quinuituq, as they are continuing south to Costa Rica and will not visit this coast again on a boat. We hope to one day see them in Europe sometime when we go over to visit our friends in Holland–on an airplane that is!
Garett: It was a clear night and it was quite bright out just with the starlight.
Carllie: On a clear night, the stars shed a lot of light, each being a sun in itself, albeit a very very distant sun. It is very humbling to contemplate the vastness of the Universe, and these clear nights draw our thoughts out beyond our little selves and brief lives in the overall pattern of things. What is it all about? Why are we here? What is eternity? Why is the Universe so vast? Many thoughts and questions come to mind on these more peaceful nights at sea.
Garett: For some reason, there was a knot of current going against us that slowed our progress as we headed north. The sunrise opened up a beautiful day with just a ripple of wind on the smooth seas, while the water was this most amazing indigo blue. We took many photographs of the blending of the water with the sky as there was a full horizon around us as we were 20 miles off the coast.

Sapphire blue water on a peaceful
passage to Mazatlan.

Garett enjoys the Cook's creations.
By 1 pm, there was enough west wind to sail so we plugged along at 4 to 5 knots on a close reach to Mazatlan. We actually caught our first fish in over six weeks as the sunset. By about 7 pm the wind had clocked around to the north and so we had to motor the last 12 miles into the main port and had the anchor down at 10 pm..
By 10:30 p.m., we were all nicely anchored down in the protected municipal harbor. We will now stay here one week and wait for our friends, Judy & Helvan Tracey and Gerard & Rossanne Tanner, from Oxnard California and Vancouver who will be coming down on a cruise ship next Wednesday. This will give Carllie some time to finish up her next article for Multihulls Magazine. We will then have two weeks to finish the final 250 miles to La Paz as we have to cross the Sea of Cortez.
Wednesday March 14 to Tuesday March 20, 2007
After our late night arrival yesterday , we settled into a week anchored in the main harbor at Mazatlan. It is not the greatest place in the world but it does have hot showers ashore and is pretty convenient to the Old Town shopping area. The only downside is that the sewage treatment plant is only a quarter mile away and at certain times of the day with the wind from that direction, the smell is pretty bad.
Carllie had a deadline for completing an article for Multihulls Magazine and I had to compile the web update and pictures so that was going to be our focus as we waited one week for friends to come in by cruise ship on March 21st.
Carllie's days were filled with working on the computer while I did grocery shopping and general foraging trips around town. We were fortunate to get a good free wireless connection out in the anchorage which allowed Internet access for email, weather, and downloading the latest episodes of Lost and 24 as our evening diversion.
We even had two days of fog which is very unusual for Mazatlan. It was like we were back in Oregon there for awhile.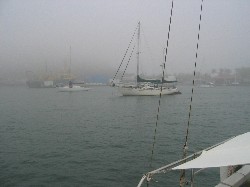 Fog in the harbor at Mazatlan – like Orgeon?
We also did fit in a three morning runs over the seven days which was great as we hadn't ran since we had been in Tenacatita in February.
Carllie: It was very humid the whole time we were there, and each morning when we woke up there was so much condensation on the boat that I could wash the whole topsides with it. The runs were great. It's been so hard to fit them in as in small anchorages there is no place to run, or it's too hot. Flab city! I have to find ways to keep fit. Garett lifts a lot, and we both use core muscles all the time for balance on the boat, plus on a catamaran you go up and down the stairs and steps a lot and every little bit helps. Our friends Karmel and Ross sent down fitness mats, so when I get really energetic I spread one out in the cockpit and do a bunch of Callanetics situps and leg lifts, but to tell the truth, it's hard to keep it up every day! I also do tip-toe exercises, walking back and forth on my tiptoes to strengthen my legs. Suggestions anyone?
Garett: On one of my shopping trips to Walmart I got some documented proof of the price on papayas.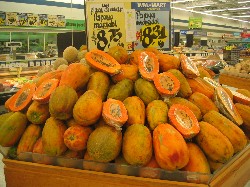 Huge papayas, our staple breakfast food,
at 8 pesos (80 cents) per kilo.
Such a deal!
As well as my numerous walks I took the Collectivos (40 cent buses) to zoom around town. The next series of photos, all taken on one 15 minute bus ride, is a sample of the thousand and one Farmacias that seem to be on every corner. I am not sure why there are so many but they are everywhere even in the small towns. You see alot of Zapaterias, which are shoe stores also. The Mexicans love their shoes. So here is my "Farmacia Montage"…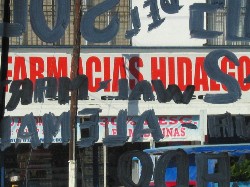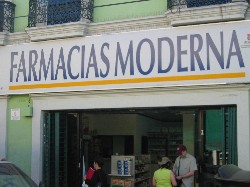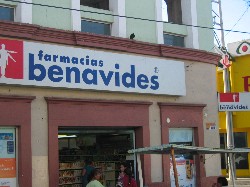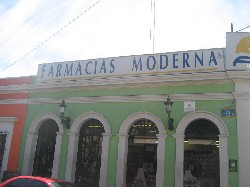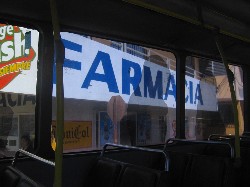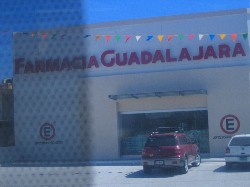 Farmacias are everywhere!
Wednesday March 21, 2007
After seven days of computer work on the boat, we were really looking forward to our visit with our good friends Rossanne and Gerard Tanner from Vancouver and Helvan and Judy Tracey from Oxnard, California. (C: I was stir crazy as while Garett got out to do our shopping, he confined me to the boat with no dinghy, to "work on your article!" Okay, boss.) The Traceys had spent several days chauffeuring us around when we went through the Santa Barbara and Oxnard areas in October last year.
We met up with them at 9 am and then we went on a whirlwind tour of downtown, the gold zone near the beach for some shopping, lunch and then an exciting ride back to downtown in the back of one of the open air pickup trucks/taxi.
It was great to spend a day with good friends we share so much in common with whom we hadn't seen in a long time.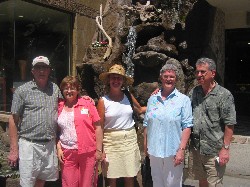 Helvan and Judy Tracey, Carllie, and
Rossanne and Gerard Tanner.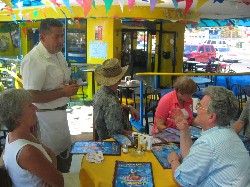 Stopping for lunch and beverages at a restaurant.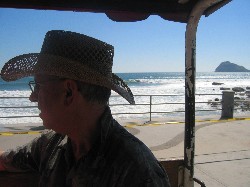 Exciting ride home in the back of a
pickup truck.
Thursday March 22, 2007 and Friday March 23, 2007 – Crossing the Sea Of Cortez
It was now time for our 250 mile passage across the Sea of Cortez back to La Paz. Like we have said before this is a big peice of water, not the 25 miles across the Strait of Georgia back home in Vancouver.
We woke up at midnight, after a short 5 hours sleep after our busy day with our friends from Vancouver, for our departure so that we could arrive on the other side of the Sea of Cortez during daylight hours. The weather in the Sea had been quite benign for the last couple of weeks and we were hoping it would stay that way. We did a final check of the weather through the buoyweather.com website just to see if things had changed much in the last 6 hours.
There was in fact a change, in that they were now forecasting southeast winds of 10 to 15 knots which would be even better than "no wind" as we would be heading northwest and therefore we would get to sail downwind. Sounds great to me!
We pulled up the anchor and motored out in the dead of night through the harbor entrance. We had to motor in the light southerly breeze until about 5 am when the first rays of light brightened the moonless night and the winds quickly built up to 15 knots and we were able to set sail downwind which was good.
By the way there isn't any kind of VHF public weather forecast for mariners as there is up in B.C. and along the west coast of the USA. The morning ritual for most cruisers down in Mexico, Central America, and on passages to Hawaii and the South Pacific is to tune your short wave radio at 7:15 am (1415 GMT) to 8,614 khz on your shortwave radio to hear the Amigo Net weather by "Don on Summer Passage." Don Anderson has a sailboat called Summer Passage and is veteran sailor who has cruised extensively along along all these routes and areas for many years. He now lives in Oxnard, California has a huge ham radio broadcast antenna with lots of power and gives detailed forecast for the outside of the Baja, the Sea of Cortez, and down to Central America as a generous free service back to his fellow cruisers. People who have transmit capabilities on a SSB (Single Side Band) radio can also talk to him. We just have a receiver so we can just listen in.
As we were obviously out of Internet range to get any type of buoyweather.com update, I tuned in, like I do most mornings, to see if Don had an update. Don forecast was that there was a weak low in the middle of the Sea of Cortez hidden by the layer of high cloud called the "Pineapple Express" that covers the areas down here from time to time. The "Pineapple Express" is a phenomena where high cloud is sucked from the ITCZ (Intertropical Convergence Zone) at the equator by the jet stream. These "Pineapple Expresses" from time to time reach all the way up to Vancouver with cloud and sometimes rain but usually just cloud down in Mexico.
Anyways, Don said to be on guard for signs of a warm front and a cold front passages in this little mini weather system with their corresponding wind direction and intensity changes which in turn causes lumpy and disorganized sea conditions as the waves from different directions converge and create confused seas.

Carllie had the 'flu as we crossed the Sea
of Cortez so had to rest a lot. However,
interestingly she felt much better as soon
as we pulled out of Mazatlan!
As the day went on, we continued to have good southeast winds and made good progress. At about 3 pm I could see a distinct line of clouds from north to south which sure looked like a warm front to us. Sure enough, as we passed under the clouds the winds died down to 5 to 10 knots and switched to the southwest.
We were then able to continue but on a beam reach but at a slower speed as we headed northwest.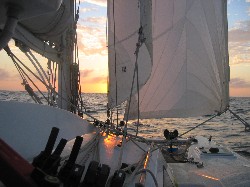 On a beam reach at the end of first day
crossing the Sea of Cortez, after
winds had shifted to the southwest.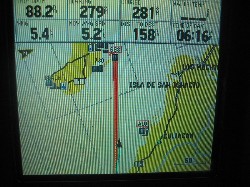 This is our Garmin Chartplotter just at sunset
on Thursday after the warm front passage.
Mazatlan is off the screen at the bottom.
We are the arrow at the bottom of the screen
and moving upward and our route is the
red line towards the Baja peninsula. It shows
we have covered 88 miles since we lef t
at 1 am and we are averaging 5.2 knots
and we still have 158 nautical miles to
go to La Paz. The arrow in the left corner
under the 5,4 shows the direction of
magnetic north.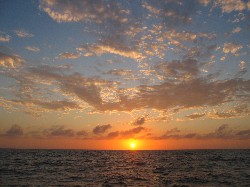 This is the beautiful sunset at 6:16 pm as we
headed northwest when I took the picture of
GPS screen above.
We continued to sail at 5 to 6 knots though the night. At about 3 am the winds became calm and we started to motor into the undulating seas. There was no moon but the stars gave a surprising amount of background light.
At about 5 am I could see another cloud line again from south to north. This ominous black line of clouds was clearly visible against the seemingly bright white of the Milky Way and background stars. As soon as we passed underneath the cloud line the wind went from calm to northwest 20 knot in about 5 minutes – a definitely cold front as Don had forecast. Unfortunately, the winds was now coming from exact direction we were trying to go, direct to the north end of Cervalo Island.
We quickly raised the main and jib but we had to bear off the heading from 300 degrees to 250 degrees which meant we were now almost heading towards the southeast tip of the Baja Peninsula, Bahia Frailes or worse yet Cabo San Lucas. The seas had been quite lumpy with all the waves from three different directions over the last 12 hours. We bounced along at 5 knots on a very close reach into the brisk wind, taking the odd bit of spray in the cockpit and rivers of water washing down the walkways and onto the cockpit floor.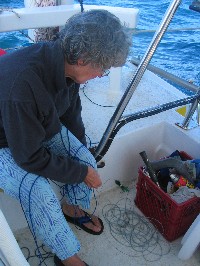 Untangling the fishing line to throw
it out at dawn.
By noon the winds had shifted more to the north, and we were able to head up a bit more so it looked like we were going to be able to get to Bahia Muertos, where we had stayed for five days when we were coming to La Paz from Cabo San Lucas back in December.
The waves continued to decrease and became smoother and we started to make good time. By 5 pm the seas were almost flat but we were doing 7 knots with full sail up. We sailed right into the bay without turning on the engine. At 7 pm our anchor was down in the flat calm of the bay. Gee, it was good to be stopped! We had covered the 210 miles in 42 hours for an average of 5 knots, and we had sailed for 36 hours of the 42. We had wanted to get all the way to La Paz in one long run but we were going leave the last 50 miles for another day.

Approaching Baja side of
the Sea of Cortez.
Saturday March 24 to Monday March 26, 2007
When we anchored at Bahia Muertos last night we saw our first Wharram catamaran on this trip. It was a little Tiki 26, very pretty with two small Wharram shaped hulls and no bridge deck. We called over to their boat from a hundred yards away, "Little Wharram! Little Wharram!", but they didn't hear us as it was late.
This morning we saw a couple on the little Wharram weighing anchor, and when we called to them they sailed by us and we invited them to tie up to us. We put our some fenders and and in a very seamanlike fashion they sailed right alongsided with no engine (not that they didn't use their engine; they have no engine period!), and rafted up.
We invited Joe and Bina Brock aboard and got to know them over the next hour. They are young, brave, and very hardy couple in their early 30s and had sailed their very small open deck Wharram Tiki 26 from Port Townsend in the San Juan Islands all the way down to Mexico in 2003 as their honeymoon. In the summer months they work on salmon fish boats out in the Gulf Alaska, so I guess they are used to being exposed to the elements. Our boat seemed just huge in comparison when tied up to their little 26 foot Wharram. Their sailing is real adventure sailing. You have to be very hardy. When we were in Tenacatita we went on a few larger catamarans, like the Fontaine Pajot 42 – $500,000, and when we would come back to tiny Light Wave, Carllie would say, "We are just camping on Light Wave". Well after seeing Joe and Bina's very small cat, Carllie and I both agreed that we are definitely"not camping".
They were heading south about 20 miles to visit some friends and then they would be heading up into the Sea of Cortez. Hopefully we can get together with them again.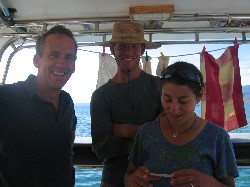 Garett with Joe and Bina Brock,
visiting from their Wharram Ti,ki 26
tied up alongside Light Wave for a visit.
Their Tiki 26 is real camping on the sea! Two
narrow hulls, no cuddy cabin, and they
both sleepin one single berth. No
head room either. Sitting room only.
Bina prepares food sitting in the starboard
hull while the hatch is off. We now
feel like we are living in luxury aboard
Light Wave!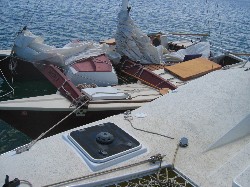 Light Wave hosts the Brocks'
Wharram Tiki 26.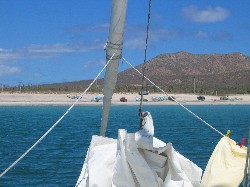 It was good to be back at Bahia Muertos
again, far away from the pressures
of the Mexican mainland.
We spent three days anchored in this beautiful bay as we still had to finish up the articles for the magazine. One of the features of this remote bay is that it has three free wireless networks for the Internet, allowing us to write and respond to emails and giving us web access to check buoyweather.com. So we were able to submit all the articles and pictures to the magazine office in Boston while anchored in this remote place. The wonders of technology!
Tuesday March 27, 2007
We were up again at 1 am for another middle of the night departure as we wanted to go north through Cervalo Channel and cover the remaining 50 miles to La Paz before the afternoon winds picked up. Sure enough it was dead calm with just a little breeze coming off the land which was good as it allowed us to sail in flat seas. We sailed for a couple of hours and then motored to dawn and then I went for a little nap while Carllie took over for the sunrise…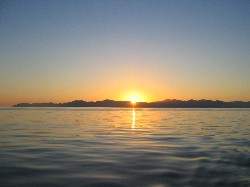 Beautiful sunrise on the way to La Paz
from Bahia Muertos.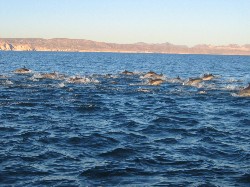 A huge school of dolphins fished not far
from us for a couple of hours, eventually swimming
all around LIght Wave, vocalizing. They were
preoccupied with their morning meal, however,
and remained focused in their
group fishing efforts.
Carllie: Garett had just lied down when I took the watch in the morning when I noticed a whale blowing about half a mile ahead. Though I called him, I couldn't raise Garett, who had had a long night. Soon afterwards, I spotted a churning of the seas about a mile away to starboard, and when I checked it through the binoculars, saw a big school of dolphins leaping through the waves. This school kept pace with us, for a couple of hours, eventually splitting into two halves, aft and on either side of us. When one half of the school came towards us, we got lots of pictures as they swam and vocalized around Light Wave. It is amazing how strong these beautiful, graceful creatures are. They were leaping out of the water and travelling at a fast pace for 3 to 4 hours while they were within visual range. We could still see them as we entered the final channel for La Paz, and once we anchored two dolphins were spouting near the boat as we rested.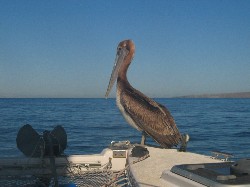 This cheeky pelican landed "plunk" on
LIght Wave as we came towards
Lorenzo Channel on our way to
La Paz. He wasn't bothered by our
taking pictures through our cuddy cabin
windows and over the cabin top.
Wednesday March 28 to Saturday March 31, 2007
It was nice to be anchored again off the La Paz in the channel near Magote Island. We were essentially out of fresh food (only one green pepper and half a red onion left) and only some pasta in our dried food locker (C: plus rice, eggs, beans galore, flour, raisins, baking supplies, dried cranberries, canned goods–we still had lots of stuff …) so we had to go to our favorite store CCC to get some food.
We walked the streets of La Paz, familiar from our visit in December. (C: We felt like we had come home! It is interesting how one's perception of "home" is an ever changing kaleidescope.) We then walked three miles down the beautiful waterfront Malecon to Marina Palmira to see if Coastal Marine boatyard could haul our boat out. When we got there we found out that the boatyard is closing and that condos are going up in its place – more so-called progress.
We will do some shopping over next few days and then stock up for our one month trip up the Sea of Cortez to Guaymas as our six-month visas expire May 6th and we have to renew them for another 45 days. We will take an interesting 300-mile bus trip across the border to Nogales, then come back into the country getting brand new visas in the process. Unfortunately, our friends Casey and Amandah are not going to be able to join us this month or next. We were really looking forward to spending some time with them and they were hoping to be with us but things just didn't work out. We have rescheduled their trip to February 2008.