Catamaran Sailing and Cruising in Hawaii
---
Sunday, June 1, 2008
Carllie: It was great to be all settled in to a lovely bay where we could swim again. The water is so clear, and so warm that swimming is a pleasure, and we immediately established a daily routine of swimming around the boat at least once each day, then showering off with fresh water. We couldn't swim in the sea the whole time we were in Oahu, as where we were anchored in Kane'ohe Bay and also in Hale'iva Harbor the water was too polluted from the marinas and the harbor. It feels so terrific to go for a good long swim in the sea, then shower off afterwards, especially if we have just returned from running and exercising, or even one of our many long walks, or a day's excursion on the bus and walking into the city to get supplies. What is it about sea water that is so invigorating? Of course when the temperature of the water is 76 to 78 degrees F., it doesn't hurt!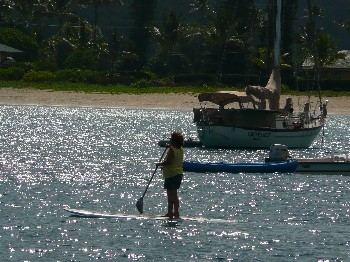 Surfboard paddlers paddle all around the bay
all day long like this. It is a different and
apparently very enjoyable form of exercise,
requiring good balance and using stomach,
butt and arm muscles.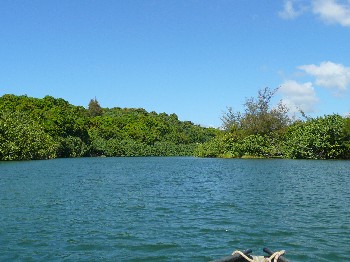 We took a little cruise in our dinghy
up the Hanalei River for about a mile.
It reminded us a bit of the jungle river cruise
from our time in Tenacatita in Mexico in
February last year.

Many boats enjoy anchoring in Hanalei Bay
during the mild late spring and summer months.
We hear it is really crowded in July and August.
Everyone clears out by the end of September
as the huge winter swells begin to roll in, making
Hanalei a mecca for surfers from around the world.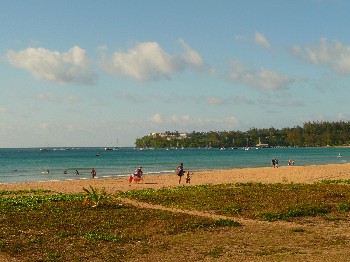 Looking out at Hanalei Bay.
Monday June 2, 2008
Garett: We managed to get ourselves to the beach before it was too hot, did a 2-mile run on the quiet street behind the beach, then some conditioning exercises. Afterwards Carllie worked on her article while I walked into the little town of Hanalei.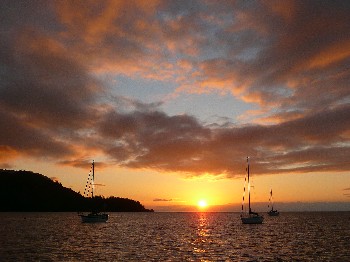 A glorious sunset at Hanalei Bay, Kaua'i.
Tuesday June 3, 2008
Carllie: Kevin had told us we could get produce at a farmer's market twice a week, and we found out the market is Tuesdays and Saturdays, so today we hitchhiked to the market. It's set up on a little acreage of a house just outside of town, i.e., about a mile's walk, but not knowing how close it was we stuck out our thumbs and hitchhiked. A nice local lady picked us up and drove us a whole mile to the site, making us feel like feeble old folks as a mile would have been a short walk after all the long walks we have been used to in our two years of cruising.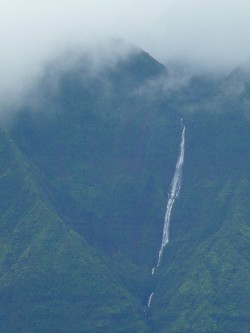 After our first rainfall in Hanalei
Bay one of the big waterfall courses
behind the town filled with water
and poured down. There are several
waterfall paths dug out of the craggy
surrounding mountains, but all except
this one are dry right now. The flow in
this one comes and goes.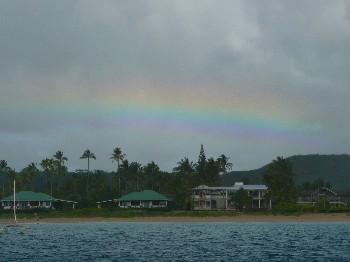 Ah-hah! Another rainbow!
"There's a rainbow following the shower…!"
This was was in an unusual horizontal
position behind the east side of the beach.
Wednesday June 4 and Thursday June 5, 2008
Carllie continued to work hard on her article while I proofed each draft and helped her fine-tune it and made a couple of little shore trips.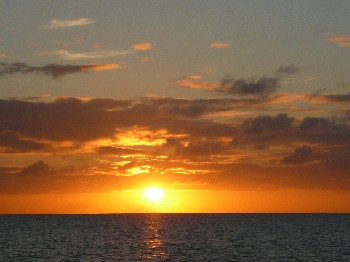 Another Hanalei sunset…. but no green flash.
Friday June 6, 2008
Carllie: A few days ago this really nice guy, Bert, came by on a lake size powerboat. He held out a copy of the most recent May-June edition of Multihulls Magazine in which another one of my articles on our voyage has been published, telling us he had followed all of our adventures in the magazine and very kindly lent us that copy to read. It's always very satisfying to see our words in print and our photos enlarged and reproduced on good quality glossy paper in an internationally circulated magazine.
Today, we got up really early in the morning hoping to exercise on shore before the sun got really hot (as it does by about 9:30), and Bert, early-bird that he has, came over in his bright blue tough fiberglass boat. Garett happily showed him around and over Light Wave, extolling her virtues as usual and explaining the mods we had made in Guaymas last spring. Bert was quite inspired with our tough little boat, with her sailability and safe design, and I think quite impressed that we had built her and made these extensive modifications during our journey. Anyway, he seemed inspired as he asked us if we would like to go out with him for a tour up the Na Pali Coast. We jumped at the opportunity, as we had decided that rather than take two weeks to circumnavigate the island of Kaua'i we would stay put in Hanalei Bay and just take little day jaunts from here, touring the island by bus and by cheap rental car.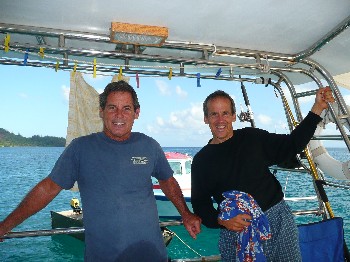 Bert has an early morning tour of
Light Wave before taking us out
for a wonderful tour up the Na Pali Coast.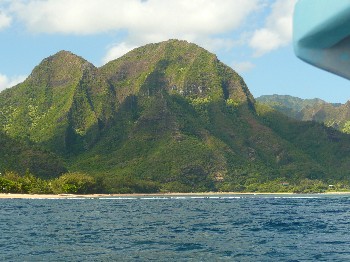 View of the mountains as we roar out of
Hanalei Bay in Bert's tough powerboat powered
by two huge Honda outboard engines.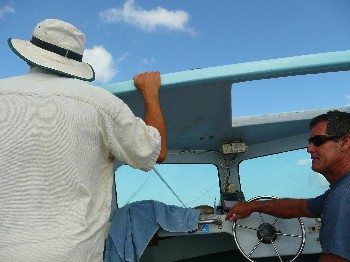 It was a real treat to be passengers in a powerful,
tough boat with a knowledgeable captain who
knows every inch and cranny of this very
beautiful but very tricky coastline.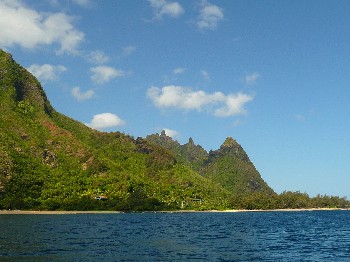 The scenes became progressively more
dynamic and awesome, like turning
pages in a story book…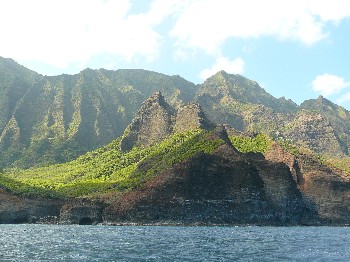 It is hard to believe that the world-famous
Kalalau Hike traverses this coastline, 13 miles
one way…the head of the trail is a couple of
miles west of Hanalei.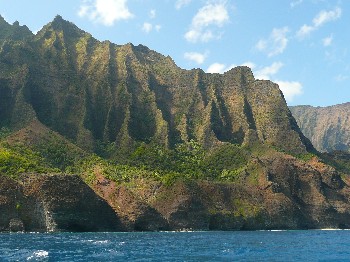 There were a few little beaches on shore
that are frequented by tourists, but Bert told
us especially during winter months the rip tide
makes swimming here very very dangerous.
In spite of warning signs all over the place,
some people who think they are strong swimmers
go in and are swept out to sea. Others climb out
onto the rocks thinking they are safe, and are
swept off the rocks by the next big set of
waves. At this time of year, unless big swells
are rolling in, it is quite safe to swim at these
beaches.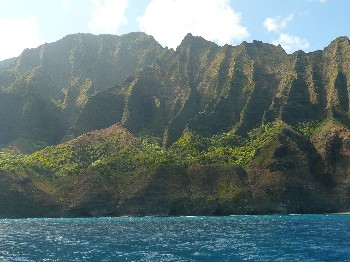 I took a ton of pictures while Garett stood up with
Bert at the front of the boat, munching on lychee nuts,
a delicious fruit grown locally.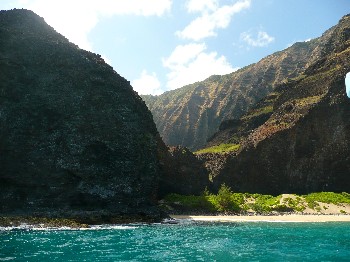 This is Kalalau Beach at the very end of the
trail that people reach after a very difficult 13-mile
hike, much of which is right along a cliff face
with the trail only a foot and a half wide.
From about 100 yards off as we motored up
we could see people here and there along
that precipitous trail, walking very very
slowly literally hanging onto the rock face
with one hand and leaning in toward the
mountainside. If we had entertained vague
aspirations of doing this trail, those ideas
were quickly squelched when we saw how
tricky the trail is. No thanks! We plan to do
just the first 2 miles of the trail, then hike 2 miles
inland to a waterfall–this is supposed
to be very easy and very enjoyable.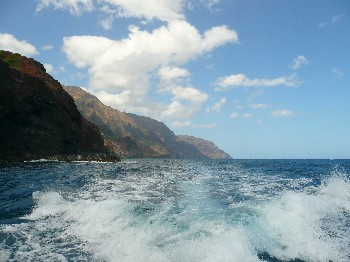 Racing back home, much closer to the
cliffs so Bert could show us all the nooks
and crannies of this spectacular coast.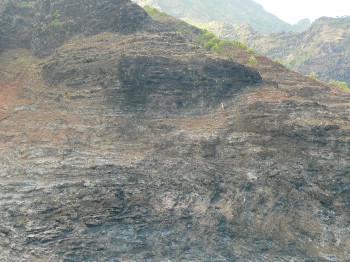 If you look really closely, in the upper right quarter
of this picture you can see a tiny white figure–a
hiker clinging to the trail.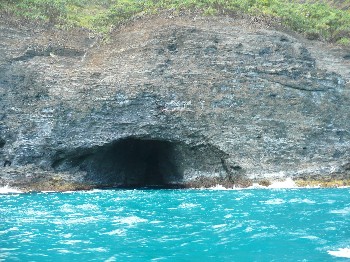 Approaching the first cave that
we explored in Bert's boat, thanks to
Bert's confidence and local knowledge…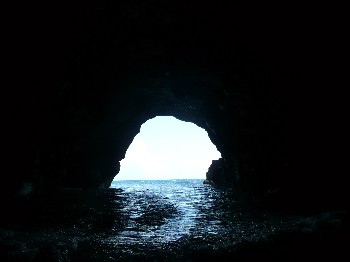 Inside the cave, looking out!
Wow! We could never do this in Light Wave,
and would never want to by anchoring off
and dinghying in. So this was a real treat!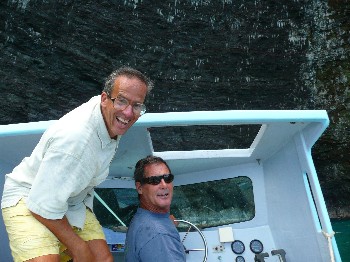 Here's our enthusiastic, knowledgeable
and generous friend Bert with Garett. The trip back
was pretty bumpy, because now we were pounding
into the waves, but I am sure I got a natural spinal
alignment in the process and we had a great time.
What a great surprise. Thanks, Bert!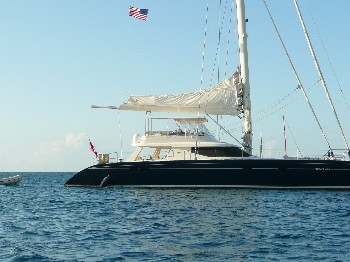 Super mega catamaran, Bella Donna, which
is a Yapluka 70. It is amazing what you can get for
$5 million USD.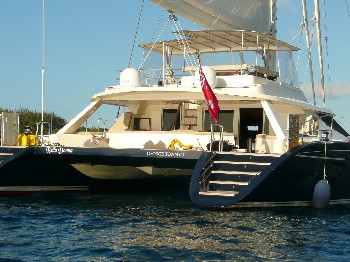 Lots of space. …maybe our next boat?
We also met a very young college couple, JD and Andrea, who live on a small Iroquois 30 catamaran from Honolulu. They are just 19 and 20 years old and are students at the University of Hawaii. They have this cute friendly puppy, Monster, who is half Pit Bull and half Rotweiller. JD had to go back to Oahu for a couple of days and Andrea and Monster were all by themselves so we had them over for dinner.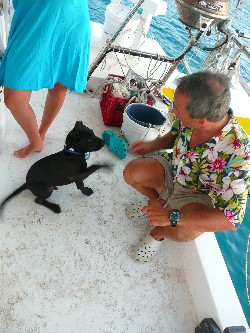 Monster shakes hands with
Garett after racing madly around our
relatively huge catamaran, biting my
ankles with his sharp little puppy
teeth every time he passed through
the cockpit…until I finally said very
firmly, "No!" and he stopped.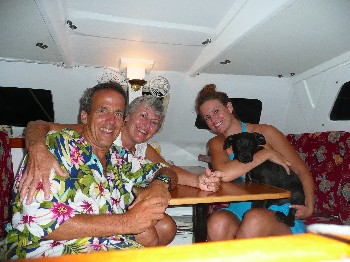 After dinner with Andrea and Monster.
Monster likes people food, especially
cucumbers and tomatoes.
Saturday June 7, 2008
As we were almost out of food we visited the Farmer's Market in Hanalei at 9:30 a.m. sharp. The good stuff goes fast and so you have to be on time.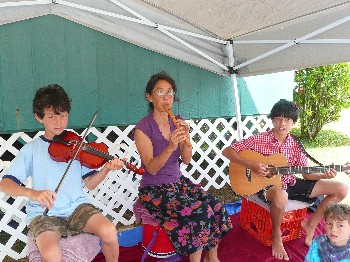 The Ko'olau Kids–three sons, Gage Tyler and Kolea,
and mama on the recorder– a musical family
who live nearby, set up at the entrance of the
market and play a great repertoire of Celtic
and Hawaiian songs. We bought one of
their CDs and have been enjoying it.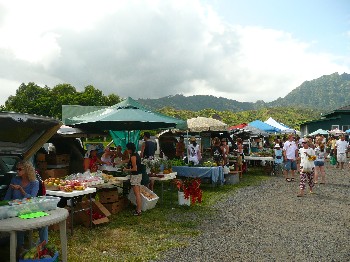 Many beautiful craftsmen and artists also
set up booths at this market.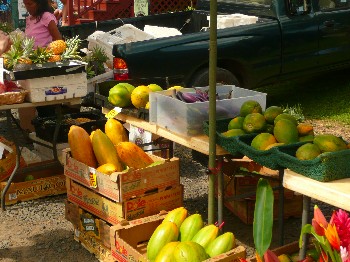 The fruits and vegetables are delicious
but not cheap. We are resigned to paying
high prices to get good vegetables and fruit
while we are here.
Carllie: We love Hanalei Bay so much that instead of circumnavigating this smallish island in Light Wave, we have decided to do our exploring from Hanalei Bay, in day trips in Light Wave to snorkel in nearby 'hot spots"and via public bus and cheap rental car.
Pierce Brosnan lives in Hanelei with his young wife and family, and another catamaran cruiser who lives in Hawaii and lives in Hanalei Bay on his cat 3 months each year told he is Pierce is "a nice guy" and he sometimes kayaks in the bay. We were eating lunch the other day and I glanced out of the saloon as I heard a paddler approach, just as a kayak came by really close behind us. A man in a baseball cap was paddling while his wife sat in front of him on top of the kayak and their little boy in front of her. In fact, they were so close that the paddler and I made I contact. My fork was in my mouth so I gave the paddler a friendly "little finger wave". He called out, "How're you doin?" and I swallowed and called "Hi there!" as I am always friendly to anyone who paddles by on any type of craft. Then the penny dropped as I realized that it was Pierce Brosnan's voice that called out, "How're you doin?" As you know, everyone has a very distinct speaking voice, and Pierce Brosnan's is a little higher pitched and more musical than most men's voices, perhaps due to his Irish heritage.
Needless to say, I rushed out to see, but by then they had paddled off a ways, so I had to peer through the binoculars. Hard to recognize from the back, but I am pretty sure it was him!!! Garett thinks so too, as we both heard his voice and both recognized it after the fact.
We are looking forward to exploring beautiful Kaua'i and hope to see Pierce again too. He is an environmentalist and nature-lover, and this is really the perfect place for him to live with his 7-4-2 surname. In retrospect I am kind of glad I didn't recognize him immediately as if I had I would have been tongue-tied. As it was, I was natural and friendly and did not go ga-ga, which I am sure makes these movie stars very uncomfortable.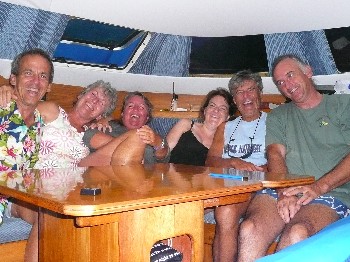 Garett, Carllie, Sylvie, Donna (the wannabe
cheater!), Elvin and David after a long
game of Mexican Train Dominoes aboard
Puddytat. Choo-choo!
This evening we dinghied over to Puddytat, a nice roomy 40-foot 1988 Catana recently purchased by Sylvie and David, to have a potluck dinner with them and another Canadian boater, Elvin whose daughter Donna had flown over to spend a couple of weeks with her dad in beautiful Kaua'i. Dinner was followed by a very raucous, competitive, fun game of Mexican Train Dominoes. Sylvie and David taught us how to play the game the way it should be played, rather than the "easy way" we had played it in Mexico, so now we will be having our friends over to play it with our set when we are home in Vancouver! (Well that's something to look forward to about city living anyway!)
Sunday June 8, 2008
I spent another couple of hours working on about the 8th draft of the article that will be by-lined by both Garett and I. Garett's proofing and objective viewpoint is always very helpful in editing, slashing and cutting, and polishing my writing, but this time his technical knowledge was invaluable. We had to choose a selection of 20 photos to send with the article, then I wrote captions for each of them and cover emails to the magazine and sent them out. It's called "Mexico to Hawaii: A Cruising Cat Plunges into the Deep End." Freelance writers work very hard for their money, let me tell you!.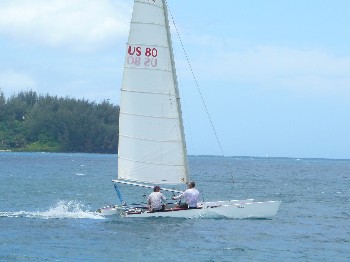 A Pringle 20 beach cat sails by
Light Wave in Hanalei Bay.
Monday June 9, 2008
Garett: With Carllie's article all done and emailed into to Bluewater Sailing magazine it was time to take care of the laundry that we had been accumulating for the last three weeks, except for the laundry Carllie did by hand with a pail and fresh water on the boat. There is no laundromat in Hanalei (C: could this be because the average price of property here is $2 M for an empty lot?) and the closest was in Kapa'a (30 minute bus ride) so we decided if we were going to take the bus we might as go all the way to the main city of Lihue and do it there. (C: My hands are getting pretty strong with all this hand washing and wringing out clothes, but my left hand is still not quite strong enough for all the chording I am learning to do on my beautiful ukulele. I will have to get a squishy ball and do hand presses to strengthen it.)
The bus system isn't nearly as elaborate as on Oahu but there is a bus every hour from 7 a.m. to 6 p.m. The buses are small–like one of those small airporter buses you take on from the main airport terminal to car rental lots–and seat only about 20 people max. We caught the 12:20 p.m. bus, but it was slow going on the highway with many stops. The scenery was outstanding through the big and clear windows.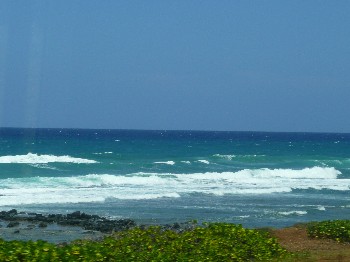 Several beautiful beaches lie between Hanalei and
the main city of Kaua'i, Lihue, and we took pictures
from the bus as to trundled past them.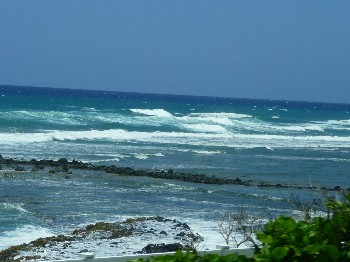 Even though the beaches we saw on the east
side of the island are spectacularly beautiful,
they don't look like good swimming beaches.
I am pretty sure there would be a dangerous
rip tide at these beaches. We are again so glad
that we are anchored in Hanalei Bay, which is
very safe for swimming this time of the year and
has a beautiful sandy bottom–perfect for
anchoring–and an equally lovely sandy beach,
perfect for walking, running,
and body or board surfing from.
Ninety minutes later we were in Lihue, the main city of Kaua'i, and found the laundromat. While Carllie supervised the machines (C: and got to know the Tahitian family sitting next to me) I hiked around the city trying to track down this discount car rental company we had heard of. After walking almost two miles to the airport I had to backtrack to find it halfway along the route I had followed. For only $28 per day including insurance we can rent a beater. Good deal. Gas is extra of course. We will rent a car here for our final provisioning shopping in early July before we leave Kauai.
It was 4 p.m. by the time we were ready to go but we were starved so we walked to the all-you-can-eat salad bar at the Pizza Hut (a very basic salad bar that in no way compares to Salad Creations in Honolulu!). They didn't make any money off us. The bus ride back was much faster as the traffic had died down and there were only a few passengers including us. By the time we walked down to the dinghy and motored out to the boat the sun was setting. A typical cruising day: one more task to scratch off the list, "Do Laundry."
Carllie: We did finish the day with a swim around the boat and fresh-water showers outside on the aft hulls (it's so great to have these extended aft hulls now–much easier to board LW, to walk out onto to talk to visitors, for dinghying visitors to perch on while they talk to us, and for showers), so even though we had been exhausted we were completely refreshed by the time we sat down for dinner. Ahh! The joys of living on Light Wave in Hawaii! I don't think I would enjoy visiting Hawaii if we had to stay in a hotel, even though I have thought about it a lot during our explorations of the islands. The only real advantage of hotel living for me would be having a bath tub. That's okay, though, as when we are in a regular anchorage that's not in a city with marinas and harbors polluting the water, the whole bay is our bathtub! Living on Light Wave our accommodation is free, and even though the price of food is a little on the astronomical side we are having the time of our lives, well except for the stupendous time we had in the Sea of Cortez, and we plan to squeeze every little bit of enjoyment we can out of our final three weeks here (as of writing on June 16).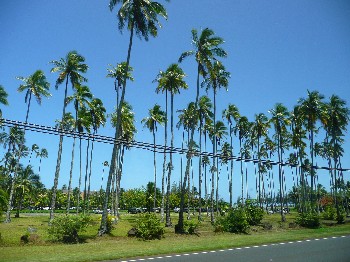 Gorgeous tall palms line this section
of the road to Lihue.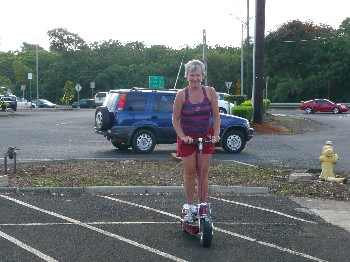 While waiting for the bus a friendly fella, Gilbert,
let us try out his electric powered scooter.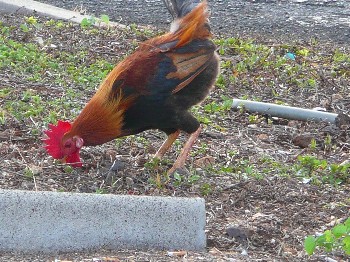 Hens and roosters run wild all over the island,
having proliferated after their forebears were
freed from their cages during
Hurricane Iniki in 1992.
It's hilarious. I wonder who
collects the eggs?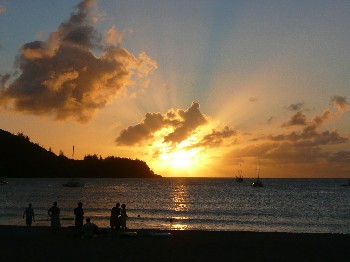 It was just sunset by the time we got back
to the beach to dinghy back out
to Light Wave–the boat silhouetted
to the far left. What a peaceful scene! We
will look at these pictures in times to come
and send our minds back to this wonderful
place in this unique spot on the Earth.
Tuesday June 10, 2008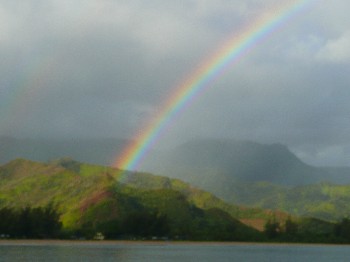 Another fabulous rainbow behind
Hanalei Bay, Kaua'i.
We actually got up reasonably early and went for a run this morning before it got too hot. Along the way to shore we stopped for a short visit with Michael and Tommy on their 38-foot trimaran out of Waimea on Oahu. These two fellas in their fifties are serious "surfer dudes" and had just returned from surfing at the island of Lihau just west of Kauai.
Before we did our 2-mile run and jumping exercises we went for 1/2 mile run on the beach in bare feet. Boy that was sure tough. As were finishing up we met Michael and Tommy who had swam to shore (who needs a dinghy in Hawaii?). We talked a lot about surfing , and this prompted me to follow-up on one of my objectives of taking a surfing lesson. We had seen a whole bunch of people taking lessons on long blue boards down the beach yesterday, so we walked down to see if they could find them. We did and watched them giving a a lesson to a group of about 10 young people. The next lesson was at noon so I decided to sign up with QuickSilver for a 2-hour group lesson. Carllie would be chief photographer to document this event.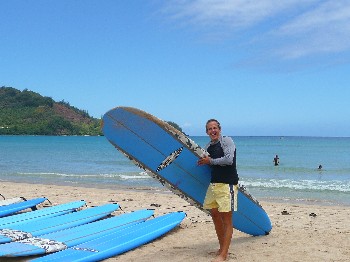 Garett holds his first surfboard, ready for
his lesson.
Wow! Was this great fun! The instructors took mystery out of surfing, and the benign summer conditions, small waves, and the sandy bottom of Hanalei Bay make for a very safe way to learn how to surf. There were 8 in our group. We started with a lesson on our boards on the sand, practising starting from the face-down lying position, toes pressed into the board to keep the feet ready to stand, then grasping the sides of the board moving the left knee forward right up under your upper chest, and finally rising to a crouched standing position, knees bent and arms at shoulder height in an "L" position to surf down the waves. We practised this on land several times, then paddled out into the water where the two instructors helped us to get up to speed on the waves, standing in the water and pushing our boards as the waves came along.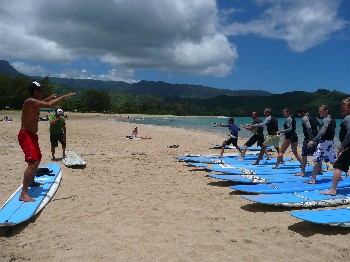 Practising surfing positions on stable land.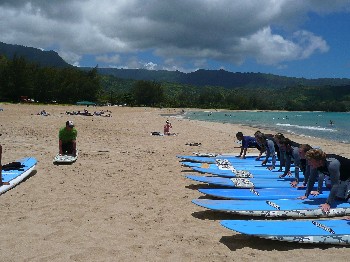 The second, crouching position.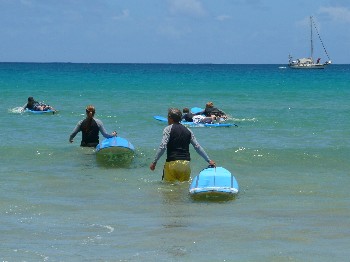 Eight greenhorn surfers make their way
out into the baby surf to surf their
first waves.
In the end we all were able to stand up and ride the waves in to the beach. Some of us eventually were able to catch our own waves but you have to paddle like crazy. I thought surfing was all about balance, but in fact I hadn't even thought about the upper body strength required to paddle–first out to the surf line, then fast to catch up with the wave as it rolls into shore. That is why these surfers have such chiseled triangular Adonis-type upper bodies. Carllie thinks I should have started surfing when I was younger and then I might be more muscular…
After three hours I was completely spent. I couldn't lift my arms to shoulder level when I finished. It was great fun and I will probably rent a board for a day or two in the the three weeks to come. Carllie may try it in July. Photo credits and captions to Carllie.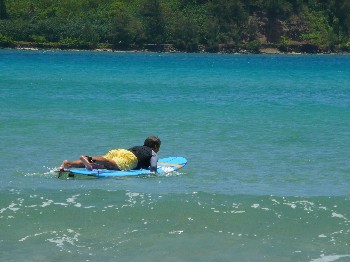 Garett paddling out, looking for
his wave to ride in.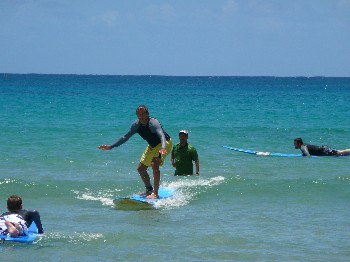 One of his first successes!
Oh-oh! A monster is born. That feeling
exhilaration that comes with riding a wave,
as with any success when we begin to
master something so alien to our lives,
creates its own self-generating impetus
to keep getting back on the board and
paddling out to the waves.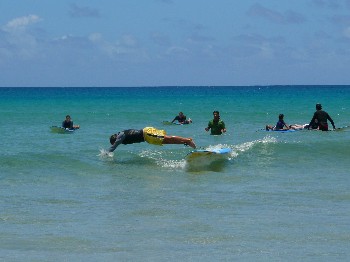 Oops! One of his first nose dives!
Great photo, don't you think?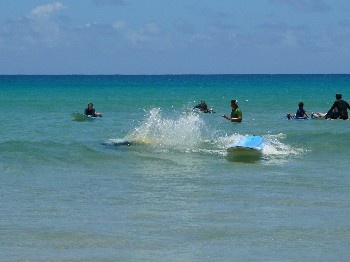 Splash down!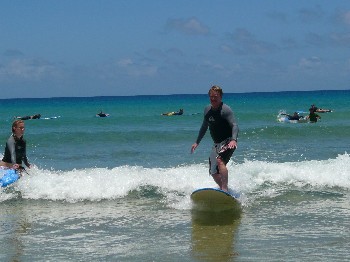 A fellow novice rides a wave in.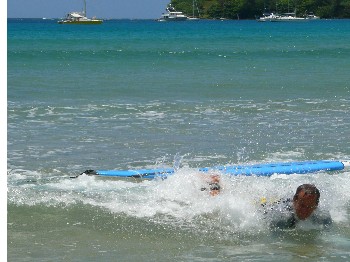 After another dunking…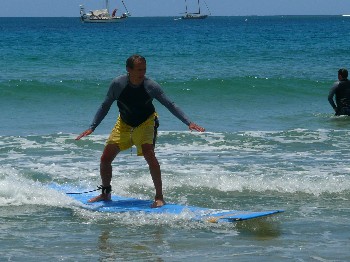 Boy, just look at that form!
Arms are supposed to be higher up, almost
at shoulder level.

Slowing the board down by leaning
back on it.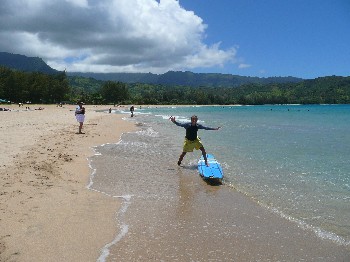 Hamming it up.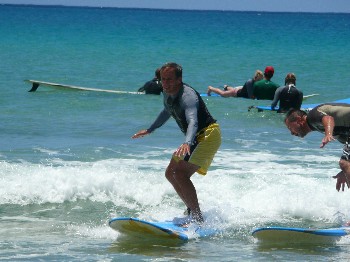 Garett's doing fine, but his buddy behind
looks like he's about to take a nose-dive!
Garett loved surfing so much, he stayed in the water three hours, as I baked on shore. Finally, I convinced him to stop and come home. He was happy as a clam (weird expression when you think of it) but his arms were so sore he couldn't lift them above shoulder height. He plans to rent a board for a day sometime soon and surf the whole day on his own, in the company of other novice surfers in safe Hanalei Bay.
Tuesday June 10, 2008
Michael and Tommy invited us over to their trimaran Potlach last night at 7 p.m. but Carllie was tired so I went over on my own. We talked about everything under the sun. Michael and his wife Kandis had sailed around the world with their children many years ago. It was fine end to a very memorable day.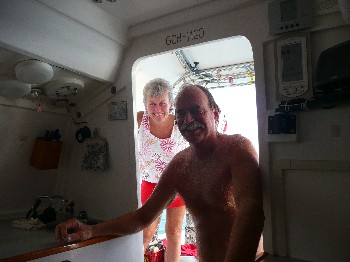 The next day, Michael swam over to
Light Wave for a visit, and Garett
very proudly showed him all over
the boat, explaining how we built
her and modified her and pointing
out all of her advantages.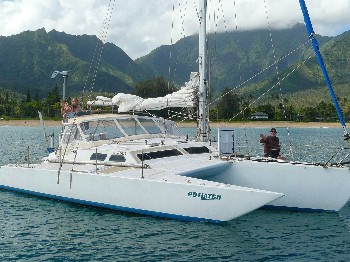 Michael, Kandis and brother, Tommy
sail past on their way back to Oahu. This is
the trimaran that Michael and his wife Kandis
sailed around the world in with their children
about 10 or so years ago.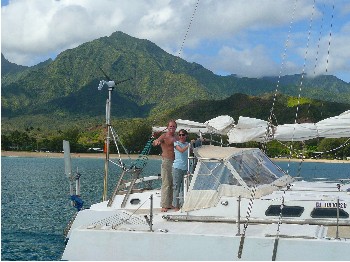 Michael and Kandis.
As of writing, early morning hours of June 17th, we have only 18 days to go to departure on July 5th. We may not be updating our website before we leave as Carllie has more writing to do and we have to fully provision the boat and fix a few little things.
Tomorrow morning we are going to motor over to nearby Tunnel Beach to snorkel and swim with the green sea turtles! We haven't snorkeled since Maui, so we are really looking forward to it. We will probably stay overnight in that anchorage, then return to Hanalei Bay. On Thursday night we are having Andrea and J.D. (and Monster!) over for dinner and will teach them how to play Mexican Train Dominoes while hopefully encouraging them in their sailing and other aspirations. Michael has emailed us that he and his wife Kandis are flying back to Kaua'i to stay with a friend in Hanalei, and they want to take us out for dinner Saturday night! So we are looking forward to that!
We also plan to hike that first, easy 2 miles of Kalalau Trail and then 2 miles in to the waterfall, and back, within the next week. Also, visit the nearby town of Kiluaea and walk a mile to a very picturesque lighthouse. In the first few days of July we will rent that beater to visit the big box stores to get all the supplies we need to cross the ocean, and to drive around the island, hopefully visiting Waiamea Canyon and waterfall.
Thursday, June 12, 2008
The daily weather for our first 2 weeks followed the pattern of sunny during the day, then a few showers late in the afternoon and then a few more in the pre-dawn hours of the following morning. It all changed today as it rained steadily and furiously the whole day. We collected 50 gallons of water and filled all our tanks.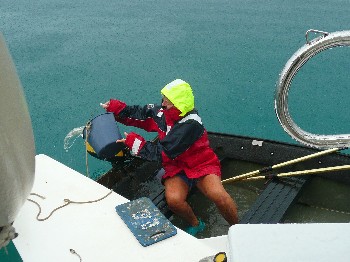 The dinghy got so full of water during the deluge
that it was in danger of sinking, so Carllie
volunteered to bail it out.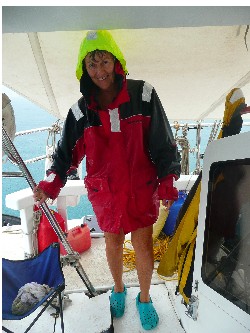 Thank goodness for foul
weather gear!
Our regular rain in Hanalei has been good as it has been just enough to keep Light Wave shiny clean and provided lots of delicious rain water to drink.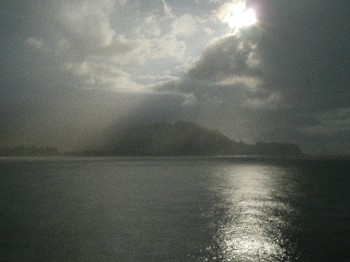 Finally at 5 p.m. we got a break in the rain…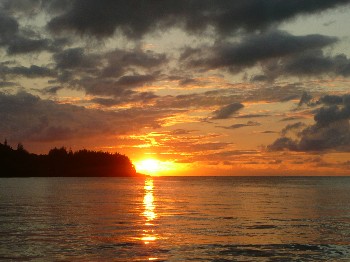 ….and the sun set on a well-washed world.
June 13 to June 25, 2008
The following is a montage of the highlights of these two weeks with captions.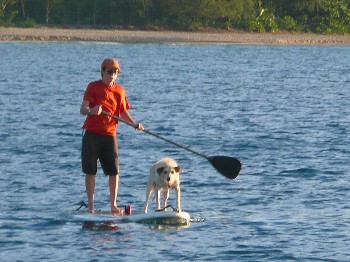 A paddle-boarder from a nearby boat paddles
by with "Rocky Girl" riding on the front.
We exchanged greetings and she (the lady)
said they taught Rocky Girl to ride the
board quite awhile ago, and she loves it.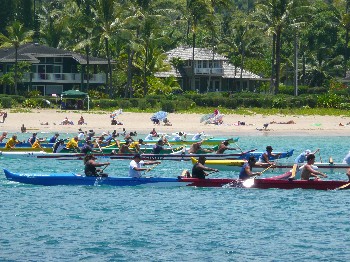 From our anchoring spot near shore, we got a
great view of two big outrigger regatta races
during July, as well as the outriggers
practising daily and using our bright yellow
vessel as their turning buoy. (We learned
the hard way through failed communication
with Coast Guard that the 'Muricans pronounce
buoy "BOO-EE", unlike our British "BOY."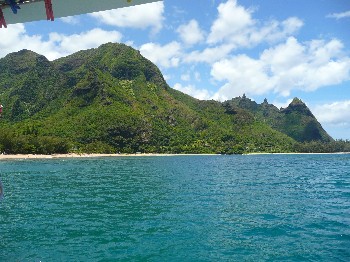 The west shore of Hanalei Bay, which itself is
on the northwest side of Kaua'i.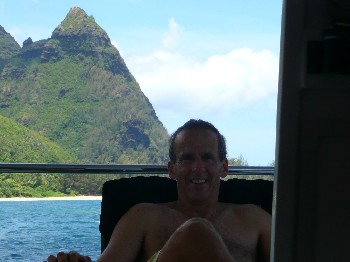 These dramatic mountains and hills are the
result of 70 million years of erosion and soil
and plant build-up after the volcanoes provided
the bare bones.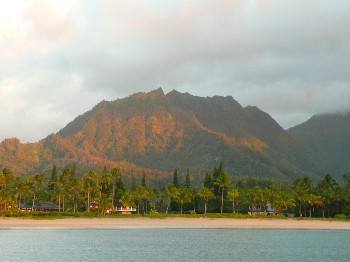 Background mountains behind Hanalei Bay
glow rosily in the sunset.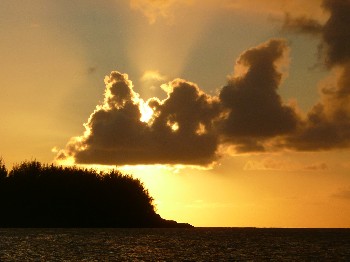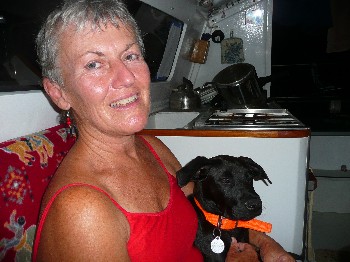 We had Monster over again with Andrea
and J.D. Monster was much better behaved
than the last time, and had obviously grown.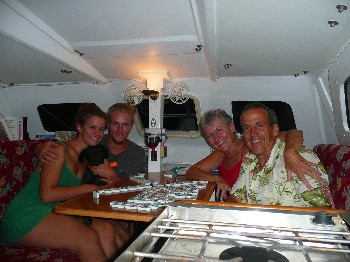 After dinner and a couple of rounds of Mexican
Train dominoes, we all posed for a picture.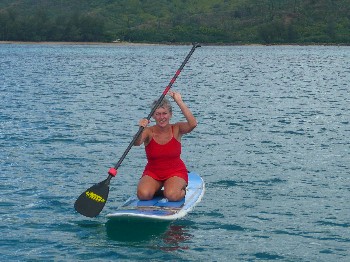 I was really interested in learning how to paddle-
board, as so many people, particularly bikini-clad
girls, paddle by standing on their boards. It's a
lot harder than it looks. This was as much as I
could do. However, the regular paddle boards
are much wider. This one is actually a surf board
and was pretty tippy!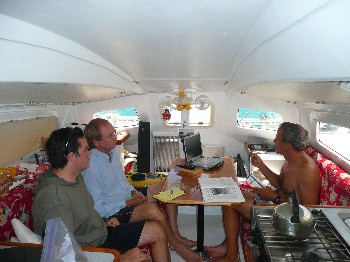 Michael McNulty and his son Garrett (yes,
Garrett, with two r's) visited us one afternoon
to thoroughly inspect Light Wave and get
ideas to improve Michael's trimaran. We talked
about life, the craziness of present-day U.S. policies,
and of course surfing.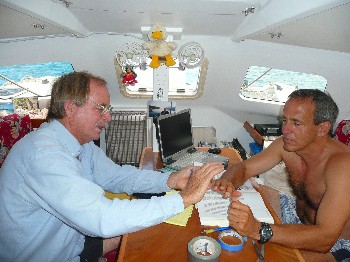 Michael told Garett he should be proud of
his broken finger, gained while surfing,
and now he is a real surfer. "Solid!"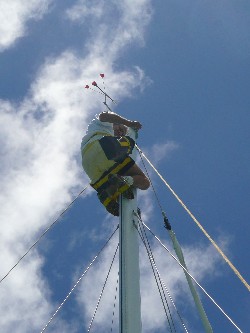 Garett climbed the mast again
to install a new block and
replace the screecher halyard.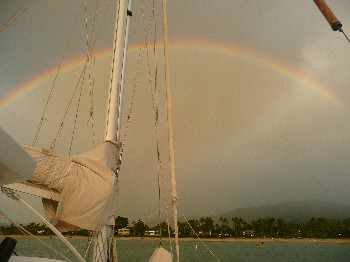 A light afternoon rain was again followed
by a rainbow, this time forming a perfect arch
over the land, where the rain is still falling.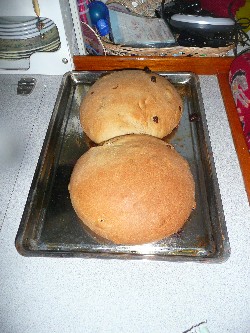 Carllie's Irish Freckle Bread.
Recipe will be posted, with other,
eventually.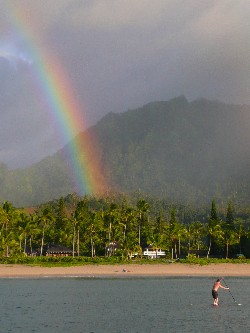 Another spectacular rainbow…

One day we spied a horse being ridden
along the shore and zoomed in for this photo.
Thursday June 26, 2008
Today was our planned big hike on the Kalalau Trail to the waterfall. Every time we had tried to do it for the last month, something came up–or it rained, and you don't want to be on the Kalalau Trail when it's raining. We woke up early and it was raining and so it didn't look too promising.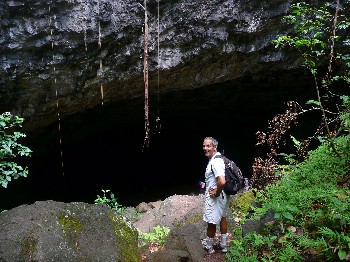 Approaching the "Blue Room," a huge
cave just off the parking lot before the head of
Kalalau Trail.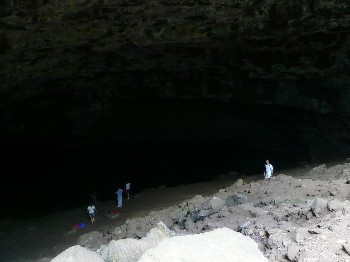 Garett is way down in the cave (to the
right). The cave water, in blackness,
lies beyond…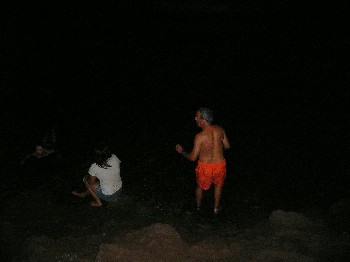 Garett just had to take a dip in
the cave.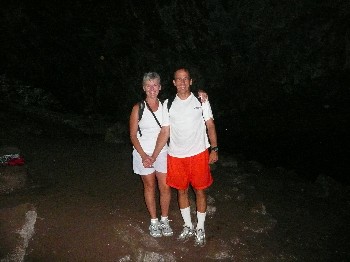 After his refreshing swim…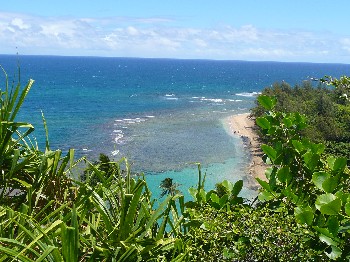 The first of many spectacular views along
the Kalalau Trail, which runs right along
the cliffside that drops straight down
into the sea. Lush growth surrounds the
trail, providing perfect frames for every
photo shot.

Hiking the trail. This was the
easy part!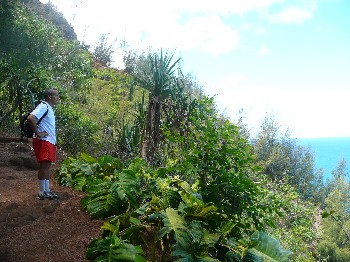 Views from Kalalau Trail.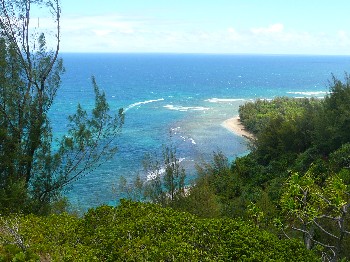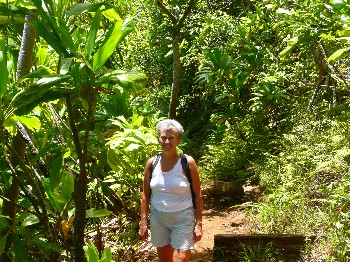 Starting to get pooped with the long
uphill grind…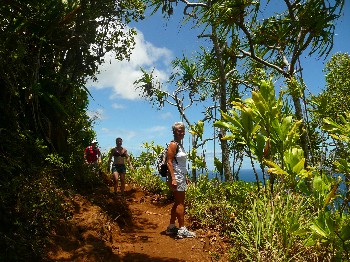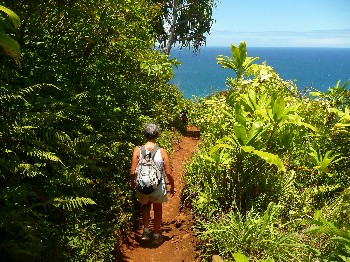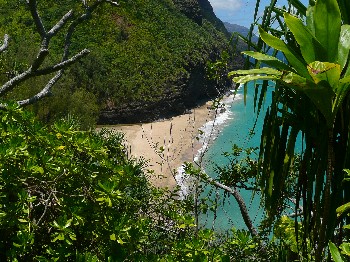 A peak at Ke'e Beach, the first stop in the
Kalalau Trail.

It was great to take a brief rest
and soak our feet in the fresh
spring runoff water at Ke'e Beach.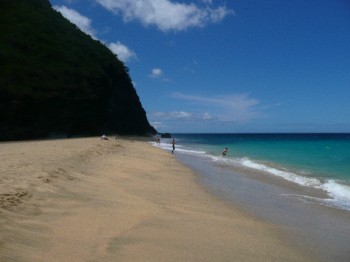 The long sand beach of Ke'e Beach, where
everyone is advised not to swim as the rip tide
is so strong.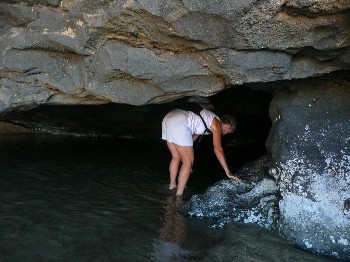 Crouching to get into a "wet cave" off the
beach , to walk through and
come out on the other side.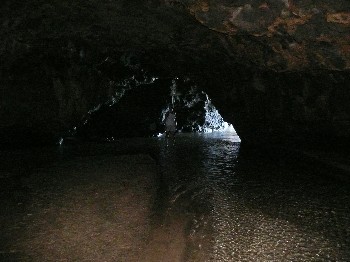 The exit of the cave we have
just walked through…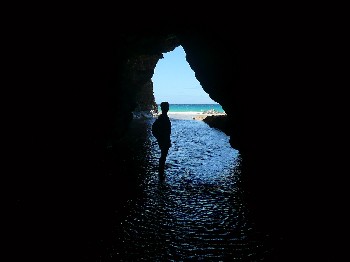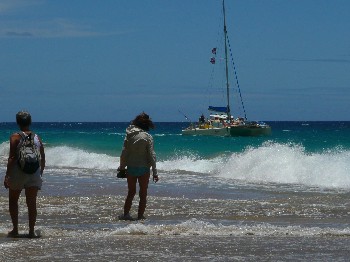 This tourist cat got dangerously close
to the surf at the beach. Good thing
it has two motors!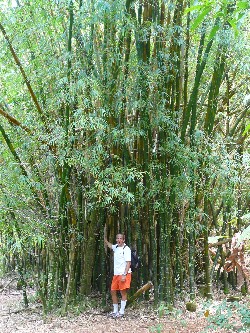 Stand of bamboo along the
trail leading up the mountain
to the Hanakapi'ai Waterfall. There
were a few of these bamboo stands,
each tree being about 20 feet high
and 6 to 8 inches in diameter. They
creaked as they rubbed against
each other in the gentle breeze.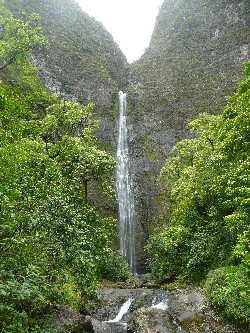 Finally, after a long arduous hike
we reached Hanakapi'ai Falls…

…and it was worth it. We were so
hot and sweaty and quickly dropped
our packs, tore off our shoes,
stripped down to our swimsuits and
waded into the cool, refreshing mountain
water for a nice long refreshing swim. We
swam right up to the waterfall as friends
Elvin and Donna who had hiked this
trail a few weeks ago had swam under it.
As we neared the it, the water
and cascading from such a height was
so strong it created a wind and blew
pellets of water into our faces. We
decided we had been brave enough and
swam slowly back to the rocky shore.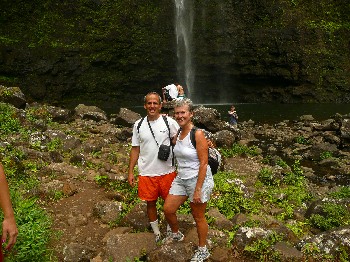 After our refreshing swim, we ate our
yummy packed lunch and…sigh!…headed
back on the difficult trail where we had
to ford the fast-moving mountain stream
three times and I got semi-dunked twice
because my body reach isn't quite as
long as Garett's.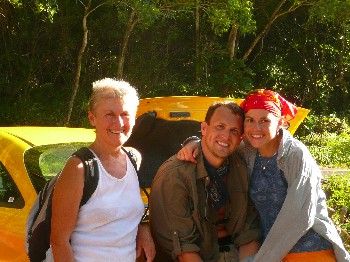 Luckily, we met up with newlyweds Sean and Becky
on the return hike. They had hiked the whole 11 miles
of the Kalalau Trail, much of which being 1 foot wide
right along the cliff face that plunges right down to the
sea, yesterday–and returned today, carried on
newlywed bliss, we figure–and young legs! We
hitched a ride with them for the 10 miles
back to Hanalei. Sure couldn't have walked
it at that point! I was so achy I could hardly move!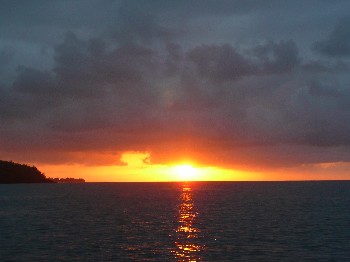 The sun sets on another beautiful day.