We hope this page gives you an insight into what to consider as key
design features for a cruising sailing catamaran.
Some of these features are obvious but others are ones we have found very
desirable. It may be impossible to get all of them in one "perfect design" but we want to make sure you know as many of the facts as possible so that you
will go into the purchase, design, or designer selection process with your eyes wide open.
1. See over cabin top when standing in cockpit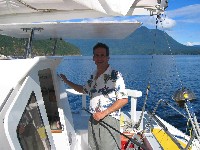 Many catamarans have huge bridgedeck cabins which you cannot see over when standing in the cockpit. Manufacturers and designers are forced to set up an elevated seat to steer from. If you are steering from an elevated seat it is difficult to move from side to side to release sheets and sail t

2. Easy and safe access forward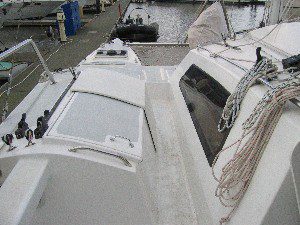 One of the design features we have come to really value on our catamaran is easy and safe access forward.

As you see in the picture on the right, our design has a very safe walkway
between the hull and the bridgedeck cabin. This means that you are 4 feet away
from the edge of the boat. You only have to take one step up from the cockpit
and then you just walk down a protected walkway.

This is something which we really appreciate when we have to go forward on
a blustery day in when a big sea is running. Although this walkway is rather
unique to our design, it is one of the things we would really miss if we went
to a larger boat where the hull access is through the bridgedeck cabin.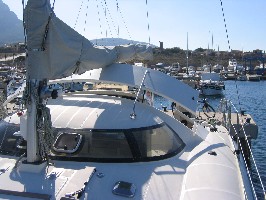 Compare this
picture of a typical full bridgedeck catamaran (Maldives 32) where the bridgedeck
is joined to the hull.

First you have to take two steps up from the cockpit and then you are out
at the edge of the boat. All that there is to protect you from the outside of
the boat is your typical mini-lifelines (trip lines).

Looking at these two pictures, which would be your preferred way of going forward

to douse a jib or spinnaker on a dark and stormy night?

3. Galley up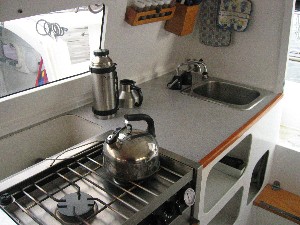 A very desirable
feature is to have the galley up on the bridgedeck. This makes the cook part
of the social atmosphere of the dining and lounging area. It gives easy access
to the cockpit

It also allows the heat and smells of cooking to easy ventilate out. In many
of the older style catamarans, the galley is down in the hulls. With the galley
down, the cook is somewhat isolated and can get a little queasy in rough weather.
It also tends to be quite warm in the tropics.

4. Two engines

We definitely miss having two engines on our catamaran as the Gypsy 28 has
only one. Because of the windage on a catamaran, marina maneuvering is often
an adventure. For the first year of sailing our single outboard engine was not
steerable. In year two we added lines from the engine to the tiller steering.
This made a significant difference to our maneuverability but two engines is
the way to go.

Virtually all of the bigger cats have dual engines, one in each hull. This
makes a catamaran highly maneuverable.

5. Navigation area at cockpit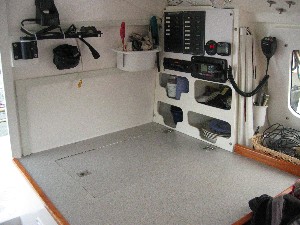 The navigation
area in our catamaran is right at the door to the bridgedeck cabin, giving access
to charts, radios, and navigation equipment. We believe that this works better
than having it down in one of the hulls.

In our boat the nav table is on one counter that includes which is lid for
our icebox/fridge.

6. Shading and protection from the weather in cockpit
In 2005 we
had the boat out of the water for 2 months for offshore upgrades. One big project
was adding a custom stainless arch which supports a hardtop, solar panels, and
folding portabote. Though this proved to be a very significant project it has
added so much to our comfort. These are all the advantages:
Protection form rain and sun
A place to mount solar panels and radio antennas
Collects rainwater
Attach point for mainsheet
Attach point for awnings
You can read all about it and the full construction details in an article entitled,
"Hardtop and Arch for a Catamaran"

7. Workshop tool area

We also have a dedicated tool and workshop area forward of head in the starboard
hull. You have to a convenient place to store all the tools and supplies we
need to keep our boats going. There is also a nice worktable where you can work
on small projects.

8. Light wind sailing performance

Most cruising catamarans have some poor performance in light winds when using
the basic jib/genoa and mainsail combination. Racing catamarans pioneered the
use of furling unstayed sails off a bowsprit. These sails are called "screechers".

Over the last several years a "screecher" flown off a folding or
retractable bowsprits have become common sight on many cruising catamarans.
In 2001, we added a folding bowsprit and screecher to our cat. Wow, what a difference!
We came to the realization that we had "turbocharged" our cat. It
added 2 knots to our boatspeed when sailing at under 10 knots of boatspeed on
almost points of sail. We wrote "Turbocharge
your Catamaran" on how to add a screecher to our cat which appeared in Multihulls
Magazine.

9. Provision to easily dry out on a beach
Theoretically
all catamarans can dry out on a suitable beach, however many cats cannot because
the under sides of the hulls are not structurally reinforced to take the point
loads of small rocks on the beach. Our our catamaran has twin mini-keels provide
the protection.

Convenient beaching allows you to easily clean the bottom, do underwater repairs,
and have easy access to the beach.

Though these mini-keels add about 14 inches to our draft bringing it to a total
of 2 feet and 4 inches, this isn't really a restriction as the rudders go down
about 2 feet and without the mini-keels you would have to always be concerned
with raising the rudders in thin water.