Thursday January 4, 2007
With Daken and Korianne now back in Vancouver and the two of us back on our own, we spent the last two days talking about our trip, our plans, and where and what we should go and do next.
After expending five months of effort to get here, it it just didn't seem to make sense to head off for Hawaii and back to Vancouver in March, in just two months' time. There is so much to see in the Sea of Cortez (we only visited just 45 miles of 800 with Daken and Korianne, not to mention the 600 miles on the mainland Mexico side) and it seems silly after all of the blood, sweat and tears getting here to rush through it. For this reason and many more we decided to extend the duration of the trip by staying in Mexico for 2007 and then heading off to Hawaii (and then back to Vancouver) in March 2008 instead of March 2007.
For the hurricane season, which starts June 1st, we will head up into the northern Sea of Cortez out of the direct paths of the storms and then have our boat hauled out onto dry land in San Carlos or Guyamas for July and August. We will fly back to Vancouver and spend the summer at Kalaway Bay Resort in the Okanagan where we will volunteer our efforts, as it is owned by a non-profit organization which we are members of (Society of Kabalarians). This little break in our trip will get us home to visit and connect with old friends while the Sea of Cortez bakes in the extreme summer heat. In September 2007, we will head back to Mexico to continue our trip, and be back home in Vancouver in July 2008. However in this revised plan we will unfortunately skip our trip to the Queen Charlottes, leaving those pristine islands of rainforest and unique species of birds and animals to anticipate for another trip in the future.
We also had to decide whether we would go over to mainland Mexico (Mazatlan – Puerto Vallarta – Gold Coast) or stay in the La Paz area. Since we got to La Paz in mid-December it had cooled off quite a bit. The nights have dipped to as low as 52 F and the water 69 F, which is a little cool for extended snorkeling. We had heard the water was still in the mid 80's in Tenacatita Bay just south of Puerto Vallarta, where some of our friends were. As well two groups of our friends from Vancouver were coming through Mazatlan on two different Holland America cruises in January. With these positive factors, we decided to head over to the Mexico Mainland via Mazatlan.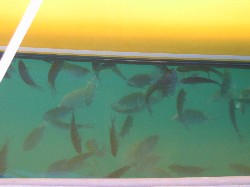 All the little fishies feeding off our marine
growth under the hulls.
Now that we decided to go over the Mazatlan we had to stock up and get the boat ready. Because of the weather and the arrival of friends in Mazatlan we wanted to leave on Friday January 5, so that meant we had a lot to do in just two days. We ran around and stocked up with lots of food (as though they don't have stores on the mainland). We also got some boat parts for our troublesome water pumps and had some custom lycra diving skins made. These suits keep you warmer in the water and they also protect you from stings from jellyfish and coral if you happen to bump into it. We were referred to a place in La Paz called Katty's. The lady there measures you up. you pick the colors and the trim and then in 48 hours and for only $38 each you have a custom fitted suit. Such a deal!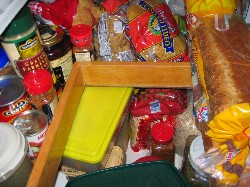 The very full food locker …
don't they have food in Mazatlan?

Our ongoing struggles to keep our
fresh and salt water pumps working
We also managed to find a slip in Marina De La Paz, which simplifies our numerous trips to town and back to the boat instead of the 1 mile crossing of the canal at La Paz. It is such a cruiser-friendly marina with very helpful staff that Carllie and I felt at home and sorry to leave.
We said goodbyes to our many new friends here and even went to a great jam session and sing-along with the various cruisers for some evening entertainment. No photo–forgot the camera! The ten person rag-tag band consisted of guitars, saxophones, keyboards, drums, saxaphone, and harmonica sang a wild range of songs. It was good fun.
Friday January 5, 2007
With the boat fully prepared with water, food and fuel we were off at 7am.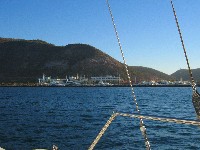 Before you can cross the Sea of Cortez you have to exit La Paz and get back to the crossing starting point at Bahia de Los Muertos (where we stopped for several days on the way up) which is a 50-mile trip. The winds were light so we motored our way there and arrived in dark in the open bay. One of the advantages of Muertos is that it has great free wireless internet connections. We put down and our anchor and had a nice dinner while I checked the weather on our special weather forecast site.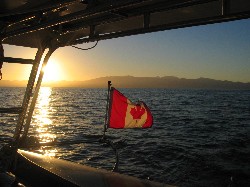 The forecast was to be light winds until midnight, becoming 20 knots from the northwest for the next two days. Maybe a little more wind than we would have liked but it was still okay. We were a little anxious as this was going to be our biggest crossing so far, 200 miles across the Sea of Cortez. This 200 miles is a far cry from the 25 miles across the Strait of Georgia. The Sea of Cortez is a significant body of water, with lots of fetch to generate ocean-size swells. It looks small on the map but it is big in person.
By 9 pm, we were ready to go and we headed east into the big black yonder as the full moon slowly rose in front of us. The first three hours it was flat calm with the moon shining off the oily sheen of the water. Right on schedule at midnight the winds started up and we sailed under full sail for the first time in awhile at 6 knots with just a bare ripple on the water. Wow! If this keeps up it is going to be an easy crossing…
This was not to be. Within an hour the wind was up to 15 to 20 knots and we took down all the sails except for our screecher headsail to sail on a broad reach at 5 to 7 knots. If there weren't cross waves from the north as we headed east, it would have been great sailing rather than just average. These cross waves were at 45 degrees to the main swells generated from the northwest winds. These north swells pounded the side of the boat and created a very uncomfortable, jerky motion not unlike the sailing on the infamous Oregon coast back in August.
Saturday January 6, 2007
We sailed though the night with just the screecher up (in fact we never touched the sail or the sheets for 30 hours) and made good time as we sailed through a glorious sunset.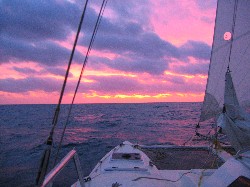 Carllie had the 6 to 9 am dawn watch and decided to put out our the fishing line with our favorite green zucchini squid lure as we zoomed along at 7 knots. I came up on deck from a nap and just as I commented on her initiative in putting out the line, I saw this big beautiful yellow mahi mahi jumping in the air. I immediately thought of the new fish scale that our friend Evan Farrell had given us for Christmas to allow us to objectively say just "how big was that fish." Almost before the thought had formed, I saw the big mahi mahi (how big we will never know) jump in the air and come crashing back into the water while we charged along at 7 knots, and then the line snapped. Oh no! That was out favorite"lucky" lure.
When we pulled the line in it turned out that the line had snapped before the leader to the lure so we think it something to do with that section of the line being weakened when we got it tangled around the prop last week.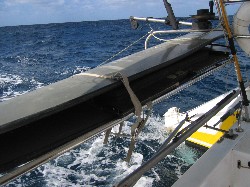 These waves are alot bigger than
they look. We estimated them at
about 10 feet but fortunately not so
close they were dangerous.
We sailed through the day in the brisk conditions. At least the weather was warm, and getting warmer all the time. I found it hard to sleep with all the boat motion but I did manage some small "cat" naps.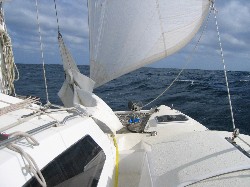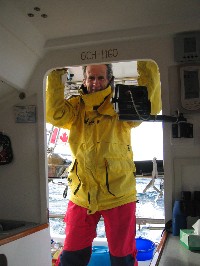 It was windy enough to haul
out our storm suits.
Sunday January 7, 2007
At about 3 am we could see the famous lighthouse at the top of Isla Creston at the entrance to Mazatlan's harbor. This lighthouse is located at top of the 600-foot-high island, making it visible from 35 miles out. So for the the next 6 hours we continued to cut down the miles to our destination as the anticipation of a safe harbor where we could rest beckoned. Finally at 7 am, about 10 miles out, the winds dropped off and we took down the screecher after a 30-hour run with just the one sail up.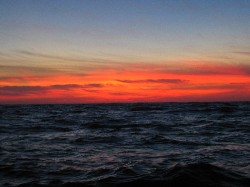 Sunrise, approaching mainland coast.
At 9 am we passed by Isla Creston into the small bay before main harbor where all the cruise ships, ferries, shrimp and working boats go. It had taken us 36 hours to cover 200 miles for an average speed of 5.5 knots.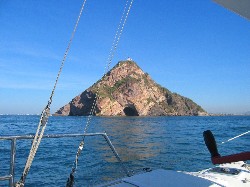 Isla Creston with its lighthouse (circa 1700) on top.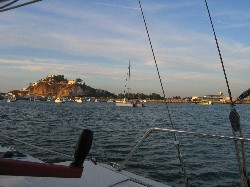 View at anchor in main harbor.
There were only two other cruising boats in this little harbor as most cruisers go to Mazatlan Marina or Marina El Cid which are 6 miles north in what used to be a big lagoon that had been excavated about 10 years ago for a a marina and condo and hotel development.
One of the boats an anchor was Gallivant, with our old friends Marianne and Bruce, whom we hadn't seen since November in San Diego.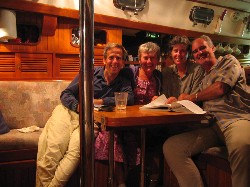 We spent the evening over sharing a potluck dinner aboard Gallivant, talking about our respective trips down the Baja and our plans for the summer which now in fact coincide as they are going back into the Sea of Cortez for the summer like us.
Monday January 8, 2007
From the main harbor it is about a 30 minute walk to the "Old Town" section. First of all, Mazatlan is a big tourist destination with a big hotel district. We were spoiled by the simplicity of La Paz as opposed to the "big cityness" here.

The little Mexican "ijos" are muy contenta
(very happy) and easily amused.
The downtown area had many interesting shops with a giant public mercado occupying a whole city block.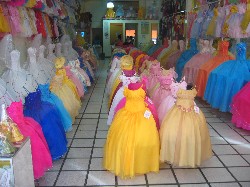 Fancy dress shop with incredible gowns.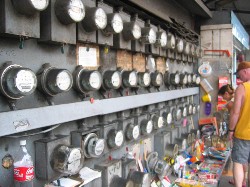 A city of contrast, these are the
electric meters which are outside
the giant mercado while someone sells
their souvenirs right underneath them.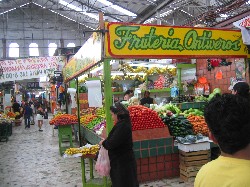 Colorful produce stands in the market.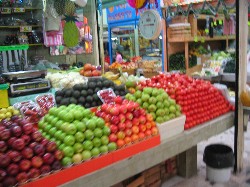 Tuesday January 9, 2007
We were up at dawn to catch our friends Judy and Kory Darnel and Judy's mom, Eleanor arriving on the Holland America ship, Osterdam.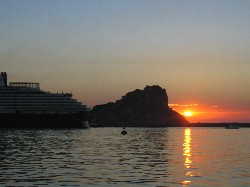 We met them at the cruise ship and had a great day of fun and catching up on things. They treated us for a Mexican style breakfast at the Panama Restaurant and Pastelria (cake shop).
We then walked into Old Town with them and did some souvenir shopping at the main mercado. With a bit of coaching on negotiating with Mexican vendors, especially the "hard sell" types in the Mazatlan market, Judy and Eleanor managed to leave with a lot of stuff and just a little bit of money.
We then took them out to Light Wave and motored over to a nice bay behind an island about 3 miles from the main harbor where we were anchored.

Eight-year-old Eleanor (who doesn't look or act it)
amazed us with how game she is, making
the difficult steps down into the dinghy
from the dock and back up onto
Light Wave very bravely.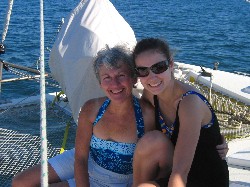 Old friends glad to see each other.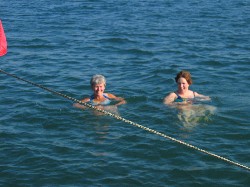 We even found time for a little swim.
By their 4 pm "turn into pumpkins" time we got them back to their cruise ship and said our almost tearful goodbyes.
Wednesday January 10, 2007
We spent the next day in the harbor when we met up with our friends Ken and Wendy who we thought we said a final goodbye to last month in La Paz but who turned out were still in Mazatlan, and agreed to go with them to the center square for dinner in the evening.
We decided to a little exercise and hiked up Isla Creston to visit the lighthouse. We sure felt out of shape in the midday heat, but managed to make it up with only about 10 stops.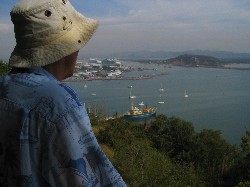 There were commanding views down into harbor where you can see the cruise ships in front of my nose and a dot next to my shoulder which is Light Wave.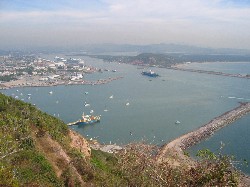 Thursday January 11, 2007
With a few days before our next set of friends Judy and Ross Garner arrived from Vancouver on the return voyage of the M.S. Osterdam, we decided to move the boat to the Marina Mazatlan about 6 miles north of the main harbor and cruiseship terminal. The trip was uneventful as we passed the big hotel district which confirmed we were in a big city and not quaint and cozy La Paz.
We found an end tie slip in Marina Mazatlan and set up shop for the next few days.
Friday January 12, 2007
Carllie had a January 15th deadline to submit an article to Multihulls Magazine, so with the dock power to run our computer all the time and no boat rocking she focused for the next 3 days on writing the article as she compiled writings and excerpts from the web site and a collage of photos. (Carllie: Garett was a big help: after I had finished the article, he proofed it, and I cut and slashed a final version. Then he stayed up almost all night sending the lengthy article (over 8,000 words) and 21 pictures via a now very very slow Internet connection.)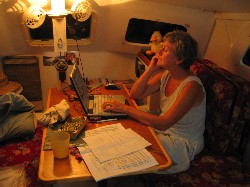 Carllie hard at work in the Light Wave
publishing center.
We did manage to go for three runs around the lagoon and down to the beach.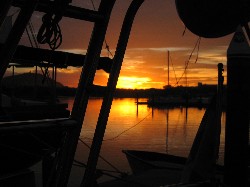 Views at Marina Mazatlan.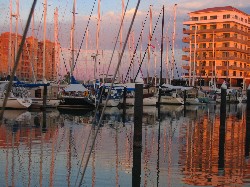 On the boat across from us were two new dogs for us to make friends with: Apollo, a fierce looking Doberman with a craving for cookies, and Ursa, a small terrier.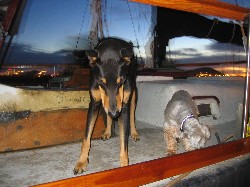 Apollo and Ursa watching Carllie
getting cookies out of a bag for treats.
Monday January 15, 2007
My part in the article submission process was to somehow transmit the article and the 20 digital photos over a spotty internet connection. I stayed up all through the night and we finally got it all sent through with minutes to spare at 9 am.
Our original plan was to move Light Wave back to the main harbor so we would be really close to the cruise ship terminal. Unfortunately, the winds were 20 knots from the northwest and the Port Captain had closed the harbor for departing boats, so that plan was shelved in favor of transportation via "autobus" (bus).
After a short nap we took our morning run and stopped by to get a first- hand view of conditions at the entrance to the marinas' "inlet" where a narrow shallow channel (150 feet across) leads between two big rock breakwaters. The conditions were indeed bad as the big surf from the northwest broke clear across the entrance. I guess we aren't going anywhere with the boat today.
Tuesday January 16, 2007
We woke up extra early so that we could take the bus that would take across town to the cruise ship terminal. Before we left we helped our new friends Bill and Diane depart on their beautiful 43 foot Catana catamaran, Wire Walker.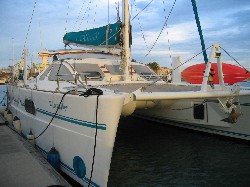 Bill and Diane with their 43′ Catana.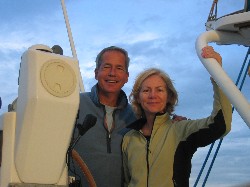 We hope to see them again soon!
After a 30 minute bus trip we made it to the cruiseship terminal just as our friends Ross and Judy emerged. Gee it was sure great to see them! They seemed as happy to see us as we were to see them. Carllie even surprised the shy and reserved Ross with a big hug that he had no time to evade.
With their extensive pull from many trips with Holland America, and thanks to Judy's persevering for three days of haranguing, she had arranged day passes so we could go on board the boat. Wow, what a treat! Ross and Judy proudly conducted us all around the M.S. Osterdam, for a full tour: all the decks, and facilities sandwiched between several visits to the "all you can eat of whatever you want to eat" restaurants. The ship was probably out of salmon lox after we went through for our special omelets of shrimp, lox, veggies and cheese (and extra lox on the side!).
Our whirlwind trip through the boat included an impromptu dance lesson to learn the box step with the some volunteer dancing instructors who were also guests of the ship, some tennis, and basketball. We didn't have our swim suits so we had to pass on the pool.

The happy cruisers: big ship, small ship.
On a boat repair note, when we were crossing to Mazatlan 10 days ago we noticed that our propeller was free wheeling and losing power when at high speed. I recalled that this had happened a year and a half ago when I wrapped a rope around the propeller and stripped the clutch. Sure enough after the fishing line went around the propeller last week we were having the same problem and were now only able to motor at three-quarters speed and it was getting worse. The only solution is to get a new propeller a dealer or have the current one fixed at a dealer. Since we couldn't easily get to the dealer in La Paz we were initially stumped on how to quickly get a new one. We then realized we could order a new one from Galeon Marine in Richmond, B.C., and have them deliver it to Judy and Ross in North Vancouver, who could then bring it down for us.
The only tricky part was how to get it through customs. Ross and Judy came up with an excellent solution by turning the propeller with a simple string into an exotic necklace so that Judy was then able to cleverly get it through customs unnoticed.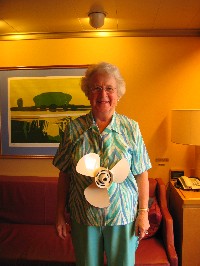 Subtle, eh? (No, we are NOT Canadian.)
Back to to the tour of the ship: the Osterdam is truly a beautiful ship, really more like a work of art. She was built in Italy, and the Italian craftsmanship is very evident throughout.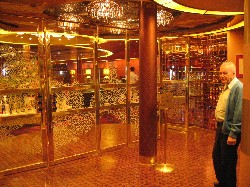 We went everywhere and took it all in.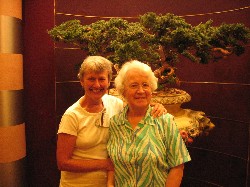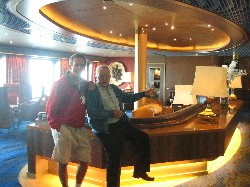 Beautiful ornate table in the library.

Rotating globe chandelier in the main atrium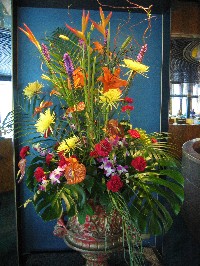 Real flowers everywhere.
We finished of the day relaxing back in the Garners' spacious stateroom with balcony that they had been upgraded to. They even let us have baths in their Jacuzzi tub–a special treat after 6 months of showers.
By 4 pm we had to be off the boat so we said our sad goodbyes and look forward to seeing them again in a few months back home. It truly was a great day with two of our special friends. (Carllie: the worst thing about it was saying goodbye and again coping with that parting; however, knowing we will be home in five months makes it easier.)
Wednesday January 17, 2007
We spent the day again filling up with water and getting some last-minute things done, and left the marina at 4 pm heading out for the 90-mile trip to Isla Isabella. We didn't visually check the harbor entrance as the Port Captain had opened the port and the winds were quite light. As you will see in the photo sequence below maybe we should have checked . (Well, maybe it was best we didn't. – C) Carllie took this interesting sequence while somewhat oblivious to the size of the swells rolling across the mouth. (C: My motto is if Garett's not nervous, neither am I.) As we approached the breakwater the first big wave broke right across the mouth just in front of us – glad we missed that one! As we we were even with the breakwaters we went through a couple more big rollers.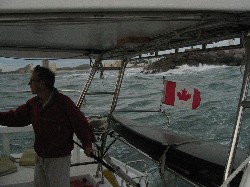 Going slightly up – notice waves crashing
on breakwater in background.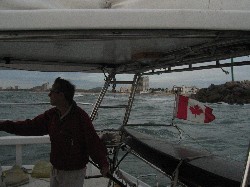 Boat level.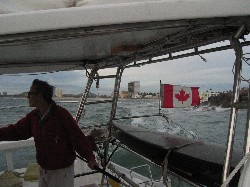 Going down ….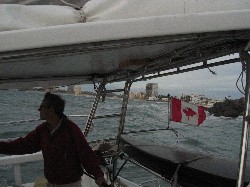 ……way down…
Believe me when I say it was worse than it looks.
We sailed past the downtown area and off into the night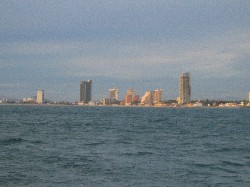 for our crossing to Isla Isabella.
Thursday January 18, 2007
We sailed through most of the night but the winds dies at about 3 am and so we motored in the gentle following seas. At about 9 am we had the closest encounter yet with a humpback whale breaching on the water. He was only about 150 feet away. The picture like usual doesn't do it justice.

Fin of not-too-distant
humpback whale.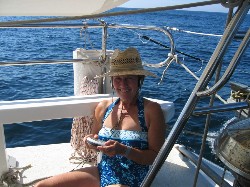 Carllie keeps working on her Spanish
while lounging in her new bathing suit.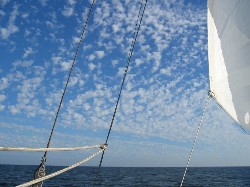 We had some very different cloud
formations today. Never seen anything
quite like it.
By 4 pm we did our final approach to Isla Isabella. This island about 12 miles off the coast of the mainland is a bird sanctuary for nesting blue-footed boobies, frigate birds, and several other species of aquatic bird. We were quite anxious to go ashore as we had received good reviews of it by our friends who were traveling ahead of us.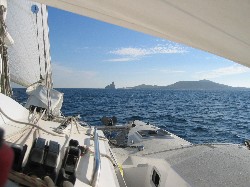 Approaching Isla Isabella.
When we got to the two bays that were recommended anchoring spots, one was occupied by another boat and the second in the south cove had a sandy bottom but with many rock spires coming up 20 feet which could easily cut our rope anchor line. If we had all chain anchor or had already put on our extra chain onto our existing chain it might have worked but it didn't seem safe enough with the rising wind.
We decided to move onto San Blas and maybe stop at Isabella on our way back to La Paz.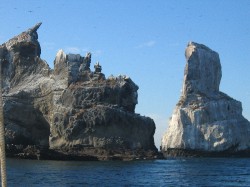 Fascinating rock formation with thousands
of birds flying around (very small dots
in the photo) at Isla Isabella.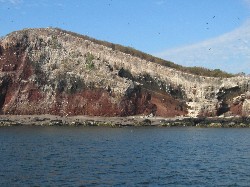 The rocky south cove where we decided
not to stay
We sailed on to San Blas, only 35 miles away, into one of the most beautiful magical sunsets yet. We took dozens of pictures and these were the best two!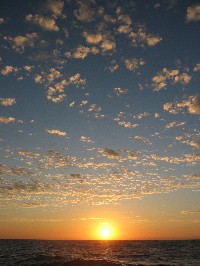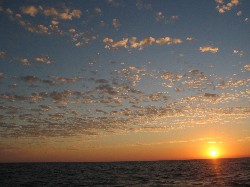 ….or best three photos!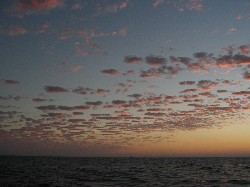 Friday January 19, 2007
We arrived at San Blas at 8 am and anchored in the south bay.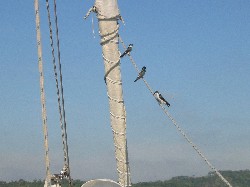 Swallows quickly found us and were
quickly sizing up the boat for its best
nesting locations.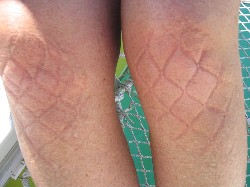 Wow! Look at the neat pattern on
Carllie's legs from kneeling too long on
the front netting.
We decided to move up into the estuary so we could be closer to town.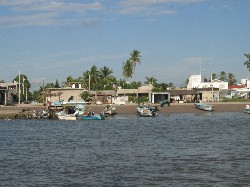 San Blas is a really a small town of just 4,000 people compared to the 400,000 in crazy Mazatlan.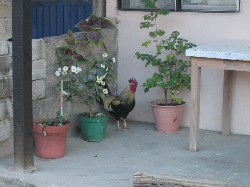 Chickens in the yards as we walk
down the street.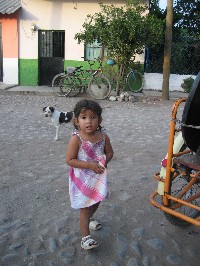 The center court yard is just like out of an old movie with people milling around having dinner and talking.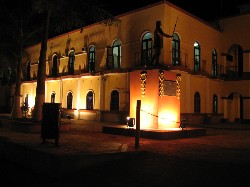 A couple of cruisers, Tate and Jason from a boat from San Francisco, were playing Flatt & Scruggs songs to entertain people.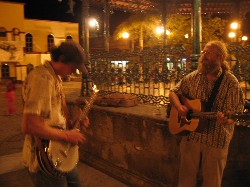 Tate and Jason playing Flatt & Scruggs
at the plaza in San Blas.
After an inexpensive meal we headed back to the boat way after dark.
Saturday January 20, 2007
The only problem with anchoring in the estuary is that there are a lot of no- see-ums, the very tiny gnat-like biting bugs that get right through conventional screening. I managed to get about 100 bites on my ankles and wrists. There is no warning as there is with mosquitoes where you can hear them coming. These just land and bite. You don't feel anything until the next day.
These new bites were added to the four gruesome spider bites I had received over the last 14 days. These are nasty bites that become golf ball in size and the surrounding 3 inch diameter of skin turns red and extremely tender. They look really ugly – sorry no pictures. It takes about 2 weeks for them to go through their cycle. Unfortunately I got my fourth one just yesterday. I think I did find the spider that did the damage. He is no longer crawling on this earth.
Today we went for a hike up to the old fort on the hill overlooking San Blas.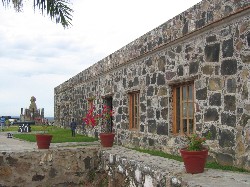 It had great views of the whole area. I guess that's why they built the fort there but I can't figure how the cannon balls would have reached the river and estuary.
At the fort we found a fella singing in a song in Mexican. In talking with him afterwards it was a song he wrote about these five fisherman who went out in their panga last January for some local fishing and were carried far form shore after they ran out of gas. So far out to sea that they ended up in Australia after 289 days! In this incredible ordeal of survival only three of the five survived.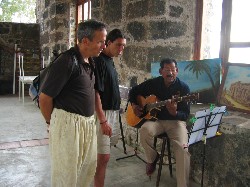 Songwriter sings the ballad
of the five lost fishermen,
while Garett and another Mexican
hombre sing along.
We also found in town a women's clothing shop where a very nice lady, Cha Cha, helped carllie find a skirt, a top and some shorts as our big expenditure for the visit.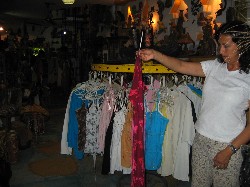 There are a few lovely older hotels here built around older haciendas.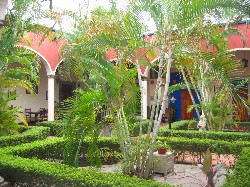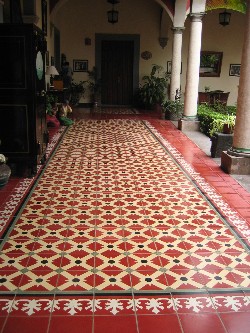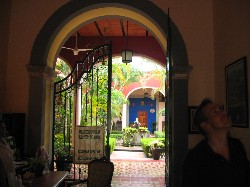 Sunday January 21, 2007
We woke up this morning after another morning of struggling with the bugs and decided to head off to Bahia Chacala rather than doing the jungle river trip in San Blas we had heard about (where you swim in a pool that's only separated from man-eating crocodiles by a chain fence in the water..ummm, I don't think so!-C) We will just have to do it on the way back.
We motored the 35 miles pretty close to shore and arrived late afternoon in this pretty bay. The whole bay was severely damaged back in 2002 when hurricane Kenna brought a 20 foot-high storm surge which washed away all the palapa restaurants that line this popular beach.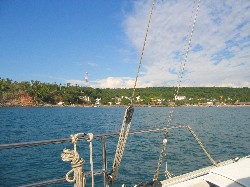 They have all been rebuilt and it looks like nothing happened but when you see how close they are to the shore on this beach that faces southwest you see how easily it can happen again.

Our last view of Cop Out at Chacala, with
friends Wendy & Ken Squirrell.
We found our friends Ken and Wendy here again and so we invited ourselves over for dinner to share food and watch a movie.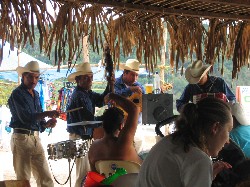 Roving bands of musicians provide
musical entertainment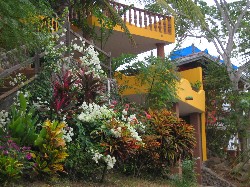 Beautiful homes and gardens surrounding
Bahia Chacala.
***Just when I thought my insect bites could not get any worse after my four spider bites and 100 no-see-ums bites, I went to the front of the boat in the dark to move up the dinghy on to the front deck (for security) and grabbed the painter when I got a stabbing sting in my hand. At first I thought it was some type of jellyfish sting. I fortunaterly did not lose the painter and the dinghy in the water, so we took out a flashlight and examined the line where we found a little honeybee (who also did not last long, as I flicked him into the water). Fortunately the sting wasn't too bad on my finger as we managed to get the stinger out rightaway. It has not be a good insect month for me…
Monday January 22, 2007
Today we went for a walk on the road into the jungle that surrounds this part of the coast to see if we could get to this big incomplete house that seemed to be clinging to the cliff.
The road to the above house took us past some interesting scenery I have never seen before.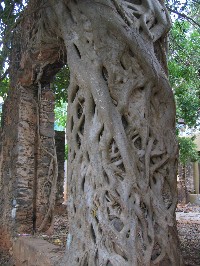 Here is a vine type tree that has completely
encircled a column of bricks just like
the one in the far left of the photo.
Here are some shots of the jungle rainforest growth.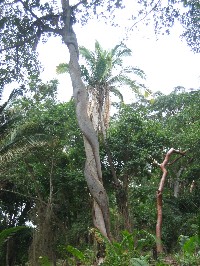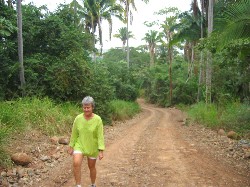 We eventually reached a development where serviced lots were being sold for $400,000 and there was a hand built wall that went on for almost a mile.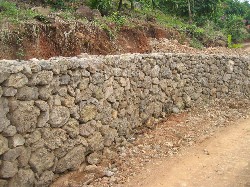 The views of the Bahia Chacala
were fabulous.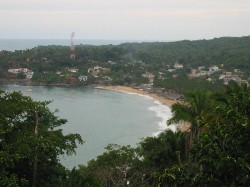 High perched on the cliff was this incomplete huge home. It was on four levels, and all built of hand-poured and molded concrete and stones. The Mexican people are known for their fantastic concrete work. I really don't know how they built as it seemed to be just glued to the cliff. It appeared to have been built about five years and nothing had been done to it since then, although we were told later that work is still in progress.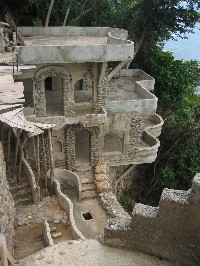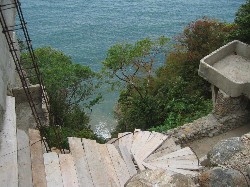 Incomplete stairs down to the lower
level and the water straight down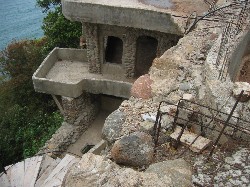 You can see the edge of the uncompleted jacuzzi.
After getting back from our hike we took the bus to the town of Las Varas ,about 10 miles away, to get some veggies.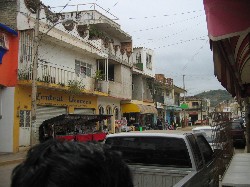 Here we found huge papayas for 60 cents a kilo! That's right: less than 30 cents a pound. We bought 3 big ones! We can live on these guys. Apples are $3.00 a kilo. Why eat apples? (Carllie: I read an article today that said the valuable enzyme in papaya is papain, and it is good for ulcers and for digestion. Also, the bitter seeds are edible and kill parasites. We knew that, being an alkaline fruit, papaya is good for you, but we did not know about the seeds, which we will now try to eat in moderation.)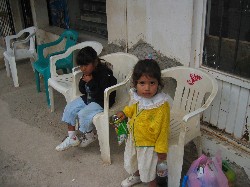 Some local children–hard to get a smile out of them!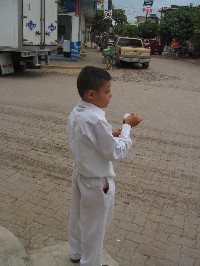 All the children, including teenagers, wear
uniforms to school, and do not project
the same "sexual" image that Canadian and
American teenagers do.
This is picture of a street that is being cobbled together by hand. These streets are all over the towns and almost works of art. Muchos man hours go into these. You can see two fellahs working to rebuild this road below.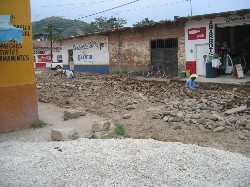 Here is mother hen with her 7 chicks going down the street. (Carllie: Hens and roosters are everywhere in Mexican cities, even in the sophisticated Puerto Vallarta with its $1,000/night-and-up Westin Resort & Spa.)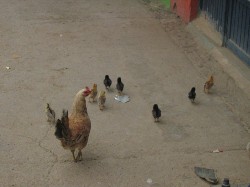 Tuesday January 23, 2007
We had just realized that we had not cleaned off the bottom of the boat since we left home last July and it sure felt as though it was hard to pass 4 knots. I borrowed a heavy plastic scraper from Ken on Cop Out, got out a scrub brush, dawned my lycra suit and fins and snorkel stuff and got to work. I couldn't believe how bad it was. I scrubbed off the sludge to then find there were thousands of barnacles that were obviously slowing us up.
I did one hull in the morning and the other in the afternoon, and after 4 hours of hard underwater work it looked great. We will see tomorrow how much of a difference it makes.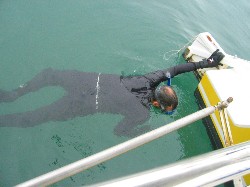 Garett working very hard cleaning
a barnacle-encrusted hull. He was
very chilled after each session, so
I made him hot tea and soup.
By the way, today was our first day of rain on our whole trip. It rained lightly almost the whole day which I didn't mind as I was in the water working on the hull. (Carllie: felt like home!)
Wednesday January 24, 2007
It was time to head off to Puerto Vallarta so we said goodbye to Chacala.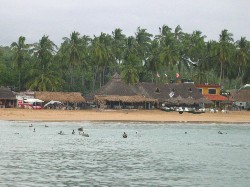 It was 45 miles to La Cruz which is just outside PV as it is called here. We sailed and motored on and off and arrived just at sunset and anchored amongst 30 boats in the very spacious anchorage. You could put 100 boats in here.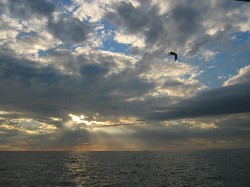 Thursday January 25, 2007
When we were leaving Mazatlan a week ago I received an email from Colin and Jacquie Turner who tied their trimaran just in front of Light Wave at the River Rock Casino Marina back in Vancouver. Their email said that they were staying at the Paradise Village hotel near the PV marina until January 27. We didn't know whether we could find space for our boat in the marina so we decided to go there by bus.
As we walked up to the hotel we found this small zoo out front with a couple of tigers and cougars in it. The tigers are big and very impressive animals from 2 feet away. They could do a lot of damage if they were so inclined.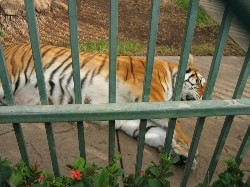 Carllie: We were happy to hear that they plan
to relocate these tigers to a much larger space soon.
Tigers are an endangered specie, largely thanks
to illegal poaching for parts that are sold all
over Asia for the ridiculous expectation of
improving sex drive and performance. Only humans
would kill another specie expecting to
improve their own reproductive ability.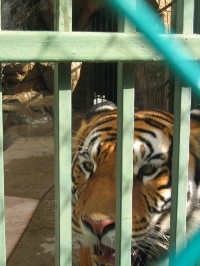 I can handle the parrot that could only say "hola" to my greetings.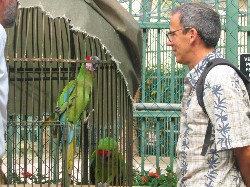 We called up to Colin & Jacquie's room but their were not in, and so Carllie suggested we walk the beach and see if we could find them. I didn't hold out much chance in this huge 500 room resort and rambling beachfront, but we started walking.
We went no more than 50 feet when we came across them sunning themselves. It was good to see them again and we talked about our trip from 3 pm to about 9 pm after dinner.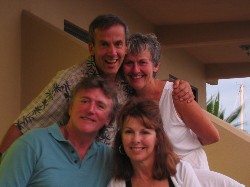 Visiting at Paradise Village hotel with
fellow-Vancouverites,
Colin and Jacquie Turner.
We wish them luck on their possible future sailing adventures. We got back to La Cruz after a fun bus ride in the dark. We stopped by a restaurant that had live music and caught a few songs from a band that included a very talented fellah on the washboard.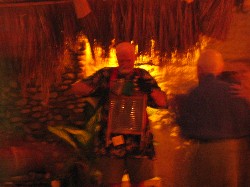 Friday January 26, 2007
Even though we had heard yesterday that it was hard to get a spot in one of the marinas in Puerto Vallarta we decided the best tactic was to just show up and see if they can fit you in rather than just calling by phone and getting the brush off. It seems that the marina operators are more likely to help you out when there is a boat at their transient dock that they have to find a spot for.
We left La Cruz at 9 am for the short 5 mile jaunt over to Nuevo Vallarta. The sky was overcast again always with the look of impending rain but none ever fell. We entered through the breakwaters and tied up at the very rickety docks of Nuevo Vallarta Marina. The middle part of the docks are made out of the a spongy substance which reminded me of the old school gym mats. After tieing up we bounced down the dock and found dock master Juan, who said that he might be able to find something for us in 3 hours so we were permitted to stay for the few hours. Things looked promising so we went for breakfast but it turned out that in the 5 miles we had covered this morning we had crossed through a time zone and so it was noon not 11 am and breakfast was over. Bad break. We splurged by heading to one of the nearby resorts for lunch instead and sat by their pool. (Carllie: so please note, Skype friends in Vancouver: we are 2 hours ahead of you until after March 1st, when eventually we will come south past Puerto Vallarta, when we will be 1 hour ahead of you.)
When we returned to the boat we were optimistic about being able to stay. We found Juan again but we were disappointed to find out that there was nothing available.
We regrouped on the boat and decided to head to the super big marina next to the cruise ship dock about 4 miles further away but closer to downtown PV. We entered the breakwaters and proceeded up a progressively narrowing channel to the marina where we were again rejected for the night. We were starting to take it personally, but as we motored out we were resigned to going back to the anchorage at La Cruz when we came across this seemingly open dock behind the Howard Johnson Hotel. We tied up next to a 90 foot mega yacht plus three semi-derelict boats. After a wait for the hotel manager we found out we could stay! We now had a new home base. It had been a tiring and unsettling day with all the running around. (Carllie: and I was fed up with city living and coping, affecting my outlook on the whole Big Adventure, temporarily.)
We went for a late night stroll and came across this brother and sister team who were selling their art. We bought two small paintings for 25 pesos.

Siblings Marina and Jugo selling their
paintings on the boardwalk.
Tomorrow we will pull the engine out and put on the new propeller as the engine seems to be getting worse each day. If we get done early enough, we will head downtown to the only squash club so far on the coast for our first game in three months.
Saturday January 27, 2007
We were up early and I got to work on lifting the engine out of its well. This involves disconnecting fuel lines, electrical wires, and steering lines. We use a special harness and the boom as a crane for the lifting, and Carllie works with me to hoist it up. I scraped off all the barnacles and marine growth that had joined the engine when we were anchored in La Paz, and easily installed the new propeller. We will now tilt the engine out of the water every night to prevent, or at least delay, the problem of marine growth on the propeller in the future.
By 11 am we were all done with the engine back in place, so we took a taxi to Ulama Squash Club, the only squash club in Puerto Vallarta and the only one within 300 miles. The taxi driver got a little lost trying to find it in on this obscure street in a residential neighborhood. Like 99% of Mexican buildings, including private homes and apartments, it is concrete with open gratings for windows, letting in alot of natural light and air. Carllie and I played for an hour and then I got a few games with a very nice fellah,Tomas, who is only 17 but runs the club and is mature beyond his years.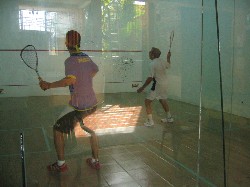 An out-of-shape Garett tries to remember
how to play the game with Tomas.
It was alot of fun for a couple of hours and they only charged us a mere 100 pesos, $10 USD, for two guest fees.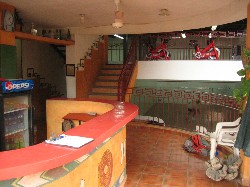 Reception area of the club–must more colorful
than our clubs inVancouver.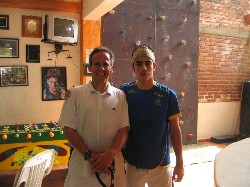 My new friend, Tomas. We couldn't figure
why he didn't smile for the photo
as he was smiling the rest of the time.
We then took another cab into the city and did a little sightseeing on the Malecon.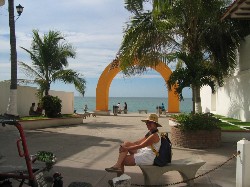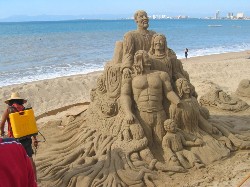 There were fantastic sand castles built
by some local artists.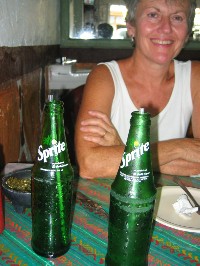 Ever wonder where all those glass pop
bottles went? There are here in
Mexico. True recycling goes on here.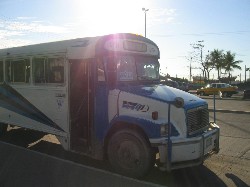 The rough and ready buses of Puerto
Vallarta. Better have your conversation
before you get on as they are noisy.
By 4 pm we were starting to fade badly, but Carllie wanted to do some grocery shopping so off we went to WalMart. As you can see in the photo below there is no lack of selection here in the big cities of Mexico.
When we went to the parcel checkout to get our backpacks we came across this little girl who was working her way through her yogurt and in the process getting all over herself and her clothes.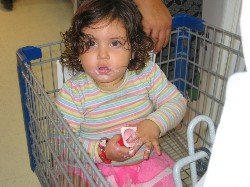 Carllie: When we got home to the marina, we enjoyed a late-night, cooling swim in the big pool here at Howard Johnson Nautilus Hotel. The hotel is almost desserted; though it is a nice spot and well kept, it is about 20 years old and even though the room rates are only about $100 US/day it doesn't seem to compete with the big fancy hotels across the street that front on the beach–the Westin Resort & Spa (very very posh), and the Mayan Palace. Today (Jan 29) a large group of about 45 older ladies arrived in a tour, so they have helped liven the place. We are quite enjoying the facilities and the quiet.
Sunday January 28, 2007
Garett: We did a few more boat maintenance jobs and then we relaxed in the comfy, shaded lounging chairs around the hotel pool. We spent the rest of the day finishing up the web update.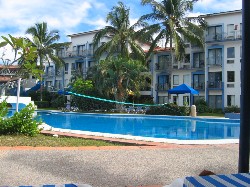 After dinner we went for short walk and stopped to the hotel across the street, the Westin Spa and Resort of Purto Vallarta. Wow, this was a 6 star resort. We never found out how much it was per night but we wouldn't be surprised if it was $500 plus per night.
Monday January 29, 2007
One of the interesting things about the pool at the hotel is that they have a separate deep water pool that is 10 feet deep that they use for diving classes. It is about 20 feet wide and 30 feet long and is perfect for us to work on our free diving technique in a controlled environment. It also has a viewing portholes so you can look in and take photos, which we did.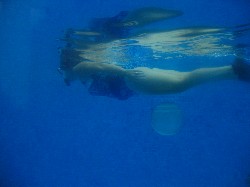 Carllie at the surface.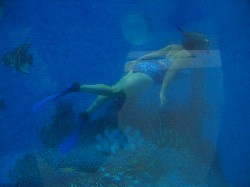 Carllie coming up from a dive to the
bottom, showing fine form.
She was able to stay down for 27 seconds.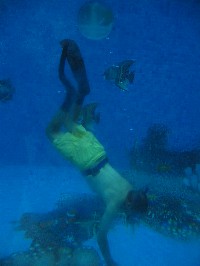 Garett reaching the bottom. Notice
the improper technique of the bent
legs… I'm working at it….

Garett waving at Carllie.
Carllie: After our diving practise, we hopped in a taxi for another visit to Ulama Squash Club, as Tomas had told us week nights are good times to come as there are lots of guys looking for games. There were a few fellows when we came, and quite a few kids, ranging in age from about 8 to 14. After Garett and I did a series of drills and played a couple of games, he played with three boys aged about 10. They were so funny. While each one played Garett, the other two sat outside on the floor guffawing at their playing friend with great gusto (HA-HA-HAAA! in the noisy, just-breaking voices of young boys), making fun of each missed ball. What a riot. After playing all three–Keko, Eric and ?, Garett played an hombre, Gustavo, then played me again. After one final game with Tomas, we showered and made our way home on a now-windy night.
By the time we got to the boat, the wind was really howling and I worried a little about whether or not we would be able to leave tomorrow morning as planned. However, as Garett had suggested, it was only a late-evening breeze generated by the warm land air blowing out to the cooler sea, and dissipated by the time we sat down for a very late dinner. All is quiet now, so once Garett checks the weather in the morning, we will be off for a little exploration of Banderas Bay where we hope to snorkel, visit a waterfall, and a small town, then on to Tenacatita Bay.
We have had no Internet connection here in Puerto Vallarta; thus we have not been able to send or answer emails. Be patient. Needless to say, when we get to the next small town we will find a connection!
Tuesday January 30, 2007
The last thing to do before we left Puerto Vallarta was to go to an Internet coffeeshop on the marina boardwalk and upload the web update as we could not get wireless in the marina we had been staying at–the norm in big cities, as we have mentioned before. Two cinnamon buns and a piece of carrot cake later I finished uploading 105 photos and the article.
Meanwhile, back at the boat Carllie was having a final lounge around the pool before we started roughing it again out of the city. We did find the time for one more dive in the mini-dive pool. Carllie wanted to video me with my bent legs so I could see it. After seeing the video, I realize it is worse than in the still photos…well something to work on.
Finally, by 3 pm we said goodbye to Howard Johnson's and hot showers. Our destination was the small town of Yelapa (no road access) on the south shore of very big Banderas Bay where Puerto Vallarta is located, along with several small towns and villages like La Cruz, Bucerias, Yelapa. The bay attracts lots of whales and lots of tour boats go out daily to look for them, as well as to visit the great snorkeling sights off small islets in the bay, stops at another village where the tourists ride horseback to a scenic waterfall in the jungle mountains.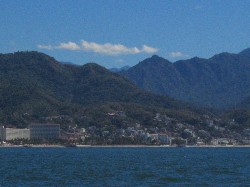 Our last views (for now) of Puerto Vallarta.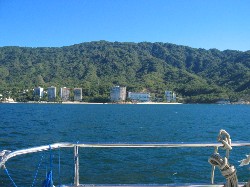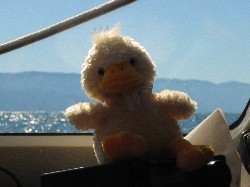 Our mascot Duck-Duck is still having a great time.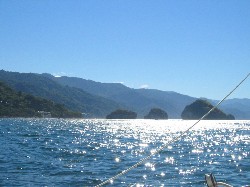 Approaching islets known for great snorkeling.
Unfortunately, anchoring is iffy, so we had to
give it a miss–for now.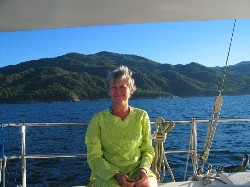 Happy to be sailing again, and-YES!-
out of the city.
Just before nightfall we arrived at the village of Yelapa, nestled in this small bay with steep jungle-growth mountain sides, about 50 houses clinging to the south side and a very attractive cabana style hotel on the beach. We were quite close to shore and it was still over 200 feet deep. We need a maximum of 50 feet to set our anchor (5 to 1 scope on the anchor rode is required for safety, and we carry 315 feet) so after going around the whole bay we found one small spot where it was 30 feet deep. We set bow and stern anchors as there was a swell coming in from the north, the way the bay faces, but the wind was fortunately blowing out from the shore.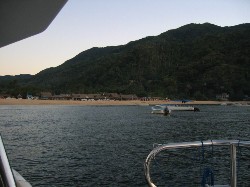 Safely set with two anchors in the tenuous bay
at Yelapa, we enjoyed a beautiful sunset.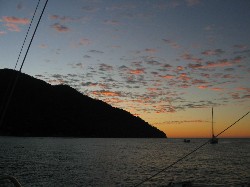 Wednesday January 31, 2007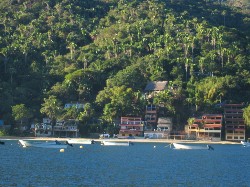 Morning at pretty Yelapa, just before
departing.
There are quite a few things to do on shore such as horseback rides to a water fall, and a few palapas (beach restaurants with palm-leaf roofs), but we decided that the anchorage was tenuous and we would not want to leave the boat unattended so we headed out for the 35 miles around Cabo Corrientes to Ipala Bay. Cabo (meaning "end") Corrientes is another headland known for high winds, somewhat like the infamous Cape Mendocino on the northern California coast, but a much much much milder version. We were lucky, and did not encounter adverse or exceptionally high winds on our passage.
The first 3 hours out we motored west out of Banderas Bay to Cabo Corrientes and were happily joined by our first group of Bottle Nosed Dolphins (like Flipper).
Carllie: It was great to sail with them and we enjoyed our conversation, as we are sure did they, but we think the Pacific White-Sided Dolphins we have sailed with earlier are much more playful.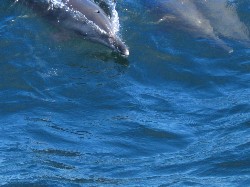 Bottle-Nosed Dolphins check out new playmates,
nearing Cabo Corrientes.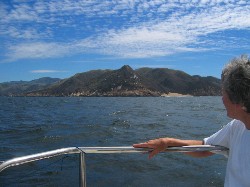 Passing Cabo Corrientes, favorable wind.
Garett: When we rounded Cabo Corrientes and headed south the winds quickly built up from the northwest. It seemed within minutes it had piped up to 25 knots, and with a only our small jib up we were flying along to Bahia Ipala just 18 miles away.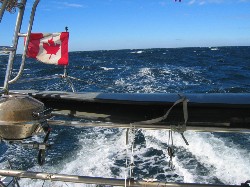 Great downwind sailing south.
As we tucked into the Bahia Ipala 15 miles later, we realized the bay was much smaller than what we had imagined from the sketch in the cruising guides (not having checked the scale). We snaked our way between the two other sailboats and the numerous fishing nets and floats and found a quiet spot only a little ways off the beach.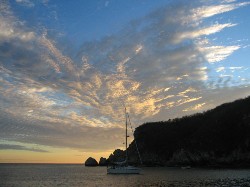 An incredible sunset at Bahia Ipala.
Sunsets are like people: each is beautiful in a
different way.
After putting the dinghy together we went ashore and had some inexpensive quesadillas for only 6 pesos. At first we thought they were 60 pesos which would have been $6 and when the one and only micro taco came we thought we were over-charged. We then realized we had confused "seis" which is "6" with "sesenta" which is "60". The taco actaully cost 6 pesos, roughly equivalent to 60 cents US. I guess we have to keep working on those Spanish tapes. After our late lunch we walked through the very small beachside village of Tehuamixtle (pop. maybe 100) and up the hillside road for about an hour hoping to find the beach on the outside coast, but it was much farther than we thought.
This area is very dry almost like the Baja as compared to the jungle climate and conditions of Puerto Vallarta and Chacala of only 60 miles north. Evidently this area did not get the big rainfalls from the hurricanes of last summer.