February 2008 – Catamaran Sailing Cruising in the Sea of Cortez
---
Tuesday January 29, 2008 to Wednesday February 6, 2008
Garett (edited and with spicy add-ons by Carllie): With our new rudders installed we finally left town late on Tuesday and made our way just eight miles to Caleta Lobos, a small anchorage just out of view of La Paz, down the channel. It was great to get out of the city for a little eight-day trip.
The next day we motored a further 15 miles with a bit of sailing to Cardoncita which has become one of our favorite anchorages in the islands, where you are surrounded by 100 foot rosy red volcanic cliffs and there is only room for a only a couple of boats. Usually we are the only boat there. We ended up staying there for seven nights while I worked on the boat and Carllie worked on the next instalment in her stories being published by Multihulls Magazine.
If you can believe this?We actually never went to shore for the whole seven days! I did do a little bit of spearfishing on two days before the water clouded up and Carllie rowed around the bay, but that was it. We stayed on our little island called Light Wave puttering away with our routine daily exercises and routines, and our respective jobs, enjoying the downward trilling of canyon wrens and being endlessly entertained by kamikaze pelicans.
Twice, gusty northern winds blasted into the cove, adding a bit of excitement to the days. We had great time for the seven days surrounded by the dramatic scenery, entertained by the diving pelicans, Carllie making great meals, and just enjoying the feeling of accomplishment derived from working on our projects, and seeing significant progress that is not possible anchored at a city with all the hub-bub, morning radio net, being "on call" through Ch-22 on the radio, and socializing.
Here are some pictures of our one-week trip: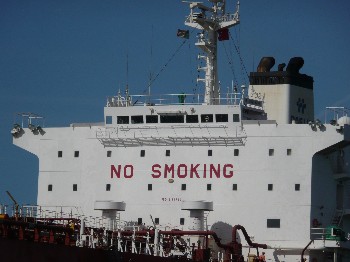 Making our way through the convoluted marked channel
around tricky sand bars that block the seaway leading to
La Paz, we passed the power plant that provides power for
the whole city with fossil fuel. This huge freighter loaded with
fuel is usually anchored there. We figured the posted
sign is pretty good advice! If anyone disregards it,
the whole city of La Paz will hear about it!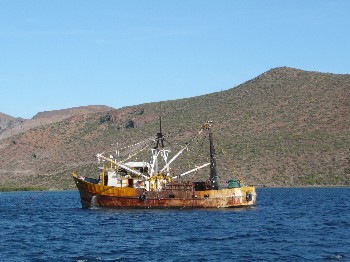 We shared Caleta Lobos with this typical Mexican
commercial fish boat. Rarely do these big
prawners have a coat of paint! They rust until
they literally fall apart, we presume. Nevertheless,
they do the trick and catch lots of prawns. Richard
and Krista approached one here in Lobos and got
2 kilos of fresh prawns for 100 pesos, or $10 US!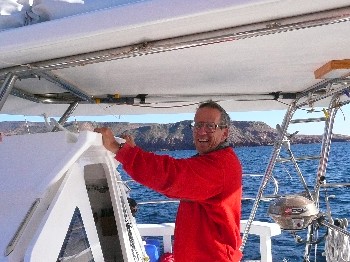 We love sailing again after a couple of weeks
anchored in a city. Garett stays out in the
cockpit adjusting sails the whole way. He
knows how to get the most speed out of
Light Wave, and is helping me to hone
my sailing skills.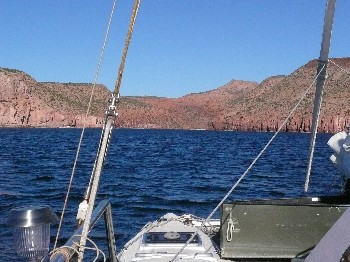 Approaching Caleta Cardoncita.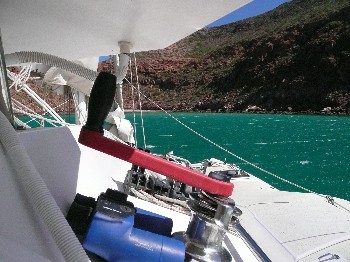 At anchor with strong winds
blasting down from the hills.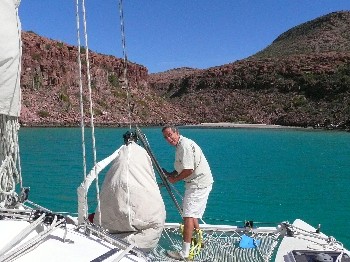 Anchored again at lovely Cardoncita.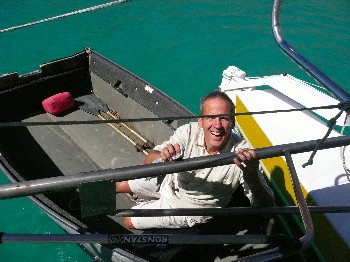 I can hardly wait to go exploring!!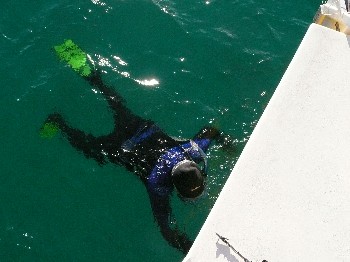 Garett literally dove back into spearfishing, after
several days holed up in La Paz where only the insane
and the Mexicans employed cleaning hull bottoms
would think about venturing into the water!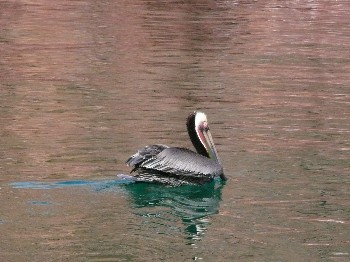 This white pelican knew he was very handsome
and did not mind posing for us.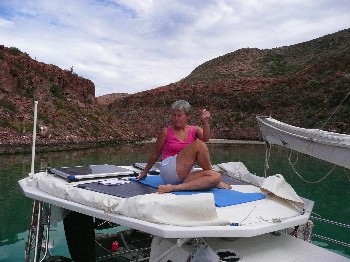 I practice Annie's "spinal twist" Yoga exercise
on Light Wave, and all the other exercises, quite
easily while we are at anchor. But when we are crossing
the ocean??? I don't think I will be able to do
them on top of the hard top! I think I will
have a smaller repertoire that I will try to do in
the cockpit and out on the aft hulls, inside
the railings of course! By the way, two or three of
these exercises are very good for stretching and
relaxing the sciatica area, that some of my
friends have problems with. I will try to remember
to send you an email telling you how to do them.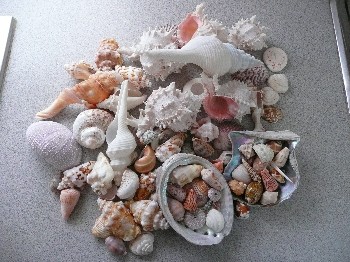 I cleaned and reorganized the shells we have on
display in our cuddy cabin, and as always marveled at
their intricate beauty and colors. It is hard to believe
these are merely the exoskeletons of various types
of sea life and that to harvest such beautiful things
you don't have to kill anything. Much later, when we
visited the beautiful beach off Punta Bonanza,
on the opposite side of Isla Espiritu Santos, Garett
told a lady visiting with a group form one of
the National Geographic adventure mini-cruise ships
that I was looking for shells. She was horrified and more
or less told him off. I can only say, "How often do you
eat meat that you bought packaged in plastic in a
huge grocery store that consumes huge amounts of
fossil fuel to provide the electricity for its coolers and lights?
People who have such "soap boxes" inevitably have
not looked in their own back yards! These few seashells
are natural Gifts from the Sea, works of art made by
the master, Mother Nature, and will always remind
us the multicolored desert, white icing-sugar sand
beaches, and clear turquoise blue waters Sea of Cortez.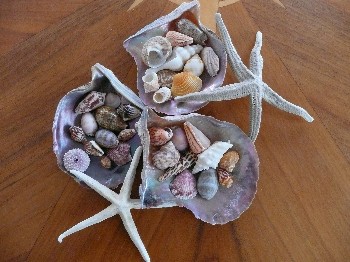 The smaller shells are displayed inside oyster shells I
found in the northern Sea. They are lined with iridescent
purple mother-of-pearl. I found these naturally cleaned and
bleached starfish skeletons somewhere up there as well.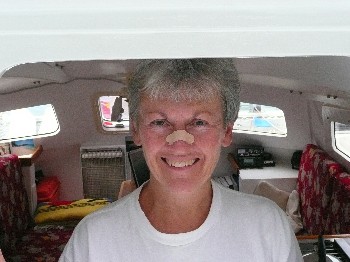 Garett thought my nose bandaid, required because my sunburned
nose got a scrape, was particularly funny. Hah hah.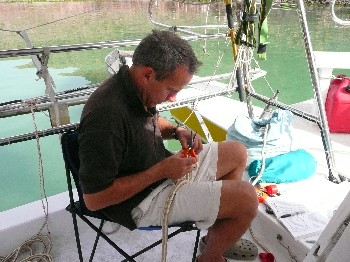 Starting the 2-day splicing job to put
new stainless-steel thimbles on our anchor lines…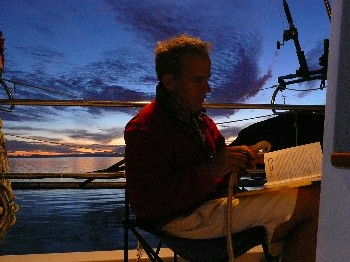 Still at it, as sun sets at Cardoncita.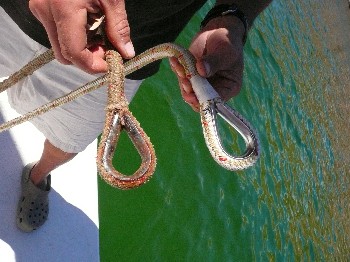 Here is the old, worn thimble on the left, and the
new one on the right, ready to hold us in Force 10 winds!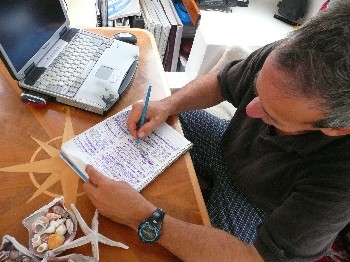 Garett made a huge list of jobs–what 50 or 60 jobs?–and took
great delight in scribbling off each job as he accomplished it. I
mean, he doesn't just strike it off with one neat line, he scribbles
it out very vigorously, using half a penfull of ink each time!
What a guy.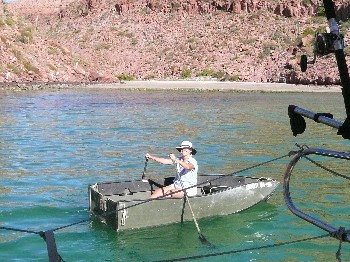 Oh, how I love rowing! Especially when our Porta-Bote
is so lightweight because we haven't even bothered
to attach our little 2-stroke engine to it! Cardoncita
is just the right size for rowing around, but you know what?
When you think a bay is "just a little cove (caleta),
perfect for one or two boats, when you row around it
you find it is pretty big! Maybe one day we will find
a perfect, small, used and inexpensive kayak that
we can store on our forward netting and row around
colorful coves and anchorages in Hawaii! Kayaks
do move much faster through the water than our
dinghy!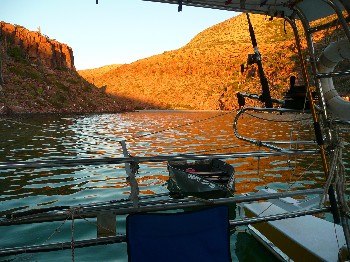 Never mind, dinghy, WE LOVE YOU!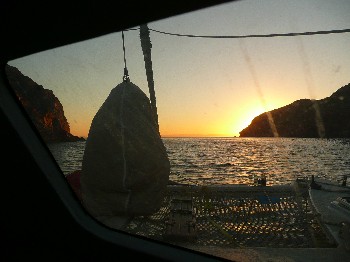 Sun sets on a peaceful Caleta Cardoncita.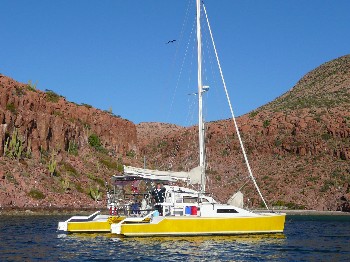 The rosy craggy cliffs of tiny Cardoncita trap in the
heat during the day, very welcome in December, January and
February, and provide resounding echoes that entertained
us no end, doing our daily singing warm-up exercises
and calling out our deepest thoughts. Canyon
wrens warbled their downward trill, and hungry
pelicans dive bombed the bay, and very close to LW!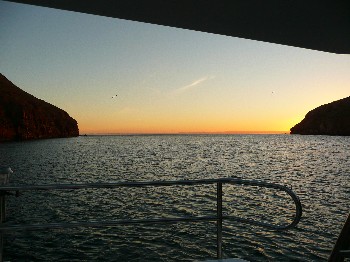 Garett loves these sunset pics…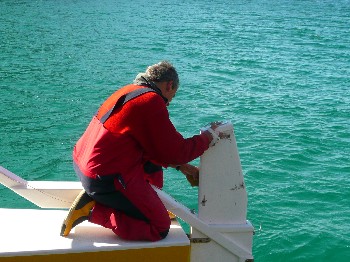 No, it's not a huge fish–it's a rudder. Garett takes them out when
we are at anchor to keep growth from accumulating and prevent
banging; though now he has put little dots of 5200 3M Sealant on
them and pretty well stopped the bumping noise problem.
Thursday February 7, 2008 to Wednesday February 13, 2008
Garett (& ad-ons by Carllie) We arrived back in La Paz today to prepare for our the arrival of good friends Ross and Karmel from Vancouver who were going to be our guests for 10 days. We exchanged emails and found out that their tickets had been all messed up by the Airmiles department of Royal Bank Visa and because of the ongoing dispute with them unfortunately they were going not going be able to join us. They were just as disappointed as we were, as they were so looking forward to seeing us and experiencing the beautiful spots near La Paz. It was not to be and so we gave them a rain check on a future trip in Hawaii or to Desolation Sound when we get back.
Here is our photo log for our six days in La Paz: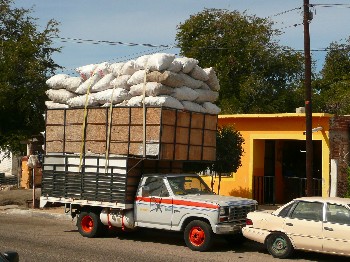 Walking the residential streets to the Super Mercado, C-C-C, one
day we spied this truck loaded with bags of cement. Note
how close the bags are to the power lines! We figure this
relaxed easy-going attitude of Mexicans may get them into
a spot of trouble once in awhile, but on the whole their
lack of tension results in far fewer mix-ups, disputes,
and accidents.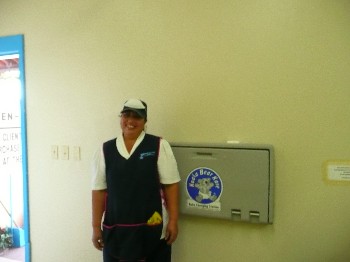 My good friend, Maria, who cleans all the washrooms and
shower rooms at Marina de La Paz, and with whom I always
exchange greetings, "Buenos dias, Maria, como esta?"
"Bien," she says, "Y ousted?"
"Bien, gracias, I say," and "Gracias para su
bueno trabajo a limpiar los regadaraos."
Thank you for your good work to clean the showers!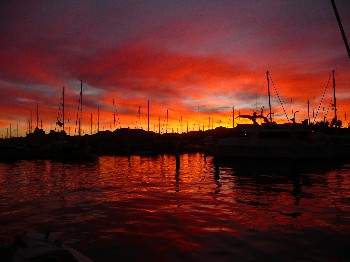 Okay, this was a colorful sunset from our anchorage
near the marina, with photographing.

Here is Diesel, a yellow retriever colored white
(different breed) who was so enthusiastic about visitors
he growled and barked and wiggled all over, and threw
himself bodily at us whenever we drew up in our
dinghy. It's great to visit everyone else's dogs!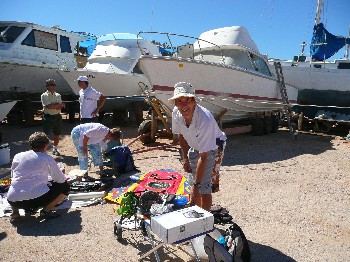 At the February cruisers' swap meet we managed to
offload a lot of stuff we no longer needed, and add
to our food-kitty in the process!

Our friends Susan Leader from Daydream
and Miriam Brooks from Moon Hunter.
Carllie: It took us a few days to regroup after news that Karmel and Ross would not be able to join us as we too were so looking forward to seeing them too. However, on February 12th Carllie's birthday, we did meet with our friends Croft and Brooklin Tylor from Vancouver who were visiting on a Holland America cruise ship, and had a great day with them. They brought us a few care packages from home, including some presents for Carllie and a "care package" courtesy of Holland America that Croft had put together (tea bags, packets of hot chocolate and granola, soaps, lotions–what a laugh!), and we had a lot of fun.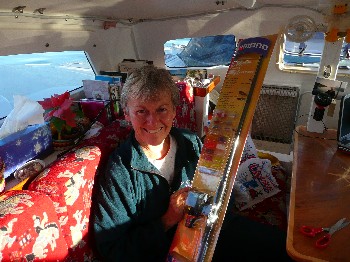 When Garett asked, I told him I wouldn't mind another
pair of earrings made by a cruiser here. He gave me a
lovely pair with little red hearts and polished black
coral from the Sea of Cortez, but the big surprise was a
skookum casting rod set, complete with little lures,
weights line, and bobbers! Now this is going to be fun!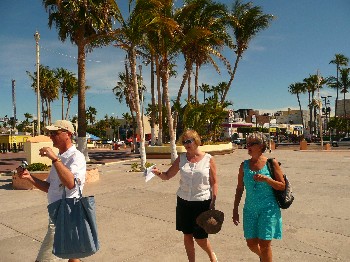 Showing off the malecon and La Paz to
Croft and Brooklin Tylor.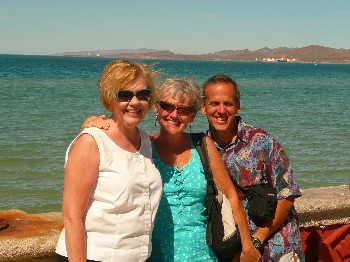 Good friends, soon to be parted… sob!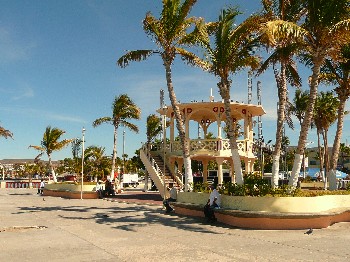 The colorful La Paz malecon with waving palms impressed
Croft and Jacine.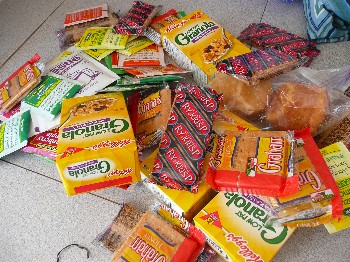 Croft's care package, courtesy of Holland America!
Carllie: One day, while I was on shore at the dockside cafe interviewing a couple of delivery captains for a possible article, a friend walked up and jovially said, "So, is your boat still wandering around the harbor?" "What?" I say, thinking he is joking. "I am not joking. It was on the radio. Your anchor dragged and your boat is wandering around the anchorage." PANIC! Forget all that stuff about "take a deep breath," "calm down," etc. I was in full-blown panic mode. Garett was off shopping and I had to deal with this myself. I dropped everything, galloped down to the dinghy dock where a fellow from Kevin from Sun Break, who was one of the guys I was interviewing, kindly drove me out into the anchorage, because Garett would need our dinghy to follow me out when he got back. I was filled with dread. As soon as we cleared the marina I spied Light Wave sitting rather close to an anchored monohull. As we drew closer, I saw that she was anchored off her starboard stern with a very tight anchor rode someone had supplied. As I neared Light Wave, the couple on the monohull, Gwynen of Cambria, called us over and told me she had come very close to hitting them, so they had gone on board with an extra anchor and secured her a little distance away.
I thanked them and we proceeded to the guilty party ("bad Light Wave, bad boat!"), where I climbed aboard. Kevin reassured me, and told me I couldn't do anything for awhile because at this point the infamous La Paz tide was at its zenith, but that he would return to help if I needed him. The extra anchor supplied by the kindly cruisers on Gwynen was so taught there was no way I could detach it and re-set our own anchor, the line of which ran equally tightly under the bow of Light Wave and out the back. So I continued to panic, worrying that we would drag into Gwynen of Cambria in this strong current. I put out a distress call. Dave, the guy who had given me the bad news in the first place, told me (somewhat patronizingly but kindly), "Just relax. Garett will be back soon. Everything will be okay." Boy, all of my friends monitoring Ch-22 must have thought I was a real ninny!
Anyway, about half an hour later, Dave hails me on the radio and tells me Garett is on his way. I could just picture the look on Garett's face when Dave told him about our drifting boat, and I was right. Later Dave confirmed that he went white, and was gone like a streak of lightning down to the dinghy. Well, when we returned we still had to wait a bit for the current to ease. Then, we safely re-set the anchor in a better spot, and put out a second anchor to be on the safe side.
The reason for this hair-raising debacle? Light Wave was lonely! We always say, "Goodbye, Light Wave! Be safe! We'll be back soon," when we go off on our errands in the dinghy, but this time evidently she took matters into her own hands and went out seeking the lively company of the handsome monohulls she saw anchored nearby. So now, when we leave her we say, "No fooling around! Or you're grounded! And then you'll be sorry!"
Seriously, the real reason for our near heart failures was two-or three-fold: we had left the rudders in, so when the wind came up that day Light Wave literally sailed around her anchor rode, eventually unseating the anchor. Secondly, the tide that day was at its peak and the current very strong. Thirdly, a wind had come up. Fourthly, the safe anchorage we had found nestled in behind the marina breakwater had been scooped by a naughty little monohull as soon as we left for our last excursion to the islands. Thanking Kismet, this guy left just as we were preparing to re-anchor LW after the "incident" so we quickly returned to "our spot," and set two anchors, took out the rudders, and now feel very safe.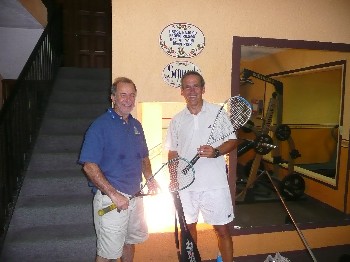 Garett: One of my diversions for the last couple of weeks
in La Paz was was tracking down a squash court
as it had been five months since I had played.
After many hours of walking, chasing down
leads I finally found what I believe is the only
court in La Paz. It is an older, narrower
court at the luxury Crowne Plaza Hotel
near the airport. Carllie walked there (1 hour plus – we were
warmed up when we got there) and played for awhile,
then were then joined by Dennis
who I had heard played squash and
was also looking for a place to play.
We all had great fun and Carllie and I felt so good afterwards.
I can hardly wait to get back home to
play regularly again.
Thursday February 14, 2008 to Wednesday February 20, 2008
Garett (edited & ad-ons by Carllie): Stocked up with food but unfortunately not with our much looked forward guests of Ross and Karmel we left for our last trip to the islands off of La Paz. Our destination was the small bay of Cardoncita where we had spent seven days earlier in the month. As we left La Paz we found that the wind was from the southwest which gave us a very rare downwind sail to the islands.
After five hours of sailing as we approached Caleta Cardoncita we realized that although the south winds had made for some great downwind sailing, the wind and waves were now blowing straight into the anchorage so we had to change plans and head into Caleta Partida next door to the south, where we found eight other boats sheltered in the huge bay.
The wind blew all night and we bobbed away in the three foot waves that still managed to wrap around the point. The next day we stayed at Partida but moved to the north end as the winds were supposed to shift to strong northwest that night. The monohull sailboats of several friends from La Paz surrounded us. We invited over Craig and Vicky from Magic and our Swiss friend Ernst, and enjoyed an afternoon snack session with fun conversation.
Ernst convinced me to join him, Craig and Bob (another B.C. sailor) to on a climb to the peak of the volcanic hills that surround Partida. We motored to shore at 9:30 a.m. and started our way up the arroyo/canyon, scrambling over a lot of big boulders to get there. The view became steadily more colorful as we climbed above the bay to see its turquoise and green waters framed by the vivid red volcanic backdrop.
We were almost at the top and Bob and Craig called it a day while Ernst and I continued the final ascent to the very top. Wow! What a view! We could see both sides of the island and even see Light Wave, a tiny dot in the turquoise blue water far below. We hiked along the ridge for a couple of hundred yards and then made our way down another way to the ravine we had climbed up.
Finally, after three and half hours of hiking, we arrived back at the beach, a little punchy but invigorated from the expedition.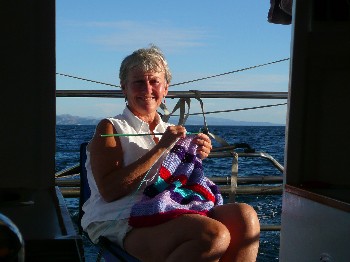 Knitting a baby blanket for "Caring Hearts,"
a charitable society back in Vancouver.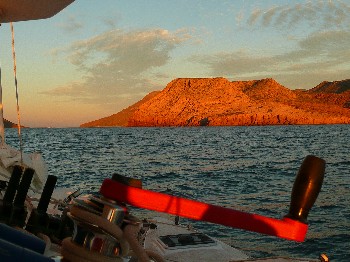 Lowering sun lights up spectacular cliffs
on east side of Isla Espiritu Santu.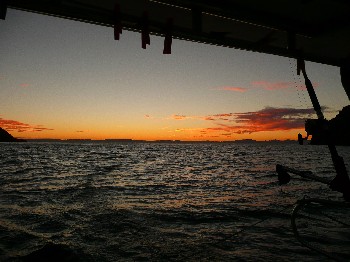 Another sunset, our second-to last in the islands
near La Paz.

The beautiful wooden, Bent Jespersen built vessel, Magic,
shared our anchorage in Caleta Partida. Here she, is
watched over by a pellet of pelicans!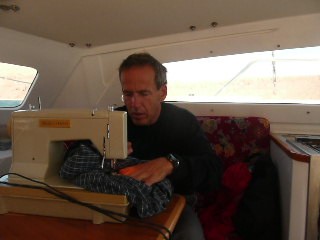 Can-Do Garett dragged out the sewing machine
in the blink of an eye to repair to his pajamas
with some sail cloth material (real cute…).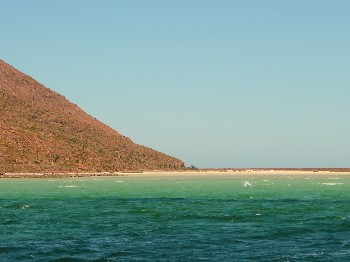 The view towards the beach at Caleta Partida on
one of the windy days we anchored here. The
white caps and color of the water show how the
waves are being whipped up by the wind.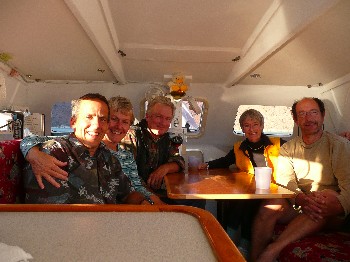 Afternoon snacks on board Light Wave with
Craig, Vicky and Ernst.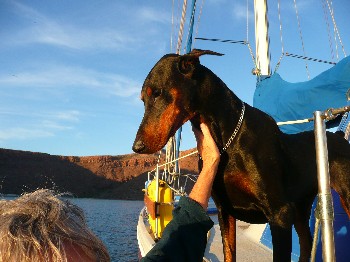 Beautiful, gentle Zeus, a huge Doberman Pinscher
who watches over Priscilla and Bob on Serenity. Talk
about stereotypes! He is huge, muscular and formidable-
looking, but he thinks he is a lap dog!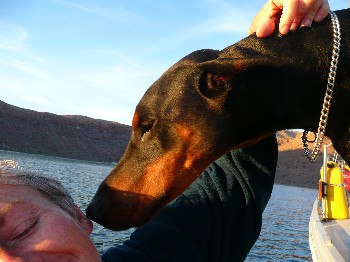 Nuzzles.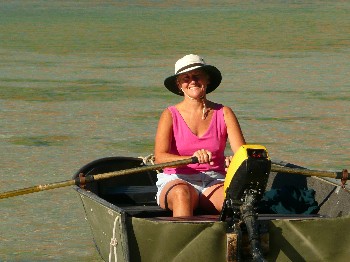 Time for another row! This time with the yellow
outboard for an extra work-out.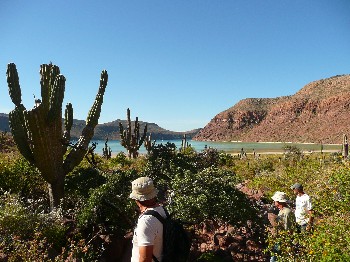 The beginning of Garett's hike up the volcanic cliffs surrounding
Caleta Partida.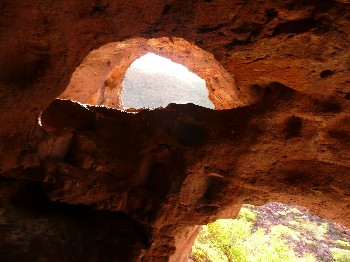 Interesting caves that about a third of the way up.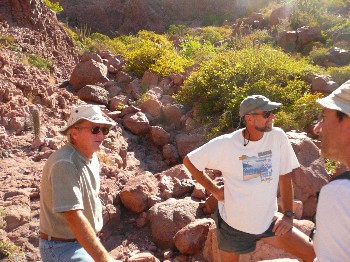 Craig, Bob and Ernst taking a rest.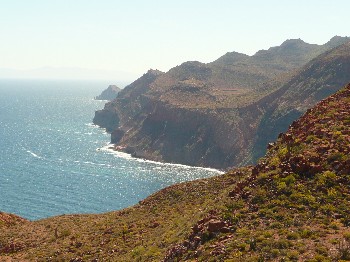 Wow! That was a long way up! Ahem! I think I am
glad I didn't go…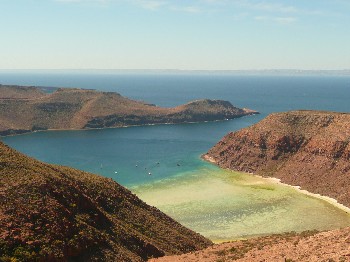 Caleta Partida is huge, and Garett says Light Wave is one
of these tiny specks–don't ask me which one!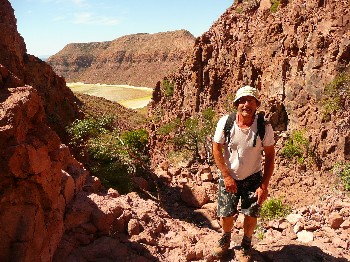 Our friend, Ernst, who gave us much kindly
advice and encouragement for our upcoming
crossing of the Pacific Ocean to Hawaii.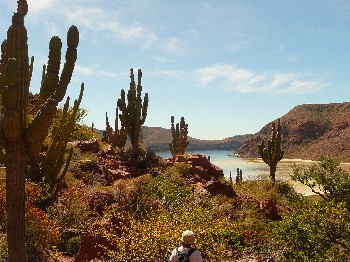 Returning to shore after a vigorous workout,
lunch and a siesta beckon.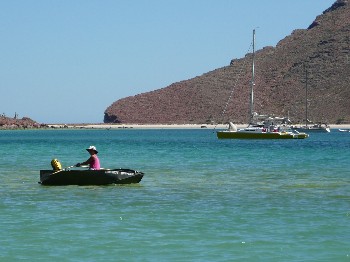 Too bad I didn't have my casting rod with me
this time!
The next morning Carllie and I took the dinghy and cautiously motored through the small dinghy-only channel to the east side of the island in search of some interesting sea caves. After two miles we decided to turn back as we were concerned about having enough gas to complete the trip.
We said our goodbyes to our friends and motored north around the north tip of the island as we wanted to sail down the east side where few boats go and where the cliffs are said to be high and colorful. We stopped briefly at the sea lion colony on the offshore Islas Los Islotes where some tour boats were dropping off snorklers. We watched the sea lions, though we saw few pups, and reminisced about our "swimming with sea lion pups" adventures at Puerto Refugio back in October, but there wasn't enough room for us to anchor so we carried on and rounded the point to head south back down the east side. The sheer colorful cliffs offered great scenery but there is no anchorage until the last 5 miles of the island at Bonanza Beach, a place we had never visited.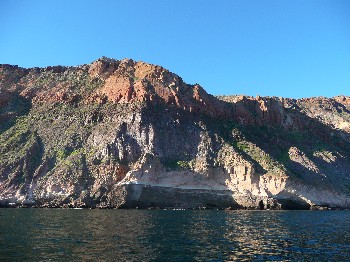 Cliffs on east side of Isla Espiritu Santu.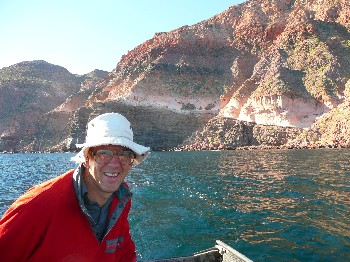 Looking for those sea caves…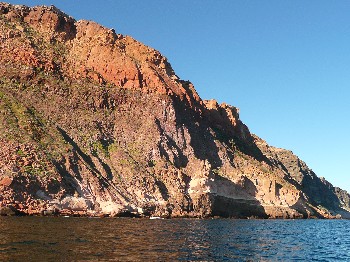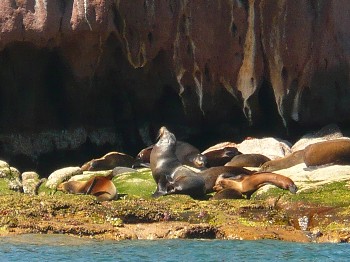 Sea lions bask in the sun and the attention
at Los Islotes.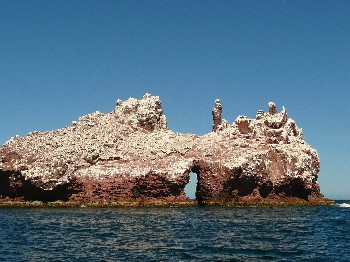 Guano covered, earthquake sculptured rocks
of Los Islotes.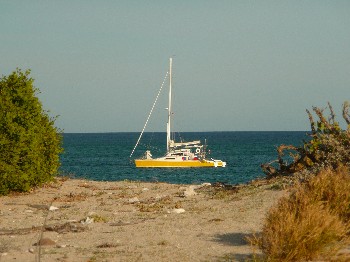 Light Wave sitting pretty at Bonanza Beach.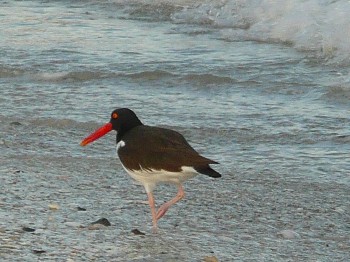 An oyster catcher, far from home waters in
the Pacific Northwest, patrols the
long stretch of white sand at Punta Bonanza.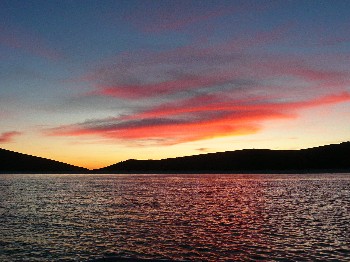 The anchorage was calm, weather settled, allowing
us to enjoy anchoring off Punta Bonanza on the east
side of Espiritu Santu.
Tuesday February 19, 2008
We spent another full day at Bonaza beach on the east side of Santu.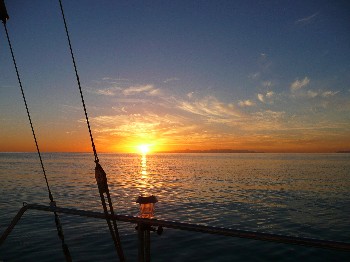 Our last sunrise in the islands near La Paz, at Punta Bonanza.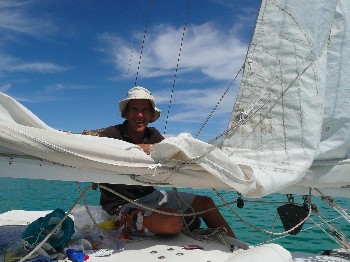 Garett mending the sail.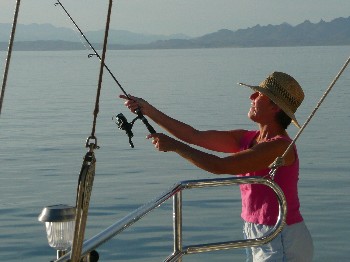 I finally got to try out my casting rod!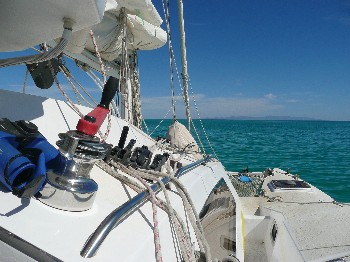 When will we see these beautiful colors again?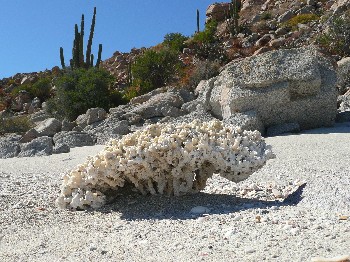 The beaches around Punta Bonanza were full of
small and large specimens of sun-bleached white coral.

Garett snorkeled and spearfished
for an hour and a half while I fished
with my casting rod from shore, and
looked for the Paper Nautilus shells that
we heard you can find here.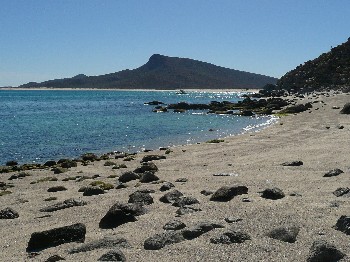 The small beach from which Garett spearfished I
fished with my casting rod.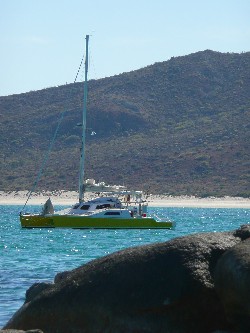 Peek-a-boo! It's Light Wave looking
in to see what we're up to.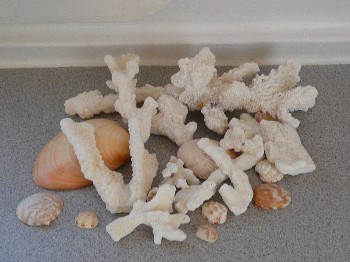 A few mementos from that tiny beach…
Wednesday February 20, 2008
Garett & Carllie: We bid a fond farewell to our last stop in the Mexican islands and motored in flat seas to La Paz. When we arrived we were happy to find our favorite anchoring spot just 100 yards from Marina De La Paz and promptly set two anchors so we would not swing too much in the tight space there and more importantly prevent Light Wave from wandering around the harbor in search of nautical company!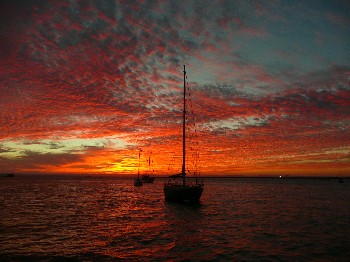 Sunset back in La Paz.
Thursday February 21, 2008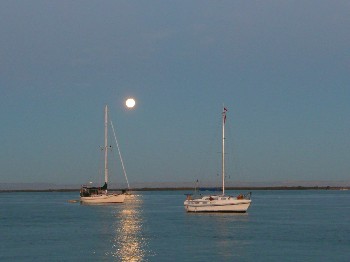 Dawn in La Paz with the setting full moon.
We got busy again with work on the boat while Carllie worked away on her last story of our voyages in Mexico. Next one will be about crossing the Great Big Ocean to Hawaii and arriving in Hilo, then experiencing a bit of Aloha-land.
Friday February 22, 2008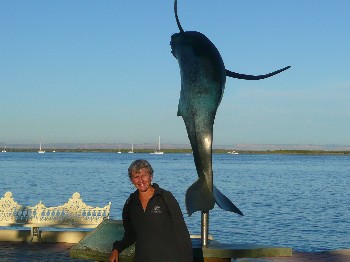 Early morning photo at the bronze whale
statue on the malecon of La Paz.
We were up early so we could catch the 20 pesos bus that goes the 8 miles north out to the cruise ship terminal where our friends from Vancouver, Ross and Judy, were to meet us on the Holland America ship, Ryndam.
The bus drops you off actually only at the ferry terminal and so we had a 1-mile walk over to the cruise ship dock. After going through two sets of security checkpoints we had a happy reunion with Ross and Judy. They had arranged to have on board for breakfast.
Breakfast was such a treat, and they proudly gave us a tour of the ship which had commanding views of the mountains. They loaded us up with mail, engine parts, and food items that had been sent down from Vancouver as well as a donation to the cause from Garett's loving parents Phyllis and Mack (thank you dear friends and loving parents) and then the four of us headed to downtown La Paz so we could give them a little walking tour of the city. The bus ride was quite scenic with the entertaining running dialogue of the tour guide. We showed Ross and Judy around the Malecon and then took them to some of our favorite spots, even stopping at an outdoor street stand for yummy prawn tortillas, and then back to the bus terminal so they could catch their shuttle ride back to their ship for their next overnight leg down to Cabo San Lucas. It was a fun and special visit.

Marachi band greets us as we come
to the Holland America ship, Ryndam.zz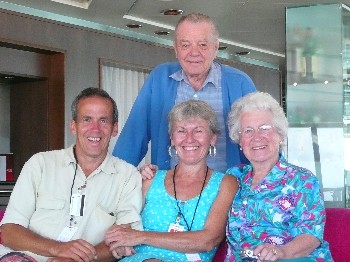 Garners and Hennigans on the Ryndam.
Afterwards we still had time for a shopping stop at "Solo Un Precio" (Only one price) which is 11.5 pesos (about $1.05). It is like a Dollar or Loony Store back home, but it carries many food items which we have tested over the last year and so we stocked up on canned fruit, pasta sauce, cookies, more cookies etc.
Saturday February 23, 2008
Garett: Today was the first of our big shopping days as we visited the fishing lure store, marine store, plastic crate store. candy store, and dry good store all by 1 pm.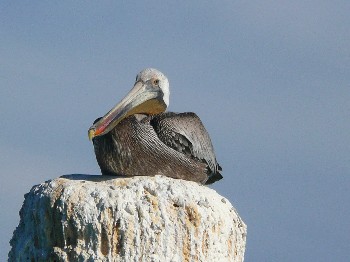 Contented pelican 50 feet from us at the
anchorage on his favorite piling.
Carllie: As I was making our dinner tonight with our back door open, of course, I had just mentioned to Garett that it was amazing that a whale, according to a few fellow cruiser reports) had entered the La Paz bay earlier in the day (they rarely come into this well populated bay), when I heard a puffing outside! Boy did it scare me! I looked out and here's this guy in a wetsuit struggling past the boat. I mean, this is an inner harbor of the city–it would be like swimming in False Creek! Well turns out this guy is a Mexican fellow and he kite sailed all the way here from a high-end development on the other end of the bay about 10 miles away! The wind had died down and it was dark. So Garett went out in our dinghy, helped him haul himself into the dinghy, fetched his kite, and took him into the marina. He said his wife would be looking for him! You betcha!

Sunday February 24, 2008 – 1Week to Go
Carllie:As you know, today was Garett's birthday, and we had a nice day. I gave him a new pair of Crocs as he had worn his old ones out, and he is quite pleased with them. Plus, he also received special birthday cards from home, and from me, which inspired him.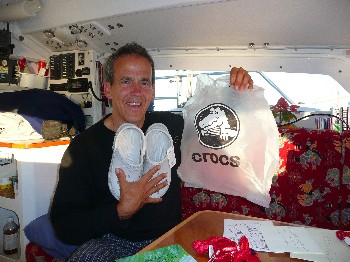 My new crocs!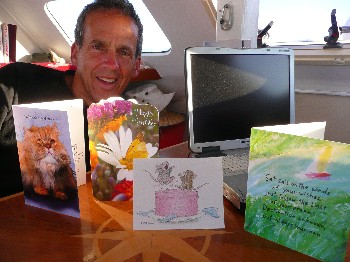 Great cards for my birthday.
Anyway, the fellow, Israel , that we rescued last night works at a nice restaurant somewhat like an Earl's on the malecon (beachside street) about 1 1/2 miles from our marina, and he told us to drop in today. So we did, and in addition to the delicious quesadillas camarones (prawn quesadillas) that we paid for and shared, Israel bought us a Sprite each and then at the very end all of the waiters came out with special noisemakers and a lovely piece of cake with a flashy candle type thing (can't remember what they are called) on it and gave it to Garett, who being as outgoing as he is, was delighted.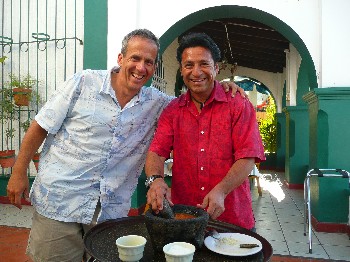 Israel making homemade salsa at our table.

Goofy waiters at Carlos 'n Charlie's.
It was children's carnival day today, so they had part of the malecon set up with PNE types of vendors and games, making all kinds of noise, and a few rides. We had great fun watching a bungy type ride that throws the kid way up in the air, and walking through the stalls.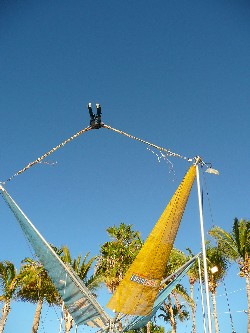 Bungy slinshot. People actually paid for this….
Monday February 25, 2008 – 6 Days to Go
Garett: While Carllie went to yoga I managed to go for a 2-mile run. I felt pretty out of shape since my training interval is about 2-weeks between sessions. My squash game will suffer.
We then tried to find the Centro De Salud (Health Center) as we had to arrange to have a health inspector come out to the boat so we can get a certificate which we will need when we clear out of the country on Wednesday when the Port Captain gives us a zarpa (clearance papers).
Tuesday February 26, 2008 – 5 Days to Go
Garett: I finally have crossed everything off my boat repair and preparation list. Over the last 90 days I have logged 200 hours. Tomorrow I can get to finishing off the web update.
I have been checking the 7-day forecast and things are looking good for calm winds on Sunday so we can head north out of La Paz and then north winds only starting on Monday which will be fine as we will be heading south to Cabo San Lucas. By Tuesday we will off Cabo and we will then head southwest out in to the big ocean……..
Wednesday February 27, 2008 – 4 Days to Go
Garett: Today was check out of Mexico day so I met the health inspector and took Manual out to the boat in our dinghy. We sat at the table and filled in the form, no questions, not setting rat traps, or visual inspection. I gave him a bit of money for the taxi down and that was it. I then walked over to the immigration office where I handed in our tourist visas and had our crew list document stamped and signed. I then headed across town about two miles to the Capitania De Puerto (Port Captain) for the final stage. It turned out I had to pay 184 pesos and they could charge it to a credit card (which I didn't have) to I could pay cash but I would have to walk back to downtown to the Banamex bank, so off I went for another tow mile of walking.
I got back just before 2 p.m. when they close for siesta. They presented me with this real formal document called a zarpa. I then walked the two miles back to the boat by 3 p.m. I was bushed and so it was time for a nap.
We finished off the day by going to the restaurant across the street where the local musicians have a jam session every Wednesday.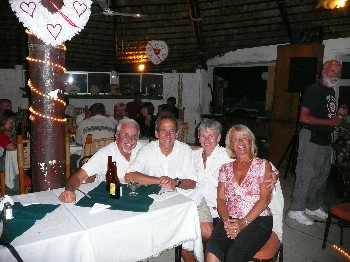 Last get together with Richard and Krista.
Thursday February 28, 2008 – 3 Days to Go
Garett: We are now down to just odds and ends of things to do so we brought our last laundry that we will do for three weeks in to Patricia at the laundromat and then we met up with our friend Dennis who drove down to La Paz only squash court where the three of us played for an hour.