There are many catamaran upgrade projects you can do to enhance a stock manufactured catamaran designs to make it faster, more comfortable, and easier to sail. Here are some of the ones we have added to our cat, Light Wave, to make her a better boat.
**NEW PROJECT* Adding 5 feet in the *Middle* of Your Catamaran [see video!
In 2013, after 4 months in the boatyard, we have lengthened our catamaran to 37 feet! It was either sell Light Wave and find another boat so we cut our boat right in half and then added a five foot plug so we could create a passageway between the hulls effectively joining the whole boat together. It was a bigger project than we expected (it took 4 months and 1,000 hours…) , but we now have almost a new boat: roomier, faster, and nicer looking. So if you ever wanted to know what you could do with SawzAll reciprocating saw and lots of epoxy, watch this new video as it redefines extreme boatbuilding!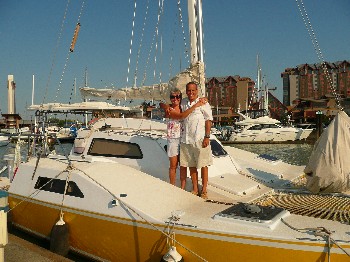 We started with this
And ended with this: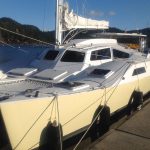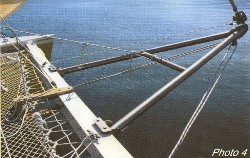 One of the raps that you hear about cats is that they don't sail well in light wind. This is true with just the stock jib/genoa and mainsail configuration. The racing community discovered that if you fly a wire luff sail on a furler off a folding, retractable or fixed bowsprit you can add substantial sail area and radically improve light wind performance. This sail is commonly referred to as a screecher. We trurbocharged out boat with a screecher 5 years ago. What a difference! We wrote a full article for Multihulls Magazine (September 2004) called "TurboCharge Your Cat" that had the details on the benefits and the installation and setup. [
Full Article – Turbocharge your Catamaran
]
We sailed our cat for 5 years before we decided we needed some shelter from the sun and rain. After we saw the arch / hardtop setup on the Manta 40 catamaran, this gave us idea and outline on what we wanted to do on our boat. We wrote a full article for Multihulls Magazine (July 2007) on our arch hardtop design. [
Full Article – Hardtop for the Cruising Catamaran
]
Make Your Catamaran 4 feet Longer [Full article]
This was our most radical modification (until we cut in half in 2013, see above) and we did it in May and June 2007 in a boatyard in Guayamas, Mexico in the middle of our 2-year cruise. This modification is not for the faint of heart but we think will make a huge difference to the comfort and sailing on Light Wave. Here is the
full article
which is an excerpt from our month-by-month
catamaran cruising log
.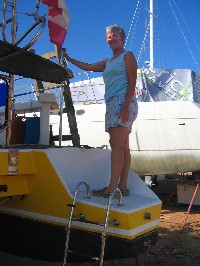 We started with this
And ended with this
Polartec Cushion Covers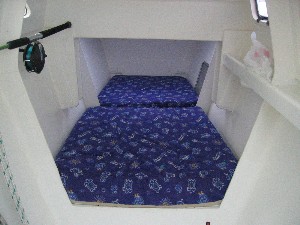 In the damp Pacific Northwest weather of fall, winter and spring (and maybe even summer!), we have found that all types of polartec / polar fleece clothing works the best. In the colder and damper months we only wear this stuff. From caps, sweaters, pants, and shirts everything is out of this miracle fabric. A couple of years ago we made an even bolder move and started using several polartec blankets instead of sleeping bags. After a few days our sleeping bags used to become increasingly soggy and uncomfortable. Not with Polartec, it just stays dry because it does not absorb any moisture. We went even a step further and recovered all our settee cushions and bunk cushions with Polartec. All I can say is that we would never go back to anything else. Even in the hot summer conditions of Mexico they are still cooler to lie on then cotton covers. We did all the sewing ourselves after we had a local foam shop cut the foam for us. The polartec was bought from an outdoor clothing shop in Vancouver but it is also available on the web.