Cruising in a Catamaran To Desolation Sound
The following article about our cruising in our catamaran to Desolation Sound was
written by Carllie Hennigan and appeared in the September
2002 issue of Multihulls Magazine. Getting the article published was a big thing but even
more amazing is that they used one of her pictures of
Light Wave as the cover photo, and paid us for it!
A Separate Place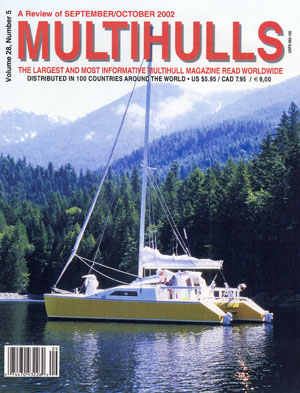 A sailing catamaran is the perfect vessel to discover the bliss of solitude
in British Columbia's Desolation Sound.
I am sitting atop a high, smooth rock that has dried at low tide. I have silently
rowed around this part of the Laura Cove, keeping my strokes gentle and even,
barely cutting the glassy surface of the water. One or two birds sing, testing
their voices, greeting the day. I feel the stillness, the peace, the harmony,
as I gaze at the quiet bay, the deep-green forest, the large, pastel-colored
rocks now revealed, and the blue-gray mountains lining the channel, their ranks
fading to blend with the sky in the distance. A band of white mist lies high
among them, soon to be dispersed as the earth heats up and the winds begin their
cycles. We have had our first night in Desolation Sound. The magic has begun.
Desolation Sound, on Canada's West Coast, was so named by Captain Vancouver
in 1792. In his journal he describes his impressions: "Our residence here
was truly forlorn; an awful silence pervaded the gloomy forests, whilst animated
nature seemed to have deserted the neighbouring country, whose soil afforded
only a few small onions, some samphire and here and there bushes bearing a scanty
crop of indifferent berries. Nor was the sea more favourable to our wants, the
steep rocky shores prevented the use of the seine, and not a fish at the bottom
could be tempted to take the hook." (Vancouver's voyage, Vol. II,
p. 226.)
To city folk, this majestic, mountain-lined fjord is far from desolate. Our
lives are very different from Vancouver's and his crew's were in
the 18th century. "An awful silence"? Western man's ears have
grown numb with the constant cacophony of motor vehicles, whining machinery
and garbage trucks, ambulances and police cars, construction racket, television
and radio barrage, and what passes for music. Even those who live in the country
are not immune. Few of us grow our own onions: we buy them at Safeway. We breathe
air that rarely equals the freshness of the sea and the heady scents of a wilderness
forest. A year without a visit to Desolation Sound is desolate indeed.
The cruising ground collectively known as Desolation Sound is an area approximately
20 miles by 20 miles that includes Cortes, Quadra, Sonora, and East and West
Redonda Islands and lies approximately 100 nm north of Vancouver, British Columbia
and 220 nm north of Seattle, Washington. Our sailing catamaran gets us there
quickly and very pleasantly if we are favoured with southeast winds. This year,
nature opted to put us through some serious sea trials. The northwest wind that
had buffeted the city all week refused to abate by our departure date, so we
headed up into 15-20 kt winds. Beating to windward just isn't comfortable,
no matter which way you slice it. Sure, monohulls pitch and yaw much more than
multihulls, but you just can't get away from the pounding and lurching.
However, we put to rest the maxim that multihulls don't sail well to windward,
making relatively good time: 54 nm in 9 hours the first day, 27 of those to
weather, for a Vmg (velocity made good) of 3 kts. Having anchored at the picturesque,
cottage-lined Sargent Bay on B.C.'s Sunshine Coast for the night, we were
delighted to find a nature preserve and bird sanctuary ashore. A pair of Canada
Geese hustled their offspring down a creek as we neared with our camera, and
in the resulting photo the wee goslings are barely discerned from the rocks
in the creek. We sailed 14 nm to weather in 5 hours the next day in even stronger
wind and bigger waves. Both days we used our main and jib, both close-hauled,
occasionally augmented by the screecher that we installed last year to circumnavigate
Vancouver Island.
WINDING DOWN AND SPRING CLEANING
After the second full day of beating and being beaten, at high tide we motored
into the tricky, rock-infested, shallow entrance to Home Bay at Jedediah Island,
relying on a detailed map Garett had drawn at low tide two years ago. We felt
immediate relief regardless of the navigational challenges. Nothing like a narrow
entrance to ensure safety and respite from the waves. Our springs were still
wound tight from city living, and this little detour proved the a perfect way
to unwind.
Jedediah Island became a marine park in 1995, when Mary and Al Palmer sold
it to the province. They had owned it and used it as a summer retreat since
1949, becoming permanent homesteaders in 1972. The Palmers accepted considerably
less than market value for their special island, on condition it become a marine
park. Dan Culver, an adventurer who died in 1993 while climbing K2 in Nepal,
bequeathed $1.1 million to the people of British Columbia to provide natural
preserves to enjoy and experience the beauties of nature, and this donation
formed a large part of the purchase price. If you like true-life pioneer stories,
pick up Mary Palmer's book about her life on Jedediah, Jedediah Days,
published about 1994. The story is a lesson in contentment and living simply
with self-reliance. The city craziness gets to you, so you think you have to
have this and you have to have that, when you don't. And, the more you
spend, the more you have to work (read "slave") to pay for it.
Jedediah is a beautiful natural retreat, accessible by boat only, with no
roads or electricity—and no potable water. (I presume our Great and Glorious
Government decided to destroy the wells the Palmers had, leaving only a few
basic waterholes for the animals. Go figure! Just like they started burning
down the homes at our coastal Light Stations when they unmanned them a few years
ago—until the deafening outcry of the people put a stop to it.) Several
miles of trails meander across the flat meadows, through the forest, and along
the sea perimeter. Old growth Douglas Fir trees tower alongside rocky outcroppings,
the gnarly, red-barked Arbutus trees native to this coast, coastal bushes and
flowers. On warm days, the forest breathes an exhilarating, spicy fragrance
as your feet crunch along its spongy floor, a deep carpet of pine needles and
fallen branches, and you brush by a variety of bushes and wildflowers unique
to the West Coast.
Two or three small anchorages on the northwest side of the island can accommodate
a few monohulls with bigger drafts, but these are all somewhat exposed to northwest
winds. Home Bay, on the southeast side, is perfect for multihulls as well as
kayakers and campers who arrive in small powerboats. The bay is well protected
on all sides, the only drawback being that if you are caught in a southeast
gale, you'll have trouble getting out of that narrow entrance! One of
the big advantages for multihulls is that Home Bay dries at low tide, making
it possible to make repairs and clean the bottom. In this part of the coast,
spring tides are 15 feet. Because of the time of the month, we were only dried
out six or seven hours out of every 24, as there was only one really low tide
a day.
The bottom is muddy sand coated with millions of tiny sea snails. Garett used
the time on the first day to repair a small gouge Light Wave had suffered to
her starboard bow, scrub the bottom and to wash down the hull sides. The second
day, while I was greedily digging Japanese littleneck clams nearby, he was ready
with a bucket and brush when the tide started coming back in—and once
it gets started it really comes quickly. Because our home moorage is on fresh
water on the Fraser River, which empties out into the Strait of Georgia, the
usual bottom growth is thankfully kept to a minimum. We just have to find a
good drying beach once or twice a year to keep the bottom and sides free of
algae and slime. We built our Richard Woods-designed Gypsy 28 catamaran and
launched her in June 1999 (see "The
Boatbuilder's Wife", May-June 2000), and are perhaps more conscious
than boat buyers of keeping her in pristine condition and making as many safety
and performance improvements as possible.
"SIMPLIFY, SIMPLIFY, SIMPLIFY!"
Being a marine park, the island is equipped with outhouses. There were two
close to the beach at Home Bay, so we just donned our boots and sucked through
the mud to shore each time we had to relieve ourselves. Two kayaking brothers
were camping on shore. As is often the case with kayakers, they admired our
sleek and practical vessel that is obviously built to enjoy the outdoors, and
particularly the West Coast, and we gave one of them a tour. Light Wave offers
almost the same up-close-and-personal opportunities to explore this beautiful
coastline that kayakers enjoy, but with far more comfort and much less effort.
We often comment, when we see big, luxurious monohulls or mega power yachts,
"The bigger the boat, the more removed you are from the experience."
Or, as Ralph Waldo Emerson said, "Simplify, simplify, simplify!"
In our catamaran, we have a basic 12-V electrical system charged by our outboard;
propane for a catalytic heater and Force 10 stainless steel stove and oven;
a very roomy "head hull" (with a workshop area and an extra berth);
and an efficient galley and saloon (that makes down into a cozy double berth
in winter months when we want to be close to the heater). Our "bedroom
hull" offers two exceedingly comfortable berths with super-luxurious mattresses
(3-inch firm foam topped with 3-inch waffle) upholstered in ultra-cozy Polartec.
Our boat is 28 feet long and 18 feet wide, so to walk from the hulls to the
cuddy cabin we have to go outside. However, the big advantages of this arrangement
are that we have a very safe 6-inch walkway between the hulls and the cuddy
cabin to go forward, and each area is very private and quiet.
Walking and running the trails on Jedediah, we got to know Jed again. Jed
is an old horse the Palmers left behind on the understanding he would live out
his days on the island and be given regular rations of oats in the winter months.
He rarely gets a treat, so he becomes a tad focused when you offer him some
fruit. That is to say, he won't let you go until you convince him you
have no more food! The first time we visited the island two years ago, I had
the rare treat of seeing Garett surprised and shook up. After feeding Jed some
soft pears, he tried to walk away without giving Jed all the pears in the bag.
The wily old thing quick-stepped up and turned in front of Garett, effectively
blocking him. Only when Garett had emptied the bag and let Jed smell it did
he lose all interest in us. However, Jed is a harmless old guy who, like many
single males, ignores you unless you offer food, and just wants to live out
the rest of his days in peace and plenty.
We also had several rather humorous encounters with wild and wooly herds of
goats and sheep, the latter also left behind by the Palmers to multiply and
enjoy not being sheered and milked. Wild goats live on many of these coastal
islands, and will swim from island to island like deer. On Jedediah, they roam
the cliffs on the perimeter grazing on leaves and bushes while the sheep stay
inland and graze with Jed in the cleared meadow.
Pacific Oysters are plentiful in Home Bay and I harvested a bucketful of big
ones plus a dozen small specimens to eat for lunch off the shell–perfect with
a squeeze of lemon and some Cajun spice. Garett barbecue-fries some of the bigger
oysters for dinners and I make yummy chowder with the rest. Digging like mad
in the wet sand, I harvested enough of the small Japanese Littleneck clams for
two wonderful creamy clam pasta dinners and two lunches of the leftovers. Always
on this coast, even though we are not good fishermen, within about four days
we are "living off the land", and find that much of our dry and
canned goods is not needed. This trip, we had barbecue-fried oysters for dinner
on the last day and enough to bring home for another chowder.
JUMPING-OFF POINT
Feeling well rested, on the third day at Jedediah, as soon as Light Wave re-floated,
we prepared to depart at high tide, 1600 hrs. I greedily dug up another clam—"Just
one more! I've found another bed!"—with the water creeping
around my boots while Garett finished up his bottom cleaning with it nearing
the top of his and scrambled aboard. As we often do, we had set a stern anchor
as well as our main bow anchor, and had to retrieve it with our dinghy first.
Hefty Texada Island lies opposite to the jewel-like Jedediah. It is 25 miles
long and cruise ships pass it regularly in Sabine Channel en route to Alaska
from Vancouver. We saw several in the distance drift elegantly down the channel
from our cozy lookout at Home Bay—which affords a good view over the rocks
and into the channel at high tide. These monoliths dawdle through, aiming to
get to Seymour Narrows at slack tide or back to Vancouver for stevedores'
schedules. In the evening, they twinkle with a thousand lights—very pretty
albeit uninviting to nature-lovers like us. We have friends who have to date
been on 19 Holland America cruises and love every minute of it—dancing
their 70-year-old bodies to the wee hours each night, drinking in the sights
by day and particularly, they say, enjoying all the fine people they meet. While
we are very tempted, we can't quite bring ourselves to do it. We just
know that would gaze longingly all these lovely nooks and hidden coves from
a hundred feet up as the ship zipped by them at 15-20 kts, yearn to explore
them, and be miserable that we couldn't.
We enjoyed getting to know Jedediah, but were glad to be on our way. We had
about five hours of daylight left—not quite enough to reach Desolation
Sound—so I reluctantly agreed to stop at Blubber Bay on the northwest
corner of Texada Island. Although this was once a whaling station, it is now
a huge gravel quarry and pretty ugly. However, it was the last anchorage before
nightfall—all we needed. We set our anchor in a tiny little area that
we knew would be protected from the northwest winds between the quarry and the
B.C. Ferries dock. The last ferry finished its run and its engines stopped.
The quarry towering on the other side with its huge conveyor belts and "hoppers",
was quiet when we got there, closed for the day, we thought. At about midnight,
we finished a game of Scrabble and stepped outside to check the anchor and do
some deep breathing exercises before retiring. A few ferry workers on the shore
were looking our way, smoking and guffawing loudly—regular yahoos, we
thought. Finally, they drove away and all was still. We looked at each other
and said, "You know, this isn't so bad—it's very peaceful
and quiet." At that moment—CLATTER, CLATTER, CLATTER, RUMBLE, RUMBLE—the
gravel mill started up. The midnight shift had arrived! Now we knew what the
joke was. However, we were tired after a long day so we slept well regardless,
and before we knew it the 0600hrs-shift whistle jarred us out of our slumbers
and we were under way. Not to worry—we were now 28 nm closer to Desolation
Sound.
The fine, clear weather and a light southerly breeze made for much more pleasant
sailing. I enjoyed so much the sheer freedom of being able to walk around, get
some rays and enjoy the view while leaning against the front of the cuddy cabin,
and get creative in the galley. Often, on upwind beats, dealing with the lurching
motion, I either have to be prone or be sick, reacquainting myself with my old
pals "Raaalph! Beeeuuulaaah! Euuuuunice!" I played with my clams
that we were keeping in a pail of salt water in the cockpit. The little guys
were squirting, squeaking and generally feeling quite frisky before I put them
in a pot of salt water and started boiling them. But, boy, did they make a yummy
creamed pasta sauce! Best we've ever tasted. There's nothing like
fresh seafood. I was really into cooking, so I made a fresh batch of my original,
No-Chocolate Chippers (see sidebar for recipe). It all went down really, really
well with a fresh, crispy salad when we reached Laura Cove, our first anchorage
in Desolation Sound.
DESOLATION SOUND AT LAST
"Solitude is when you discover God firsthand. You don't need an intermediary."
– Buckminster Fuller, American Philosopher
Before we got there, we detoured to the general stores at the Squirrel Cove
settlement on Cortes Island to get fresh ice and produce, and make phone calls.
Most boaters take a pit stop here or at Refuge Cove on West Redonda Island,
which lies east across Lewis Channel. A few of the more popular anchorages in
Desolation Sound are on the other side of that mountainous island.
Having provisioned, we upped anchor and this time gave the lovely nearby Squirrel
Cove anchorage a miss, as we didn't have enough time to go to all of our
favorite spots. It is a very large bay with a narrow entrance, and fully protected.
At a fresh-water lagoon on the north end you can "run the rapids"
in your inflatable as the tide is going down, or dig for clams at low tide.
There are also a couple of small rocky islets in the middle, one of which offers
good oyster picking.
The secret to exploring Desolation Sound and probably any area on this coast
is to go before school gets out! During the summer months, the Sound is no longer
the haven of solitude that we seek and Squirrel Cove and all of the other popular
anchorages are wall-to-wall boats, those on the perimeter stern-tied to shore,
during that perilous peak season. The shoulder seasons are perfect: the sun
is warm, the water swimmable, and quiet blesses each anchorage.
As we sailed into the Sound, we beheld a vista of mountains and sea, a layered
panorama of color from the dark green forested shoreline to ever lightening
shades of the blue mountains in the distance. A pleasant following wind had
us going at 7 kts with the help of our screecher, when we came abreast with
two monohulls whose skippers hadn't even bothered to raise the sails.
What is it with these guys? So many monohulls spend most of their time motoring,
often with their sail covers still on! As we can sail quite quickly in even
the lightest winds, we usually raise our sails as soon as we detect a ripple
on the water as we will often reach 7 kts in only 8-10 kts of wind, especially
running downwind. It takes a lot more wind to get a heavy monohull going at
a decent speed. Maybe that is their excuse. We have been the object of condescending
remarks from monohullers in the past, particularly when we say how pleased we
are with our catamaran's speed: "Yes, but they flip really easily,
don't they?" Well, no. Most, if not all, multihull capsizes occur
during races. Racers flip multihulls when they push the envelope, often racing
downwind. If they have too much sail up in heavy weather and stuff a bow or
ama, the boat stops, causing a sudden increase in apparent wind, and—boom!—they're
over. Even if it does turn turtle, a multihull will float. Monohulls don't.
If they don't right themselves, they go straight to the bottom of the
ocean. So, having taken monohullers' condescending appraisals over the last
few years, we do feel somewhat smug when we pass them.
However, everyone puts those little differences aside when they enter Laura
Cove. This is a very pretty little spot that lies in a breathtakingly beautiful
area of the Sound. The scene and feeling of the place of a morning in early
summer is almost mystical in its serenity. God, or whatever one calls the creative
power, is very apparent in these special places. Laura Cove is actually part
of the mainland. It offers several different corners. A multihull, being little
affected by waves and swells from boats passing in the channel, can comfortably
anchor in the middle, just in from the entrance, which is open and affords a
lovely view out into the channel. To the northeast is a long, narrow bay lined
by trees that is more protected but somewhat closed-in. In the southwest corner,
a tiny nook bordered by Copplestone Island and a rocky islet that almost cover
at high tide offers a spectacular view through large pastel-layered rocks into
the mountain-lined channel. A little further in, a big drying patch separates
Laura Cove from Prideaux Haven, a generous but less picturesque anchorage entered
to the south, from which you enter Melanie Cove. We dropped our hook in the
middle and enjoyed the openness of the view out into the mountain-lined channel.
Next time, we plan to lay claim to the western tiny nook as it overlooks the
pretty neighboring anchorage to the north at Roffey Island and down the channel.
When we do, we will use our stern anchor and tie a line to shore to avoid swinging
into the large surrounding rocks. All of these anchorages are filled cheek-by-jowl
with boats during the peak summer months. However, if you don't mind the
proximity and cannot go in June, you will still find it very beautiful. Even
yahoos settle down a bit in the presence of such unparalleled beauty.
After you set your hook in a new anchorage, it's nice to get to know
it. I made my oyster chowder first, watching a couple in an inflatable kayak
paddle around the cove. While Garett napped, I clambered into our lightweight,
hand-built dinghy (also a Richard Woods design), and commenced being totally
uncoordinated, oars flailing and clattering. Eventually, I got my rhythm and
executed a fairly elegant, quiet and ladylike row around the bay to the northern
end, where I got out and peered through the trees looking for an old cabin I
thought might be there. (I discovered later it is at the at the head of Melanie
Cove.) At high tide or, if you are feeling ambitious at low tide, you can row
from Laura Cove into the adjacent anchorages of Prideaux Haven and Melanie Cove,
exploring the tidal pools, tiny lagoons, marshes, islets and islands that surround
the area. Rowing into the northern end of Laura Cove, I noted lots of oysters
on the rocks while studiously avoiding glancing at an inflatable roaring around
this quiet spot, the occupants yelling over the sound of the engine. Boy! Some
peoples' children. On my return, as I neared Light Wave and tried to maneuver
the dinghy alongside, I panicked and my brain signals got mixed up, so I rowed
forward when I meant to row backward and crashed ignominiously into our beautiful
yellow hull sides. Got Garett's attention, anyway. Time for a swim!
MUSINGS
Swimming off the boat and following up with a shower is a welcome and refreshing
treat in the warmer weather. But the unforgettable swim this trip was on our
second day at Laura Cove when we rowed out into Homfray Channel to the numbered
islets off Scobbell Island. The tide was going down, so we pulled our dinghy
up and climbed up on one rocky islet. Garett dove in and I lowered myself gingerly
off the rocks into the channel. I gazed around at the sky and surrounding mountains
tumbling into the water as I floated on my back. Little moments like these are
emblazoned in my mind by heightened awareness through all of the senses and
the unclouded perspective that can only be found in such faraway places. I love
swimming in saltwater as it is so buoyant. When I was young (to use a dreaded
phrase), I would often borrow my mom's car and drive up the Sea-To-Sky
Highway from Vancouver to Brunswick Beach on Howe Sound, set up a blanket on
the rocky beach, and go out into the sound to swim, float on my back gazing
at the surrounding mountains and contemplate life. I often think now that the
secret little things I loved to do then—walking by the sea, swimming,
and sunbathing in private little spots, often studying or reading the while
(except when immersed!)—were the harbingers of things to come.
The birds sang on shore until very late, one or two stragglers continuing their
serenades even after "bedtime". I recognized the sweet warbling
of finches and a robin's three-or-four-note twilight song that is nature's
"Lights out" lullaby.
Early the next morning, the cove was still, with only two or three birds singing
to each other in the woods and a couple calling across the bay on one long,
note. A family of Mergansers scouted the water near the rocky shore. The mother
was quite big, about the size of a loon, and the four babies, with their striped
little bodies and distinctive russet-colored, tufted heads, paddled nearby,
heads down in the water watching for prey, then motor-skimming to catch up in
bursts of speed. It is amazing how quickly young birds and animals become self-sufficient.
I too decided to be self-sufficient while Garett slumbered on, and readied
our dinghy to head off on an oyster hunt. It was low tide and they beckoned
to me from their rocky homes. Boots, a large screwdriver, neoprene gloves, and
a bucket—and I was ready to go. There is something about gathering food
that is deeply satisfying, harking back to our primal roots. Perhaps we are
meant to grow and gather our food, rather than simply go to an anonymous grocery
store and pay for something someone else has picked and packaged. As the tide
was still receding, I didn't have to worry about losing the dinghy or
being stranded by encroaching water, but I tied it up well as a matter of course.
I had to pry the larger oysters off the face of a large rock, but simply "picked"
over a dozen lunch-size ones just lying on shore. Usually we go oyster prying,
not picking! I shucked the small ones on the boat, throwing the shells back
into the bay; and we rowed back to the same spot later to shuck the bigger ones
and leave the shells there. Juvenile oysters, "spat", can settle
and survive at higher rates on oyster shells, so this is recommended practice.
Rowing around the anchorage the previous evening, Garett had met a young newlywed
couple who also hail from Vancouver and live very near us. Tim and Ewa (pronounced
Evva) Kostamo, recently graduated medical doctor and dentist, were enjoying
Laura Cove as well in their very basic, gaff-rigged sailboat. So basic, her
mother calls it a "floating coffin". It has no head and no standing
room. We encouraged them: "Never mind—it gets you out there. Think
of it as a water-based, movable tent!" Later the next day, we watched
them row into our bay in their inflatable Sevylor kayak, heading for the steep
shore where a long rope was tied to a big tree overhanging the water for kids
to do Tarzan-like swings-and-drops. The rope is knotted at one-foot intervals
and you have to grasp it as high as you can, then shimmy up and tuck your feet
up as the rope swings out over the water. It was a hot day, so we joined them.
Garett took five or six swings along with Tim. Being 6 foot 5, Tim had no problem
getting high enough on the rope to have a good YEE-HAW! drop way out over the
water, but Garett, a puny 5-8, just skimmed the water. Ewa declined, being five
months pregnant and feeling vulnerable. After much whining and fussing, I tried
it once, but by then the tide had risen considerably and I basically just swung
out and plopped in—not much of a drop, but still very cooling. During
the summer, this place must be a screaming fun-spot for kids with cabin fever,
and it would be most exciting at low tide with the water 12 feet lower.
We have recently realized that we have to spend two full days and nights in
an anchorage to really get into its soul, and then by the time we leave each
place, it feels like home. So it was with some sadness that we motored quietly
out of Laura Cove at 0700 hours, after making several circles in the corner
nook to get photos of the morning mist lying along the mountaintops. An early
departure was essential to catch high tide at our next anchorage, Roscoe Bay.
En route, we passed Roffey Island, where we had enjoyed a warm, hour-long swim
during a West Coast downpour two years before. This anchorage is smaller but
also full of interesting nooks and crannies.
HAULING WATER, CHOPPING WOOD
Roscoe Bay is a lovely tear-shaped loch with a very narrow entrance that almost
dries at low tide and funnels the water through like rapids when the tide is
running. When we motored through this time, we could still see the red paint
left behind by our Port Angeles, Washington, friend Mark Harris when he bumped
his monohull sailboat through during a falling tide two years ago. The bottom
along this entranceway is like a rocky riverbed, and though we have a much shallower
draft, we wouldn't want to chance running aground here.
A pair of Loons had made it their summer home on our last stay at Roscoe Bay.
They would call to each other throughout the day and into the evening as they
went about their hunting. This trip, although we did hear in the distance that
magical minor key call and stop everything to listen, we were not blessed with
resident Loons. The lilting melodies of songbirds in the surrounding forest
provided soothing melodies from dawn till dusk.
"Before enlightenment, hauling water, chopping wood. After enlightenment,
hauling water, chopping wood." –Chinese Proverb
As our water was just about out, we rowed to a shoreside creek with our 4-gal.
container. The clear, sweet water bubbles down from the mountaintop through
the rocks, and so is well filtered. Using a small pot, we scooped out enough
to fill our container twice, being careful not to disturb the bottom silt. Again,
the very act of hauling our own water was calming and soothing. All of the amenities
and luxuries we so value in the 21st century are in fact entrapments. The faster
we go, the more wound up we get, and the more problems we have. It is in the
deliberate, conscious acts of providing for ourselves that we observe the reality
of cause and effect. Perhaps it is all the modern "conveniences"
that has contributed to a whole generation of people who want to blame someone
else for their problems and shortcomings. Garett rowed back to Light Wave to
empty the container and return for another one, while I stayed on shore taking
photographs of him rowing, the morning sun polishing diamonds in the water in
his wake. We also refilled our shower bag, and later enjoyed several hot showers
after swims.
We always row to the head of Roscoe Bay and walk a half-mile trail to Black
Lake for a cooling fresh-water swim. The water is mountain run-off so it is
usually quite brisk even though it is impossible not to enjoy swimming in this
tranquil, clear, deep lake nestled between densely treed steep-sided hills.
In this quiet season, we always jump at the opportunity to skinny-dip and warm
ourselves on the big, smooth rocks on shore. By our second day at Roscoe Bay,
it was hot, and we were surprised to find the lake had warmed to a very comfortable
temperature, though it was still cooling. We did some laundry there, using organic
and biodegradable Pink Solution, spreading our things out on the rocks to dry
while we jumped into the water for several refreshing swims. We had just donned
our clothes and were appropriately modest when another couple came tramping
along the trail, much to our surprise, as there had been only one other boat
in the anchorage inhabited by two men. We realized on returning to Light Wave
that this couple had come by motorized inflatable to enjoy Black Lake, as many
people do while cruising in Desolation Sound. It is not that far from one anchorage
to another, so people will do little day jaunts to take advantage of good swimming
or hiking spots.
Later that day, we experienced just such a trail that in previous years we
had seen people arrive in Zodiacs to hike. We undertook this arduous adventure
at Garett's insistence as, unlike our usual cruises where we go ashore
and run every other day, we hadn't had any real exercise since Jedediah
Island. I am a runner and ordinarily enjoy the challenge of a hike, but we started
this one, inadvisably, in the heat of the day. We started of from the trailhead,
near the creek on the north side of the anchorage, up a fairly steep trail to
the peak of Llanover Mountain, to climb 2,000 feet in 3½ miles. I was
panting and sweating very soon, and if Garett hadn't been the trailblazer,
I am ashamed to admit I probably would have thrown in my soaking T-shirt and
turned around. If I had, I would have missed the spectacular view when we reached
the top in 1½ hours. Through the tall cedar trees we beheld a panorama
of hills and mountains interspersed by inlets: like a lithograph, layers of
deep blue-green fading to light blue. Tuna sandwiches, apples and water renewed
us as we rested and took pictures. We descended the steep and somewhat precarious
trail quickly, with only one slip that gave me a black and blue shin for two
weeks afterwards. Hot and sweaty when we finally reached Light Wave, we threw
on our swimsuits and dove madly into the water, and later felt tremendously
invigorated after all the exercise and a shampoo and shower. It is amazing how
simple things become such poignant experiences when one leaves behind the trappings
of "civilization" and lives simply on a small vessel.
There are oysters aplenty on the south side of Roscoe Bay near the entrance,
and although we did not harvest them this year, on our last trip we had picked
big, clean, juicy specimens right of the rocky beach. We were surprised to find
absolutely no dry branches or even driftwood to kindle a shore-side barbecue
fire, and instead brought a Hibachi ashore to cook them.
It was with some reluctance that we bid adieu to Roscoe Bay on a glorious
early summer morning, traversing the shallow entrance near high tide, and sailed
back down Homfray Channel. With a quick stop to Refuge Cove, we replenished
our fuel and water and commenced sailing home. Wouldn't you know it? The wind
had shifted to the southeast so we spent another two days sailing against it.
We experienced two new anchorages each night: a protected little bay at Hardy
Island and at the very memorable, Caribbean-like Buccaneer Bay between West
and East Thormanby Islands. A large, sandy spit joining the two islands invites
day-campers, kayakers, and boaters like us who want to stretch their legs, explore
the beach, and enjoy the panoramic view south across the Strait of Georgia to
Vancouver Island.
After only 11 days, five spent in this untouched paradise, we were relaxed
and full of the harmony of life without man's interference. We could have
spent another two weeks easily visiting all the other fabulous anchorages in
and around Desolation Sound–Gorge Harbour and Manson's Landing on Cortes Island,
Grace Harbour in Okeover Inlet and the fabulous Octopus Islands off Quadra Island–to
name a few. What Captain Vancouver saw as desolate, we see as a bustling center
of life as it should be. We adjusted our pace to it and felt we took it with
us when we left. A week later, I am still sitting on that rock in Laura Cove,
contemplating life, glad to be alive.