January 2008 – Catamaran Sailing Cruising in the Sea of Cortez
---
Tuesday January 1, 2008
We did one last trip to the big grocery store, C-C-C, planning to be ready to go tomorrow when the north wind would die down.
Carllie found some nori at the store, and then found some tucked away in our food locker on the boat, so we had a special treat of home-made suchi, since there is no Minato Sushi (best sushi restaurant in Vancouver at Oak and Broadway) here!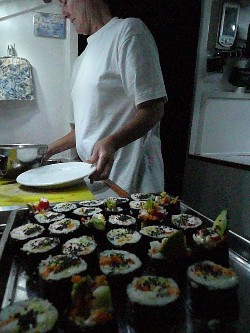 Garett loves my sushi, but I
still prefer the sushi at Minato Sushi
in Vancouver! Boy, that is one thing
I can hardly wait for when we get home!
Wednesday January 2, 2008
Finally by noon we were off to nearby Puerto, Balandra which is only 10 miles north.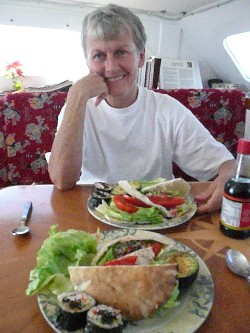 Enjoying the last of our sushi
with pita pockets for lunch
the next day. Boy are we starving!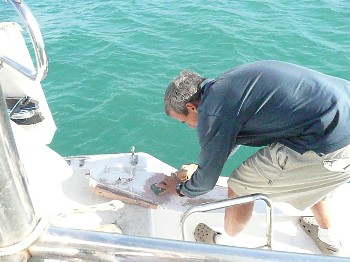 First I had to finally fair the rudders before we were off.
We were finally under way, and we were very happy with our new extrended rudders as the boat is much more responsive. For the last 5 miles we got to sail a bit and also tried out our modified mainsail which allows us to raise it on any point of sail. It worked great. The only potential drawback was that we had to cut off about 50 square feet so we thought it might slow us down. It turns out that there doesn't seem to be any real differnce as there is now less weather helm so there is less drag from the rudders working to counter the weather helm. We are really happy with both mods.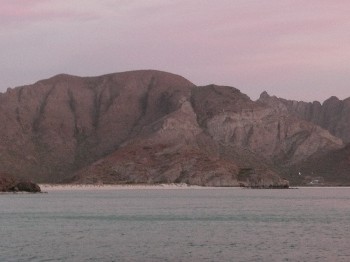 Arrival at Puerto Balandra – beaches look interesting.
Thursday January 3, 2008
Carllie: When we got up in the morning at Balandra, we could not believe how beautiful it was. The water was shallow and the bottom white sand, so the water was clear turquoise. The wind had abated and the sun was shining, so it was very warm. And we were soon very surprised to see people walking way out into the bay on the sand which had been uncovered ass the tide went out, very close to the boat.

Tucking the sails under their covers for sun protection.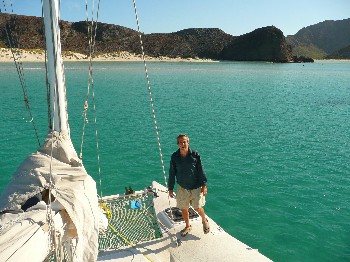 Beautiful colors and beaches at
Puerto Balandra.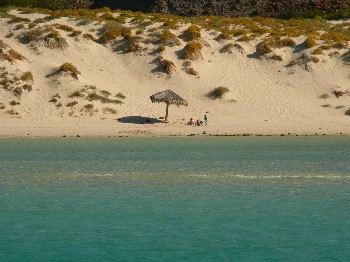 One palapa ashore provides shade for a few of the
many locals who frequent this beach, the only
really swimmable one near La Paz.
Carllie: We had never visited this spot before, and we were delighted to find clear turquoise blue water, white sand and a pretty good anchorage as the wind had abated.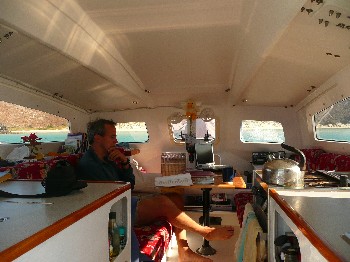 Garett reading, with the incomparable view
beckoning through the windows.
Will this all seem a dream when we are home in British Columbia? I think so. Although B.C. is beautiful, it does not have the white sand beaches and crystal clear water we find here.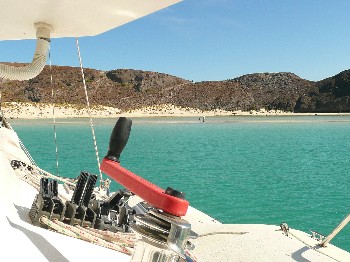 Contrasts in colors at beautiful
Puerto Balandra.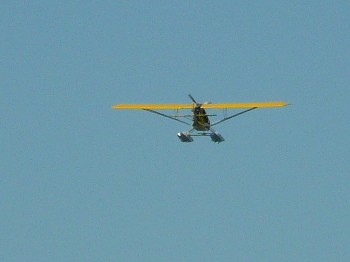 A float plane buzzed over a few times, and
we thought he was going to land, but
no such luck.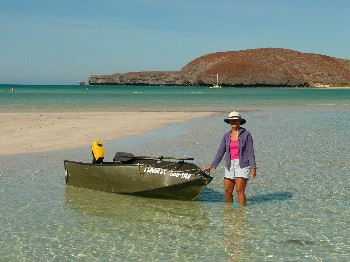 Pulling the dinghy to shore in the shallows at
Balandra. Water was a little cool!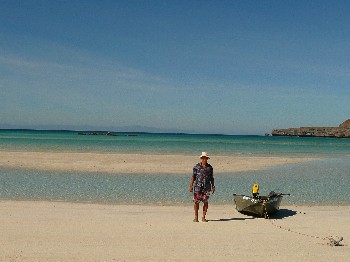 Garett sports his usual mixture of differing
colors and prints that gets the women
slathering after him… (Not!)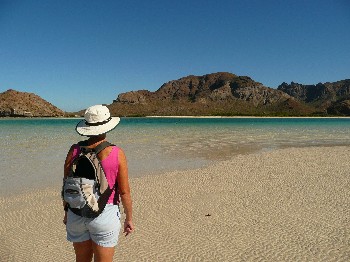 We could not believe how beautiful
Puerto Balandra is. It felt like we were
back at the pristine beaches of the
northern Sea of Cortez.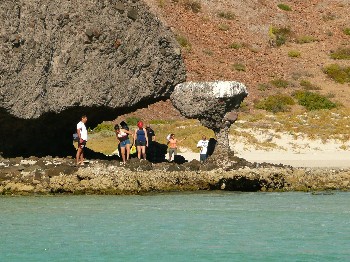 This is called Mushroom Rock, and is very impressive
until you get up close when you discover it's been
patched together with epoxy, the top evidently
having fallen off during a storm. I guess the
Parks people did not want to lose a landmark!
Carllie: It was great fun watching the little Mexican muchachas running on the sandbar, eventually joined by whole families, right in front of Light Wave.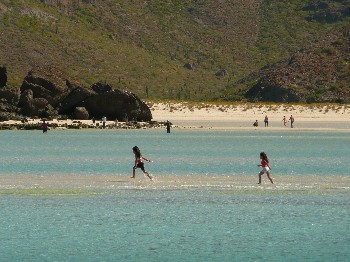 Muchachitas playing on the sandbar right
in front of Light Wave.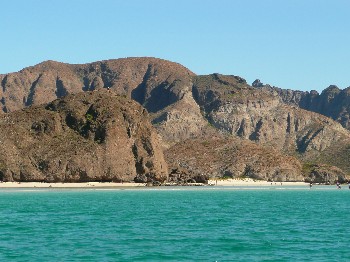 The colors are so vivid, and the surrounding hills
spectacular: a vivid imprint on our memories.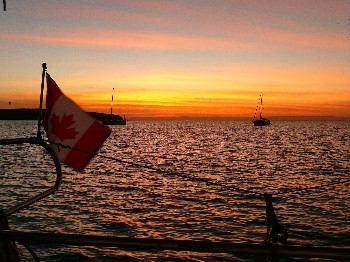 On the first night at Puerto Balanddra, we joined
another catamaran and two monohulls.
Friday January 4, 2008
It was time to carry on, so we motored across Lorenzo Channel to Islas Espiritu and Partida, eventually again dropping our hook in our new favorite little spot, Cardoncita.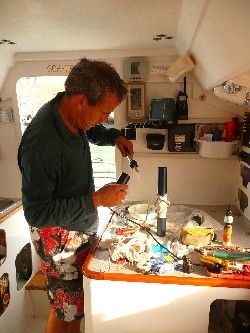 Here is Garett, that "can-do" guy, fixing
our two Raytheon Autopilots.
It was great to enjoy warm weather, and no wind en route to for our whole stay at Cardoncita. We really could not believe it, as it had been so cool in La Paz.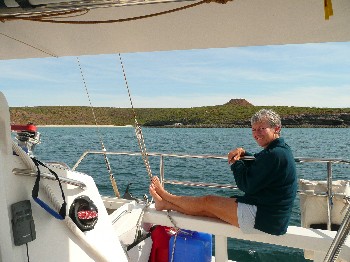 Aging bathing beauty enjoying warm
weather during one of her favorite activities;
only drawback: the sails weren't up!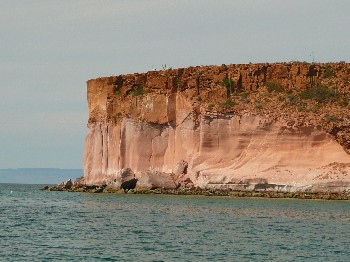 The spectacular rock formations at the entrance of
Cardoncita.
Carllie: We had stayed at Cardoncita two nights on our way to La Paz before Christmas, but this time the weather was much warmer and sunnier. We really could not believe our good fortune, as temperatures during the day rose to 80 to 85 degrees, while the water temperature hovered at around 70 degrees–quite comfortable for a swim around the boat and for Garett's spearfishing, which he again took up with a vengeance. He says his new gorro (hood) that tucks into his wetsuit keeps him toasty warm, even in 66 to 68 degree F. water, so he can spearfish for extended periods of time without getting cold. While we were at Cardoncita, four nights, he provided fish every night!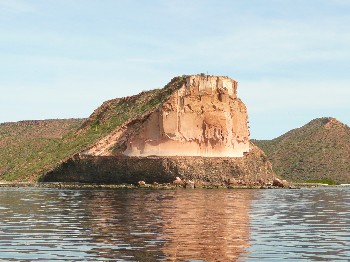 Incredible rock formations at Cardoncita.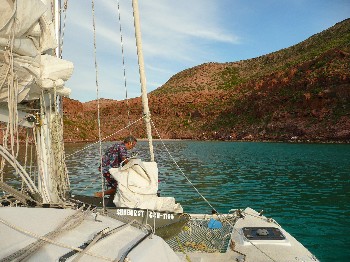 Here too, the water was crystal clear
which makes swimming much more fun
and snorkeling and spearfishing possible.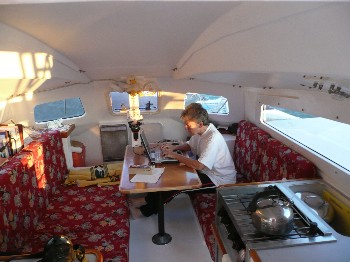 It was nice to relax again, away from the hubbub
of the city, and just write, read, eat and sleep!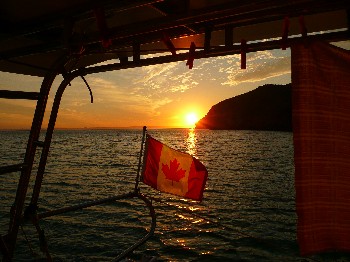 Canadians still hover in the Sea of Cortez!
We enjoyed the peace of Cardoncita: the pelicans diving in the clear turquoise water on the huge school of silver fish that looked like sardines or anchovies that took up almost the whole bay; the seagulls that would miraculously appear if we threw any fruit or vegetable peelings overboard; the sweet high calls of the Osprey that frequent the whole Sea of Cortez, sounding much like our Bald Eagles at home; the singing of the crickets on shore at night; and best of all the heat radiating off the nearby beautiful red cliffs that snuggled us in so closely.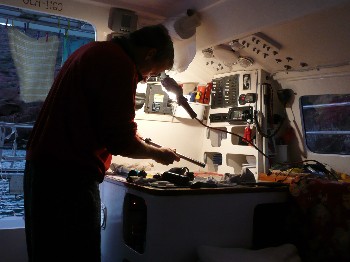 Garett beavering away on the Autopilots. I am
forever grateful that he is so mechanically minded,
as we all know that I am not. When he explains
something to me, I nod my head as my eyes cross,
and say, "Oh! I see. Yes, that's right," while
the whole explanation skips right through my
gear-less brain.
Saturday January 5, 2008
Carllie: We have had this little problem with our great PortaBote for quite a while as we made our way south from the northern Sea of Cortez: the rub strake type rubber thingy that clips over the seam on the bottom of the boat (the dinghy is made of heavy duty polypropelene plastic and is stapled together), had come loose due to constantly hauling the dinghy up onto the forward deck to dismantle it, and pushing it down into the water from the deck once we had it "mantled." We needed a fix, and as occasionally happens, I came up with a solution. What we needed was some tubing to replace the long piece that had fallen off, and I suggested we use a piece of water tubing that I knew we had on board. That tubing didn't work, but surprisingly Garett had not thought of this option and was just struggling away with the existing rub strake, trying to fix it back onto the bottom seam. He then realized we should be able to buy the same tubing at a hardware type store, and sure enough a local fellow told us that we could buy this material at a big plumbing store quite near to the marina. Luckily, we did find the exact same stuff, and bought enough to replace the old piece…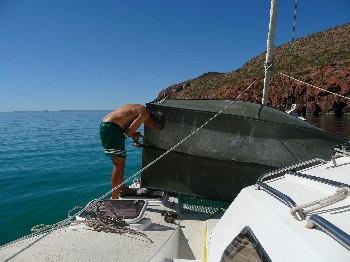 So here is Garett attaching the new rub strake
to the bottom seam of our dingy. What a relief
it was to get that little problem solved!
We are so happy and relieved that this "little" problem is fixed as a good reliable dinghy is essential to cruising. One has to be able to get to shore from an anchorage. Now, we take off the motor before we haul the dinghy up or lower it into the water, considerably reducing the pressure on that rub strake so that we should not have that problem again. Live and learn!
Our skills and knowledge in so many areas have improved throughout this extended voyage. Every day we figure out how to do something better, more efficiently, with less wear and tear. I have certainly become a much better "home economist" and now really know what that term means, having diligently taken three years of Home Economics back in highschool, never once thinking about what "home economics" meant. I just liked cooking and sewing!
We share what we have learned with new cruisers we meet, as "old hands" have shared their knowledge with us.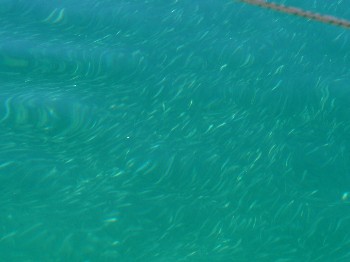 This is the school of silvery fish that occupied
almost the whole bay at Cardoncita for the
total time we were there.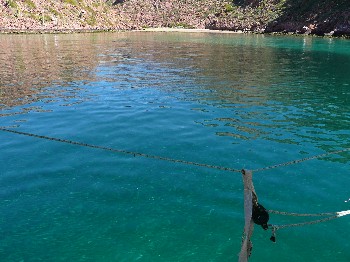 You can see the extent of the school, as it is the
black area on the turquoise water, and it only
ends quite close to shore. We were amazed.
So were the Pelicans. Feast time!
Garett loved his new Gorro that I bought him for his one Christmas present (such a contrast to buying presents at home when we are both slaving away 9 to 5 and spending too much money…). He says the gorro makes him toasty warm while he is spearfishing…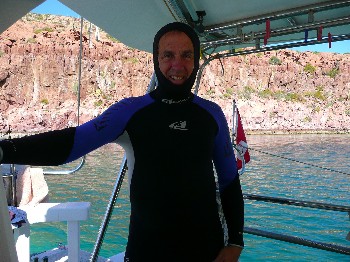 Garett in his new gorro tucked into his
wetsuit.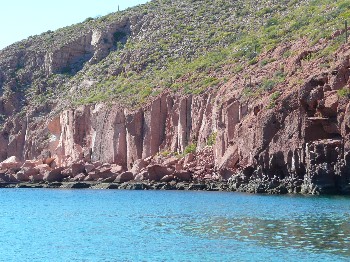 Spectacular rosy colored cliffs surrounded
us closely at Cardoncita, trapping the heat
and warming us. It was wonderful!
We hope to take our friends Karmel and Ross Tanner here when they come to cruise with us in February!
Sunday January 6, 2007
Carllie: Garett, continuing the detailed boat work he had planned for this month, painted inside of sleeping hull, while I did…nothing much! (Other than planning and preparing yummy meals and reading…). We were pleasantly surprised midway through the day when a couple of guys on a dinghy who had come in to explore the cove, putzed over to say hello. The older of the two, who turns out to be the father of the other young fellow who is in his early 20's, says, "Is this the boat that had that hulls extended?" or some such thing. We said, "Why yes! That's us!", and he said that he had read the story on our website. They were Jim and his son Chase, who were visiting from their Atlantic 42 (a very skookum catamaran designed by Chris White) anchored in the next big bay, Caleta Partida. Garett was still in the midst of painting, so our conversation was rather truncated. When we heard that Jim had built their Atlantic 42, we asked if we could come over and see it, and were welcomed to do so. So later in the afternoon, we hopped in our new and improved dinghy and puttered over to visit Jim, his wife Kay, and Chase aboard their beautiful Atlantic 42, Grace.
Extremely unfortunately, we did not take our camera with us. This is the boat of our dreams, and Jim has done a very professional and beautiful job building it over four years in a barn on their property in Eureka, California. The finishing was superb, the interior beautiful. It is such a safe catamaran, as the cockpit is forward of the bridge deck, and all sail controls lead to the cockpit. The cockpit is long and keep and one feels very secure and protected from the wind just sitting in it. The interior of the boat is also beautiful and very spacious. So who knows…maybe we are not quite free of the boat building bug?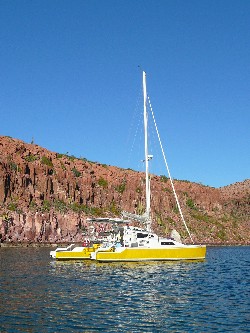 Light Wave sitting pretty
in cozy Cardoncita.
In addition to slathering over their boat, we had a really nice visit with Jim, Kay and Chase, and hope to see them again, and to keep in touch!
Monday January 7, 2008
Carllie: Garett did even more painting on the boat, using the wonderful paint you get from the Mexican paint store here, called Comex. It is very good quality and durable, we figure possibly because they are allowed to use more toxic stuff when they make it! Anyway, as you can imagine, when you live aboard in a small space for an extended period of time, things get roughed up and bumped around, so Light Wave needed some T.L.C. Luckily, Garett is very fast at taping off and painting, and his work has already made a huge difference. He is going to touch up the cuddy cabin a bit more when we next go the islands, sprucing everything up for the Tanners' visit!
We dinghied ashore and walked up canyon as far as we could. Then Garett jumped in the water for more spearfishing, although visibility was now poor, while I swam around the boat. He managed to get another parrot fish, which gave us a fabulous protein supplement for our dinner!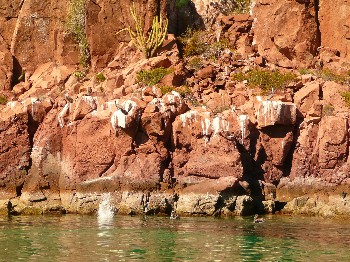 Trying to catch a shot of the Pelicans dive-bombing
into the water is well nigh impossible, but you
can see the Pelicans sitting on the water on the
right and the big splash on the left where
one has just dove.
Pelicans eventually go blind because they keep their eyes open of necessity while they dive. They then, sadly, slowly starve to death and eventually die. What a life!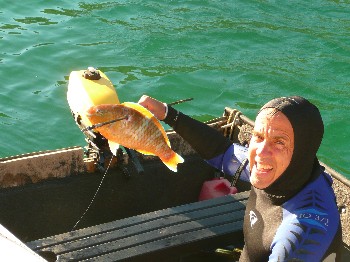 Garett's second yummy parrot fish in a
few weeks. You have to understand that
these fish are quite elusive and difficult
to spear.
It was a satisfying, happy, peaceful day.
Tuesday January 8, 2008
Carllie: After four days at anchor at Cardoncita, we decided to take advantage of the winds and go for a little sail. A big group of kayakers arrived just before we left, and we exchanged a little friendly conversation with them. They were all from Victoria and were travelling on a group kayaking tour. Local guys from La Paz bring them out on their pangas, set up a big serving area and then make food for them, while the kayakers set up their own tents and only have to worry about getting from one bay to another, honing their kayaking skills and their personal hygiene, as they are met in each bay by the tour workers.
Once we left the bay, we found the wind light, so we kept going hoping to make enough northing to get to Isla San Francisco, where we had visited with Korianne and Daken Ariel last December. Unfortunately, while I was relaxing and reading inside like a sea slug on the settee, the wind and waves continued to build until we had to decide that it was just too lumpy and too late in the day to make it all the way to Isla San Francisco. We had, however, enjoyed a really nice sail; so we turned around to make our way back to Isla Partida where we planned to anchor at Ensenada Grande, on the far north end.
Once we had turned around we went from an upwind close reach sail,which is never too comfortable, to wonderful, brisk downwind sledding. It is always great sailing downwind. (Downwind sailing is what we will be doing most of the way to Hawaii, by the way.) Suddenly, we heard a loud "Bang!" Believe it or not, we did not pay too much attention as when under way, it's pretty noisy with the wind in the sails, the rush of the water behind and around the boat, and all kinds of other noises. I was a little concerned, but as Garett wasn't I forgot about it. He said later that he thought it was the seat that sits on top of the outboard engine banging up and down. Well, about half an hour later, Garett glanced over at the port rudder and sees that it has broken in half! It sheared right off at the bottom of the rudder box, and only the stubby ends were sticking out. We had not noticed as the remaining improved rudder, extending 12 inches further into the water than before, had kept us right on course, with no deviations or problems. This was a good sign, and it was also good that the rudder broke when it did. This was our last original rudder, and it did not break at the joint point where Garett had added the length, as one might expect, but as I've said, right at the top where the rudder box ends.
So now we knew that when we returned to La Paz in 10 days, Garett will be building two new rudders–one to replace the broken one, and the other to carry as a back-up. We look upon this time as a time to "look after the details, and find any weaknesses in our boat or systems" so that we are ready and raring to go in March!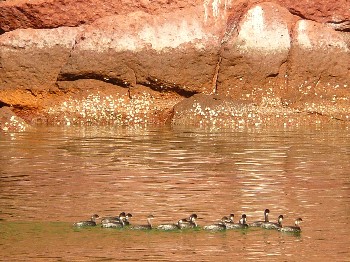 A family of grebes visits Ensenada Grande
the next morning. We see these little guys
in almost every bay we drop anchor. They are
a different type of grebe than the ones we see in
the Okanagan at home, quite tiny really, they usually in
pairs, or singles, and are quite unafraid of people. They
will come right up to the boat and dive under it. We
always say, "Hi there little buddy!" and quite enjoy watch-
ing them dive so nimbly under the water seekingsmall
fish . They are so agile they often look like fish themselves.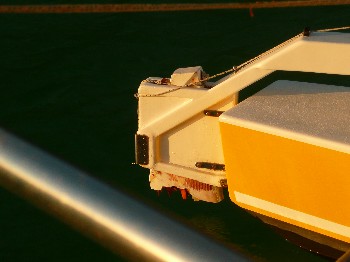 Oops! Looks like Jaws bit off our rudder! We figure we
must have hit a sleeping sea lion, a whale, (or maybe a shark??)
as there are definitely no logs in these waters…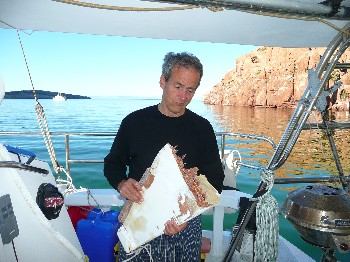 Garett the Ham, hamming it up as he
examines what is left of our rudder
after "Jaws" got it!
We continued sailing vigorously along to Ensenada Grande, the nothernmost anchorage at Isla Partida, where we safely dropped anchor with three or four other boats, and snuggled in for the night. It is always so soothing to make and eat a creative and delicious dinner, then read, listen to some philosophy classes that we have recorded, or play a game of Boggle until we get sleepy. Once you know that the anchor is well set and your vessel is protected and safe, you can let everything go and enjoy the beauty of Nature.
Wednesday January 9, 2008 and Thursday January 10, 2008
Carllie: Garett, believe it or not, continued his painting frenzy. He stopped snorkeling and spearfishing, however, as there was a big algae bloom in the water, limiting visibility. I still did a swim around the boat preceding a daily shower, until the wind got up. Eventually, we resorted to a very quick dunk in the salt water to rinse off, followed by…get this…a HOT shower made for pampered whining babies by boiling water and adding it to the regular tank water in our "shower" bottles (which are recycled 1 1/2 liter water bottles).

It was great to be back at Ensenada Grande
as this is where we found our very
favorite boulder, rock-clim,bing hike!
It was with great delight that we rowed ashore the next day for a good rigorous hike up the boulders of a dry river bed to the top of the island on the east side. We had done this wonderful rock-climbing type hike back in April last year, on our way back up the Sea of Cortez.
For some reason, it seemed a little harder this time (9 months older?), but we still enjoyed the great exercise. You climb from one boulder to the next, shifting your weight slowly forward as you go. Here is what I wrote about this hike last year:
Joy: Hiking up the long, boulder-strewn canyon at Ensenada Grande. The warm, dry wind humming softly in my ears as I climbed from one rock or boulder to the next. At first, with the big steps between these huge rocks, balance was difficult; but soon I learned to shift my weight forward with each step so my body was balanced over my forward foot and I no longer felt like I would fall backwards.
This is so much like life: we take a step forward, but perhaps we do not put our whole being forward with that step. Perhaps subconsciously we are resisting that step (or something other than us is resisting it!). So we lose our balance and fall back. If we have not set out destination in mind firmly, we may fall back and fail to take that step forward.
Walking and rock-climbing that beautiful canyon where the power of Nature was whispering and thrumming in my ears, surrounded by the unique desert cacti, succulents, flowers, bushes and animals; feeling the caress of the softly buffeting warm wind as my muscles, joints, tendons and bones responded to this new type of exercise, I began to think joyfully and freely. I felt at one with Nature–the sounds, the smells, the feelings, the earth, the rocks, the lizards, birds and chipmunks–and my mind completed this thought, this comparison of rock-climbing to living. There is true joy in thinking, in seeing the universal relationships between and among all things. This vigorous hiking energizes and relaxes the body and brain and thus the mind is free and correspondingly energized to think on a higher plane, free from self, in tune with the power of life manifesting through its closest physical manifestation, Nature.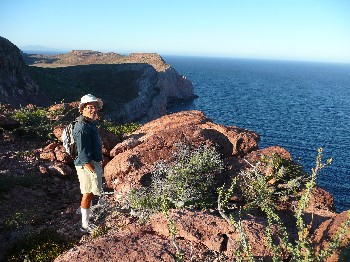 Garett on the summit after our long rock-climbing
hike at Ensenada Grande.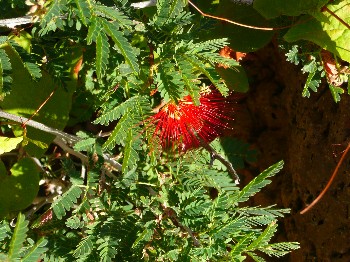 Closeup of one of the unique flowers that grow on the small
shrubs in the cracks of the red volcanic rock.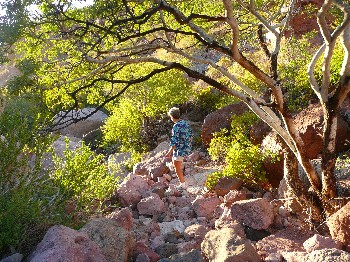 Going back down is sometimes trickier
than climbing up!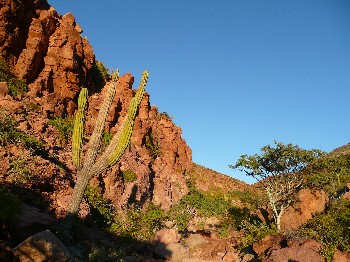 Beautiful cacti, bushes and flowers add
splashes of color to the already beautiful
rosy red rocks.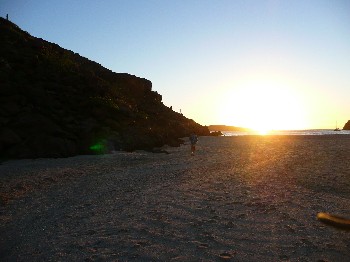 Ahhh! Almost home at last, after 3 hours of rock climbing.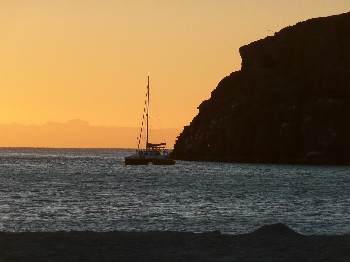 Our home on the water awaits us…
Friday January 11, 2008
Today, we were again delighted to be visited by a new friend, Richard, from a big power yacht that had shared the anchorage with us last night. Richard perched on our handy new extended hulls, and told us all about his voyages sailing one and a half times around the world with his wife Christa over 10 or 12 years in their very beautiful Amel (pronounced Amiel) sailboat. Later, we visited their boat Karma, and met Christa who had made us a little repast of nibblies. We enjoyed hearing their many stories, and felt special pleasure in making new friends with these wonderful folks. She is from Austria, and he was born in Romania, although having spent much time in Germany, he sounds quite German.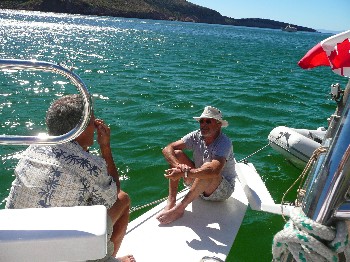 Richard visiting us from his power yacht Karma
anchored in the distance.
Christa fed us and made us welcome aboard Karma while we exchanged stories. Mostly, we learned from their stories. They have been to so many places all over the world, and even sailed around Cape Horn, meriting a special stamp in their passports!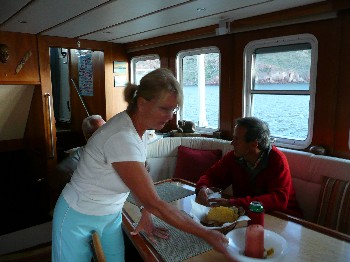 We hope Christa and Richard will email us, as
they promised, as we do not have their
email address, and do want to keep
in touch.
Saturday January 12, 2008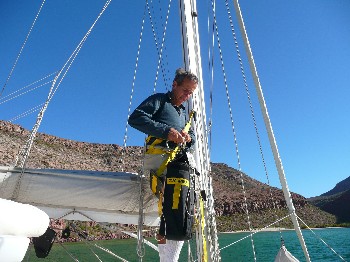 Putting on my mast climbing gear.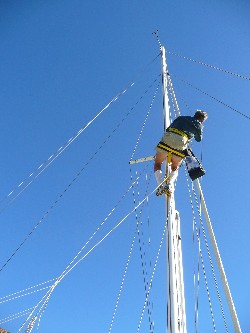 Final check up the mast.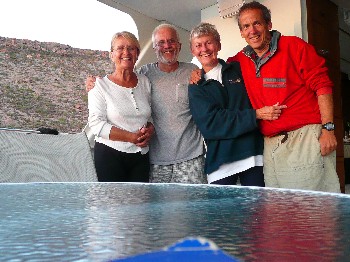 Our new friends Richard and Krista.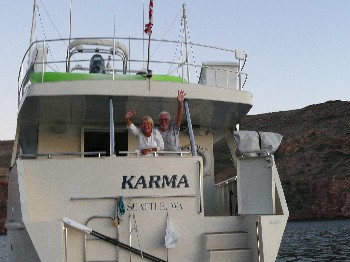 Waving goodbye to Richard and Christa
on Karma.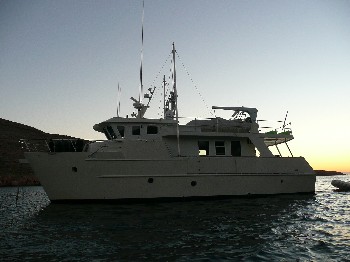 The hardest thing about making new friends
in the cruising life is saying goodbye!
I spent a couple of hours cleaning out our main food locker. We have so much food! Although we run out of fresh produce, let me tell you, we are still well supplied with dried legumes and seeds of all kinds, pastas, rices, pasta sauces, and baking materials.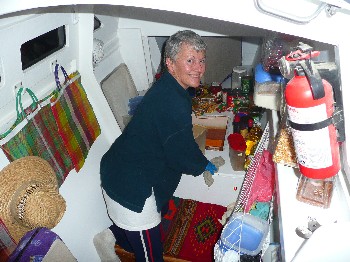 Notice my new "Christmas rug" that I have
folded up and laid on our new small
food locker, which forms a seat or step up
into the berth. It's a nice colorful
addition to our sleeping hull. Also note the
colorful mesh bags hung on the wall. We bought
four of them before we left Guaymas last October,
and they are perfect for storing vegetables and fruits.
Sunday January 13, 2008 and Monday January 14, 2008
Garett: We had another two windy days where we just stayed on the boat and did more boat projects.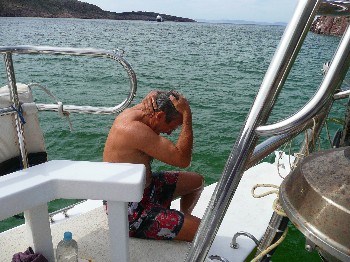 Garett having his monthly shower….
(Whining the whole time: "It's so coooold!" as the
wind was blowing and the sun wasn't shining!)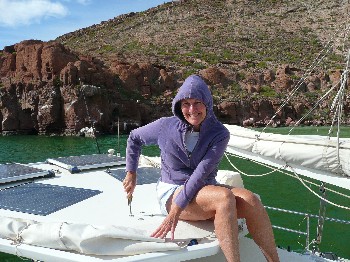 Carllie holding some screw heads.
At about 5 p.m. the young captain, Mark, from the National Geographic tour boat, Sea Lion (check out www.expeditions.com) came by and invited us to a barbeque on the beach that they were having for their 60 guests. (C: We figured they did this as all morning long they were motoring by us as they ferried their guests into shore for a very short hike, and inspite of the waves they churned up we just kept smiling and waving in our friendly manner.) They had a great spread of food and they were very gracious hosts. We met many of their guests, who were interested in our adventures and being total non-sailors astounded that we would put to sea in such a small cat! Their adventure excursion costs $4,000 to $5,000 per person per week, depending on your accommodation (C: not a bad deal considering they take the guests into the Sea of Cortez for a night or two, then leaving a night, make their way back out of the Sea and around Cabo San Lucas to the outside of the Baja Peninsula where they stop at Magdalena Bay to watch the grey whales which are calving at this time of year). So we figured we got $300 worth of food, between the two of us!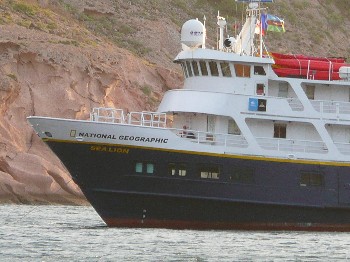 National Geographic vessel, Sea Lion spends
a day at Ensenada Grande and her captain invites
us to share a sumptuous picnic dinner ashore
with their guests that night.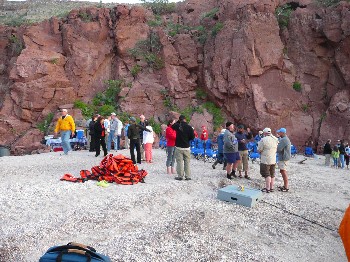 Getting to know some very nice people
sailing with the Sea Lion for a real
adventure cruise.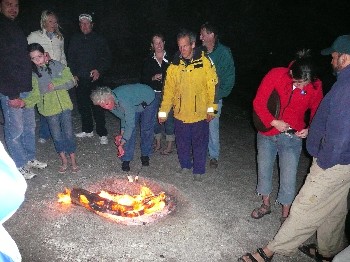 They even had marshmallows for desert!
(Notice who is first and foremost with
his marshmallow stick!)
Tuesday January 15, 2008
Garett: We left early from our 7-day/night home in Ensenada Grande but as we pulled up the anchor we could now see the bottom, it had all of sudden cleared up! The water had been so murky with the latest algae bloom that all we could not see the bottom in the 6 feet of water we were in. I was tempted to put the anchor back down and go for a dive, but we decided to just head off.
It was a nice sunny day and we motored the familiar 25 mile route through the islands to La Paz. When off Lorenzo Channel we sailed for about an hour which was nice. We can now raise our newly modified main sail while going downwind, which is so much easier. Why did we wait so long to do this???
Wednesday January 16, 2008
After one night at anchor, we moved back in to the marina and tied up at the protected outside dock we had at Christmas. We called ahead on the radio to the marina staff and other boat friends who came to the dock to guide us in to the tight spot and because we only had one rudder which makes our maneuvering dicey. The winds were light and the current was slack and so it was uneventful.
Carllie: Before we left the anchorage, we were just doing our morning exercises on the back of the boat and I look up and see this guy motoring towards us in his dinghy. I am watching wondering where he is heading, and then notice his dog perched right up on the bow of his inflatable. Suddenly, I recognize her! It's SISSY!!!!! (with her owner Ron Pryde…) Our wonderful doggy friend from the boatyard in Marina Seca Guaymas (see our June 2007 Adventure Log). She is a German Short-Hair and just LOVES chasing sticks–in the water or on land. She knows we are good throwers and real suckers for her doggy wiles, so when I screeched out a delighted welcome, "Sissssssyyyy!!!!" she wiggled all over and scrambled to jump out of the boat before Ron had landed. I have never been so happy to see a dog. This dog has to be the most fun and have the most beautiful nature of any dog we have ever met. She happily scrambled on board and gave us her undivided affection and attention for a remarkable 2 minutes. Then she got bored and jumped back into the dinghy to gather up her big slobber-laden log (stick) for us to throw, knowing she can wind both of us around her little paw. Unfortunately, throwing a stick doesn't work from a boat as dogs cannot exactly climb boat ladders to get back on the boat. So I soothed her by scratching her back for 20 minutes while Garett chatted with Ron.
Ron's wife Sherry later told me, jokingly, that Ron was quite insulted that he had come all this way and all we were interested in was Sissy! It was nice to be reunited with such a darling dog… And after all Garett did talk to Ron while I babied Sissy!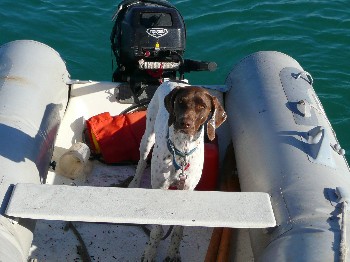 Sissy! Our good friend and forever stick-chaser
from Marina Seca Guaymas, pays a surprise visit
bringing along, as a little bonus, her owner Ron Pryde.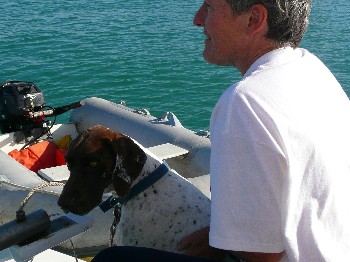 Sissy actually calmed down while I gave her a good
back scratch. What a beautiful dog.
Muy bonita perra! Desafortunadamente, she had
dragged one of her beautiful silky brown ears through
some white paint while Ron was working on their boat.
Has everyone got the painting bug these days?
Garett: When we made it into the marina, a little after our visit with Sissy and Ron (in that order), our first business was to get some plywood so I could make our two new rudders. I walked to the lumber yard about 15 minutes away and talked to Juan Luis who showed me the various types. I got some nice 3/4 inch cedros and we loaded onto his truck and his drove me back to the yard with the wood. I then arranged with the local American woodworker, Pedro (Mexican for Peter), to slice and dice it into the proper strips so I could then glue it together. More work to do the next few days but it should hopefully go fast.
Carllie: On my way back from a very loooooooooooong and very hoooooooooot shower, the first indoor shower in 16 days (bliss!), who should I spy sitting at the little courtyard outside the marina cafe but our friends from our marina at home, Colin and Jacquie! They keep their trimaran moored just ahead of ours on the main dock, and we had last seen them in Puerto Vallarta last January. What a surprise! They are down here looking for a nice little piece of property somewhere in this wonderful land, so they can spend the fall and winter down here and the spring and summer back home in Vancouver. We had a nice long visit with them, eventually having them back to see the changes we had made to Light Wave, and then bade them adieu as they made their way back to the hotel. We still hope they will see the light and just buy one of the many well-found boats that are for sale down here, and simply enjoy the Sea of Cortez for 6 months of the year! Hey! If Jacquie reallydoesn't want to sail, you can simply tie up at warm and wonderful Marina de La Paz, and enjoy the wonderful camaraderie of the cruising the land-based community here! There are so many options with a boat. Once you've got a house, you are stuck in one place! What if you don't like your neighbours? You can get a lot for your money down here…
Meanwhile, as soon as we got back on the internet when we tied up at the dock, Garett had checked his emails and was delighted to find one from Richard Woods, the designer of our (original) Gypsy 28 catamaran. He said that and his partner Jetti were in La Paz and wondered when we could get together. Garett emailed him back and invited them for food with us on Light Wave, followed by some music at a jam session at the nearby Molina Restaurant.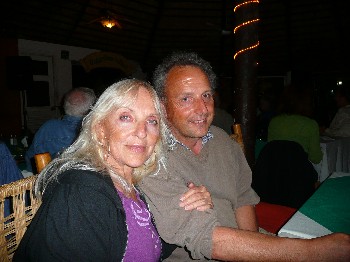 Brilliant and talented catamaran designer, Richard Woods,
who designs everything from small beach cats right up to
very spacious cruising catamarans, with his very capable
and very funny partner, Jetti.
It was great to see Richard and Jetti again. We had last seen them when we happened to be sailing along the same channel in the Gulf Islands, then anchored together, just before we made our way out across the border for our long voyage harbor-hopping to Mexico. Richard inspected Garett's modifications to his Gypsy 28 design, and seemed to approve…at least he has given Garett his okay to write an article on the hull extensions for Multihulls Magazine, and also approved Garett's finished manuscript. We talked about all kinds of things, from Richard and Jetti's long-distance sailing experiences to our own, to boat building, and to Richard's very interesting and funny article about sailing in Alaska that we had read in Latitudes and Attitudes.(Turns out the very funny section of that article that Garett and I had split our sides about laughing was an excerpt from a letter Jetti had written to her daughter… And here we thought Richard had another career on the sides as a stand-up comedian!) We also spent some time being mutually appalled by the tough time they had had crewing for an old curmudgeon like guy from Canada to Cabo San Lucas. It was a very big Maple Leaf 48 monohull sailboat, and this old guy would not let them use the one shower on board, so poor Jetti went 9 days without washing her hair. It was simply to cold to have outdoor showers. He also would not let them use the Autopilot, so they had to hand steer the whole way, AND there was no seat at the helm! So they had to stand while hand-steering! Choke! What a captain! No wonder it's so hard for people to find crew… Anyway, Richard and Jetti jumped ship in Cabo San Lucas, saying they had friends to meet in La Paz. Luckily, we were here to meet them!
We rounded out this warm and wonderful day of socializing with good friends with another visit to the Ciao Molina Restaurant with the same group of musicians giving their time and talent for a wonderful jam session. Garett and I even had a couple of dances, but Richard was steadfastly looking the other way and dug in his toes when we tried to urge him and beautiful Jetti onto the dance floor.
Thursday January 17 to Tuesday January 29, 2008
After meeting with Richard Woods, the designer of our Gypsy 28-now-32 Light Wave, and his partner Jetti last night we charged into 12 days of work on the boat. We spent the first eight days tied up at Marina de La Paz (our favorite marina, most cruiser-friendly), luxuriating in as many hot showers as we wanted and being able to simply step off the boat to walk, exercise or go shopping. But the main advantage was the convenience and necessary work areas for the boat work, plus electricity for my power tools. The main project was to replace the broken rudder and since I had to buy a full 4 foot by 8 foot sheet of plywood we decided to make two new rudders.
The first few days it was quite windy, cloudy and cold as far as La Paz is concerned. We actually had a night where it went down to 47 F (8 C). Wind chill with the 25 mph winds was close to freezing! It wasn't all work as we still managed to meet with some friends for dinners and some socializing.
Many times people ask us why we are taking two years off to cruise I recently read an excerpt from the autobiographyWanderer, by Hayden Sterling, about his voyages and experiences aboard his big sailing yacht of the same name. He was an actor and adventurer and this is an excerpt from his book:
"The men that say 'I've always wanted to sail the South Seas but I can't afford it' are the ones that can't afford not to go. They are enmeshed in the cancerous discipline of 'security'. And in the worship of security we fling our lives beneath the wheels of routine – and before we know it our lives are gone.

"What does a man need – really need? A few pounds of food each day, heat , shelter, six feet to lie down in – and some form of working activity that will yield a sense of accomplishment. That's all – in the material sense, and we know it. But we are brainwashed by our economic system until we end up in a tomb beneath a pyramid of time payments, mortgages, preposterous gadgetry, playthings that divert our attention from the sheer idiocy of the charade.

"The years thunder by. The dreams of youth grow dim where they lie caked in the dust on the shelves of patience. Before we know it the tomb is sealed.

"Where, then, lies the answer? In choice. What shall it be: bankruptcy of purse or bankruptcy of life?"
We agree wholeheartedly, and could not have said it better. So if you are going to live in the system, you have to add an ideal to your life so that you are not just "getting and spending" and instead make your life worthwhile by making the world a better place by making some type of contribution.
It is time to get off our soapbox so here is our photo journal of our 12-days of work in La Paz: (captions by Carllie).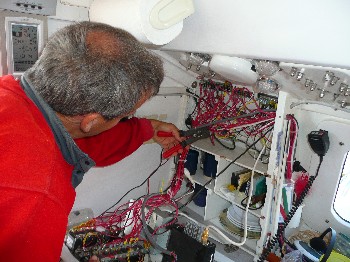 What a mess! Is this "Electronics 101" or "101 Things
to Avoid in Wiring Your Boat"???
Garett says it really all makes sense.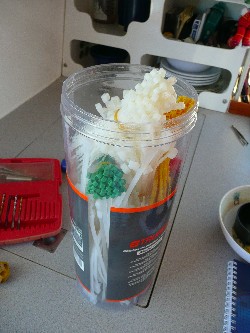 Garett has this "thing" about zip straps!
He found this one gallon container of
zip straps of varying sizes in La Paz at Truper,
the chain of ferreterias (hardware stores) in Mexico.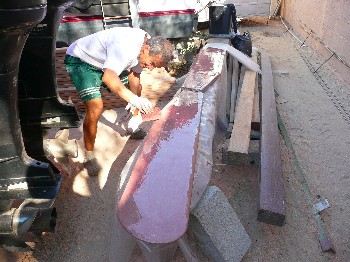 Fairing the one new and one repaired
rudder.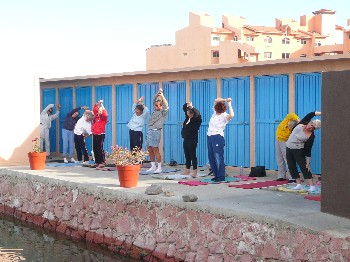 Every morning at 8:30 we have a Yoga stretch
class on the pavement opposite the office at
Marina de La Paz, lead by Annie Thomas, a lady
in her 60's who was diagnosed several years ago
with Parkinson's and exercises every day to keep
on top of it and reduce pain. I participated in
as many as I could, and by the time we left La Paz
on March 2nd had become good friends with
Annie and all of the "regulars." Every other or third
day I followed my morning Yoga with a run, but
towards the end of our stay in La Paz it was
getting preeetttty hot by 9:30 in the morning!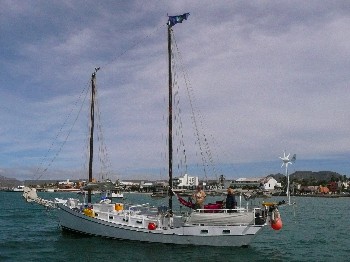 This is Theophilus, the steel monohull owned
by Ron and Sherry Pryde. Ron had worked with
us on the hard in Guaymas back in May-June, while
Sissy ran around catching sticks and chasing little
lizards all day, and in September when we returned
to the boatyard Sherry and son Josh, 13, had joined them.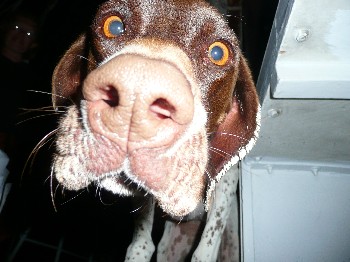 You may remember their energetic German short-hair
dog, Sissy, who will run to catch sticks on land and
in the water forever–she never drops! Ron and
Sherry invited us over for dinner one night and
Sissy took great fun in shoving her wet nose in
your face just as you were most vulnerable–climbing
up the "monkey bars" out of their companionway.
Sissy has quite a sense of humor.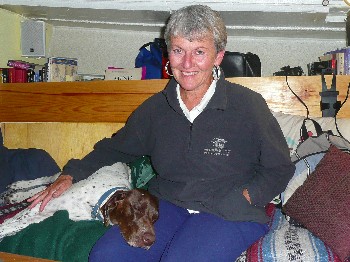 Amazingly, Sissy actually falls into an immediate
slumber as soon as she is on her bed and Josh
throws a cover over her. This time, Josh was teasing
her so much–tickling her nose and such–that
she gave up and laid her beautiful silky-eared
head on my willing lap. What a desirable, intelligent
dog! Too bad she couldn't have had those
puppies with Lobo! Maybe we could have
taken home a Sissy-Lobo pup!!!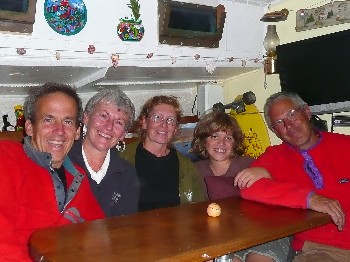 With good friends Sherry, Josh and Ron
aboard Theophilus.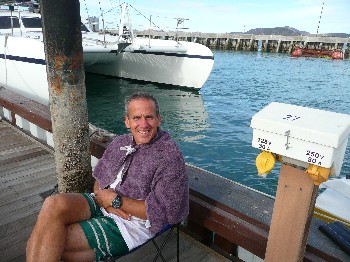 Garett after his last hair-cut by "Carllie's Cuts"!
This time, I succeeded in giving him that "hot"
Sean Connery/Hunt for Red October look! I learned
by watching Martin cut his hair in Vernon last summer!
Have to cut it one more time before we leave!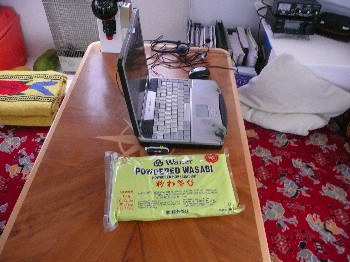 What a laugh! We could not get a regular sized
container of Wasabi for my sushi, so we ended
up buying this huge 1 kilo bag from C-C-C.
Shared a bunch of it with Ron, who loves wasabi.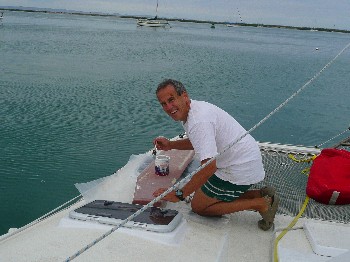 Anchored out, Garett is painting his new rudders.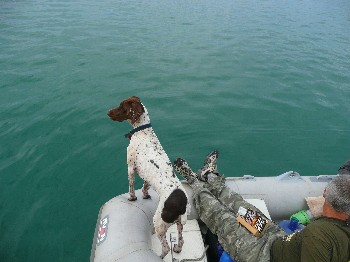 One day while we were at anchor, Ron stopped by with
Sissy to tell us there were dolphins in the anchorage.
Sissy was just panting to jump into the water after
them, barking frantically every time she heard a "Spoof!"
Wisely, the dolphins kept their distance.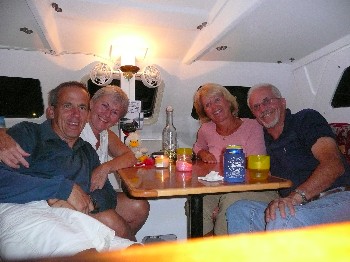 We met Krista and Richard Panascu in Ensenada Grande
back in January, and had them over for sushi one night.
They have become great friends, and plan to spend the
summer in the northern Sea of Cortez aboard their offshore
Cape Horn capable steel motor yacht, Karma.
Lucky for them, it has air conditioning! Before they
bought their motor yacht a couple of years ago, of necessity
due to Richard's serious leg injuries (sustained in
a car accident on shore!!!) they sailed a big
Amel, the Swedish made sailboat that is very
well built and equipped, one and a half times
around the world. They have shared many of their
stories with us and have been very encouraging
about our upcoming crossing, assuring us we
have nothing to worry about and that we will
quickly get used to the long days at sea and
great distance from land.

Garett's finished works of art! Now we
have three rudders, so that we have
one spare, and they work great!