A catamaran sailing cruising adventure,
Isn't it time for yours?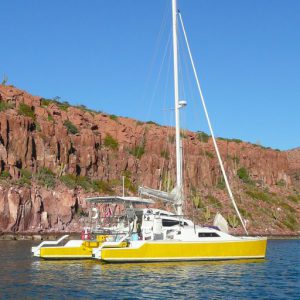 Catamaran cruising and sailing is the best way to discover all the beauties of this amazing planet! Whether it is a short day-charter cruise off Waikiki beach, a one-week charter in the British Virgin Islands, or an extended two-year travel adventure among the tropical islands of the South Pacific, this site
shows you how to do it
. The human spirit needs adventure. Nothing can compare with the exhilaration and freedom of getting out on the water. Unfortunately many people miss out. They feel justifiably nervous, insecure, and uncomfortable on the conventional tilting, lurching, and wallowing monohull sailboat. All this disappears on a catamaran. Once you experience the difference, you will know
this is the best way to go
. You will enjoy:
Comfortable, relaxing, and "level" sailing (no more stowing the coffee cups)
Exploring otherwise inaccessible beaches, coves, and islands
Fabulous snorkeling and swimming
Visiting exotic ports of call and pristine wilderness
Stunning sunsets in secluded anchorages
Close encounters with dolphins, turtles, bald eagles, puffins, Orcas, manta rays, and otters
Light Wave Stretched 5 Feet !
After 4 months in the boatyard we have lengthened our catamaran to 37 feet! Here is a finished photo. We wanted to stay out of the rain going hull to hull and so our options were: 1) sell Light Wave and find another boat, or 2) cut our boat in half and then add a five foot plug so we could create a passageway between the hulls to join the the whole boat together. We went with the cutting. It was a bigger project than we expected (it took 4 months and 1,000 hours…) , but we now have almost a new boat: roomier, faster, and nicer looking. So if you ever wanted to know what you could do with a SawzAll reciprocating saw and lots of epoxy, watch this new video as it redefines extreme boatbuilding!
New Video Page
Watch all our
sailing and boatbuilding videos
We cover all aspects of catamaran sailing
Differences with traditional sailboats
How to get started?
All types: beach, day sailors, cruising, racing, and mega yachts
Where are the ultimate destinations?
Secret, catamaran-only anchorages
Where and how to charter? Bareboat or crewed?
Should I buy? Used or new?
Can I build my own?
Specific equipment considerations
Upgrade projects like screechers and hardtops
Sailing schools and instruction
Book and cruising guide reviews
Cruising adventures from people who are out sailing
And much more!
We have now had over 21 funtastic years on our sailing cat,
Light Wave
. We hope that the information, research, and first-hand experiences we share with you on this web site help you to realize it is now
your time for a catamaran sailing adventure.
Sincerely,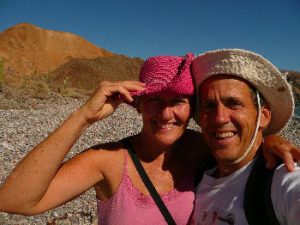 Garett and Carllie on
Light Wave