September 2007 – Catamaran Sailing Cruising in the Sea of Cortez
Tuesday September 4, 2007
We returned last night from Kalaway Bay Resort and the Okanagan and are staying again with Daken and Korianne in Richmond.
I spent the next four days finishing up some computer programming projects while Carllie worked on her latest article for Multihulls Magazine as well as bussing into town to buy the things that we wouldn't be able to get in Mexico.
Friday September 7, 2007
We were just about to go to Enterprise Car Rentals to get a vehicle for the weekend when our good friends Ross and Karmel Tanner very generously lent us their zippy little Ford Escort station wagon for the weekend. With a vehicle we were able to zoom around town easily to complete all our last minute purchases.
Tuesday September 11, 2007
Today was our final packing day and then Carllie and I and the Ariels went over to our good friends Hugh and Kasandra Dasken for a final dinner get together with a big group of our friends. We still had some late packing to do as well as some last minute computer work before we finally got to sleep at 2 am. We probably should have just stayed up all night as the 4 am alarm was not far off.
Wednesday September 12, 2007
Just barely after falling asleep we woke up at 4 am to go to the airport. Daken and Korianne, the great friends that they are, somehow managed to get up as well to drive us out.
We were there quite early for our 7:30 am departure and so we were able to pass though customs and security without any rush as the airport was still deserted.
The flight was uneventful and we arrived at 10:30 am in 115 degree F. Phoenix. We debarked the plane, picked up our luggage as soon as we arrived at as it was first off the carousel, jumped on the EconoLodge airport shuttle which happened to be just about ready to go. Get this: we checked into our room within 30 minutes of landing! It has to be some type of record. We then called the good folks at Enterprise Car Rentals who came and picked us up at the hotel at noon. Our strategy for the rest of the day was a whirlwind shopping frenzy. Armed with the maps we had printed from Google Maps, we hit these stores like true Kamikaze Canadians:
Kinkos-Fed Ex to pick up some Dr. Shultz herbs that had been shipped down to us for pickup
Home Depot for an electric drill
Ham Radio Outlet for a short wave radio tuner
Dive Shop for new wetsuits, etc.
Fry's Electronics for a new camera, MP 3 Player
Batteries Unlimited for rechargeable batteries
Best Buy for a back-up handheld GPS
Walmart for yarn for a knitting project Carllie has in mind (no luck!)
By 9 pm we had run out of both open stores and energy to shop and finished up with a lovely dinner at "The Fish Market" just before closing.
Thursday September 13, 2007
Garett: The great thing about Enterprise Car Rentals is that they will drop you back at your hotel. In our case we wanted to be dropped off at the Tufesa Bus Depot which was across town so we ended up taking the car back to one of their locations that was close to the bus depot.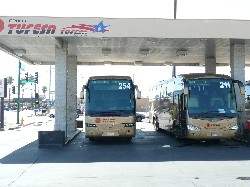 The Mexican bus line, Tufesa, gave us a great
ride back to Guaymas.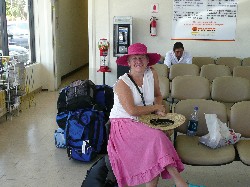 Waiting in air-conditioned depot for
"el autobus"! The hat was hot off a cart at
the Phoenix Airport.
The bus ride was fun–air conditioned, comfortable seats, and continuous movies (in Spanish which got us back into the Spanish speaking mind set) for the 10 hour trip. At the Mexican border we all had to get off the bus, taking our muchos bags of luggage with us (luckily an enterprising hombre provided a big wheeling push cart for a tip), and then line up for Customs. The Mexican border guard was quite friendly and when we said we were going sailing on our boat he asked if we had room for him to come along and go fishing. We then pushed the infamous button to see whether you get the "green" or "red" light to see whether or not they will inspect your bags. We got the green and so we piled everything back into the bus.
We stopped just inside the border at Nogales for about 40 minutes and got another chance to stretch our legs. it was great to be back in Mexico. Back on the bus and the first hour as we traveled through ever more mountainous area, we noticed that the mountains seemed much greener than when we left.
When we reached Hermosillo, a fair-sized city about two hours north of Guaymas that actually has Costco and Walmart stores, we stopped for 20 minutes and realized just how humid it is here compared to the dry heat of the desert in Phoenix. Finally, at 10:30 pm we started passing the familiar sights along the final 10 miles into Guaymas and the bus station. We were finally to be reunited with out boat. As we stepped out of the air-conditioned bus we were hit with a wall of humidity. My glasses immediately fogged up completely. This was not a good sign. We were warned by our cruising friends back in June that September is still very hot and humid. They weren't kidding.
Carllie: As soon as we stepped off the bus in Guaymas, we felt like we had come home. The relaxed feeling of the city and its people was familiar and friendly. Though we had been sorry to leave our friends at home, we were so happy to be back in Gentle Mexico.
G & C: We unloaded our huge mound of bags and then tried to find a taxi driver who knew the way to the Marina Seca and for a reasonable fare as you have to pre negotiate the fare before getting in. Eventually we found one, and rambled down the quiet streets late on a weekday night and finally got to the boatyard. We were greeted by the night watchman Isaac and his friendly guard dog, Lobo, who remembered us immediately when we called to him, thumped his tail enthusiastically and dragged himself to his feet for a little nuzzle. As we walked to Light Wave, about 150 feet from the gate, we could not believe the size of the weeds. They were a good 3 feet tall. It was a virtual jungle! When we left in June the boatyard was a red dusty gravel desert relieved only with a few small cultivated trees a bushes. Evidently with the rains of the summer and the massive rain when the mild hurricane went through 10 days earlier the dormant seeds in the desert came alive. The air was almost dripping, as we waded through this instant jungle, wondering if there were any undesirable insectoids like scorpions or snakes lurking in the tall grasses!
After trying to get used to the very different landscape around the boat we managed to set up the ladder, remembered what the combination was to the lock, get everything on board and go to sleep at 1 am. We had been reunited with our other family member, Light Wave, and now we really were home and all was well with the world.
Friday September 14, 2007
We woke up at 9 am and realized that it was very hot and humid. No way you could work very hard or fast. We would definitely have to pace ourselves. That first week, the temperature would go up to 105 degrees F during the day and "cool off" to 85 F in the night with 75 to 80% humidity. We were just barely surviving. Drip! Drip! Drip! Even frequent showers didn't help. We spoke to some of our boatyard friends and they said it was actually cool now. They said in August it went 20 days with the temperature 105 degrees F twenty four hours per day!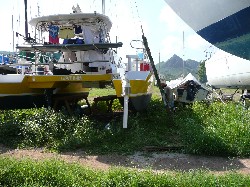 Jungle around Light Wave.
The weeds were almost three feet high when we
arrived at the boatyard.
We finally got to town as we had to get our 6 month tourist visas and then we went to do some shopping.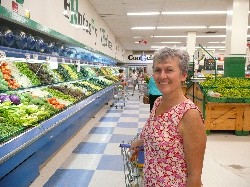 Happy to be back in familiar V-H grocery
store in Guaymas, where the papaya is
$1.20 a kilo! Yes!

The summer rains not only accelerated the
plant life but also the bug life. This
whopping grasshopper is 3 inches long,
perched on the
tire of a a car.
Saturday September 15, 2007
Garett: A couple of back teeth in my left jaw had been bothering me on and off for the last three months and seemed to be getting worse the last few days. A nice Canadian lady, Maureen, who sat behind us on the bus recommended a good and reasonable dentist who speaks good English. (Difficult to explain in our rudimentary Spanish exactly what is wrong when one is "inferno"–sick or has a dental problem.)
I had set up an appointment for 9 am this morning. I am sure we all have some doubt of the quality of Mexican dentists. Where we pick up these doubts is hard to say. Anyways I went to see Dr. Vizcaino. Before I go on I should say that previously when I had this type of pain it meant something was seriously wrong. I was expecting a big filling, tooth extraction or a root canal.
Dr. Vizcanio's office is very clean, with somewhat older equipment, not the million dollar setups of the typical USA/Canada dentist. We talked a little bit and then he examined, inspected and poked around the problem teeth for 20 minutes around and finally he said he could not find anything wrong! All the fillings were fine, no cracks, and no obvious cavities. He said there was no point in drilling out anything. He said in all likelihood it was a type of infection. He noticed that I had had all of my amalgam fillings replaced with composite and said he has found that many people who have had this done get these phantom pains that come and go. He gave me a prescription for some antibiotics and sent me on my way, saying that in all likelihood it would go away, but if I was still in pain in five days to come back. If no pain just go on my way. He didn't even want to charge me anything for the half-hour visit! I finally convinced him and his receptionist to take 100 pesos ($10) for his time. You would have thought that he might have even taken advantage of me as a rich tourist. Anyways it was very interesting experience. All I know it that I would have been given a major filling or root canal and crown back home with a $1,000 to $2,000 bill. It makes we wonder about the other root canals I have had…. (Carllie: Makes me wonder about mine too! Are unnecessary root canals the ubiquitous and often unnecessary "hysterectomies" of dentists?)
After the dental examination Dr. Vizcanio said that we should be sure to go to the city plaza tonight as today was Dia de Independicia, a really big holiday in Mexico. He said there would be great music starting at 9 pm and the fireworks finale at 11 pm.
When we got back to the boatyard we talked with fellow boatyard bound cruisers and fellow Canadians, Ron and Sherry Pryde with son Joshua next door and Frank and Gisela to see if they wanted to go to town. Everyone was keen so we caught the Paraje bus to el centro.
G& C: Downtown was buzzing with people. We estimated there were about 30,000 people there.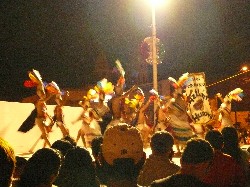 Young dancers performed 15 or 20 different dances
representing many different indigenous tribes and
their historical dances. It was very colorful
and very interesting.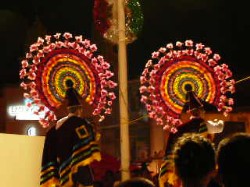 The young people are very lithe and graceful,
particularly the girls who are also very pretty. Their
ages ranged from about 10 to 18, but mostly teenagers.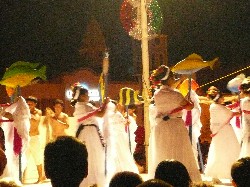 Beautiful young Mexican senoritas
performing traditional cultural dances
of indigenous indians on Dia de Independicia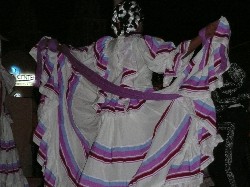 It was very hot and very humid, yet these young
dancers moved quickly and gracefully, seemingly
effortlessly. It was only later, after about an hour
when I complimented and thanked one of the girls
that it was obvious how exhausted they were.
Each dance required different costumes for the girls and boys, who meticulously and gracefully moved through the complex patterns that all convey specific stories or meanings.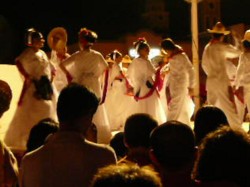 In their white costumes they looked cool and fresh,
even though the temperature was about 100 degrees F
with 80% humidity. I guess since birth they have
lived and coped with the hot humid summer
weather, but still it cannot be easy!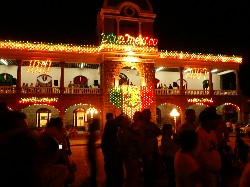 The Municipal building in the centre of
the celebrations, where speeches were later
given by various dignitaries.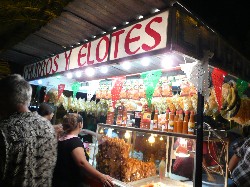 Midway treats on Dia de Independencia.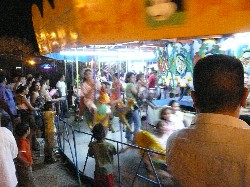 Rides in 100 degree heat?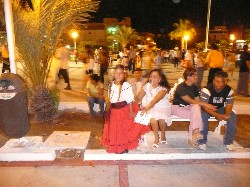 The plaza was packed with families all dressed
up, toddler to grandparents, to celebrate
the country's freedom from the oppressive
Spanish regime.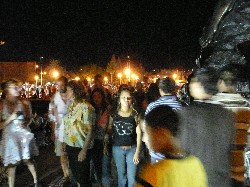 No one leaves early. Everyone is waiting
for the big fireworks display. Forget the
political speeches!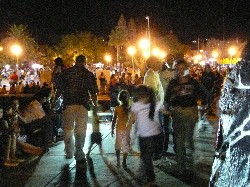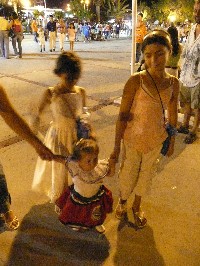 Tiny girls were dressed in pretty
traditional costumes.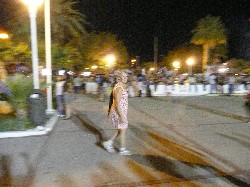 Carllie's feet, though cushioned in brand new
New Balance runners from home, are
getting tired!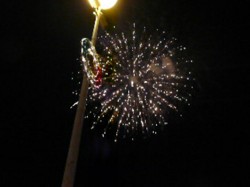 The fireworks were quite spectacular,
though we were not yet fully acquainted
with our new camera and so did not catch
the action as we should have.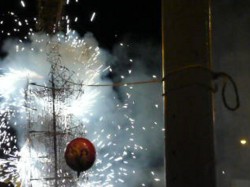 The piece de resistance is when
a brightly bursting platter from the
top of this fireworks structure flies up into the air,
and then lands in the crowd!
And no one ever gets hurt.
Sunday September 14, 2007
We got back to serious work today on the boat today with doing the electrical work and got our wireless internet antenna hooked up to the computer again.

Chubby Chicken shopping in town.
Diet has begun!
I had to put some new antifouling paint at the bottom to ensure the marine life doesn't grow all over the boat which happens very quickly in the tropical waters down here. Before I could do that I had to give the bottoms a light sanding. It is messy dusty work (C: and not easy in the heat and humidity!)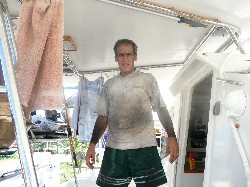 Garett the raccoon, after preparatory
sanding of the black hull bottoms.
Friday September 21, 2007
We still had some welding to do on the arch, to add an extra cross bar to ensure there was sufficient protection in the cockpit after our changes. We had our friend Lupe who had done welding back in June come out to help us.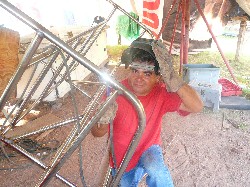 Lupe, our welding friend: very
honest, skilled and helpful. He coached us
in Spanish in between the
brief welding "spitttzzzes".
Monday September 24, 2007
Carllie: At 1:00 this afternoon (esta tarde), our Mexican friends, Salvador, his daughter Perla, her boyfriend Giovanni (the folks we did English-Spanish sessions with before we left) and Salvador's wife Coyo, are picking us up to take us to the home of Fita, Salvador's lovely old mama, who is going to teach me how to make tortillas, and serve us lunch again! Garett is off on the bumpy local bus to pick up another gallon of toxic bottom paint and a couple of bunches of flowers from a street vendor for Coyo and Fita. Should be a lot of fun! We are also going to take the family out for a little sail on Light Wave after we launch next Friday.
We had calculated at the rate of 200 tortillas per day for a family of 10 children over 30 years of their growing up that Fita had made 3,500,000 tortillas in her lifetime! She is an expert.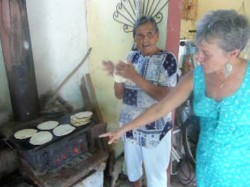 Fita teaching Carllie how to make tortillas.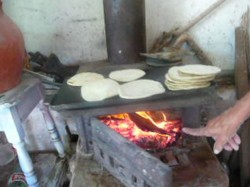 Notice Fita's bare hands opening her red-hot
cast iron stove! Many years of tortilla making,
tough hands!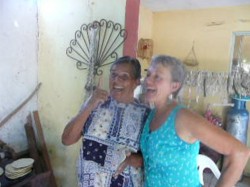 Fita and Carllie singing the "Tortilla, Tortilla!"
song that we heard many times each day broadcast
from a tortilla delivery truck!
Fita's tortillas are simple: farina de mais (corn flower) and water, kneaded together, water added as you go. Roll a small ball of the dough in your hands, put in on a round cast-iron press, and press out a round (hopefully) tortilla. Slap back and forth in your hands a few times to stretch it, pop it on the hot cast iron griddle on top of the stove, and turn in a few minutes by hand! Yah right. My tortillas were a little warped, to say the least. We laughed quite hilariously at the difference between my gringa tortillas and Fita's!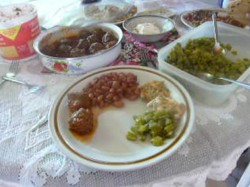 Fita provided a scrumptious lunch of fresh prawn
patties made with the delicious and healthful nopale
cactus chopped up, various spices and a bit of flour
and egg, fresh fish balls, hot-off-the-griddle tortillas,
and salsas. Plus 7-Up! Yum yum.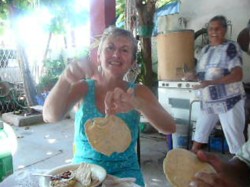 Carllie's warped first attempt at
tortilla making.
Fita is also an enthusiastic parakeet breeder. She has a huge cage of multi-colored parakeets and their babies. The cage is lined with little "casas" for the nests and babies, which are necessary to encourage breeding. Fita wanted to give me a couple of little baby parakeets so I could take them home and breed them, but we had to reluctantly decline as we just don't have room for a bird cage on Light Wave! (Do birds get seasick?)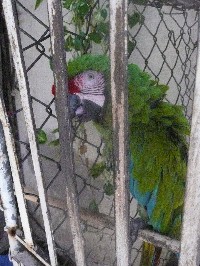 Fita also has a cockatiel and a big
parrot, all providing quite a cacophony
of chirps, whistles and songs.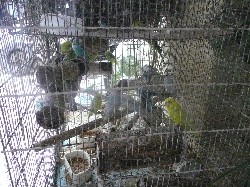 Fita has dozens of parakeets with babies
and enjoys breeding them.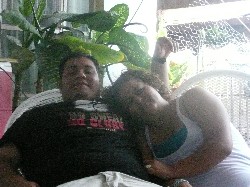 Lovebirds, Giovanni and Perla.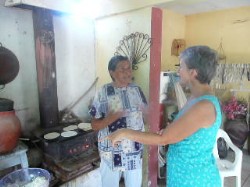 Fita and Carllie during tortilla-making
lesson.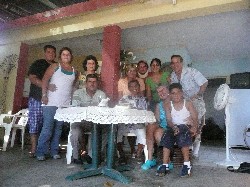 While we were at Fita's house for the
lesson and lunch, many different members
of her family came and went. She has 10
children (ninos), something like 80 grandchildren
(ninetas), 20 great grandchildren (bis ninetas)
and a couple of great-great grandchildren.
She is surrounded by a lot of love, not
merely because she had many children but
because she is such a beautiful loving person.
Tomorrow, another Mexican couple who own and run the ferreteria (hardware store) we shopped at for our whole modifications months, Elvia and Jorge, are taking us out for a dinner at a nice restaurant. We flipped a coin for who would pick up the bill, at Jorge's suggestion, and we won (Garett's 6-8 day)! We are also looking forward to that.
Tuesday September 25, 2007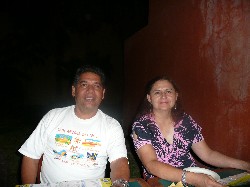 Jorge and Elvia took us out for
a great dinner.
After dinner, they drove us to their home, in a very nice colonial (district) right on the water. This is their new little perita (puppy), Penny.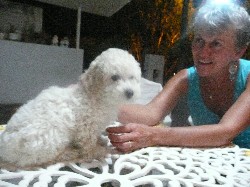 Elvia and Jorge's new perita, Penny.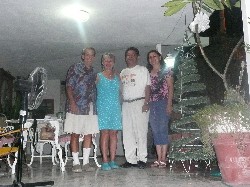 In the outdoor covered patio at their house.
Wednesday September 26-Friday September 27, 2007
These days passed in a blur of final frenetic activity as we put pedal to the metal to complete all the jobs we had to do before launching Light Wave: shopping to stock our cooler and food lockers and buy staples like paper towel and toilet paper, etc.; filling up and propane and gas; doing last hand laundry.
Friday September 28, 2007
G: We were supposed to go into the water at noon today but we somehow had miscalculated the high tide and we were going to need every inch of water because the dredging had not been completed.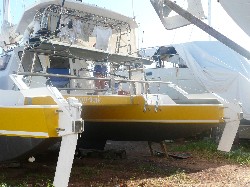 The hull extensions are finally finished…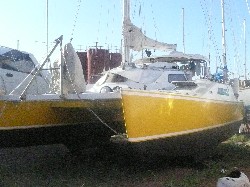 …and Light Wave is ready…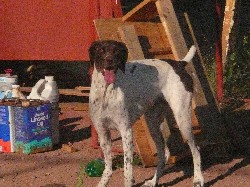 …even Sissy is ready.
You may remember Sissy, the German Short-Hair pointer owned by our friends Ron and Sherry Pryde and son Josh. Before we left the boatyard, 3-year-old Sissy was harmlessly flirting with boatyard stud Lobo when he would appear in the yard to do his patrol duty with Isaac every night, after lolling about all day in the yard across the road. Well, when we returned to the yard, Sissy was in heat and said flirting was not necessary as she was a stud-magnet! Though Ron had intended to have her spayed when we went home to Washington for the summer, somehow he didn't get around to it. Unfortunately, Ron couldn't police the situation all the time, so the inevitable coupling happened, very early one morning under our boat to the distressing sound of Sissy's crying. Ron was not happy and I acted as mediator, saying, "She can't help it you know. It's just part of nature." blah blah so he would calm down. Sissy was from then on confined to Ron's boat, and was not a happy houng. She loves to run and chase; but her focus was definitely not strictly on lizards at this point. Anyway, about 10 days later, her heat finished and they took her to the vet to have everything taken care of. By the time we left the yard, Sissy was back to her own bouncy, carefree self, chasing everything that moved, wanting to play catch, and twirling and barking to urge you to throw a stick. We were happy to see this beautiful, silky-eared, friendly, happy creature get back to normal, even if there is no litter of adorable German Short-Hairs and tiny Lobos romping all over Ron and Sherry's boat.
Saturday September 29, 2007
Garett: We were up early at 6 am to get ready for the big launching as Gabriel was coming over with the Travel Lift at 8 am. We estimated high tide at 9 am which give us 36 inches of water over the rocky bottom and we needed 28 inches. Even though Gabriel had finshed off the ramp for the Travel Lift the dredging company wanted $100,000 to drege a channel! Gabriel had decided to build his own dredger and do it himself, utilizing the skills of the yard welder, Miguel. Until that is done there is not very much water and we were the first big boat that was going to use the ramp. We were also very wide and so we only had 4 inches of clearance around the boat as you will see in the photos below. We fortunately had all our friends in the boatyard come out to help out and guide us in.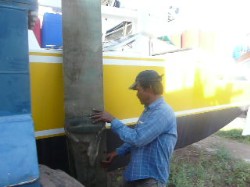 Our good friend Estevan helps
set up the lifting straps.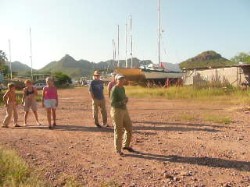 All our friends were out for the launching.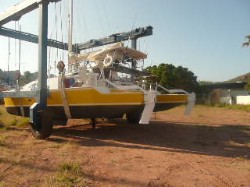 Light Wave is up and going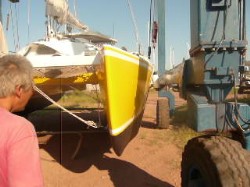 Not very much room….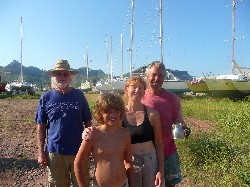 These are neighbors Ron and Sherry Pryde with
their son Josh. Their faithful dog Sissy isn't in this
photo. Another friend Herb is in the hat.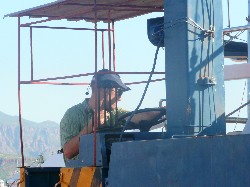 Gabriel running the lift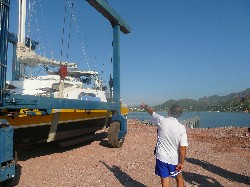 Garett directing things as we get closer to the water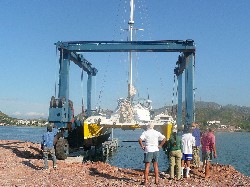 Everyone watches in anticipation…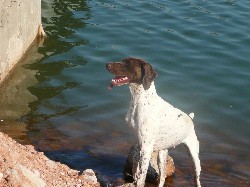 …and of course Sissy is in on the action.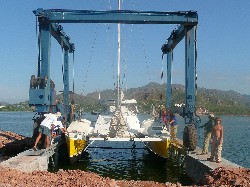 Everyone takes a corner to lower the boat
to prevent the sides hitting the
steel sides of the ramp–4 inches of
clearance on each side!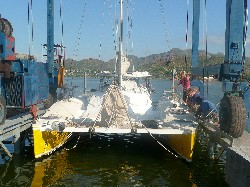 Light Wave is finally afloat
Isn't she pretty?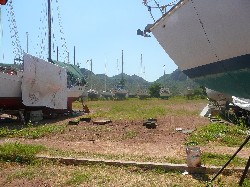 Our home at the boatyard is now empty.
Many happy times and fond memories
remain.
After the tension we were just so relieved to get back in the water. We motored backwards from the dock and anchored a 1/4 mile out. It was then that we realized that the engine would not shift out of reverse. After I took things apart I found that the engine cable to the control shift had broken or corroded away. I was able to do a temporary fix so we could go forward only–no neutral, no reverse–until hopefully we can track down a cable at one of the outboard stores in the next couple of days.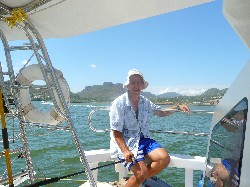 Garett back at the helm.
We motored over to the downtown area which is about two mile away so we could go to the bank.

Our first sunset back on the water.
Carllie: It was terrific to be back on the water. Wonderful to feel that softness, the give of the cushioning water, as we step on the boat and walk around. Great to feel the fresh sea breeze. Yes, it is a little cooler on the water! What a great sleep we had that first night on the water. It has been five months that we have been land-bound, even though most of it was working on our sea-going vessel or working at a lake in B.C., and again we feel like we have come home. The openness, the freedom of the sea cradles us and re-ignites our anticipation of more adventures to come.
Garett: Well tomorrow we will get an early start and head about 15 miles north to San Carlos where we should be able to get the engine cable we need as well as try out the longer hulls and increased water clearance of the center cabin. Even if we can't find it we will just have to make due with going only forward for the next 2 months.
After San Carlos we will head north up along the mainland coast for 90 miles until we reach Tiburon Island and then hop across from east to west through the midriff islands (2/3 up the Sea of Cortez) to the Baja peninsula and then go a further 80 miles north to Bahia Los Angeles and Gonzagga Bay. Many of our friends who spent the whole summer up there have told us it is a very nice area with great secluded spots, warm water, and lots of fish. As it is quite a remote area, internet access may be a little sketchy so we will probably only get to update the web site at the end of October. Take care everyone and talk to you soon!
Sus amigos,
Garett and Carllie