July and August 2007 – Visit home to Vancouver
Summer 2007 in British Columbia
We arrived in Vancouver on June 19th and spent 10 days in town visiting many of our friends as well as Carllie doing some work at West Marine (so we could get get those employee discounts) and Garett doing some contract work for his old employer, The Society of Kabalarians.
How can we describe arriving back in green Vancouver? After three months on the hard in hot, sun-baked Guaymas, where the only green was cacti and a few trees and bushes that had been cultivated, where the attack of the mosquitoes and gnats each night at dusk forced us to withdraw into our cuddy cabin with the door closed and a screen inhibiting the air flow of our one hatch, can you guess? Who would ever think we would actually look forward to rain? As our friend Carilyne Whitworth drove us from the airport to the home where we would be staying for the next 11 days, we drank in the sight of all the lush green growth and enjoyed the cooler air. The last time our feet had been on the ground before boarding the plane heading home was in Phoenix Arizona, with temperatures of 115 degrees F. and a wind blowing like a hot blow dryer all day long.
Korianne and Daken Ariel have a lovely home in Steveston district of Richmond, a suburb just south of Vancouver. The very generously had us stay with them for 11 days, driving us all over the place when they could, and sharing their gracious home with us as if we were family. We are so impressed with the open-handed generosity of this couple, and although it must have been an imposition, we never felt like we were a burden: a true testament to their generous and giving natures. Their philosophy seems to be: whatever we have, we will enjoy more if we share it. And this is a good philosophy for all of us to adopt.
On June 30th we headed up to the Kalaway Bay Resort which is a small summer resort consisting of about a dozen rustic cabins and trailers on the south end of beautiful Kalamalka Lake in the Okanagan fruit-growing interior of British Columbia. Kalamalka Lake is in fact noted by National Geographic as one of the 10 most beautiful lakes in the world, and is one of a handful of unique bodies of water known as "marl lakes." When the lake warms in the summer, calcium carbonate (or limestone) forms crystals that reflect sunlight and create the vivid blue and green colors. Temperature change sin the fall and spring sometimes create ribbons of deep blue color in the lake.
We spent the summer working at this unique haven of peace in exchange for a roof over our heads, and a lovely little roof it was too! Carllie worked from early morning to about 6:00 every night running the waterside cafe, where she prepared wonderful organic green salads full of every delectable vegetable imaginable and fabulously fat juicy sandwiches, as well as serving the pies, cakes and soups that the cooks had prepared. Garett was the resort's handyman, and he did everything from cleaning out 20 years worth of accumulated junk from the huge workshop and carting nine truckloads of said junk to the dump, to cutting the grass in a tractor type John Deer mower every fourth or fifth day, to laying the buoys marking the swimming area, to moving fine gravel by shovel and wheelbarrow out to the areas that were just deep enough to swim but were yucky on the bottom. In the process of cleaning this huge, serviceable shop he discovered a big commercial donut machine that the resort had used 20 years ago when it operated a fruit stand/ bake shop at the highway above the resort. It was a Belshaw Donut Robot, and after seriously cleaning it up to the point of shine, and confirming that it was in perfect operating order, Garett put it on E-Bay for sale, making a tidy little sum of money for the resort and getting rid of a piece of machinery that would no longer be used and was just taking up space. Hurrah for E-Bay!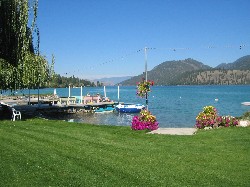 View at Kalaway Bay Resort of Kalamalka Lake beach side
from the Water Ski Inn where Carllie worked.
Tough life!

Garett the Resort's handyman launching the
Kalaway Princess, a motorized covered "raft"
on pontoons that guests use to take lunch
excursions up the lake to swim and dive.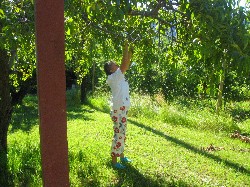 Thinning peaches on the tree behind
our sweet little suite.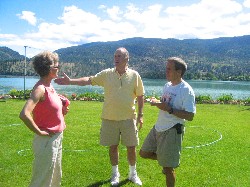 Korianne Ariel, Christophir Madden and Garett
(note Garett is having his daily dessert pie!)
Our days started very early, as I had to be at the cafe by 8:30 to get ready to serve breakfast. I opened the cafe at 9:00 and was inundated with orders for scrambled eggs with pan fries and toast, eggs over easy, poached eggs (oh no!), basted eggs, eggs over medium, eggs over hard until my eyes crossed and my knees gave out. Luckily, after the first three weeks of a pretty frantic pace doing it all solo, I got help as different volunteers pitched in throughout the busiest summer months. We closed sharp at 10:30 so we could clean up and have at least an hour's break before I had to start again at 1:30 to get ready for the afternoon lunch/tea that went from 2:00 to 4:30. Again, clean up, a bigger job than you would think as it has to be left immaculate–floor washed, cooler doors wiped inside and out, all counters cleaned, coffee makers and water heaters rinsed out, etc. etc. It wasn't over by the time I finally left at 6:00 every night, as most nights I had to clean cut and boil the potatoes for the pan fries needed for breakfast the next morning! Whew! We did have a day and a half off each week, and a couple of times I actually got two days off a week, and that really helped. Nevertheless, my niggling recurring secret aspiration of running my own coffee shop in an industrial area of Vancouver has pretty well been consigned to the "Silly Dreams" drawer, never to be considered again!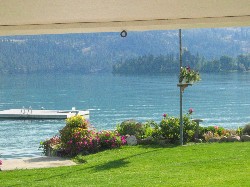 Colorful floral displays created by Ronelda Chase
and Rossanne Tanner beautify the waterfront.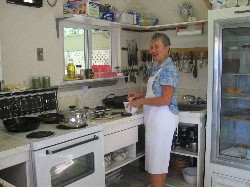 Was that scrambled eggs or eggs over easy?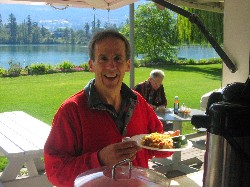 I fed Garett breakfast and lunch at the cafe,
making life much easier as I didn't have to worry
about making breakfast before I went to work in
the mornings and make time to make him lunch
during my all-too-short break! Garett is always
happy if he's well fed (well, he's happy whatever
way you cut it), and loved the chance to socialize
with many of our friends while he ate.

Kasandra and Hugh Dasken treated us to breakfast at
Predator Ridge golf course before we left. Thanks!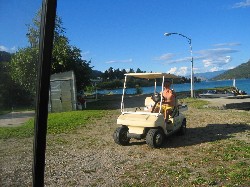 We workers buzzed around the resort in these
reconditioned gas powered golf carts, making
life much easier as the property is about half
a mile from one end to the other. Each day I
transported soups, cakes, pies and salad makings
to the cafe in my little cart.