Friday September 1 ,2006
Today was going to be the day for the final 55 miles to San Francisco as the forecast was looking good when we went to sleep last night with light northwest winds. When we woke at 6 am to do a final check of the morning forecast, the weatherman had revised it and now was predicting south winds. We decided to just stay put and not beat ourselves and Light Wave up.
Our next weather window and good day was going to be on Monday Labor Day, so we resigned ourselves to spending the next three days pleasantly anchored in Bodega Bay. I spent about eight hours over the next three days modifying our screecher sail by hand-sewing the luff of the sail to the spectra line that runs along the luff. This was to improve the way it furls up in stronger wind. Carllie tried her hand at baking some raisin bread which turned out delicious. We went for a short walk one evening on shore and we found out that Bodega Bay's claim to fame is that is was the location for the filming of Alfred Hitchcock's, "The Birds". Evidently there is a brisk tourist trade of film buffs who travel here to get a glimpse of the film scene locations.
Monday September 4, 2006
The forecast was good for today so we woke up at 6 am in the dark and were off at 7:30 am. The winds were calm and the just a slight 3 or 4 foot swell from the northwest but it was grey overcast. We motored for the first couple of hours but as we approached Point Reyes the wind came up and we were able to set sail.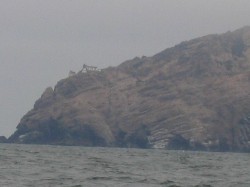 The wind rose to about 15 knots and were able to sail at 6 to 8 knots for the remaining 35 miles to San Francisco. The sun burned through the low cloud and it turned into a beautiful afternoon. Carllie took the helm while I laid down for a nap. I had a good sleep for about an hour until I was woken by this repetitive noise of "bang – zzzzzzzap" …10 second pause …. "bang –zzzzzz zap". It turned out to be Carllie killing all the house flies that had somehow found us five miles from land with the bug zapper / combo fly swatter. (Carllie: I got about 20 of the little pests! Don't knock it!)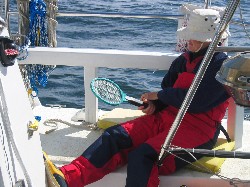 We were both wide awake as we closed the last 10 miles to the Golden Gate Bridge – each of us taking turns with binoculars trying to spot it. At about 5:15 pm we caught our first glimpse of the south tower. As we got closer and rounded Pt. Bonita the full bridge came into view. It is truly an impressive sight. Each reddish orange tower is over 600 feet tall and it supports a two mile bridge that has 6 lanes on it. Here are our some pictures: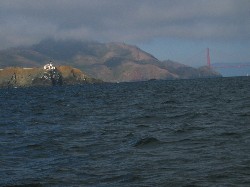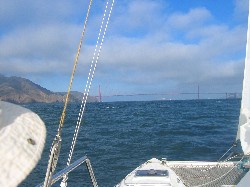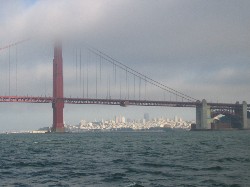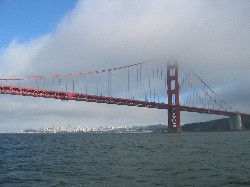 We were sailing wing-on-wing with both the yellow drifter and screecher up and so we decided to lower the drifter before we got to the bridge as we were really starting to fly in the stronger winds which are funneled under the bridge.
As we lowered the drifter it didn't fall onto the deck like when we previously used it but instead fell into the water in front of the boat. We then promptly ran over it at 6 knots of the entire sail was under the boat (Carllie: and it was stretched tight over the bowsprit and kept making these horrible ripping-like noises). We now had a real mess on our hands as it had turned inside out and was acting as a big drogue stopping the Light Wave. It was impossible to get out of the water in its present state so we slowed the boat down further by rolling up the screecher. We then let go of the sheet (one corner of the drifter) and I slowly pulled it over the bow beam. This took about 15 minutes of rush / panic of effort as we were almost in the main shipping channel. We then put the screecher back up and properly sailed under the bridge. (Carllie: Garett has in discussion with another sailor here found out how to prevent this near catastrophe in the future. We will put a gromet in the middle of the drifter with a long line attached, and pull that line to collapse the drifter before we lower it.)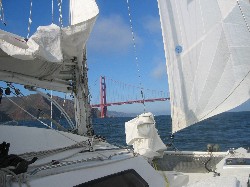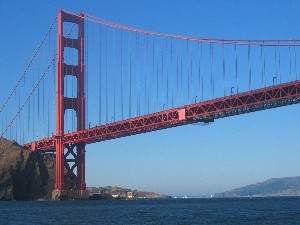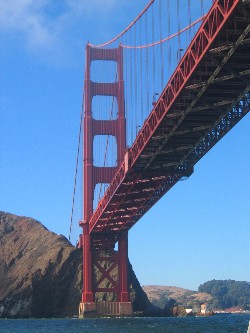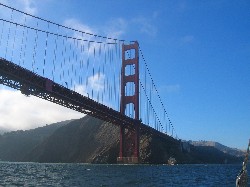 As we sailed under the bridge we gave a big "Yahoo" and we heard a cheer from some of the many walkers 250 feet above us on bridge walkway. On your right is the city proper and on the left to the north is Richardson's Bay and the town of Sausalito. The north half of the San Francisco Bay is an upscale area similar to West Vancouver.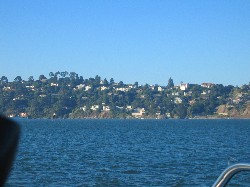 The Sausalito waterfront has five huge marinas with over 1000 boats moored there, most of them sailboats. Much of the bay is quite shallow which suited us fine so we found a spot all by ourselves. The only problem is that the bay has a very soft mud bottom so it took us six tries to finally set the anchor and in fact we had to use two anchors to hold us in place.
Our view looking west to the Sausalito was quite something. The winds would come over the ridge and you could see the fog at the top and it would dissipate as it swooped down into town.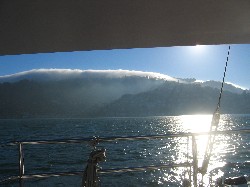 As it was almost dark when we finally anchored we decided to stay on the boat and go explore ashore tomorrow.
Tuesday September 5, 2006
When we woke in the morning we could see downtown San Francisco form our anchorage. Little did we know this would be the last time we would see it for four days.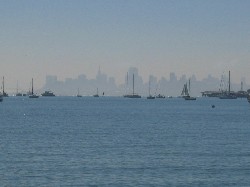 We went ashore trying to find an open space in the one of the marinas which might give us "reciprocal" moorage with no charge. After misunderstanding some directions, we finally found a spot at Schoonmaker Marina but unfortunately we had to pay.
We did find a supermarket called, "Mollie Stones" and were at first quite excited. It turned out to be very expensive and made Meinharts in Vancouver look like a Safeway. Some price examples per pound are: bananas $1.19, green peppers $1.69. Avocadoes $1.79 each. The only thing that was super reasonable was the watermelon at $0.29 per pound so I got lucky and carried it home.
We finally got to take showers and by the time we were settled in it was 6 pm.
We then went for another one of our "walks" and found a sushi restaurant and then poked around downtown.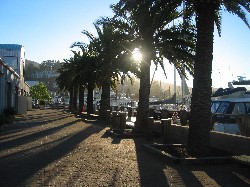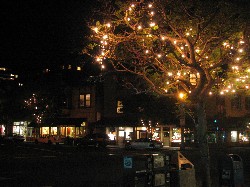 We did find a small grocery store with some limited vegetables at somewhat tolerable prices and so we picked up a few things. Many of the shops are very exclusive with art galleries and clothing stores. This is an example of a knitted coat in one shop window.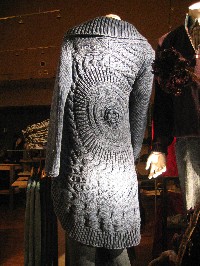 We finally got back to the boat at 10 pm and here is another picture of the fog coming over the hill in the moonlight.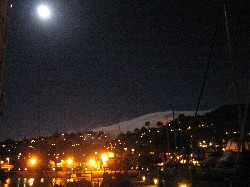 Wednesday September 6, 2006
Now that we were in a calm marina our first job was to go up the mast and carefully remove the radar transmitter.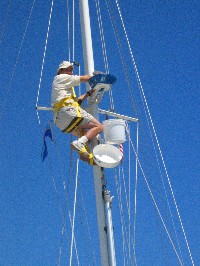 We then took the radar and the broken autopilot in our packsacks and walked to the West Marine electronic shop on the north end of town. They said they would look at the radar as it was under warranty and we could call them the next day.
We then went back to Light Wave and went for our weekly run.
Thursday September 7, 2006
It was a beautiful sunny morning instead of the regular fog that has been the norm.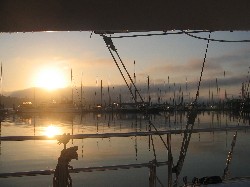 I went to get a haircut and Carllie went to the laundromat. My haircut was a really interesting experience. The Sausalito Barbershop is a classic shop as though it was lifted out of the 1950's. There was various memorabilia on the walls signed by all the famous people who had been there. The two barbers who work there have been there for over 20 years. Debbie who did my hair talked and talked while cutting my hair for over a full hour! I though I was going to be bald. She did do a very good job for only $20. Since there was no one waiting it seems as thought they just drag it out so they have someone to talk to.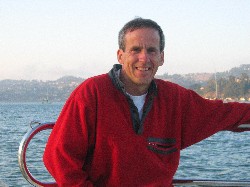 After the haircut and laundry we made our way down to the radio shop and found out that they had to order a part for the radar and that it would not be ready till Monday and that the autopilot would have to go back to the manufacturer.
Since we were not going to get our radar back today there was no point in continuing to pay the $28 per day at the marina so we made arrangements to stay on a mooring buoy in front of the Sausalito Yacht Club at the south end of town at no charge.
We moved the boat just before sunset. The mooring buoys are quite secure but the general area is a quite rolly because of the swell from the Golden Gate Bridge, the ferries, and the passing boats coming onto the marinas but we did have access to the club and its showers 24/7. When we moved Light Wave we passed one very interesting floathome that looks like the Taj Mahal.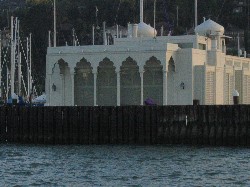 Carllie: We are now nestled in at Sausalito, just across the Bay from San Francisco. It's a lovely and very upscale subdivision, and we've enjoyed trudging from one end to the other on foot, in our quest for grocieries, West Marine store, electronics repairs, boatyard queries, laundry, moorage, etc. Tonight is our first night of reciprocal (free) moorage at the Sausalito Yacht Club, due to our membership in Vancouver/Victoria's Blue Water Cruising Association. We'll be here for 4 nights, then hope to get the same privileges at St. Francis Marina in San Francisco. (Later note: This didn't work out.)
Friday September 8, 2006
Carllie: Tomorrow, we'll take the passenger ferry (part of the bus system I guess) to San Francisco, and will enjoy being tourists over there–though at least one resident here has encouraged us to take in their museum which currently has a Monet showing, and other local natural art spots rather than the typical touristy stuff like Fishermen's Wharf and Pier 41 (39?). We do want to find Chinatown to stock up on produce, as we've had to pay through the nose for produce from big grocery stores, comparable to Safeways.

We're at a mooring buoy here as the SYC is not a marina, but a club and only offers mooring buoys and a small dock outside the club. For the last several minutes I've been hearing what sounds like either a seal or a sea lion blowing outside. Hope it's not a whale! (Later note: it was the ferry docks creaking and moaning, which they did all night. It was an extremely windy night and we were yanking on the mooring buoy all night, so I woke up scared spitless many times and didn't get much sleep.)

It's very windy tonight, and foggy of course. The fog rolls in like an enormous hand over the hills every night, and the wind usually pipes up. Consequently, there are thousands of sailboats here–for the wind–even though they haven't the beautiful destination anchorages we have in B.C. The whole Bay area and Sacramento delta estuary is so big that it would take a lifetime to explore fully, we are told.
Garett: We did a little sightseeing today and visited the Bay Model which is a 2 acre indoor model of the bay and estuary which was used in predicting tides and effects of silting. It was built by the Army Corps of Engineers. It cycles through one 6 hour tide cycle in just 4 minutes.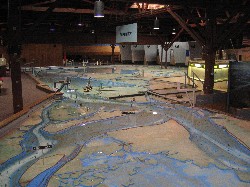 Another interesting thing we see all over the place is Dillweed. They don't call it a weed for nothing as there are vast tracts of this along many roads. Our friends Dorothy and Celeste would be in paradise here.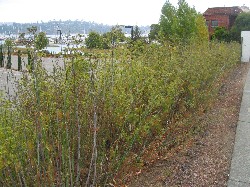 We spied this "art car" in front of the liveaboard hippy-styler marina. It had cd's glued to it with 100's of stuffed animals inside it,and little ornaments glued all over the top, among other things. Too many people with too much time….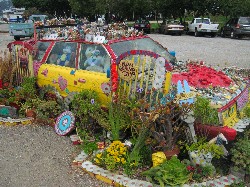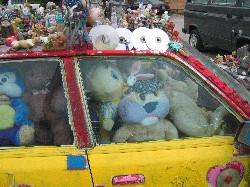 Carllie: We saw Alcatraz when we sailed in on that very windy Monday when we arrived, with many windsurfers zipping across the Bay in front of it. However, it just doesn't appeal to us, knowing all of the mental suffering that would have gone on in that place, and the planes of mind that must be locked into every wall. We read yesterday that it was opened in 1936 and operated until 1963, obviously after (or maybe just before?) Burt Lancaster's "The Birdman of Alcatraz" was filmed.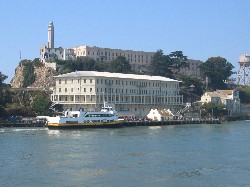 Saturday September 9, 2006
Garfield Kincross, a friend who's currently visiting Vancouver, picked us up at 9 a.m. Saturday morning, and drove us all over the City of San Francisco, which is across the Bay from Sausalito.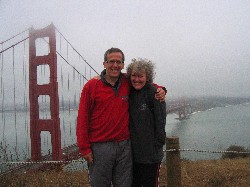 It was great, as we took in so many sights we wouldn't have otherwise seen, and also were able to go to Trader Joe's and Costco to stock up on food. The price of produce down the coast of the States has been mostly quite prohibitive–like what you would pay for produce at Safeways in Vancouver and more. Our first 3 nights here in Sausalito, we couldn't find anywhere reasonable to get good produce (as Garett has noted). So we had bought minimal amounts, hoping to get to Chinatown in SF where we expected we could find a place to stock up. Sure enough, with Garfield that's what we did, but because he had his car we were able to buy lots.

San Francisco is a beautiful city–the homes are very different–99.99999% are built City Townhome style–i.e., right up against each other and 3-4 stories high, with tiny court-yard type backyards. Some of these (right off the Golden Gate Bridge on the waterfront street) are obviously extremely poshy residences of extremely wealthy people.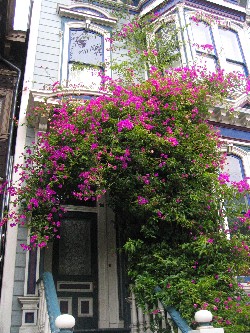 In fact, although San Francisco contains a real mix of races–Hispanic (from a bunch of Spanish-speakng clountries), Asian, some East Indian, African, Italian, East European, and Anglo-Saxon), we get the distinct impression from Garfield's interesting stories about past events and political maneuverings in the City, that it is run by The Rich. One example: a few years ago, they actually started fining people who were feeding the homeless, and in at least one case, the police beat up a person who did this regularly, threw him in gaol,and charged him with spurious trumped-up offences. Due to the outcrye of The People, this atrocious law was abandoned, I gather.

Garfield also showed us the huge and very impressive Art-Roman-Greco pavilion SF built as the centre of the 1920 World Exposition. Plus lots of other things.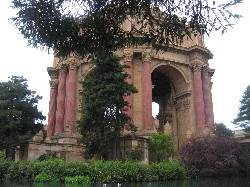 With a car and a local, you can really get the flavour of the place. Garfield was so very accommodating–nothing was too much–and we look forward to giving him "Reciprocal" privileges in Vancouver when we are home and he next visits. Though we can't put him up to stay in our small home, we will take him on a day trip to Bowen Island to visit and treat him to dinner at the Tuscany, a fabulous authentic pizza place (wood oven baked),and explore the island on foot. (How's that sound, Garfield???? We'll take you to Costco too if you want!)
Garett: We also toured a 280-foot tallship, Baclutha, in the marine district. It was built in 1886 and was built of iron. From the 1900 to 1932 it plied the waters up to Alaska delivery wood and canned salmon. (C: it was huge and amazing–a real education in the way merchant sailors functioned. A volunteer told us that the method of operating one of these vessels didn't change in 200 years, so you could take a sailor from 150 years ago and put him on that vessel and within a day he would know how to run the boat as all the lines and systems essentially hadn't changed.)
Garett: My sailing friends Casey and Ross say that Light Wave has alot of lines (C: for landlubbers, this means "ropes performing certain functions"), well you have not seen anything yet!
While strolling along Fisherman's Wharf we came across many different types of buskers. This one student, Gillina, was doing a research paper at a local university and keeping track of the positive responses. She would show the sign ("Can you spare a SMILE?) and mark down whether you smiled. No donation required. We smiled before we even saw the sign, so we got a big checkmark.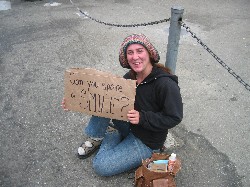 Sunday September 10, 2006

Carllie: We took the ferry over to SF yesterday (Sept 10) and were tourists again, by ourselves,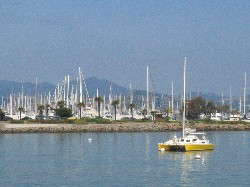 Light Wave from the ferry no wonder
it was so rolly. We were very close
walking all around the Piers and up to Saks Fifth Avenue (which I was very leary about entering in our scruffy boaters' cloathes and packbacks, but they didn't throw us out as we goggled at $3,000 handbags that Garett had no idea existed!) and Chinatown.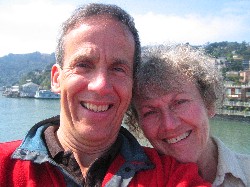 Garett and Carllie on the ferry…gee
my head is very big…must be salt water swelling.
C: This is one of Garett's "self-portraits"where he holds
the camera out in front of us–that's why his head is bigger!
We eventually did pay $10 US for a 15-min Cablecar ride–interesting but very slow. (Garett:I think this is why people took up jogging….. BTW, a "cable" car is different than a "street" car in that there is a cable running under the street. It is a very complicated system.)
Garfield also showed us yesterday the Most Crooked Street in the World and we drove down it. We didn't have the energy to climb to the top of Coit Tower. Garfield also drove us through Golden Gate Park–huge and filled with interesting spots, but packed as it was Saturday. We saw the remains of the historical Bath House right on the oceanfront that had been built early 20th century, and were in use for several decades. So big that they say 25,000 people could use the pool and "hot tub" facilities at one time. They had swimming pools, hot pools and cold pools. Sounds like good therapy and very healthy.


Chinatown

One of the best buskers we saw was the "Bush Man" (see below). What this fella does is hide behind big pieces of bush he has cut, and waits for an unaware suspect, who is usually engrossed in chatting with a friend or just doing the mental processing we all do as we walk along city streets. He then jumps out them with his bush shaking and growls/yells, "Yaaaaggggghhh!" or some variation thereof. The victim jumps a mile and each has varying reactions (as per the "Boo!" video clip I emailed most of my friends about a month before we left Vancouver). They are all SOOO funny. [Garett: like a continueous Candid Camera.] So you get all of these people gathering behind the Bush Man (from the same area the picture is taken from) just to watch the reactions. It takes a few minutes to get another unsuspecting victim, as people close to the last one have seen what happens and they give the Bush Man a wide berth, a big smile plastered on their faces the while. Eventually, though, another hapless soul comes along totally absorbed and unaware. The Bush Man jumps out, "Bleaaaaggghhhh!", they jump sideways, slap hand to chest, skitter across the sidewalk, scream, laugh, and carry on laughing as they smile at the "audience" and shake their heads. It's the best busker entertainment we've ever seen and he got the most money too.
I've considered taking up this fun occupation when we return to Vancouver, but I just don't think my white conservative female persona would cut it. This guy was dressed in brown and green, and he is Afro-American so he "blended in" with the bushes very well. Plus he has this great gravelly voice, perfect for scaring!
We came back to Sausalito on the second-to-last ferry of the Sunday, rested then made a wonderful all vegetable dinner.
Garett has decided we need to raise the floor of the cuddy cabin again, to prevent banging, and for safety. So guess what? We're going to get hauled out on Wednesday and will be in a boatyard for 5 days! Hoo boy! I can hardly wait. But I understand his concerns, and concur of course.

A huge bank of fog rolls in every single night from the ocean, drawn by the low pressure area that has built up over the warming land. We've had several good sunny days, however. Yesterday being one, and today obviously will be another. The fog dissipates once it reaches warm enough air, so it lingers over the water, and often obscures SF. Although it's 8 a.m., the fog horns are still blaring as I guess there's still fog at the entrance, just around the corner, and under the Golden Gate Bridge.
Monday September 11, 2006
We are up and getting ready to leave Sausalito Yacht Club to again anchor in soft-bottomed Richardson Bay today so we can hopefully pick up our repaired radar from West Marine and our mail package at Fed Ex Kinko's. We will then head over to Angel Island Park which is 700 acres in size and right in the middle of the bay area.
Monday September 11, 2006
Garett: As we mentioned in our last update we had decided to raise the floor of the nacelle under the table of the cuddy cabin 5 inches except for the aft 2.5 feet directly in the galley where we have to stand to cook and do dishes. How we decided this requires a little background. On our trip down the Washington and Oregon coast we had received quite a bit of water slamming under the nacelle, which is noisy as well as unnerving, rather than a structural safety issue. But it could be a safety issue on an extended crossing. Carllie and I talked about this since we we'd been in Bodega Bay, and decided that we should do this modification now for our own peace of mind.
The modification required cutting out a section of the existing floor (6 by 2 feet) and raising it 5 inches. To do this it we thought we would have to lift the boat out of the water. On Monday we went to shore to make some phone calls to confirm to a possible boat yard at Nelson Marine over in Alameda. It turns out that their travel-lift can only handle boats to 17 feet wide where we are 17.5 so we couldn't fit. They directed me to another place, and finally after four more calls I reached a yard on the Napa River that has a rail lift where they slide a rail car under you and then pull you up on to shore as opposed to lifting you out, and can handle boats to 25-30 feet wide and possible more. The rate was $500 in and out plus $100 per day in the yard. We were looking at a $1200 bill before materials! This was just too much money. We thought some more about it and I figured that with some careful planning we could it do it at the dock while still in the water. [Carllie: This was definitely Garett's Engineering Degree speaking….and perhaps the problem-solving skills he's honed over the last 10 years as a computer programmer? I tell you: Nothing is impossible to this guy!]
Garett: When you see the pictures of our work over the following week, I know you are going to think we are totally loony. [Carllie: Weeeeellll maybe….] Our first step was to find a marina where they would not mind us working on the dock and had a Home Depot and other services nearby. We decided that on Wednesday we would move our boat to Marina Bay Harbour in Richmond which is about 8 miles away near Oakland.
After making our phone calls, as we motored back from shore, we saw another yellow catamaran at anchor in Richardson Bay! It looked like Light Wave's big brother., so we promptly motored over to say "Hallllooo!"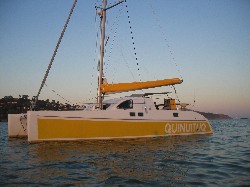 Light Wave's big brother???
As we got closer we realized it was quite a bit bigger, at 39 feet. We were warmly greeted by a couple from Germany and Austria, Uve (pronounced Ooo' Vay) and Eva Keil, who started building their boat at the same time we did 9 years ago but have been offshore cruising for the last 7 years since launching in 1999. They invited us aboard. It turns out they had just sailed down from Vancouver after going up to Alaska this summer.
Their boat is called Quinuituq (pronounced Kwin' oo wee' took) and means "deep patience" in Inuit. They built her in France and she is made of plywood covered in epoxy and fiberglass. She is beautifully finished and very well set up for cruising. Uwe and Eva had just come in to San Francisco an hour ago so we left them to recover while we took Light Wave over to Angel Island Marine Park, about four miles away, for the night. We agreed to get together on Tuesday evening to visit again.
Carllie: Eva was at little of tired of sailing and was very humorously expressive about it, even though she was so warmly gracious in having us visit them on Quinuituq (but only as far as the threshold to their bridge deck as No Way she was going to show us inside their home until she had cleaned it!). Although they had been sailing offshore for seven years, she said "The ocean scares me!" I think she was just pooped and worn out from their long trip to San Francisco, even though they had harbor-hopped as we had. I think they had done the trip much faster, and perhaps had higher seas. They do six-hour watches at night, and that's quite awhile to be alone at the helm, so maybe that was it. When we met with them last night (Sept. 21), she was happily enjoying their boat and boating life, and exploring Sausalito and San Francisco while energetically getting to know fellow cruisers with common interests.
Tuesday September 12, 2006
Garett: We sailed to nearby Angel Island (between San Francisco/Sausalito and Belvedere/Tiburon/Richmond), tied up to a mooring buoy in Ayala Cove last night and went ashore this morning to explore. Angel Island is plunk in the middle of the Bay area. It is about 2 miles in diameter and about 600 feet high. The island was used by the military for various uses for the last 150 years and has various forts and houses left over from the 1960's. It became a national park in 1970, but still has some off-limit areas with military buildings being restored. We went on what is called the "blue trail" which slowly winds away to the lookout right on top–about 1.5 hours). The park seems to be the subject to budget cuts as the trails were not well marked (never did see the "blue markers" or any markers) and many of the safety rails were falling apart from neglect. The trail was a very pleasant walk through the trees and we did get some great pictures of the whole area from the lookout.
Carllie: Made our parks and trails in the Gulf Islands and beyond in B.C. look wonderful! So well maintained.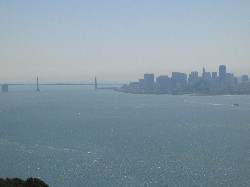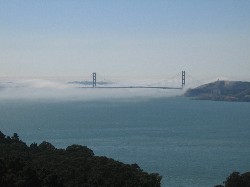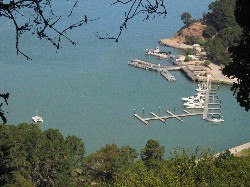 Golden Gate Bridge;
We can never resist taking a pic of Light Wave even from a high distance!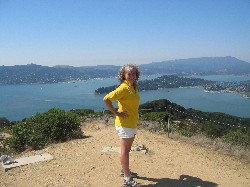 Views from Angel Island trail and lookout.
Garett: We left at 4 pm and did a little sailing off San Francisco along with all the other enthusiastic sailors, and anchored back in Richardson Bay about 100 yards from Uve and Eva. We grabbed some nachos chips and salsa and headed over for a visit.
[Carllie: Quinuituq was now spotless and Eva was happy to show us around, having spent the day doing laundry and cleaning! What a woman! This is only a very small sided of her energy output; she is very creative and I will tell you about that in a bit.] Garett: They gave us the grand tour of their boat and in one of the hulls Eva has a workshop for doing jewelry work. She is very creative and original in the work she does. They do a trip every year back to Germany.
Carllie: Okay I guess I'll tell you now. Eva Keil is a fantastic silver and goldsmith/jewelry designer. While Uwe was showing Garett pictures on his laptop of previous travels to places we may just get to, Eva was showing me her "inventory" of jewelry that she's made so far and has not yet sold. I slathered, to put it mildly. My heart sped up, and my "Gimmee gimmee gimmee!" nature came prominently to the fore. I mean, these pieces are TO DIE FOR!!! Eva loves her work and their lifestyle is for it: they visit may South Sea Islands where she buys exquisite pearls that are very unique (like a beautiful big round pearl that is deep green and aubergine color) plus special shells and even nuts that she cuts, grinds and polishes to show their beauty. She also has a contact for uncut opals and much of her jewelry has a small or large opal set in strategically. She creates beautiful and unique setting for each piece, using gold and silver combined or individually, and sometimes leather. She designs and creates pendants on special leather chokers she's made; her own very unique silver chains for necklaces and bracelets; pins; rings (for fingers and toes); sarong clips and hair clips; earrings; just everything a discerning woman could want!!! Here are some pictures of her work:.
Eva goes back to Europe once a year for shows where she sells her creations, and I think at that time she also takes custom orders and delivers orders she's already taken. She inspires me with her creativity and the beautiful jewelry she offers. "A thing of beauty is a joy forever." Many hints have been sent Garett's way…anniversary, Christmas, birthday, Valentine's Day, ummmmm, Good Wives Day (March 12th in case you didn't know), Good Cooks Day (April 12th), Good Homemakers Day (May 12th), Good Companions Day (June 12th), Good First Mates Day (July 12th), Good Cookie Bakers Day (August 12th), Good Banana Bread Bakers Day (September 12th)….and Yup! That takes us back to the Anniversary (October 22nd!)…oh I guess there's that other little thing: Good Patio Gardeners Day (November 12th)… So Eva! Get ready for some serious production!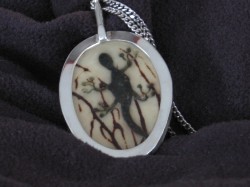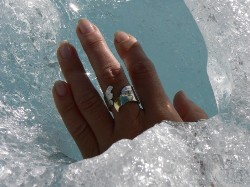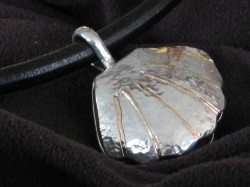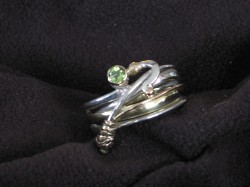 Garett: They showed us many pictures of their travels and talked about their cruising, sharing their experience and giving us lots of tips along the way. When I mentioned that we had a big storm anchor in a locker, Uwe advised me to use the biggest anchor you have all the time as you know never know when the wind will come up and this way it is always set and you can have some peace of mind when asleep or ashore. [Carllie: Plus, how can you put your "Big Gun" out once you're already at anchor the wind is suddenly wailing at 40-50 kts? Why didn't we think of this before? We've now–as of Sept 19–put away our original anchor with the original anchor rode, well washed with fresh water, and Garett has installed the new Big Gun very carefully on our bow beam, adding a metal plate under the beam to prevent the anchor banging, and drilling a hole through the shaft of the anchor so that we could put our special steel holder through it, to hold the anchor in place. Big Gun is VERY HEAVY and we are still working out a strategy for me to deploy it and Garett to haul it up without injuring ourselves. We will use one of our new heavier Anderson winches as a windlass if we're leaving in windy conditions. Our original anchor will now be our "back-up anchor" to use as a second bow anchor. We have a third anchor that we keep in the cockpit to use as a stern anchor. Eva and Uwe both stressed that secure anchoring is one of the most important aspects of safe cruising.]
Garett: The engine on the Keils' little inflatable dinghy was painted yellow, and Uwe told us this is because thieves will not steal a yellow motor as it is too hard to sell. We did both these modifications over the next week. [Carllie: It's great what you can do with a spray can of good paint from Home Depot! Three coats over three on the last dock at Marina Bay, with the wind blowing away from the boats did the trick!]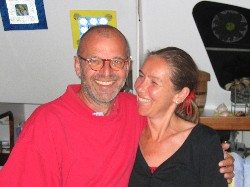 Uwe (pronounced Ooo' vay) and Eva Keil in their lovely catamaran Quinuituq.
Wednesday September 13, 2006
Garett: We left midday Marina Bay in Richmond and arrived at 4 pm. As we made our way there the wind was gradually building. When we tied up at the harbor master dock to get our slip assignment in this huge 850-boat marina it was really howling. After being assigned our slip on D dock we found that we were pinned to the harbor maste'rs dock by the wind and couldn't move. We decided to go for a walk to historic old Richmond which was "only 1 mile away". Well like usual it was a much further walk. As we left the marina the area was new light industrial buildings but as soon as we crossed the Interstate, the area seemed to deteriorate rapidly. Soon it was very deserted with many rundown buildings and a few very suspicious-looking characters.
When we finally did get to the old town, which was quite nice, ,we decided it might not be the best thing to walk back in the dark through this rough part of town so we went to a Quality Inn and called a cab. While waiting for the cab I picked up a local newspaper in the lobby. As I scanned the articles I read that Richmond has the highest homicide rate in California because of the extensive drug trade and prostitution and is one of the roughest areas in the state. Good thing we are taking a cab back…[Carllie: We were later advised that we should NEVER cross the highway to walk in that area of Richmond; that they have a homicide a week; that you just DON'T go there after dark. This is not quite the area we were in, luckily, but now we know that we have to really ask about an area before we go walking in it!]
Garett: When we got back to the boat at sunset the wind had eased so we quickly moved the boat to our assigned slip. As soon as we got there, before we had even tied up, the winds really picked up and blew at 30 knots for the next 36 hours but at least we were safe an tucked in. [Carllie: We put mooring lines everywhere, but felt very safe even though we were almost blown away every time we walked out a door or hatch.]
Thursday September 14, 2006
We had a lot of things to buy and to run around for so we decided to rent a car. Enterprise Car Rental came to pick us up at the marina and so the meter started on our "24" hours. We spent the rest of the afternoon in our PT Cruiser going to Home Depot for wood and supplies and West Marine and doing numerous trips from the parking lot to where are boat was at the end of "D Dock" about a quarter mile from the gate.
Friday September 15, 2006
We squeezed in a trip to Costco for a few things and then returned the car and got driven back to the marina. A note on the marina: there are mostly sailboats (as at all Bay Area marinas) and there is a small group of liveaboards who have created a nice little community as well as built in security. We got to know several of the very nice people there. Here are a few pictures: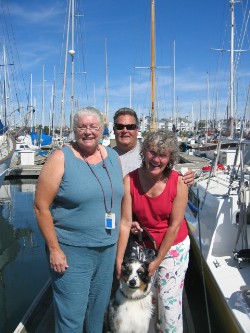 Nan Mitchell with her Australian Shepherd, Captain, and Greg Figueroa,
who does canvas work, with Carllie–ever the dog-lover.
Captain definitely didn't like bath time when Nan held the dock hose on him for about 20 minutes with shampoo. Hey! I wouldn't have liked it either.-C.
A happy Captain, dry and fluffy.
Late Friday afternoon we were now ready to go
with our big pile of supplies: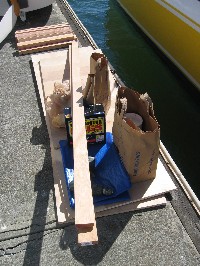 Here is what the cabin looked like before we started: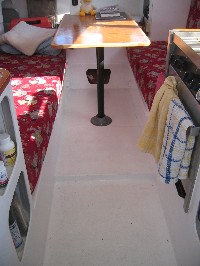 Saturday September 16, 2006
This was the first of five perfect days with sunny skies and light winds which according to the locals is their Indian summer which runs through November so it was ideal for our work. [Carllie: unlike Vancouver, the only time you have to worry about rain in the San Francisco Bay Area is November through January. So we could leave things out, hatches open, etc., without worrying they would be ruined by water.]
G: The first step was to prepare the new floor by coating it with fiberglass and epoxy on both sides.
We then applied beads of white sealant on
the bottom to act as an additional
shock absorber: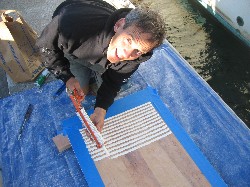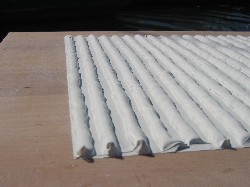 As we waited for things to dry we visited with people in the marina and went for a few walks on the shore walk.
Sunday September 17, 2006
We sealed off the cuddy cabin with plastic so that the dust would not go everywhere. We now would not have access to our food and stuff for the next few days so we dug out a few supplies and started living in our port sleeping hull.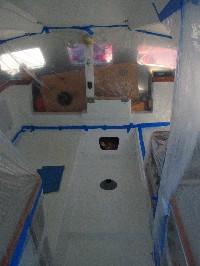 Carllie: Camping out. It lasted three days and nights, and we felt very intrepid! We pulled food out of our fridge, removed the grill from the barbecue, and cooked on it. Then we sat down in our "bedroom hull" to eat our dinner at about 8 p.m. each night, and fall exhausted into bed by 9 or so.
!
Garett: I had to grind away the existing paint so we could glue to bare wood. I took most of my tools with us but one thing I didn't think I would need is my ear muff sound protectors. So we improvised a set-up with some closed cell foam and masking tape. I am not really unhappy in the picture below but I couldn't smile as the tape that Carllie had "carefully" applied was pulling so hard around my face.
The grinding only took an hour. The whole process is similar to a dentist's as we grind off the bad and then glue in the new filling. After that we spent three hours dry fitting all the pieces for the new floor.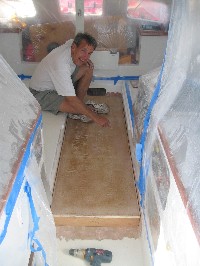 Now came the moment of commitment when we had to cut out the old floor. I used a jigsaw to cut out the first part of the floor and then reached under the remaining floor to apply some 3M 4200 sealant beads for further "bounce/reflective protection".
I then cut out the remaining part of the floor by drilling holes 1/4 inch apart along the whole perimeter. Finally it came loose and I pulled it out. [Carllie: what a job!]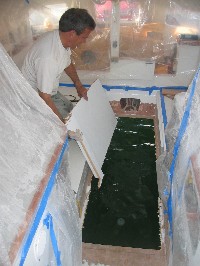 I then grinded some more to clean up the edges. By the time we were ready to start gluing it was almost dark and we were tired so we walked over to the little strip mall which had a Mexican restaurant and a Quizno's. When we got there everything was closed for Sunday night so went back to the boat and had granola for dinner…..
Carllie: Here's the "ventilated" Light Wave cuddy cabin that we left to go to sleep. On viewing the pics later, our friend Uve found a plus: "A 28-foot boat with an indoor pool!"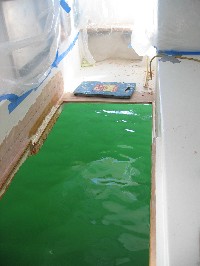 Monday September 18, 2006
We were up early for our big gluing day. All the pieces were ready and precut so for 6 hours Carllie mixed epoxy and filler and we carefully glued in the pieces.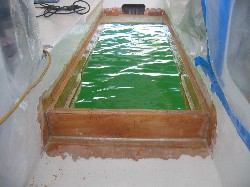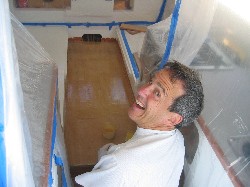 I was able to borrow a small old dinghy from a really nice fella in the marina, Larry Rouse, allowing me to slide under the boat to clean up some of the squeezed-out epoxy. With all this done now we had to wait for everything to set up, so went for a late Mexican super veggie burrito lunch.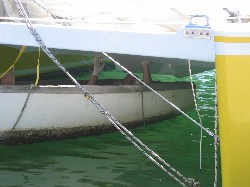 Tuesday September 19, 2006
The glue had set up well so that all that remained for today was finishing sanding and five coats of paint. Between coats of paint we did a whole host of other jobs like switching to the big anchor, some interior painting, and painting the engine cover, washing off the original anchor rode, fitting the new Big Gun anchor.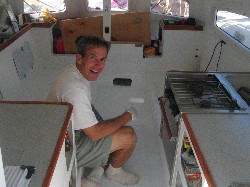 Wednesday September 20, 2006
We finished off with a final coat of clear coat and we were all done. You can't tell that we have done some major surgery, can you?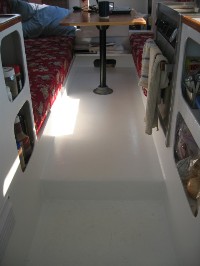 We had picked up our repaired Furuno radar from West Marine before we had left for Richmond to do our repairs, so I went up the mast for an hour and reinstalled it. [Carllie: While I did a ton of laundry on this our last day at a lovely marina where we could shower twice a day and do free laundry, well free as in "included in the cheap moorage price".] We washed the outside of the boat and everything looked as good as new. We said goodbye to our new friends at about 5 pm and then motored back to Richardson Bay to a beautiful sunset.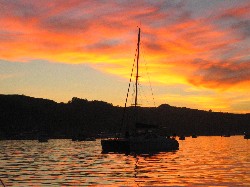 Thursday, September 21, 2006
Carllie: It was great to be back in Sausalito, where we can walk day and night no fears or worries! Once we got going in the morning, we motored ashore with our spiffy new yellow engine, and walked to West Marine to pick up a couple of replacement tiller extension connectors and found some fabulously inexpensive folding chairs to replace the one I lost on the windy dock at Richmond (big upset, that!). Now, we have MATCHING navy blue comfy cockpit chairs, so we can sit outside on warm days and evenings (which we are having now and expect to have more of) and enjoy the view and breezes while we eat or read. Of course, Light Wave's cuddy cabin gives us a great 360 degree view anyway, but it's just nice to be outside. Then we trudged over to Mollie Stones to get some bread and Romaine lettuce. (We are now FULLY stocked up for food, except for a couple of hot peppers that I will buy today. After running totally out of produce during our 5-day Bodega Bay stint, I'm a bit paranoid about it, so I tend to want to buy it everywhere.) We have to use up all of our dried and can food that we started out with: various types of legumes, rice, etc., but to do that you have to have such things as cooking onions, carrots, green peppers, tomatoes, etc., to do make the recipes.
When we docked last night, we were dismayed to not find Quinuituq in the spot we had last seen her, and sadly concluded that we wouldn't see Eva & Uwe again. However, early this morning, Garett saw them anchored (actually tied to a mooring buoy) further into shore, where it turns out they had moved during the heavy winds and waves we also got in Richmond the week before). When we checked out he Cruisers Club, we found their dinghy with their unmistakable yellow engine, and I left them a note inviting them over for cookies at 7:30 that night.
When got back to Light Wave, I had a cooking/baking marathon while Garett fixed the tiller extension and rested after his long week of hard hard work. I made a nice tasty black bean recipe, that we will again have for another dinner with rice, plus my famous chocolate chip cookies which have now actually evolved into enlightened carob-cranberry-coconut-walnut cookies. Of about 30 cookies, there were only 11 left by the end of the evening, and we gave 8 to Uwe & Eva. So I guess I'll have to make some more pretty soon!
It was great visiting with Uwe and Eva again. After Garett proudly showed them all of the shippy features we (he) have built into Light Wave, and we showed them our three separate living areas, we settled in to the cuddy cabin for a candlelit chat. Garett showed them all of our recent pics, including those of our work-a-thon modifying the floor. It's amazing how many things we found to talk about. One of the subjects we discussed was slowing down. When we visited them on their boat and said that our original plan was to sail a year and a half, they both shook their heads and said you need at least 2 years to really unwind. Two years! We had heard three months!
Well, this was an adjustment to our perspective. Uwe explained that they now don't think in terms of days, they think in terms of seasons. You start off, fresh from the city craziness, where you live in terms of "minutes". As you slow down you go to "hours" then "days". Then, it's week, and eventually, it's from one season to the next. This is not to say that the Keils are not active and productive with their time; they are. It just means that ideal state is to relax one's mind and body to the point where you stop thinking you HAVE to do something right now, today or tomorrow, or even next week. Garett and I figure we are somewhere living- by-the-day to living-by-the-week stage.
We truly enjoyed Uwe and Eva's hilarious senses of humour and viewpoints on cruising and people, and hope to emulate their lessons in our future endeavours. They've found a good place to moor Quinuituq safely at San Raphael, and will be leaving for Europe mid-October. When they come back, they will be sailing down to Mexico, so we hope to meet up with them again there. Meantime, we will keep in touch via email and websites.
We plan to leave the San Francisco area on Saturday for our next stage of harbor hopping to San Diego. Everyone take care and we'll talk to you soon!
Saturday, September 23 2006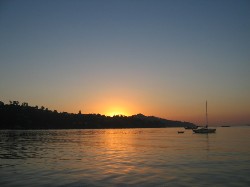 Carllie: After three weeks in the San Francisco Bay area, we were itching to get going even though we made many new friends. By the way here are is a link to the photos of my friend Eva Keil's jewelry that I mentioned in our last update.
We chose our days and favorable weather conditions, and awoke very early this day so that we could go through the Golden Gate (the name of the channel as well as the bridge) at slack tide.
One simply cannot go through at any other time due to the strong winds and tides. We motored our way through the other boats anchored in Richardson Bay in the morning haze ("The morning fog may chill the air, I don't care" according to Tony Bennett) and managed to reach the start of the channel at slack tide, 8:15 a.m., which didn't last very long! The towers of the Golden Gate Bridge loomed overhead as we bade this bustling metropolis goodbye, knowing that it will be quite some time before we see this sight again. We had had enough of "city living" and longed for the wind in our sails and less populated anchorages.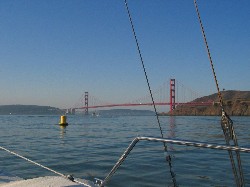 Approaching Golden Bridge for last time. Going…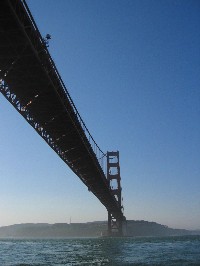 going…..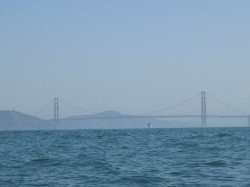 gone….
Backing up a little: The night before our departure, we took our dinghy in to the Sausalito Cruising Club and enjoyed their fabulous Friday night buffet and the company of some other offshore cruisers doing the same thing we are doing. Sausalito Cruising Club was established back in the 1950's for offshore cruisers. It is built on a barge attached to shore, and their mandate is the provide a safe haven and welcome for offshore cruisers. They have shower facilities plus a fairly simply dining room and pub area. When we returned to Richardson Bay from our boat modification stint in Richmond, we motored in to the club as we had heard about it. I did the "negotiating" this time, and a very kind older gentleman whose name was Grute (sp? it's German) explained the procedure: we simply had to sign in for the club key, and could thereafter come anytime to tie up our dingy on their secure dinghy dock, shower, and have access through their gate to Sausalito. We were sorry we hadn't discovered this when we first arrived at San Francisco, as we spent quite a hefty amount at the Schoonmaker Marina for two nights, and before and after that when we were at anchor had no access to showers.
The SYC's Friday night buffet was fabulous, especially for we non-meat-eaters. They had a huge all you can eat buffet of fresh Caesar salad, a lovely mixed vegetable salad, two or three types of yummy pasta, garlic bread, and baked potatoes, all for $8.00! Meat or tuna steaks were also available for an extra $4.00. All of this was accompanied by a nice live band with a female singer, which helped make the evening lively though not quite "danceable" in my books. (If you go, be sure to snag a table as far as possible from the band, so you can carry on a conversation!) We will be sure to send a note to our "club", Blue Water Cruising Association, so they can post this note perhaps in the May 2007 issue of their newsletter, for 2007 "leavers" as they call them. At the dinner we met Marion and Bruce who had arrived on their sailing ketch from Bellingham, and Wendy and Ken Squirrell, fellow members of BWCA, who had arrived on their Privilege 42 catamaran from Victoria, B.C. Our thanks to Sausalito Yacht Club for maintaining their history of welcoming "yachties". We sure do appreciate those showers wherever we can get them!
We only had 25 miles to go to reach our next stop, Half Moon Bay, and we sailed about one hour out of five. I had been longing to "get going!" armed of course with my seasickness patches. Amazing what a difference it makes knowing I'm not going to be deathly ill once we get out in the not-so-swell swells! I do all kinds of things! I cook! I bake! I read! I haven't quite gotten to the point of writing or knitting yet, but that's coming. Has to, if we're going to spend three weeks crossing from Mexico to Hawaii…or wherever!
We entered Half Moon Bay through the breakwaters, arriving around 3 pm, and stayed two nights.
Garett:We had difficulty anchoring in the soft mud bottom and after four tries my arms were sore with our new heavy super anchor and a 1950 circa 42 foot wooden power boat, Seascape, with Simon and Sunny invited us to tie up for a cup of tea. They are from Victoria and have cruised 20,000 miles on the BC coast and are now taking a few years to cruise farther south. We chatted for about 2 hours and as it was now getting dark we untied from their boat and motored off 100 yards and found a place where we could successfully anchor. I am sure we will see them again.
Sunday September 24, 2006
Carllie: This is another tourist destination, and we enjoyed a nice long walk along the roads and back on the lovely sandy beach, wading out into the surf to the point our shorts allowed. The undertow created by the waves rushing back out to sea pulls your feet and ankles fiercely; the water is not icy, but definitely cool, and it's not a place you would go swimming. But everyone was enjoying wading and the kids would "challenge" the incoming surf wading out further and further, and then run screeching in to safety.
Garett took this great picture of the patterns in the sand and the receding surf.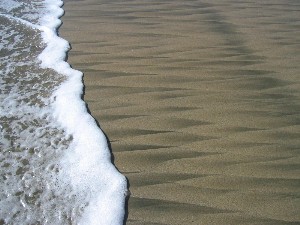 We saw these two unique beachside homes that have been decorated with very imaginative carvings and creations. No doubt they are worth at least $400,000 U.S. each!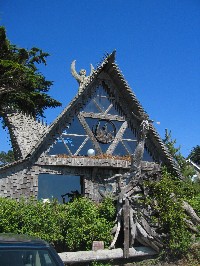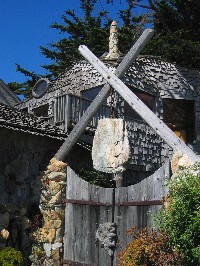 that's a big 300 pound rock
suspended above the gate
Garett: When back at the boat a very interesting powercat came by.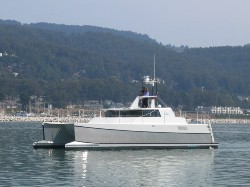 We also took this picture of ourselves in a very reflective mirror. We have become tourists…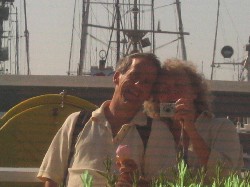 Monday, September 25, 2006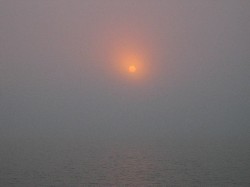 Carllie: Another foggy early departure saw us on our way to Capitola, a spot recommended by a sailor Garett had met at Half Moon Bay (the time he decided to go for a little exploration of the anchorage in the dinghy just before sunset, and didn't return for 2 hours…not popular with the First Mate who had begun having conniptions worrying about his fate without a life jacket…) It was a 55mile trip and we sailed for 8 out of 11 hours.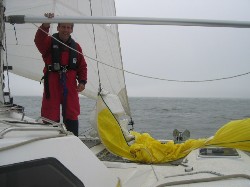 It was a little dicey for the last 10 miles as the fog had really come in and we could only see about 200 yards. On our final arrival we had to make out where the kelp beds were, and anchor between them, but we managed, just barely. It was a pretty open anchorage, though, so we only stayed the night and left the next day for the short jaunt to Monterey.
Garett: Today was Carllie's coming out day as a sailor. Now that she is feeling better she started doing most of the sail raising, setting and lowering. She even did some bow work of tying up the jib while being tethered onto with her safety harness. I was very proud of her; it was like seeing a baby take its first step.
Tuesday, September 26, 2006
Garett: It was quite rolly off Capitola and so we decided to just look at the pretty shops from the boat and leave for Monterey.

note the surf breaking on beach
that is why it was so rolly
Carllie: We had a great downwind sail on a broad reach to Monterey, 25 miles from Capitola across Monterey Bay, using the main, jib and screecher.
The sun actually came out and the motion was so comfortable that we actually slept in the hull on our comfy sleeping mattresses taking turns while the other took the helm. The swells were very minimal and well spaced, as the sea action was so gentle. It's always so much more fun to sail than motor, and I am gradually "learning the ropes" that Garett has been adding to and refining since we launched Light Wave.
We had to avoid a military restricted area to reach Monterey, and mysteriously for quite some time got no depth reading on our GPS. Later we discovered that a very deep canyon lies under Monterey Bay, which is why our sonar gave up. When we reached the city, we were met with a huge field of mooring buoys both inside the breakwater and out. To avoid a $15-$30 per night charge (for nothing basically), we anchored instead, and motored ashore as soon as Garett put together our PortaBote and attached our bright yellow engine. Before we got going, though, Marion and Bruce rowed over and said hello. It's always helpful to meet friends in a new anchorage as you feel a little less overwhelmed. And thanks to their advice, we knew where to tie up our dingy and how to access the showers at the Harbor Master's Office (a deposit gives you a key and free, wonderfully hot unlimited showers).
Wandering around on Monterey's seaside boardwalk and then up the streets into the town, we struck it lucky. We discovered a three-block-long Farmer's Market that only happens Tuesday night from 4 to 8 p.m. This was the biggest open market we've ever seen, and we augmented our produce with tomatoes, zucchini and peppers and our starch locker with two loaves of bread and inhaled the tempting aromas of a plethora of ethnic food stands while resisting the promptings of our tummies. We had so much food on board, we just had to eat it up!
Oh! Something else that abounds at the marinas and anchorages off Monterey are…you guessed it!…sea lions. Holy schmolie! This time they set a record. They were everywhere. A big long dock built for commercial fishermen unloading into canneries rests on big criss-crossed pilings and supports and these supports are laden with big bruiser sea lions, even though they are a good 4-6 feet off the water. These guys can leap, let me tell you! So again it was "bark bark honk honk honk" all night long, loudly and without surcease. Still, it's a natural sound and doesn't keep you awake (like the awful Mexican music did last night Sept 30 at Morro Bay until about 2 a.m.!).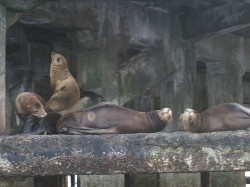 Wednesday September 27, 2006
Carllie: Visitors' maps and friendly advice provided by the Harbor Master clued us into the local attractions which include several historical sites, two Thomas Kinkade galleries, and the incomparable Monterey Aquarium.
We got another early start, showered in the Harbor Master's building, and trekked off on the boardwalk to visit the sites. By the time we got going it was still not early enough so we decided to head straight to the Aquarium, about 1 ½ miles west.
Visiting the Monterey Aquarium was an unforgettable experience. We stood enthralled viewing their sea otters through the underwater glass and took some great pictures of these most entertaining and fluid creatures. Visitors get lots of information from the paid employees and volunteers who are always right there to inform, educate and guide. We met the 5 resident otters and learned that one had just returned from her duties as surrogate nurse/mother to an orphaned baby otter. The Aquarium frequently finds these orphans and brings them in to nurse to maturity, then releases them back into the wild and monitors how well they do. If they don't do well, they will be taken back into the fold. We then went upstairs and watched the sea otters' feeding/training session and learned even more about these little critters, who are not shy and quite happy in their home.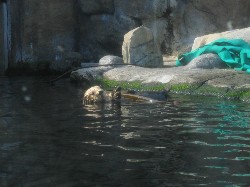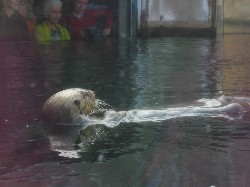 Next we found underwater viewing of a huge fish tank with many different species of bottom fish, a few tiger shark and a funny looking California sheep face. A very friendly and knowledgeable guide, Christine, invited us to sit down on the floor as all of the seats were full, and wait for the diver to come to feed the fish. When he came he had a mike attached so he told us what he was doing the whole time, as he hand fed eels, small sharks, and all of these different fish. Half an hour later we had learned that it's better to buy your calamari at fish bait shop than a seafood shop, as you pay a lot less and get the same thing! We also learned about the kelp beds and how important they are to the bottom fish, the sea otters and visiting whales. The bigger whales (not Orca) eat krill, which proliferates in the ocean.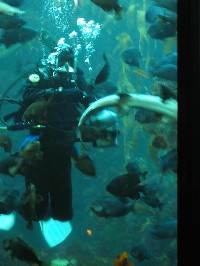 At another underwater tank, we saw a juvenile Great White Shark and lots of very big yellow fin and blue fin tuna. The Aquarium is nurturing this Great White for a little while longer, as it is growing at such a rapid rate that it will soon be impossible to keep up with. Apparently these notorious sharks are endangered. Ahem! I'm happy with that…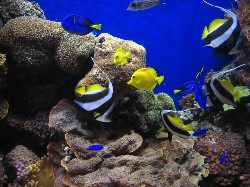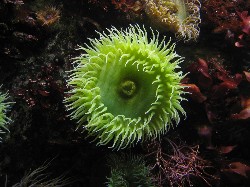 We were amazed to find this "bird habitat" at the Aquarium where all of these sea and shore birds live very contentedly within a hand's reach of visiting humans, and show no sign of nervousness.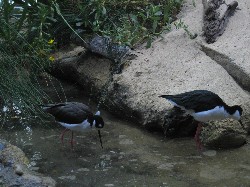 The next stop was a pool of Bat Wing Mantarays, where you could reach down and touch the little guys. I tried a few times, but each time little Batwing would come just a few inches from my hand and then veer away. Finally, I stroked his silky wings. (But this pic is Garett's hairy arm, not mine!)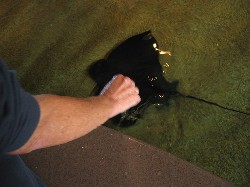 On the way back from the Aquarium, we visited the Thomas Kinkade gallery and browsed through reproductions of this talented painter's "paintings full of light". You may have received a Christmas card with a Thomas Kinkade painting showing the light shining out from a cottage or street lights. We were told at the Harbor Master's office that Kinkade, who lives in Monterey, has made so much money that he gives it all away to charities now. If that's true, Good on Thomas Kinkade! And, please remember the Hennigan Adventure Charity!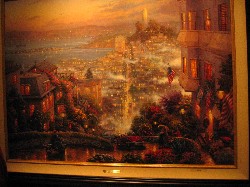 In one of his "friendly puppy" chats, Garett had learned that there was indeed one squash court in Monterey, at a private men's club just a few blocks into the town. So we had to trek over and get the lay of the land. A discreet sign announced the Pacheco Club, and its men-only status, at a big brown door in an adobe building, no windows, with one little buzzer on the side. I stood well back while Garett pressed the buzzer, twice. A conveniently tall, sober-looking, man with white shirt and tie answered the door and peered down his disapproving face at Garett, who started his "win-'em-over-with-St. Bernard-like-charm" spiel, "Hi there! We've sailed here from Vancouver and I'm an open squash player. I was wondering if I could get a game?" …Wrong, I don't think so! The guy peers even more disapprovingly (if that was possible) down his snooty nose and says, "We do have one squash court, <long pause> but this is a Private Men's Club", (distinct emphasis on the "Men's") and firmly shut the door in Garett's face. I laughed my head off as I did a fair-to-middling imitation of the guy's general British-Butler-like demeanor and pushed up the tip of my nose with my finger.
Garett: The only thing I kicked myself for not doing was thinking fast enough to ask, "Well how can I join?" it would have been interesting to see the response. Well I am going to make sure Vancouver Racquet Club does not let in any of their members… It was very funny and we went through the rest of the day saying, 'This is a Private MENS Club' over and over again.
Carllie: It's always a hoot when Garett's friendly-puppy approach falls flat as he just NEVER expects rejection (which is admittedly why he seldom is rejected). We laughed and laughed and dragged our miserable, poor, raggedy, boat-smelling selves away from the Pacheco Club.
We loved Monterey, and found it more comfortable than San Francisco—fewer frantic tourists and less hustle of business and equally frantic residents—and may even visit it again via AmTrak or 4-wheel vehicle driven by internal combustion engine.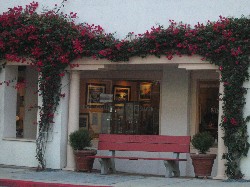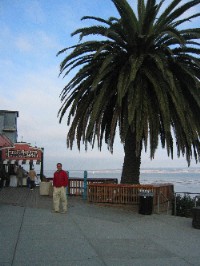 Thursday, September 28 2006
Carllie: Our next jaunt was going to be another 115 mile over-nighter to Morro Bay, and to avoid arriving before dawn we left Monterey at 11:15 a.m. It took awhile for me to get comfortable with being "way out there" again and doing my watches even during the daylight.
Garett: At about 2 in the afternoon we saw about a mile to the west a humpback whale slapping its fin in the water and breaching. As our courses converged over the next 15 minutes, we actually saw do a full breach out of the water several times. We could actually hear the crash of his body in the water. (Whump! Whump!) We only got to about a quarter mile away and then he went back in the other direction. Carllie thoughT he was getting too close for comfort but I wanted to smell the fish his breath…. (C: I was getting preeetttty nervous, and I still think the last WHUMP! was less than 1/4 mile away…more like 100 yards, way too close for comfort.)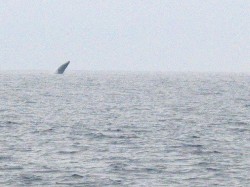 Carllie: Again, we did a lot of downwind sailing, this time with our drifter for awhile, then with the jib and screecher, and the seas were very comfortable. After my long rest in the sleeping hull, I had to do my first night-time watch in a long time, but found it a little easier as with our repaired Furuno Radar I was able to check for nearby vessels and take visual sightings to find them. I did this job very industriously so Garett, who had taken pity on me and lain down in the cuddy cabin so I wouldn't feel so alone, heard the "beep beep beep" of my punching codes into the Radar and checking the GPS every 10 minutes, not to mention me practising my Spanish in the cockpit with our headphone CD player. Eventually, I ordered him down into the sleeping hull so he could get some real rest, and "enjoyed" the rest of my watch listening to the wind in the sails and the following seas and watching for vessels and trying to attune myself to the rhythm of the sea rather than fight it.
We hope that by the time we have to do our Big Crossing to Hawaii (or?) from Mexico, we will have established a comfortable rhythm with watches. These trips since Half Moon Bay have been so comfortable with the swells spaced out at such long intervals, and that is what it's going to be like on our Big Crossing, so it should be okay. We sailed most of the way to Morro Bay.
Friday, September 29, 2006
Garrett: At about 5 am while it was still very dark we were visited by two Pacific White Sided Dolphins who zinged back in forth like errant torpedoes through the bright phosphorescence for about a half an hour. (C: In the dark you can't see their actual bodies, but you can see their phosphorescent streaks through the water. We talked to them again.)
As the day dawned I tried raising all our sails–main, screecher and drifter (900 square feet)–as a first-time configuration so that we could continue to sail in the very light winds.
Carllie:Arrived at Morro Bay at 2:30 p.m., and passed the huge "Morro Rock" at the entrance (a redundant name as "Morro" means rock in Spanish). We toured the bay full of mainly moored boats, and came back out towards the entrance to anchor near some other visiting yachties. The Morro Bay Yacht Club offers reciprocal privileges to BWCA members, so we motored over and were again welcomed by a nice lady who gave us a key when we signed in. Next day, we luxuriated in lovely long hot showers in very well appointed facilities, and even found, much to my delight, laundry machines located in an outside room that we can access with a key they hang from their visitors' board. This will save us a 10-block trip up the hill to a Laundromat hefting two big bags of laundry. (Oh for the Good Old Days when I only had to trudge down and up three flights of stairs to get to our building laundry room from our 4th floor penthouse suite! Never again will I think doing laundry at home is an onerous task!)
Approaching Morro Rock and entrance to Morro Bay.
Morro Bay is a very pretty little spot (pop. 10,000 much to our surprise) with lovely shops and a multitude of restaurants lining the beach-side street. My hair was impossible, so I was delighted to find a salon where I could get a cut for $30, and booked an appointment for Saturday morning.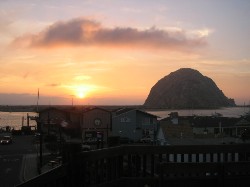 Saturday September 30, 2006
My solo trip ashore on Saturday for the haircut was a first on this adventure, as I've been literally joined to Garett at the hip, and had not yet taken the dinghy ashore by myself. After initial reluctance to do so, I realized this is going to be a long trip, and I may as well get used to doing some things on my own now in a friendly, well-protected anchorage. Baby steps! Yes, I'm a chicken at heart. It's sad. But HEY! I'm getting better. Solo night-time watches, changing and hoisting sails on my own, foredeck work on the jib and with the anchor, plotting our course on our charts, taking the dinghy to shore in a strange town, negotiating with strangers for shower and landing privileges…what can I say? Watch out World!
I am now well shorn and feel great ("Please cut it as short as possible without a crewcut, and as feminine as possible".) I told Pam she did a great job, and I would come back but I won't be here for a looooong time. There's really nothing like sitting in a comfy salon and chatting with a friendly, skilled lady while she gives you a nice shampoo and head massage, then clips away. I was happy to leave behind a pile of brown-grey curly hair, and am now back to short straight hair that feels much much better. Whatever possessed me to get that dumb perm? I have to face the facts: my days of long hair are oooooovvvvver.
Walking back down the hill to the bay, I found a little restaurant that served breakfast until 2 p.m., so when I got back to the boat, after a really hard sell, I got Garett to go out for breakfast with me. We had a wonderful veggie-cheese omelet with fried potatoes and sourdough toast, but next time we'll be more careful as we suspected too late that the potatoes had been fried with bacon grease, and I tasted it for a few hours after the fact. Yucky. Our non-vegetarian friends mayn't understand but if one has never eaten meat, it's a very foreign taste, and for health reasons we don't like to ingest it at all, again as part of our efforts as Kabalarian students.
After breakfast we trekked over to Morro Rock—a huge 580-foot-tall "rock" that is the result of volcanic activities 26 million years ago (give or take a million). We had been told this was a favorite bird-watching site, and sure enough we found Bob with his telescope set up, watching for Peregrine Falcons. Bob very generously invited us to peer through his telescope at a Red Tailed Hawk that had nestled high up on a perch and happily educated us on his favorite birds (raptors, but still birds). He informed us that the Peregreine Falcons "reign" on this rock and they chase out the much bigger Red Tailed Hawks as soon as they spot them. Peregrines, he told us, are the fastest living creature, and have been clocked at speeds of 246 mph. The female is bigger then the male by a third. Eventually, we saw the Peregrine Falcons, and Bob adjusted his scope to their nesting spot, a "hole" high up in the rocks, where the male had landed. Their prey is sea and shore birds which are sometimes bigger than they are. Peregrine Falcons are very small in comparison to our familiar Bald Eagle (only 2 lbs weight versus the Bald Eagle's 7-10 lbs), but very powerful.
It is now Sunday October 1st, and we are getting ready to motor over to the sand dunes that form the outer barrier for this bay. We also have to stock up on produce and a few staples today, so we've got a lot of walking ahead of us. Our next stop will be Santa Barbara in about a week to meet up with our friends, Helvan and Judy Tracey.
We were graced with another beautiful sunset on our second night at Morro Bay. Gee, it's a nice rock.