Wednesday November 1, 2006
After finding out where the showers were on shore Carllie wanted to do some writing so I went on a little solo shore expedition to hike some of the trails around Avalon.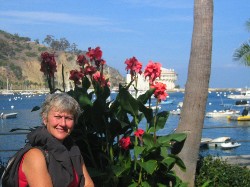 Hibiscus shrubs abound in southern California.
This is at Avalon, Santa Catalina Island.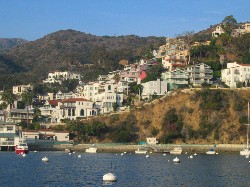 Mega expensive homes on Avalon's waterfront.
I eventually found a trail map and went on a little 6 mile jaunt up the ridge above Avalon and got some great views of the town: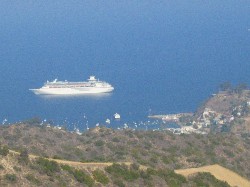 Cruise ships stop at Avalon twice a week, and
passengers come ashore in the ships' boats.
Along the trail I did come across what I believe was a mule deer: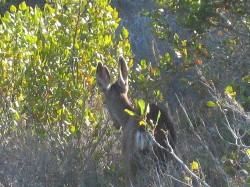 Catalina Island is again very arid and the trail is surrounded by small bush and a lot of cactus. Because of the danger of fire, there are numerous 40-yard wide fire breaks cutting up the island. It would have been fun making these in a D9 Caterpillar bulldozer. The centre of the island is used for ranching.
I eventually came down off the ridge and made my way through the Wrigley Botanical Gardens. It had displays of all the different trees of the island as well as about 30 different types of cactus. The Wrigley family owned the whole island at one time. This is the same Wrigley family as in the gum and who owned the Chicago White Sox who played at Wrigley Field. Wrigley brought the team here for their training camps, thus bringing the island to the attention of the populace and improving his property sale value. The Wrigley family still has a significant presence in the community.
I was getting a little bushed form the walk on the final road back to town and was offered a lift by a colorful character on one of the hundreds of golf carts that run amok on the island and are apparently the preferred mode of transportation. His name was Ken and he is a Vietnam War vet who lives on the island.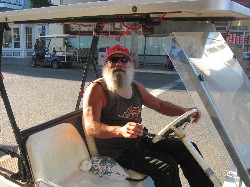 Property is ridiculously expensive here. Very small former summer cottages built back in the 40's sell for almost $1 million. They are on 30 foot wide lots with about 2 feet between the houses. It is a place for the very wealthy but still there are about 2,000 people that work in the hotel and restaurant service industry that somehow find places to live.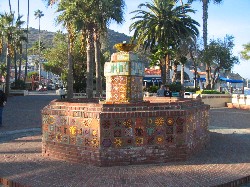 Thursday November 2, 2006
Today I worked on getting a web site update ready while it was Carllie's turn to do a little sightseeing. She went up the hillside and visited the former house of the writer, Zane Grey, who was a famous western writer before Louis L'Amour came along. The house has been preserved in its original design–multiple bedrooms off the front lounging area, a swimming pool in a beautiful courtyard, and service buildings in the same design behind the courtyard –and is now a hotel. As it would be in a house built in 1928, the bathrooms are shared. Prices depend on the location of the bedroom–with a view or interior.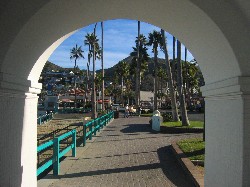 View from front patio at Zane Grey Hotel, which
used to be a summer home of this great early 20th Century
writer of Western novels.
Courtyard pool at Zane Grey Hotel.

View down beach sidewalk through arches,
at Avalon.
The previous night a big power yacht was assigned to the mooring ball next to us by the harbor patrol. We got to know the owner, John,who gave us a lot of good advice about Mexico and helped us to consolidate our plans of going to La Paz. Again to show you how expensive it is here, if you wanted to buy one of the mooring buoys that we were tied to at $23 per day, you can buy one for only $250,000 US after being on the waiting list for seven years!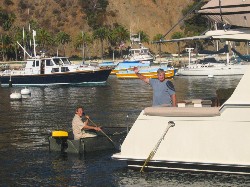 Garett visiting with our new friend John Celick,
who gave us a tour of his beautiful new power yacht. John is a true sailor but
after many years in a Catalina 36, he and his wife have invested in a
beautiful Offshore yacht. John also gave us some great advice about the
Baja Peninsula and La Paz area.
At 5 pm we cast off from our mooring ball and headed out for our overnight leg to San Diego. The winds were light and we motored through the light swell. We did come across some huge ships that were all lit up and appeared to be moored or stationary about 10 miles off the coast. We couldn't figure out what they were doing, possibly something to do with ocean research. We also came across a fleet of about 10 fishing boats which had nets out behind them for about 1 mile which was a little unnerving as you had to identify the small light at the end of the net with the correct fish boat.
Friday November 3, 2006
We approached San Diego just after dawn under a grey overcast sky. San Diego has a huge naval base and outside the harbor there were half-dozen warships conducting maneuvers. These boats are ominous looking in their battleship grey. It seems like such a waste to have all this human energy and resources put into building and operating these weapons of mass destruction and suffering.
At 10 am we tied up at the transient area at the police dock on Shelter Island to see if they had any space. We were pretty optimistic that there would be lots of room since the 180 boats of the Baja Ha-Ha race rally had already left three days ago. It turns out that they were all full and the closest thing they could recommend was Glorietta Bay about 6 miles away where we could anchor but where there was no shore access.
I spotted our friends Ken and Wendy Squirrell on their Priveledge 42 catamaran, Cop Out, who had already been at the police dock for a couple of days. Ken said that another catamaran from Canada, Ebenezer, was just about to leave (11 am check out time) and they hadn't yet advised the harbormaster. With this stroke of good luck I went back to the harbormaster and asked if we could have their space. Dock master, Emily, managed to squeeze us in so we now had a home base for San Diego.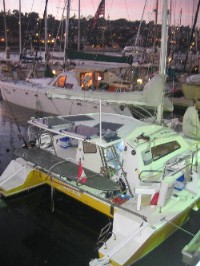 Light Wave with Cop Out in front of us!
When we had the boat safely tied up we tried to see if we could get the special Enterprise Car Rental weekend price of $19 per day for three days. They said they were all booked up but to call at 4 pm to see if there were any cancellations.
The police dock is about 2 miles from all the marine stores and grocery stores so we went for our first of many walks along the beautiful Shelter Island waterfront to the shopping area.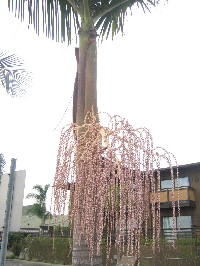 This is the flower on a palm tree.
After picking up our new "boat cards" and mail package at Downwind Marine, we ended up at the biggest West Marine store in the USA and in fact in the World as West Marine is thus far limited to the USA and Canada. It wasn't quite as big as a Home Depot but close, with a very big parking lot that was often almost full to capacity. We bought a few things and again called the Enterprise people and plead with them. They were able to get us a van which was great and actually delivered the van to us at West Marine We had now wheels!.
We got back to the police dock at 6 pm and were planning to start our 3 day shopping frenzy by going to Costco when Ken and Wendy who were now right next to us at the dock convinced us it was too late to go to Costco and that we should come visit with them. We took their advice and joined them on their huge catamaran. We had lots of fun talking, eating, and trying to get his weather fax and wireless card working until almost midnight.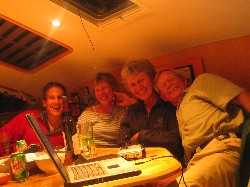 Aboard Cop Out with Ken and Wendy Squirrell.
Saturday November 4 to Monday November 6, 2006
The next three days were a bit of a blur as we did a whirlwind of shopping for food, computer parts, fishing gear, snorkel stuff, etc.

Whozat? I knew a big mouth would come in handy! -C.
San Diego is a very nice city and right behind Santa Barbara as our two favorite US cities. We did a lot of driving on the excellent but big highway system (6 lanes in each direction in many places). We even managed to fit in a squash game at the San Diego Squash Club.
We returned the car with 5 minutes to spare late Monday afternoon. The thirty boats at the police dock were a real mix of nationalities, many Canadian boats, with a few US flagged ones, as well as several from France, Germany, and Sweden. Many of the European boats had just spent a year or two up in Canada and Alaska. It was a little community with everyone quite excited with the prospect of finally heading off to the warm climate of Mexico in the next short while.
We were just about to start into our boat projects when Ken and Wendy convinced us again (it wasn't really too hard) to come over to watch a movie. After we tinkered and played with their audio system for an hour we watched "Star Wars: Return of the Jedi" for the umpteenth time while we all said the famous lines before the actors said them. It never ceases to amaze Carllie and I how open cruisers are with their invitations and are so quick to take you in as friends and have you over. We are learning to do the same.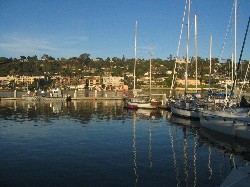 Tuesday November 7, 2006
Ken and Wendy left at dawn for Mexico and since we were without wheels we started in on a few boat projects with our recent purchases. I worked on simplifying some our head piping while Carllie cut out the fabric for our cushion slip covers.

Cutting sheeting for cushion covers on a
clean concrete pad outside the Harbor Police
office–not exactly fun in 92 degree heat!
After a nice walk along the seaside another warm and beautiful day was over. Because of the light Santa Ana winds off the desert it reached 92 degrees but it was a dry heat.
Wednesday November 8, 2006

Artistic entrance at one of San Diego's
waterfront hotels.
Our plan was to leave tonight for Mexico so we woke up at 6 am so that we could take the bus and trolley to downtown to get our Mexican tourist cards from the Mexican Consulate, fishing licenses from the Mexican Dept of Fisheries for the boat and ourselves, clear out through US Customs, photocopy passports and other papers, buy some more seasickness remedies, and the list went on.
On the bus ride Carllie and I were talking over our recent Spanish lesson and comparing some of the words to French words when we struck up a conversation with a visitor from France who was here on a business trip to a convention. We took a picture of Lucien and he took a picture of us. Hopefully he will send us an email so we can keep in touch.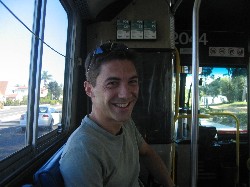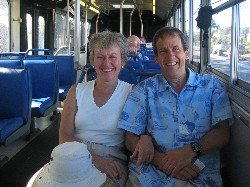 We walked from office to office and finally ended up at the cruise ship terminal at the cruise ship dock.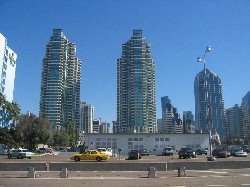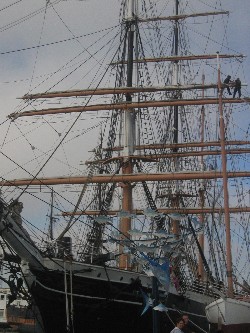 Tall Ship anchored at downtown San Diego. This one
actually does take people out using all of its sails.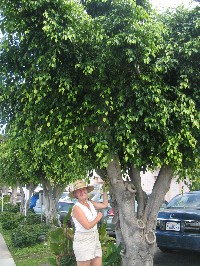 Thinkng of how touchy Ficus Benjamina
plants are at home, we took this pic of a
prolifically leafing Ficus in downtown
San Diego. -C.
By 4 pm and 10+ miles of walking we were exhausted but we were still not quite home yet. We started out on the final 2 mile walk to the boat from the West Marine store. Half-way back while trudging along, another American cruiser Joseph offered us a lift. He felt sorry for us and our weary walking as he drove by.
We got back just in time to take the boat to the fuel dock before closing. We went back to the police dock and had a 3 hour nap. At 10 pm we silently slipped our lines and headed out in the darkness towards Ensenada, Mexico, 60 miles away.
The forecast was for light winds from the southwest becoming westerly early the next morning. As we made our way out we soon realized that this was going to be an uncomfortable trip. The wind would blow from the southeast for 15 minutes, the south for 15 minutes, the southwest for 15 minutes, and then calm. These wind chop waves coupled with the 4 foot swell form the northwest created really messy sea conditions. We were only able to motor at about 3 knots so instead of arriving the next morning, it was looking like we might not even get there by dark of the next day!
Thursday November 9, 2006
Thought the sea conditions were bad, the fishing was very good. Armed with our new fishing licenses and a really good "zucchini" squid lure we did catch two skipjack tuna within two hours.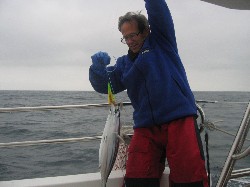 The slow conditions continued through the day and finally at 1 pm the winds finally did go to the west so we were able to sail and speed up. We arrived at Ensenada harbor with just about 30 minutes of daylight to go.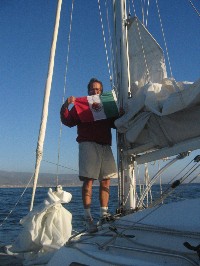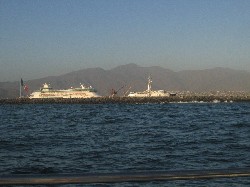 Approaching Ensenada.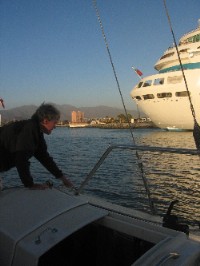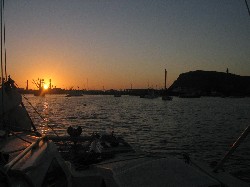 I put the dinghy together and went over and visited our friends Francois and Frederique and dropped off some of our extra tuna. They in turn gave me a map of the town and directions to customs, internet, and where best to go to shore. Ensenada has a protected harbor that many cruise ships stop at.
Friday November 10, 2006
At 9 am with all my paperwork in hand I headed into town. There was no doubt I was in a foreign country. Though I was at lesson 27 of our Pimsleur Spanish CD's I wished I was at lesson 60 (Leccion Secenta)!
I found my way to the "Centrales Immigracion" which houses customs, immigration, port captain and bank all in one building. The procedure for entering and traveling by boat through Mexico has been radically simplified even though when you read the process below you may think it hasn't but according to everyone it is now 100% better.
It used to be that you would have to check in through the three departments at each port at great expense of time and money. Now it is only required once when you go into the country and then a simple radio notification to the port captain or major marina Harbor Master at the various major ports. (Initially, this will be Cabo San Lucas and La Paz, eventually Mazatlan, Puerto Vallarta and, if we're lucky, Zahuatenajo.)
The next three hours consisted of me first going to teller #1 Immigracion who stamped our tourist cards and crew lists and sent me to the bank teller to pay my $40. Then back to Immigracion who then stamped everything again and then sent me to the Port Captain. While in the line-up who should I see next to me but the same nice fella, Joseph, who had given Carllie and I a lift in San Diego two days ago – small world. He had just motored down as well as overnight in his big 58-foot powerboat and he said the seas were really rough for him as well.
From the Port Captain I was then sent down the road to the Harbor Master so that I could pay for two nights' moorage. I found the office and paid my $10 and then returned to the Port Captain with my receipt. We had a little bit of confusion by me putting the weight of the boat as only 3 tons as they had never seen a boat that small. I wished again I had spent more time on my Spanish tapes so I could explain myself better…. We did finally sort things out and then I paid my $20 port fee..
I then was sent over to Customs where I made my application for my TIP (Temporary Importation Permit) for the boat, then back to bank teller to pay my $50 and then back to across the hall to Customs. The Customs fella then had me press a big button on what appeared to be a traffic light setup but with only two lights on it. If it went green you were free to go, if red they would come out and inspect your boat. Luckily mine was green. This system is supposed to randomize the inspections and prevent people from buying out officials to let them through.
Finally at 1 pm and three hours later I was done. It cost a total of $130 USD to check into the country. It was really lots of fun talking with the people in the lines and trying to use my limited Spanish to communicate (Buenas dias, senor. Como estas? Estudio Espanol, pero no entiendo muy bien.") I made my way back to the boat and picked up Carllie and we went back into town to exchange some money at the bank (10.75 pesos to the dollar) and then we went a little grocery shopping.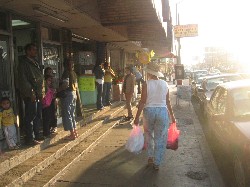 Carllie: Ensenada is my least favorite Mexican city
so far, but we did find a shop to buy some produce.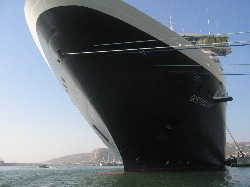 Cruise ships tie up every day at Ensenada.
We motored under the bow of this Holland America
ship on our way to get showers and do laundry.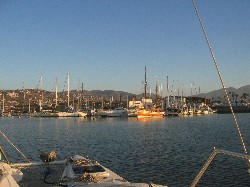 View from Light Wave into Baja Naval marina
at Ensenada.
Carllie: Twice while motoring alongside one of the hotel-sized cruiseships in our little dinghy, me with my big straw hat and both of us looking very brown, passengers gazed down at us while we yelled, "Hola! Bienvenido Mexico!" then snickered to ourselves knowing these pampered folk thought we were happy but poor Mexicans out on our little panga!
Saturday November 11, 2006
We decided to our longest leg ever of 300 miles and over three days and two nights to Bahia Tortugas (Turtle Bay) so we left at 10 am with full fuel.
The winds were light as we left and we were able to motor the ten miles that is necessary to get out of the bay at the head of which Ensenada is situated. We put out the fishing line and with an hour we caught another tuna, which we later identified as a Bonita ("bonita" means pretty in Spanish, and it is a very colorful fish).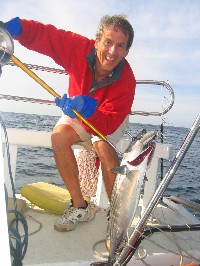 Lucky fishing! We landed this
Bonita tuna within an hour of leaving
Ensenada. Who's prettier–Garett or
the tuna?
The wind came up at noon and we able to sail at 5 or so knots for the next 12 hours. Night comes early at 5 pm (Carllie: It's like a huge pitch black stage curtain drops. One moment you are admiring the sunset, and the next its inky blackness. Good for stargazing but a little unnerving when there's no moon on a night passage) and so we went on our 3 hour watch schedule through the night. The first night seemed long but the moon came out just before midnight and then it seemed better and brighter but the wind stopped.
Sunday November 12, 2006
The sunrise was beautiful and I took a picture through the sails.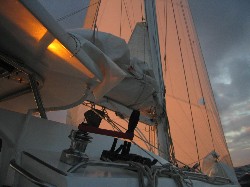 The last night watchman is rewarded with a
beautiful sunrise.
We continued to motor to noon when again the wind came up and we had another 12-hour sail. We were told that the second and third days go better and this is what we found. We continued to sail out of sight of land about 25 miles off the coast as we cut across Bahia Vincenzo.
Monday November 13, 2006
Our second night at sea did go faster and Carllie had the watch from 3 am to 6 am and dawn, when she took this picture. When I got up it seemed that we had passed into another climate zone and it all of a sudden seemed to warm up as we approached 25-mile long Cedros Island.

The power of the sun can only be truly
appreciated after a long worrisome watch
under blackened star-studded skies. -C.

Cedros Island–demarcation point for
warmer air and water.
The water temperature climbed from 68 to 74 over the next 6 hours and the daytime temperature was in the high 70's. True warmth finally! (Carllie: We left Vancouver July 22nd in 85 degree temperature, and after leaving Jedediah Island at home to this point we had not felt really warm. Things are really getting better now!!)
One thing that happened on my watch last night was that I felt something hit me in the head when I was up on the foredeck doing something with the jib. At the time I thought I was just imagining things because of over tiredness. Well on inspecting the deck in the morning we did find this little squid which had flown through the air and had actually hit me. We now watch for them and often find their little carcasses, accusing eyes still glaring.)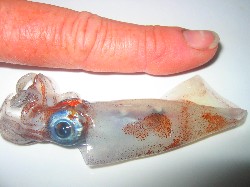 Kamikaze squid hit the deck and hapless crew
during night watches.
Our friend Gary Cross at our home marina in Richmond was right – the attack of the squids has begun! I wanted to turn him into calamari but Carllie wouldn't let me. Carllie: Gary warned us about giant squid coming to get us during any night-time swims. Don't think we'll be doing night swims anytime soon, even without Gary's fearful warning!
Garett: The wind didn't come up at noon today like the previous tow days so we motored along Cedros Island.

Colors are getting more vivid as we
travel south.
We had nothing to do and so we put the fishing line out again and this time with 30 minutes had caught a Yellow Tail (yellow fin?) Tuna.
As we approached Turtle Bay in the late afternoon we were three Mexican fishermen roared up in their panga (20 foot open boat with big high bow and 80 hp outboard). (Carllie: each village has a fishing cooperative and the fishermen share 15-20 of these sturdy craft that guzzle far less gas than the boats of their U.S. and Canadian contempoaries in the fishing industry.) As they came alongside they talked away cheerfully in Spanish but we couldn't make out what they were saying or wanting until they threw a bucket full of lobster on the boat. They didn't want "dinero" (money), they wanted to trade! We gave them two new T-shirts, a fishing lure, and a bag of pretzels. They were real happy but now we had 11 of these crawly things (lobsters!) to deal with it and we had never had that privilege before. The lobsters down here do not have claws so most of the meat is in the tails. I managed to extract the tails and now we were fully loaded with lobster and tuna. No more seafood.
Carllie: Before we left Vancouver a lady I met on the dock who had just returned from cruising in Mexico, advised me to take lots of T-Shirts, lipstick and nail polish as the Mexicans love to trade and cannot get these things easily in their country. Garett was sure I was wrong, and only very reluctantly allowed me to buy 5 T-shirts for $10 while we were in Santa Barbara. At last I was vindicated! But we don't have enough T-Shirts, so I'm going to ask our friends Korianne and Daken to bring about 20 with them, buying them at Value Village, when they come down for Christmas on Light Wave in La Paz. The design on the the T-Shirts doesn't matter–Sun Run T-Shirts, or any kind of tournament or race T-shirts would be great, size X-Large preferably.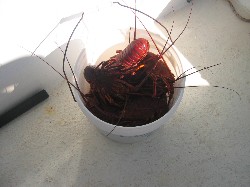 Eleven Lobsters In A Pot! Yum Yum.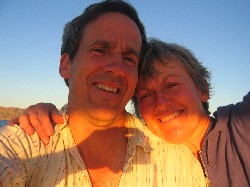 Garett: Unfortunately it was dark and we were still 5 miles away from Turtle Bay so we had to do a night entrance through the well marked channel with radar and GPS. By 6:30 pm we had our anchor down and were glowing in the accomplishment of our successful 300 mile passage.
Tuesday November 14, 2006
We moved the boat into a little more protected spot in the 3-mile-diameter Turtle Bay and again found Francois and Frederique (whom we had met first at Santa Cruz Island in California, then bumped into at the anchorage in Ensenda), whom we invited over for dinner to help us eat all the lobster.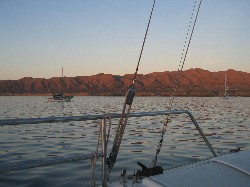 Sunset and sunrise at Turtle Bay.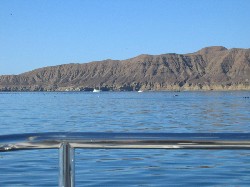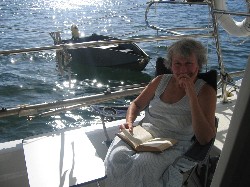 Hmm-mm! Warm weather, the music of the
lapping water, the gentle movement of the boat,
and a good book. What more do you need?
The water was a balmy 74 degrees so we went for a nice long swim off the boat. The water is very salty here which makes you veryt buoyant and you just float at the surface with your head sticking out without even paddling or kicking. Even I can swim here!
We had a great dinner with our French friends later that evening and talked about many things.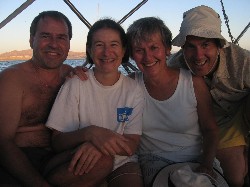 Francois and Frederique–no she doesn't
have horns.
Wednesday November 15, 2006
This morning we were surrounded by seagulls, pelicans, and sea lions as they feasted on the sardines and mackerel in the bay. We have never seen so much sea life.

California Sea Lions splashing boisterously
fishing in front of Light Wave, while
seabirds fill the air in a cacophony of
twitterings, screams and caws.
We decided to go into the town today and so we motored into the rickety dock and tied up .
Carllie: A small Mexcian boy (muchacho) asked for 9 pesos–I would call it a "protection fee"–so he would keep an eye on our dinghy. We agreed and wehn we walked off the pier onto the beach where some dinghies had landed, a hefty mucacho named Pedro demanded $1 (10 pesos) for beach "protection". We probably got the first muchacho in trouble as we told Pedro he was watching our boat for 9 pesos. The first kid wasn't there when we returned, so we couldn't pay him his 9 pesos anyway. . Almost the minute we arrived at Turtle Bay the night before, Ernesto roared up in his panga and asked us if we wanted "gasolina". The day before we left, we did use Ernesto's service and it saved us a lot of hard work for only a $3 tip; Ernesto is "no bandido", as he had said. However, within minutes of Ernesto leaving that first night, another panga roared up with two young Mexican men (los hombres Mexicanos). We thought they were going to offer us lobster again, so Garett beat them to the punch and told them, "No necessito. Tenemos muchas food–We have lots of food." Whereupon they said, "Quiremos comir! (We want to eat!)" I had just started making dinner and was seriously thinking I'd have to make enough for them too, but instead we gave them our remaining three Costco cookies, with which they were delighted. Except for Ernesto's honest fuelling service, we later found out while visiting with our new freinds (amigos Mexicanos) at Bahia Asuncion that this is bad behavior, and creates an erroneous and bad picture of Mexican people.
Garett: The town of Turtle Bay is very rundown, dusty, and really kind of depressing and has obviously seen better days before the sardine cannery closed down in 2001.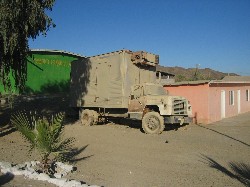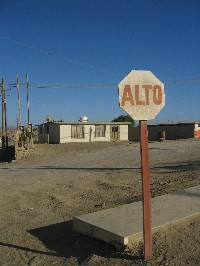 We meandered along the unnamed streets trying to find the supermercado and the panaderia (bakery). There were more of small corner auto parts stores that all other stores put together! I guess the roads are hard on the cars. We did eventually find some groceries but the bread selection was not Terra Breads but their donuts weren't too far off Tim Horton's.
Thursday November 16, 2006
We plan to leave tomorrow so I worked on writing the web site update to cover the last 15 days. I was hoping to finish it and then go to one of the internet cafés in town but I found out the connections were very slooow. And there certainly are no wireless high-speed connections that we could access with our WiFi on the boat.
We did get invited over with a whole group of other Canadians to one of the other Canadian sailboats, Gray Lag, skipper Mike, for a little lobster feed. It was good fun and we learned how to cook lobsters properly.

Lobster-fest aboard Gray Lag, Mike's monohull
sailboat. I love the chance to visit, but always
feel a little queasy on monohulls as they do
rock back and forth even at anchor, unlike our
steady, stable catamaran Light Wave.
Friday November 17, 2006
We woke up at 4:30 am to leave at 5:30 am so we would have enough daylight to make the 55-mile run to Asuncion Bay. It looked like we might be able to sail but the winds turned light so we had to motor. We were able to stay pretty close to shore and where we got some good views of the Baja desert scenery.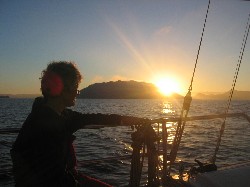 Sunrise en route to Bahia Asuncion.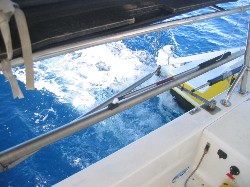 Blue blue clear water, another reward
for sailing 1,400 miles through all kinds
of waves and weather.
We had read in the November issue of Latitude 38, a sailing magazine published in San Francisco, that a former Canadian cruiser, Shari Bondy, had married a Mexican fisherman and now lived at Bahia Asuncion, and that she was very encouraging and welcoming to other cruisers to stop by. She even provided a GPS waypoint to the best anchorage spot off the cliff in front of the town. One of the cruising guide books said there were "2,000 people here with all sorts of services, gas, groceries, etc." while another book said there were "absolutely no services here". Which is it? Carllie: We found the former, and hope that Capt. John Rains corrects his cruising guide accordingly. Asuncion is head and shoulders better than Turtle Bay–for services, the good condition of the town, and for the warmth and generous willingness of the people.
Garett: We anchored right at sunset and called Shari Bondy on the radio. She was very enthusiastic about our visit even though we had never met and offered to meet on shore the next morning where she would drive us around town for fuel and water and stuff. She even invited us over to their house for birthday party dinner for a boy who was visiting by car with his family from Saskatchewan. We were honored and accepted her invitation. She even said we could bring our laundry (Carllie: and I LOVE that!).
Saturday November 17, 2006

We loaded up our dinghy with our water tanks, laundry, and fuel tanks and headed into the protected beach behind the fishing pangas anchored out. We were greeted by Shari who helped us unload our dinghy and pull it up on shore. She drove us from the east facing landing beach over a small hill to their simple small house on the westside. They have a beautiful spot on a little peninsula surrounded by water on three sides with a million dollar view to the west with a private sand beach they can walk down to. They also have a horse, three dogs, and a cat. It seems that they end up being a kind of animal shelter for abondoned animals. Carllie: Shari told us people are constantly dumping dogs,and we do find the Mexican dogs ("peros") and very distrustful and do not expect to be patted, so when you call and croon to them they look at you like you're nuts and are probably going to kick them or abuse them.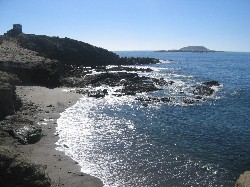 View from Shari and Juan's home in Asuncion.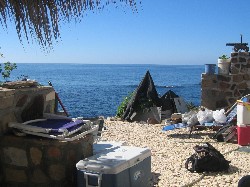 Shari Bondy and Juan Marron's backyard
with a view.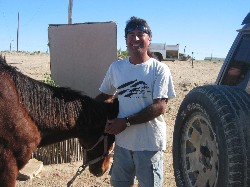 Juan Marron speaks excellent English,
and according to his wife Shari is very accomplished
at many things: music, electronics, etc.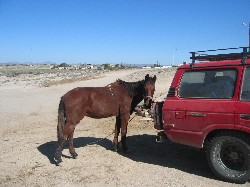 Shari and Juan's horse, Martino, thinks he's a dog,
and wants to be included in any merrymaking!

Shari and Juan have their own chickens
presided over by a watchful macho rooster.
Hey! Why can't we have chickens in Vancouver?
Shari introduced us to her husband, Juan, who speaks very good English and who is a diver fisherman for abalone, sea snails, and sea cucumber. They gave us a small tour and Carllie set out doing the laundry…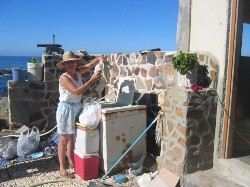 …while Juan took me town for water, fuel, and supplies. Asuncion is a much nicer place than Turtle Bay. It is clean with a nice paved road through the center town, and lots of trees and flowering shrubs planted and tended by the people, so we would definitely recommend Asuncion over Turtle Bay any day of the week. Just call "Sirena" or "Shari" off Asuncion on Ch-16 when you get close.
By the time we got back the guests were already arriving. There was the family from Saskachewan, Todd and Alicia, with their 4 children, Conner, Kaylee, Greg, and Simon (the birthday boy) who had driven down to the Baja for 2 weeks of holidays. Then there were many of Juan's relatives and their families as well as other friends. Most of these were local Mexicans with very limited English. It was very confusing with all the names so Shari lent me a white board so I could write down all the names of everyone. We had alot of fun getting each person's name down as they came onto the patio.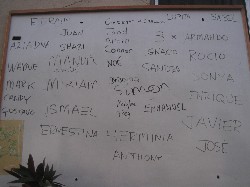 By the time the day was done we had 35 names! It was quite a party. Carllie and I tried to speak some Spanish but found it is one thing to ask for groceries and directions and another to have a conversation with someone – need more practice. Carllie: The Spanish we have learned thus far was a tremendous help to understanding our Mexican friends, however. And as the day progressed we pickd up more and more. Also, Shari helped teach us the local phrasiology and lingo.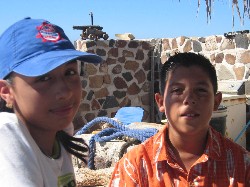 Briseyda and Noe, two teenage children of
different Mexican families related to
Juan and Shari.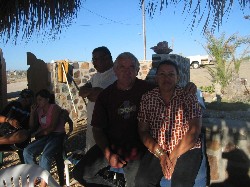 Garett: In the middle of the day Juan took a few of us down the cliffs in front of his place and into a sea cave by walking through an opening that was only four high and three of those feet had water so you were wet almost to the waist and then you ducked your head so you could squeeze through the remaining small space to get in. You then came into a big room about 20 feet by 20 feet with about 6 feet of headroom and you were in 2 feet of water. The floor was covered in groups of lobsters hiding between the rocks. You can capture these lobster by hand but it is very tricky because they really take off if you get too cloase. We managed to climb out of the cave half wet from the water walking and ducking. It was great to have Juan with his local knowledge bring us to this unique place. No pictures for this expedition because we didn't want to risk the camera.

Shari and Juan's house on a hill above a beach.
By 4 pm most people were there and then they had an authentic pinata bashing for the kids in honor of Simon's birthday. The pinata in this case a small papier mache horse stuffed wth candies. Each child is blindfolded and twirled around and then tries to break the Pinata (authentic canadian candy that was supplied by the family from Saskatchewan). It was great fun. The kids (and some adults) went wild trying to get the candy went it was finally broken open.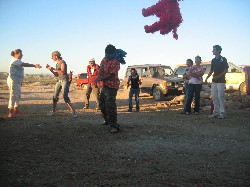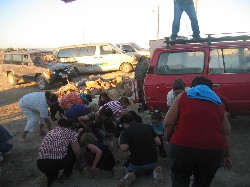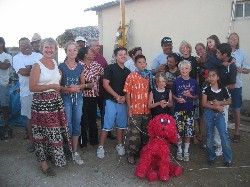 Birthday party gang. What a great place for
a party!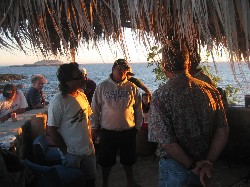 Carllie: It was great to be included in this all-day celebration as we were surrounded by people who speak no English (except for Juan and Shari), so we had to use the Spanish we have learned thus far, and we learned much more by the time we left. Shari is of course fluent in Spanish, and speaks rapidly (demaciado rapido!) with the correct lilt and intonation, just like a native Mexican.
Garett: The tradition here is that you have the birthday cake before dinner (I like this custom!) so we sang Happy Birthday in English and then Juan and his uncle Javier sang a Mexican song that is used at birthday celebrations. Carllie: This song is much prettier and has far more meaning than our traditional English song, and we hope to learn the tune and words by the time we leave Mexico, so we can sing it to our friends at home!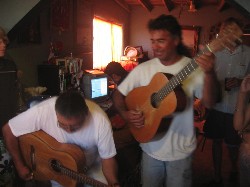 Garett: I did get it on video and hopefully will create a link to it. We than had dinner of baked yellow tuna (we found that this is the way to have it as if you barbeque it, it just dries out to much)
After dinner Juan and Javier played more music and sang. The only song that they knew that I knew was Feliz Navidad and since Christmas is only 6 weeks ago we sang it together. They are both very good musicians.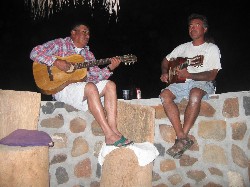 Carllie: My unselfconscious sweetie Garett was right in there singing with them, picking up the guitar and singing along at one point. I did sing "Pearly Shells" with him at one point, but not from front stage and centre!
One of their dogs, Lucy, a tiny black puppy chihahu really wanted to make its home in our packsack and come home with us. He burrowed right in as it protected from the cool evening breezes.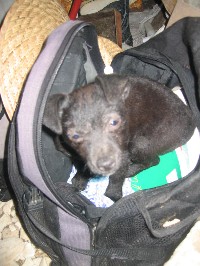 At about 10 pm the party had wound down and so Juan took us in his 4×4 back to the dinghy and we launched in the surf in the dark.
It was a really special day and we were lucky to get to know local people in such a fun way. The Mexcian people here are very responsive to humor and so it is easy to get them to laugh. We made new friends. Carllie: They especially think it's hilarious when we try to wrap our tongues around their language, but they are very inspired that we make the effort and very helpful and patient with us.
Sunday November 19, 2006
Garett: We decided to treat Juan and Shari to banana pancakes so we took the ingredients and went and visited them again this morning.

Lucy missed me. She definitely wanted to
come with us, and folks couldn't understand
why I didn't take her! Too difficult on a boat.
Plus she would have missed her doggy buddies
and the great lifestyle she has with Shari & Juan.
Before breakfast Juan and I fished for "cabrilla" (rock cod) off the rocks in front of the house but we did not have any luck so we settled for pancakes.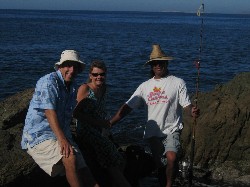 Garett with Shari and Juan in front of
their home.
After talking with Shari about her travels and whale research, they invited us to go with them to their rustic beach cabin that they rent out over in Bahia San Roque. We took the exciting gravel road for 10 miles. We now know why there are so many auto parts stores here! These roads are hard on cars. I mean really hard. After about 20 minutes we arrived at the mostly abondoned village of San Roque where 50 people used to live but now there is only handful though the fisherman leave their pangas there and drive from Asuncion daily to fish from here.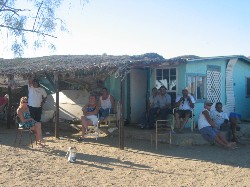 Shari's beach house at San Roque;
Juan, Carllie & Shari with some
of Juan'sfamily.

from L to R: Juan, Juan, Carllie, Shari,
Javier, Herminia, Sandra, Josephina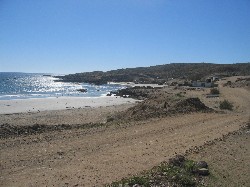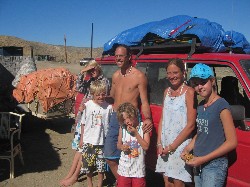 The Verbeke family from Saskatchewan
ready to leave Shari's beach house for the
rest of their holiday in Mexico.
The party was at the small beach house that Shari bought 10 years ago and lived in for 6 years with her daughter before she amried Juan. The house used to belong to Juan's family and that's how they met ten years ago even though they only got together 4 years ago. We had another barbeque with their family. The coals in the barbeque were going slowly so I suggested, "Tiennes mas gasolina" (You need more gasoline!) but we had a good laugh and fortunately they did not take my advice. Shari took Carllie and I down to the beautiful beach for a swim in the surf in the 75 degree water. Shari gave us a tour of the abandoned village and told us of all the stories of the treasure that has been found and list still hidden, and ghost slaves who were buried on top of each treasure. Evidently the Spanish pirate galleons of 300 hundred years ago used to use this bay to anchor and hid alot of stuff in the hills. It was another great day with an exicitng high speed ride back on the backroads (everything is backroads down here!). This is where you need a dune buggy!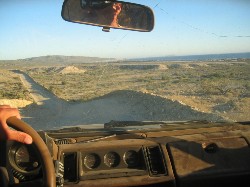 Very fast, very bumpy ride on rough
washboard like sandy road,
Juan at the wheel (Mario Andrettitino?)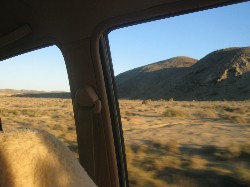 As the sun set we said our final goodbyes at their home and agreed to possibly meet at Easter next spring in Aqua Verde or Bahia Conception in the Sea of Cortez.
Monday November 20, 2006
We were tempted to stay another day and take in the festivities for today was a big holiday, Revolution Day, with a big parade and music downtown but we decided to move on and sail to Bahia Hippolito and possibly meet up again with Juan's sister, Sonya, and his brother in-law, Armando, and their children who we met on Saturday at the party.
The alarm went off at 8 am and I after I silenced it I could still hear something; it was the marching band in the parade through downtown. We heard them for an hour as they made their way through town for their annual Revolution Day celebration.
By 10 am we were ready for the 25-mile run to Hipolito and called Shari on the radio and gave our final "Aloha" good bye. The sun was out and the sea was glassy calm, the quietest and smoothest we have every seen. We motored away and just as we turned into the bay we caught a small Bonita Tuna. We found out on the weekend the better way to cook tuna is to put in tin foil so it doesn't dry out. We anchored off the small village about 200 yards off the small beach.
I got on the radio on channel 16 which is the universal frequency down here, the ultimate party line, and called using my broken spanish, "Hola Armanda, estamos Garett y Carllie , amigos de Juan y Shari, cambio." (cambio means "over" in Spanish, meaning literally "change"). A few seconds Armando came on and we switched to channel 14. He then invited us to visit him at his home. I accepted and put together the dinghy and motored through the surf to the small landing beach where I was met by his son, Armando #2. We pulled the boat up next to all the pangas and then walked over to their home. They are on the small bluff 100 feet from the ocean with a very beautiful view ("muy bonita vista") of the bay and the mountains to the east.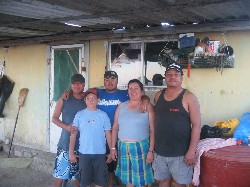 Armando with his wife Sonya
and children at Hepolito.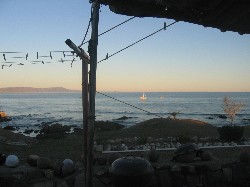 We sat under their awning and communicated with our broken English and Spanish using the little English/Spanish word book that Shari had put together for her Spanish immersion classes. Without Juan and Shari to translate it was slow going but we did talk about many things. How many people live there? 70. How big was our boat and how long did it take to build it. I explained that in Canada such a home with a view would cost at least 10,000,000 pesos, so really they are very rich people to have such a nice place to live. I explained how most people in Canada in the big cities work very hard under alot of pressure trying to pay the banks while they (Armando and Sonya) have a peaceful and tranquil life and had time to relax. (The people in these small towns have no credit cards, and no mortgages. They pay cash for what they get.) They served me coffee and biscuits. I gave Armando a T-shirt (Ahem! another one of those T-shirts he had been so reluctant to buy!) and they sent me off with three fresh cooked lobster tails that we added to our seafood dinner menu for the night. It was a great visit. I was little envious of their beautiful simple existence.
Adios Armando #1, su esposa, Sonya, y su hios, Armando #2, Enrique, y Noe!
It was a great couple of days with our new friends in Asuncion. I wonder when we will meet again.
Tuesday November 21, 2006
We decided to wake up early and do the 165 mile overnight run down to Bahia Santa Maria at Bahia Magdelena as November seens to be just flying by. We woke up at 6 am for our 7 am sunrise departure but the fishermen from Armando's village were already up checking their lobster traps.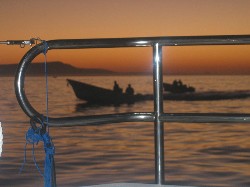 Hipolitoand pangas at sunrise.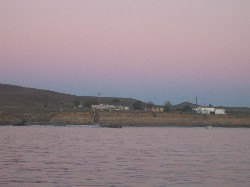 There was no wind and the sea was glassy calm again. Carllie wanted to fish again so she put out our trusty zucchini lure. Sure enough, 30 minutes later she had a strike and started pulling in the line. This fish seemed to be putting up much more of a fight than the various types of tuna we had caught, so we though it might just be a bigger tuna but it turned out to be a beautiful bright yellow fish which we think is a mahi mahi.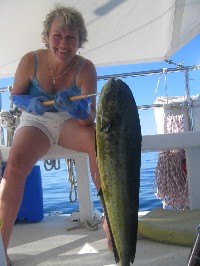 Carllie's second catch, a mahi mahi,
was bright yellow. She then immediately
caught another one, which we released.
The funny thing is that as we pulled it in there were about 100 or more mahi mahi following their snagged brother and we could see them very well in the clear blue water. Even after we landed the fish they continued to follow us for the longest time while other fish we think were tuna jumped out of the water intersecting their path. It will be nice to get a break from eating all the tuna. Carllie: I wanted to find out what these fish following us were, so I put down the lure again, and within a few minutes I had a strike and we hauled up another bright yellow mahi mahi. Garett removed the hook (not easy with a struggling fish) and we released one very relieved fish to live out his life until he retires to the gated community, Fish Close, where he will have no kids to worry about, and lots of pretty mahi mahi to meet and serve him.
Garett: We got four nice fillets out of it for dinner for the next few days. With the lack of motion on the boat we could go out to the front of the boat and Carllie worked on her spanish reading. We are really tring to work on our spanish and use phrases throughout the day. We heard from Shari that there have been studies which have apparently shown that learning a new language can prevent or at least substantially retard Alzheimer's. Learning another language truly is a brain-sharpening and stimulating experience.

Carllie enjoying the warm weather–at last!–studying
Spanish while under way on the first day to Mag Bay.
By 3:00 in the afternoon it was in the mid 80's so we stopped the motor and went for our first mid-ocean /out-of-sight of land swim (40 miles from land). The water was 78 and a beautiful deep blue and it seemed you look could down into the water for ever, and time keeps moving on.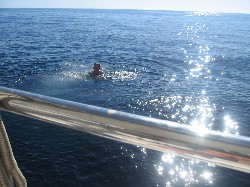 Swimming off the boat, 40 miles out, allowed
for a carefree clothes-less dunk, followed by
a great fresh-water shower and shampoo on
the transom. Ahh, the small joys of cruising!
Finally at sunset a little wind came up and we were able to sail until midnight. With the water now at 78 degrees the air temperature stayed at 75 though the night. It is very balmy but the with the clear nights their is alot of dew on the boat.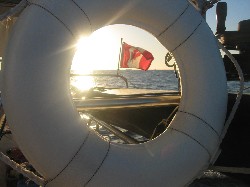 Canadians cruising the Baja!
Wednesday November 22, 2006
We motored through the early morning and all through the day. At 7 am sunrise we still had 50 miles to go to Bahia Santa Maria which is just before Mag Bay and it was looking good for us to make it by sunset at 6 pm.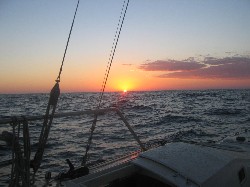 For the last 24 hours we have been out of sight of land and so it was welcome relief when we saw Punta (Cape) San Lazaro at 2 pm. Just as we entered the bay the wind finally did come up and we motored into the protected bay and anchored about a half mile from the beach among a half-dozen other cruising sailboats. Since about noon today felt the big south swell that was being generated by tropical storm Sergio (downgraded from Hurricane Sergio) that was about 500 miles to the south of us. The swells were far apart so it really didn't rock the boat.
As we entered the bay we saw for the first time schools of flying fish. There is also a new sea bird we started to see. It is black with a big wind span and forked tail that sticks out. We have not been able to get close enough to get a good picture of it. They swoop down and try to catch the fish when they jump into the air. Supposedly as you sail farther south the flying fish use your deck at night as an impromptu landing strip so that when you wake up you can fry them up for breakfast! We'll see.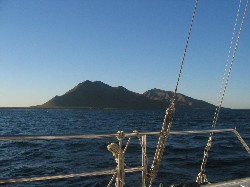 Thursday November 23, 2006
We slept in a bit as these overnight passages do take a little out of us so we got a late start and only left at 11 am. Our objective was to sail 15 miles south to the entrance to Mag Bay and then back track 15 miles inside the bay to the north and make our way to the town of San Carlos where we can get some fuel, water and groceries as we were down to our last 15 litres of gas. The barrier islands to Mag Bay are quite dramatic. We did toy with the idea of just heading off for the final leg to Cabo but we decided not to because the 36 hour leg would get us into there after dark and though there winds right now if they died it could be a long trip with no fuel!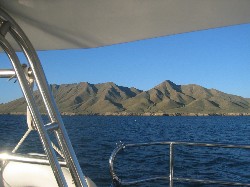 We sailed down towards Punta Entrada as we finally had some wind after several windless days. When we entered Mag Bay we realized the tide was going down and there was quite a bit of current coming out so we were only making about 2 knots over the ground. We realized we would not make our stop at Puerto Magdelena and so we had to took into only a partial sheltered anchorage at Belcher Point. It was a little rolly but not that bad.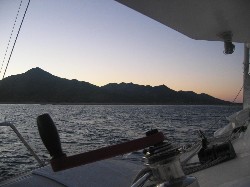 Friday November 24, 2006
We woke up early so we could cover the final 13 miles to the town of San Carlos with our remaining 8 litres of gas.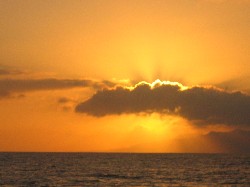 We followed the deep water channel most of the way but took a short cut over the shoals with only 6 feet of water under us but cut out an hour from the trip. Carllie did catch another small tuna which will be perfect for dinner. When we arrived at the big dock and mole, the wind had come up and there was no real protection. The dock is for big fishing boats as well as a huge fuel unloading dock for tankers that supply the oil-powered electrical generating plant 5 miles away.
We anchored off in a marginal spot and then managed to put the dinghy together and get ourselves into it in the rough 2 foot chop and made out way to boat launching ramp (the end of the mole) that was wide open to the waves. We didn't think that we would be doing a beach landing so we brought our regular walking shoes instead of our reef runners so we got a little wet. (Carllie: a little wet? our shoes were totally soaked, and the salt is such high content in this water we had to soak them in fresh water afterwards or they would never have dried.)
We got some directions and started walking with our empty fuel tanks the mile to the Pemex station (Mexico has only one fuel company: Pemex). About half way there a fella whom we had briefly met at the launch ramp gave us a lift . His name was Enrique and he offered to take us to the Pemex and then take us to the boat. Again through a combination of broken English and Spanish, plus using Shari Bondy's great little booklet and the other Spanish for Cruisers book we brought along, we did communicate. We filled our fuel tanks but we still had to fill our water tanks which were at the boat so we asked if we could pay him for a lift to the boat and back to town for water and food.
Carllie: Invariably, our new Mexican friends will ask us, "Tiene ninos?" meaning, Do you have children? When we smile and say, "No, no tengo ninos," they are totally nonplussed and think there must be something physically wrong with one of us (which there isn't, rest assured). So, we have decided that the next time we are asked this question, we will say, "No, no tengo ninos. So savemos como (which means "No, we don't have children. We don't know how." We will then wait two seconds for the shocked expression to appear, and Garett will laugh and say, "Estoy solo bromeando!" (I'm only joking.) This way we will "take them off the hook" so that they will know our hearts are not broken because we are child-less, and in fact we are quite happy with our status.
Garett: We loaded the dinghy with all the fuel and I took it back to the boat while Carllie talked with Enrique. The book, Spanish for Cruiser's, we have is very useful and we and our new Mexican friends can point to things and we can get by. (Carllie: Enrique and I had a nice little chat, and I taught him how to pronounce certain English words while he taught me some new Spanish expressions. In the space of 10 minutes he found out my age and that "No, we don't have any children." His questions weren't intrusive, however. I felt no self-consciousness whatsoever in admitting to him that I am 39 years old.) In 10 minutes I was back so we went back and got some more "gasolina" and then we went to the "centro de agua purificada" where they have these big reverse osmosis machines to produce good water for everyone in the town. (Carllie: All Mexican towns have these agua purificada centres as they too need clean water to drink.) After water we made a quick stop at a grocery store for some fruit and veggies and then Enrique took us back to the dinghy. We got a lot done only because of his help in just 2 hours. Thank you Enrique! Con mucho gusto! Tu es una buena onda!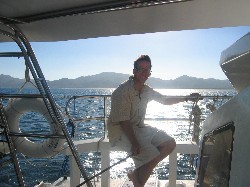 Captain Garett at the helm leaving
Bahia Man O War in Magdalena Bay.
We loaded up the dinghy with 10 gallons of water, 5 gallons of fuel, groceries, and ourselves and had an interesting trip back through the "olas grandes" (big waves). We weighed anchor and then were able to sail for an hour or so downwind to a nice spot off a sand spit which will protect us from the northwest winds. We will stay here two nights and then leave here on Sunday for the 170 mile run to Cabo San Lucas.
We are now 1500 miles from Vancouver and it has taken us 4 months. On one hand it seems like a long time but on the other hand it seems like just one long day and we can clearly remember everyone on the dock as we cast off from River Rock Casino in Richmond on July 22.
Carllie: Next time we do this trip, we are going to go 100 miles offshore and sail straight down to Santa Barbara, then visit our favorite spots in the Channel Islands again (San Miguel Island, Cat Harbor on Santa Catalina), and if they are still living here, Helvan and Judy Tracey at Channel Harbour Marina. We will however, skip Marina Del Ray (Santa Monica, Venice and Los Angeles) and Avalon, from which we got some seriously bad vibes.
Saturday November 25, 2006
Garett: Today was a full rest day in preparation for our trip to Cabo San Lucas. We hadn't gone for a run in about 4 weeks so we took our running shoes as well as our brand new snorkeling gear to the beach. There was another boat about a 100 yards from us but he left at around 11 am so we had the whole bay and the beach to ourselves other than the odd panga zipping by on their way from Puerta Magdelena village to the won of San Carlos with 5,000 people.
Carllie: This beach was as beautiful as Cuyler Cove at San Miguel Island–beautiful white silky sand and clear turquoise blue water.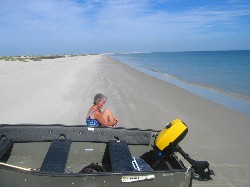 Carllie putting on snorkelling fins, sits
on the other side of the dinghy (launchita!).
This is a weird picture. We've spray-
painted our 2-stroke Mercury outboard
yellow so it's less desirable to steal, and
very identifiable.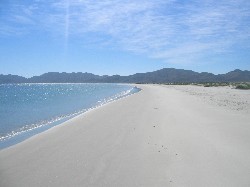 The beautiful beach at Bahia Man O War,
in Magdalena Bay, where Carllie and
Garett learned to snorkel in No. 1 conditions.
Garett: We motored in the dinghy to the beach and realized it was much further away than we thought (about a half-mile) so we agreed that later we would move the boat closer to the beach for more protection. The beach was beautiful sand and the water was 77 degrees. We ran for about 20 minutes on the firm sand until we were adequately tired after our lack of exercise for the last month. (Carllie: There are not a lot of places to run in dusty little Mexican towns, and it's so hot by the time we get going, there's also not much inclination. So far, we have seen nada zero zippo runners in Mexico!)
We then dawned our snorkel gear and went out into about three feet of water. I had never done this before and was a little apprensive. The first time that I put my head in the water and tried to breathe through the snorkel I could feel the anxiety build. It did not feel good. I tried to relax and make sure I was breathing all the way out and then all the way in, the way my great Free Diving book tells you. For about 20 minutes we zigged up and down in the shore getting used to the sensation and the newness of the experience. We gradually felt more at ease and then tried to experiment "free diving" to "4 feet" and then coming up to the surface and blowing out the water out of our snorkel. We then tried to do summersaults in the water. Time passed quickly and soon we had been in the water for almost an hour and half having a great time. We both agreed afterwards that our first snorkelwas one of the highlight of the trip.
Carllie: I also felt some apprehension before putting my face in the water, but I had made up my mind beforehand not to let the thought register, so when we got into that lovely warm clear turqoise blue water, which was as Garett has said, so shallow in any case, I just pulled on my face mask, started breathing through my mouth as instructed, relaxed down, and put my face in the water and kept breathing as I stroked away with my fins. It was a beautiful, relaxing experience. I was very surprised to see Garett struggling a bit with it when I came back to him, and felt bad that we hadn't discussed it before "taking the plunge". Garett is, in our family, always the leader and the bravest. He's the one who navigates our vessel past all kinds of trecherous coastline, and he's the one who stayed up 36 hours straight while I was deathly ill on the Oregon Coast, steering us safely past Cape Blanco in a roaring gale. But everyone has their sensitive areas, and I should have remembered that swimming is not one of Garett's strong points, although he does it in Kalamalka Lake back home in B.C. happily enough. Anyway, from then on, we swam together, and we realized that while snorkelling we should always "buddy swim" as we are novices and unexpected challenges may occur.
As Michael Baker had told Garett back at Halfmoon Bay, half of the joy of cruising the Baja Peninsula and the Sea of Cortez is under the water. Even though we only saw a few tiny little fishes in this first experience snorkelling in shallow water, we now know what he was talking about. Snorkelling in warm ocean water that is as salty, thus buoyant, as this, is a very beautiful, relaxing experience. It is very very quiet under the water, and very peaceful. The experience has given me a new mental picture to draw on when I want to visualize and create peace.
Garett: We had fresh water showers and then while Carllie was baking some bread some fellas in their panga came by from the village about 2 miles away and offered us some prawns, and we offered 2 t-shirts (Carllie: Ahem! T-shirts again. And now we have none!) and we had a deal (they wanted 3 cervecas (beers)) but we told then 'no bebemos cervecas o tequila' (we don't drink beer or tequila). Carllie: These Mexican guys usually want cervecas, and we actually considered buying some to barter with, but decided against it as to do so would be just "Not us."
Garett: With our trade for the prawns our dinner plans changed from beets and squash to prawns and salad. (What a choice!)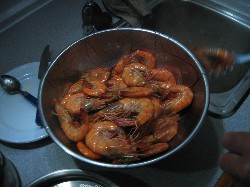 We traded 2 T-shirts for about 50 huge
prawns, which gave us dinner that
night, and fried rice and flash-fried prawns the next.
We were a little sad to realize that we would be saying goodbye to our latest home in Man of War Bay tomorrow morning. (Carllie: as this had to be the most beautiful alone-in-nature experience of our whole trip.)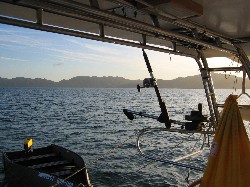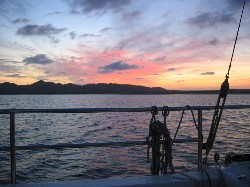 Our last, beautiful, sunset at Bahia Man O War
after our exciting introduction to snorkelling.
Sunday November 26, 2006
We woke up at 6 am and were off at sunrise at 7 am. We actually had clouds this morning with about 15 minutes of "sprinkles". This is a term we hear on the weather broadcasts down here. It is not quite a shower.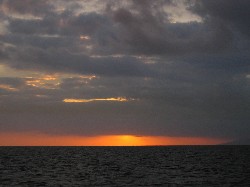 Sun rises as we prepare to leave
the huge Magdalena Bay.
We were able to sail right from the time we had the anchor up all the way out the entrance to Mag Bay. We had to motor for a few hours in the middle of the day but we were sailing again by 3 pm as we said good bye to the barrier islands of Mag Bay.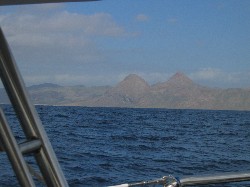 It was good to be sailing again as the we had motored for over 200 miles since Turtle Bay.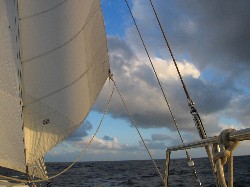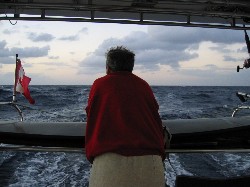 The winds carried right through the evening and we were expecting them to die around midnight which had been the pattern on other nights earlier on the Baja. This night turned out to be different as the wind even picked up a little and we sailed with just the screecher doing 5 to 6 knots.
Monday November 27, 2006
As dawn broke the long night, the winds started to pick up in the final 30 miles to Cabo because it is such a major headland.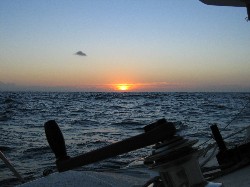 The waves got bigger and steeper as the winds rose to about 25 knots. We were doing 7 to 9 knots, the fastest we've sailed since Oregon.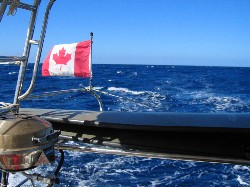 Los Canadiense esta aqui! Los Canadiense esta aqui!
The Canadians are here! The Canadians are here!
Finally, Cabo San Lucas came into view with its famous land's end arch and rocks. They do almost look surreal like they are a CGI animation because of their vivid contrast against the deep blue of the water and sky.

The guarding rocks at Cabo San Lucas,
where we snorkelled inside the next day.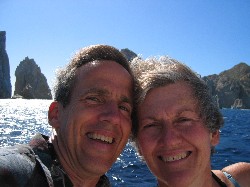 Numbed and relieved after a long night's
watches on the dark dark sea with big
swells surfing us down and back up,
we are exhausted but elated to finally
reach the southeast tip of North America.
Marina space is prohibitively expensive in Cabo (if you can find a spot) (our boat would be $150 per night!) as most are taken by the exclusive sportfishing fleet based here. By the way today was the only day since we have been in Mexico that we haven't caught a fish. We motored along the beach until we could find a nice spot to anchor for free. (Carllie: One of the best things about friendly Mexico is that we aren't forced to pay moorage fees every single night. Tsk tsk! These "Third World Countries"! Just don't know how to charge for blowing your nose like "First World Countries" do. Where do these arrogant expressions come from anyhow? These "backward" Third World Countries seem to have a lot more happy people than our country does!)

Nestled in–to a free anchorage!
Cabo San Lucas at last.
Garett: After having a litle rest we went ashore. The dinghy dock was only 33 pesos ($3.30) which was cheap to tie up. We easily found the gas station and the grocery store and then we did some stolling along before we found a good place for a celebration dinner. We liked Cabo and though it is a little touristy it still had quite a bot of charm.

Our first dinner out in a long time–at a
friendly little outside restaurant in Cabo San Lucas,
where we were also serendaded by Juan for
a whole dollar.-C.
Well Cabo San Lucas now marks the southernmost point we will go for several months as we will now head up the Sea of Cortez side of the Baja and make our way up to La Paz which will be our home base for the next while as various people come down to visit through Christmas and January.
We have 140 miles to go to La Paz, so after a rest day tomorrow, we will head north. (Carllie: We hope we will make it, as "Northers" blow regulalry we may only do a day every week, so we should get there by December 23rd, to meet our wonderful amigos Canadienses, Korianne and Daken Ariel!)
Tuesday November 28, 2006
Garett: Today was a rest day here in Cabo. It seemed restful in the morning but by noon the bay was being crisscrossed by dozens and dozens of personal water craft, jet skis, pangas, deep sea fish boats, cruise ships, and parasail boats. It actually gets kind of rough with all their waves. A couple of friends Richard and Margaret from another sailboat said they were going snorkeling over at Lover's Cove, the famous walk-through beach and arch that has been photographed so many times and is the landmark of Cabo San Lucas. We took our dinghy and made our way very slowly across the 1 mile bay to the beach.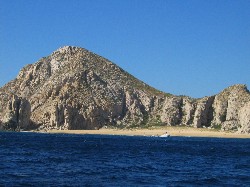 Lovers Cove at Cabo San Lucas. Next day we snorkelled here
with throngs of people from Cruise Ships, and amid big waves
stirred up by pangas dropping them off. Good practise!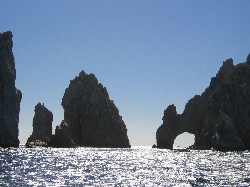 The fabulous rock formations just before
Lovers Cove.
Unfortunately, we didn't take any close-up photos of this fabulous beach as we knew we would be snorkeling and had no place to securely leave our camera.
This beach was far different than the one at Magdalena Bay that we went snorkeling because there were so many people; however the granite rock formations and sand on the beach were breathtaking. We spoke later to someone who was here in the early '80's and back then there were only 2 people on the whole beach. He compared the town of then to dusty Turtle Bay which we visited a couple of weeks ago. It is hard to believe it when you see how big Cabo is with the hotels, resorts, and condos. (Carllie: Big and tacky.)
The snorkeling here was quite different as the beach was flat for about 30 feet from the shore to about 6 feet deep but it then dropped off into this dark abyss. As we went out towards the edge we came across our first schools of underwater fish. It looked like we were in my friends', Casey and Amandah's, aquarium back in Vancouver. We stayed in the shallower water and practiced our technique of trying to dive the 4 feet to the bottom but realized we would have to practice more to develop the proper coordination.
Carllie: The most important thing about snorkeling is exhaling forcefully, to ensure all of the used air is pushed out and you breathe in fresh air. Otherwise, your snorkel tube gets filled with used air and you get less and less oxygen, resulting eventually in lightheadness and making mistakes. Plus before you dive you have to breathe in and out forcefully three times; then you have to be ready to hold your nose and breathe out to pressurize your ears. That's where the coordination comes in as the tendency when you "jackknife" to go down is to use your arms to swim instead of holding them at your sides and propelling yourself with your fins, the correct method. If you are "swimming" with your arms you can't hold your nose to pressurize your head… Eventually we will get it. It's great fun anyway. We saw lots of interesting and some colorful fish in this spot off Lover's Cove and planned to come back the next day to a spot just south of the heavily populated area where we could have beached our "pangatina" and had some peace and privacy for practice. But that didn't work out as we had to take off hurriedly the next morning, as you will read next.
Wednesday November 29, 2006
Garett: We woke up early to check the weather and winds to see if we were going to be able to do the first of the three one day legs back north up La Paz. It looked good for light winds for today but very windy the next day so we decided to go for it. Within 20 minutes of deciding we had the dinghy put away and the anchor up and we were off.

Posh, elegant megayachts shared our busy anchorage at
Cabo San Lucas. We weren't invited aboard! Wonder why?
We motored east along the southern Baja coast past all these posh private homes, condos, and resort hotels. Many of them were built right down to the water's edge. We couldn't figure how they would survive one of the hurricanes which do direct hits on the Cabo coast from time time.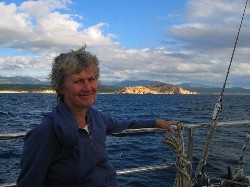 About 2 hours out of Cabo San Lucas, on the way to
Los Frailes.
After about 20 miles the development thinned out to just the odd home and village. As the coastline rounded north the mountains came close to the shore and there was quite a bit of green as well. We later found out this was because of all the rain they had in the summer when a couple of hurricanes passed nearby.
By 4 pm we were getting close to the anchorage at Los Frailes ("Fry-Lais") and we could see about 6 boats there including our friend Ken (his wife, Wendy, had gone back to Canada because her daughter had just had a baby) on his catamaran, Cop Out (did we tell you Ken is a retired policeman?). As we approached he said that the other catamaran, Rhumb Line, was having a movie night and snacks in about an hour. We quickly anchored and went over for a visit. All the people (12) from the other boats in the anchorage were invited. Mick and Joyce's catamaran, Rhumb Line, is huge at 50 feet long and 30 feet wide. We had great snacks and stuff but there was problem playing the DVD of first choice and second movie choice wasn't our cup of tea so we said goodbye and thanked our host and headed back to Light Wave.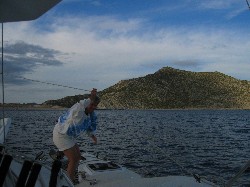 Getting ready to drop anchor at Los Frailes.
Thursday November 30, 2006
The forecasted strong winds for today did come up quite quickly in the morning and by noon they were at 25 to 30 knots and so we were all forced to stay on our boats as the wind strafed the whole anchorage. Even though it was a clear blue skies, as soon as the wind picks here in the desert of the Baja it turns into a dusty haze over the hills and looks almost like the fog of the Oregon coast.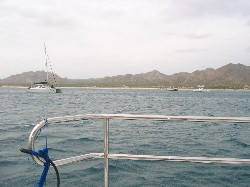 A lull in the strong north winds at Los Frailes.
With the wind howling in the rigging, we (and everyone else in the anchorage) spent the day reading and snoozing and stuff as there was no Internet connection in the bay and going ashore wasn't feasible.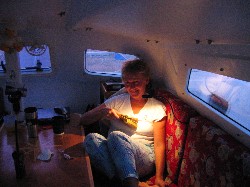 Nothing to do on such a windy day at anchor than read, sleep
eat, read, sleep. Not good for the waistline!
By the 6 pm sunset all six boats in the anchorage had talked on the radio and worked out a schedule of anchor watches so we could take turns checking on each other's boats through the night.