Thursday May 1, 2008
Garett: We walked over to Hulopo'e beach for one last swim and body "whumping." The waves had abated somewhat and so it wasn't quite as wild as yesterday. We still had had some interesting tumbles. Casey's head over heels was particularly impressive.
As I write this web update I can still see the big waves curling over my head and the waves tumbling me into a soggy wet rag.
We decided that the swell had gone down enough for us to leave the harbor and by the time we got back to the boat. Kim and Scott had left so it made it much easier to retrieve our 2 anchors and 3 shore lines. We did donuts in the harbor while we put everything away and then went full speed out of the harbor and hoped for small swells as we made the immediate right turn out of the harbor. Just as we came to the turning point the engine started to falter! Yikes! Not good! I yelled out to Casey who was at the bow to get the anchor ready in case the engine completely stopped, then I pulled back on the throttle and jiggled it a bit and somehow kept going as we motored through the 6 foot swells at the entrance. Phew! That was way too close. It was not a good place to lose the engine as the waves would have quickly thrown us on the rocky shore that was only 150 feet away. When we later got to Lahaina we checked the fuel filter and sure enough it was plugged so we replaced it.
On our way out of the bay, we saw the resident pod of spinner dolphins, and Carllie actually saw one fly out of the water and spin on its tail.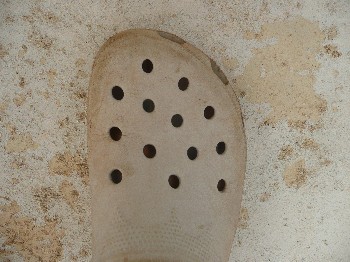 When you wear Crocs as much as Garett
has for the last 8 months you get
some interesting tan marks on your feet….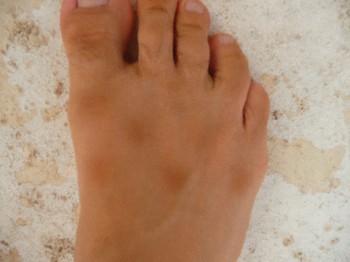 Note the matching hole pattern….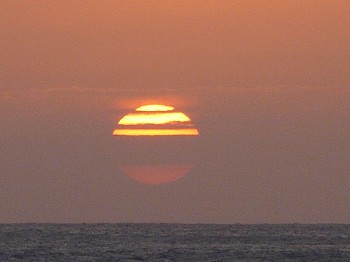 Sunset back in Lahaina.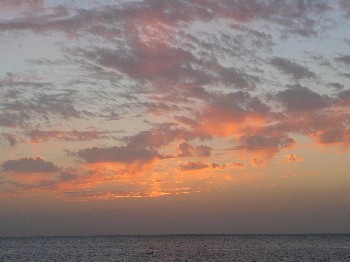 Friday May 2, 2008
Garett: Today we motored back to Black Rock for our last snorkeling experience with Casey and Amandah.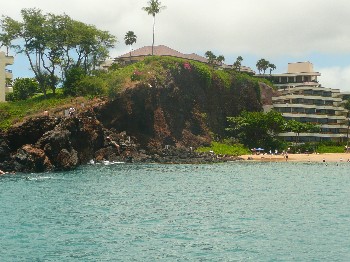 Snorkeling at Black Rock on the Kanapali
Coast just north of our anchorage
here at Lahaina, where we again saw
beautiful coral, many colorful tropical
reef fish, and one big green sea turtle
that Amandah promptly chased full
speed in my borrowed wet suit,
and succeeded in reaching down to
touch.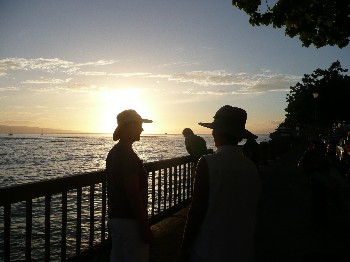 Amandah and Carllie's shopping
afternoon in Lahaina, escorted by one
very patient husband, Garett.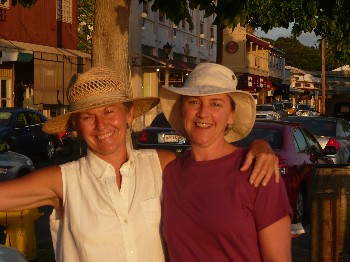 Amandah and I enjoying a late afternoon-early
evening shopping blitz on the
seaside street in Lahaina, escorted
by one very patient Garett
(Amandah blitzed, I got necessities
to shore up my Mexico-worn-out
clothes)

There are 1001 jewelry stores in Lahaina.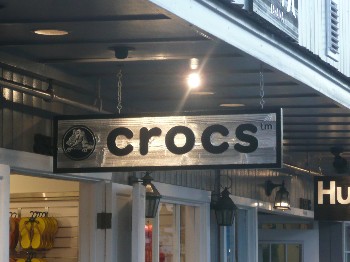 Biggest crocs store we have ever seen with
dozens of variations on the traditional.
Saturday May 3, 2008
Garett: We only had one day left with Casey and Amandah and so we hatched the idea that instead of them paying the $80 cab fare form Lahaina to the airport we would all take the $1 per person bus to the airport this morning and then they would rent a car for $40 so we could do some tourist driving during the day, and then drive the car back to Lahaina for the night, and then drive to the airport on Sunday morning. Carllie and I would take the $1 bus back to Lahaina.
Our first destination with the car would be the top of the extinct volcano of Haleakala.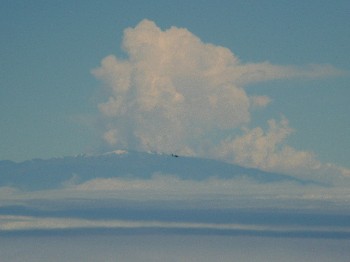 Along the drive, we got a great view of
the huge active volcano, Mauna Loa, on the Big Island.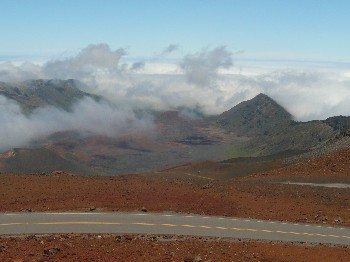 On Haleakala, the volcanic moonlike
landscape surrounded us.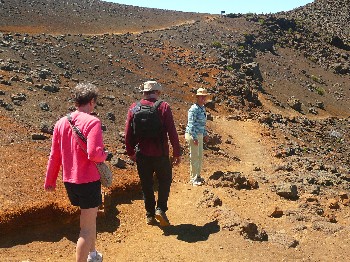 We decided to go to for a walk
in the clear but very thin air at
10,000-foot elevation.

Barren eroded volcano.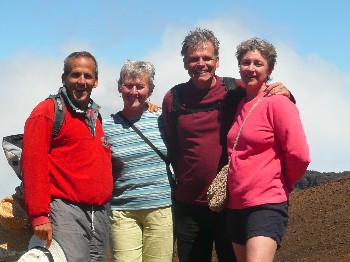 Happy but hypoxic hikers.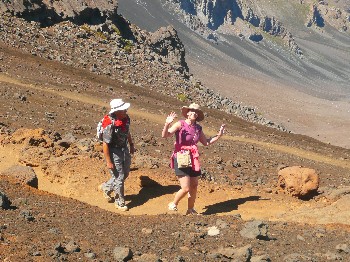 Climbing down was easy but coming
out of the valley was tough.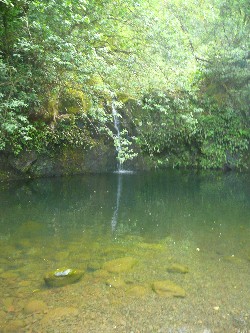 We then drove down the volcano
and headed out on the twisting
road to Hana. We were short on
time and so we only got half way
there. What a change
in climate and vegetation zones.

Rocky shore on north coast of Maui.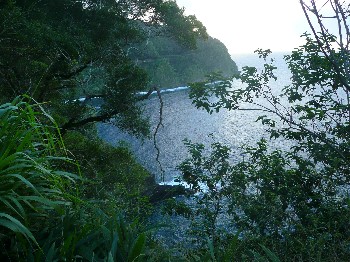 Tropical vegetation.
Sunday May 4, 2008
Carllie: Casey and Amandah left this morning in their rental car, dropping us off at the big K-Mart near the airport on the way, and flew out of Honolulu at 2 p.m., to arrive in Vancouver about 10:30 Sunday night. Although I shed a few tears when we hugged each other goodbye, we missed them even more when we got home from more necessity shopping at the K-Mart. As our meager cruisers' clothes are shredded or worn out by the hot Mexican sun, in addition to buying two fluffy new sleeping pillows to replace our flat old ones, we got three Aloha shirts for Garett and two pairs of swimming shorts that will double was walking shorts, two pairs of shorts for me and two tank tops—all for a cruising budget price. A friend has since chastised me for giving K-Mart our business at all as evidently they buy many of their products from factories in third world countries that use child labour. So I have been checking labels since then, and have found that even very upscale expensive stores carry clothes that are made in third world countries. I think if our clothes were made in "western" countries, where unions hold sway, the prices of ordinary clothes would be exorbitant.

We will be calling Lance and Judy Nicols from Calgary tonight, as they arrived in nearby Kihei last night, and hope to get together with them tomorrow. It will be great to have some more friends to share life in Hawaii with.
There are some resident turtles here in our anchorage off Mala Wharf at Lahaina, and they often swim quite close to the boat in morning when the water is calm and clear. Casey spied one this morning, so he and Amandah had their last green sea turtle experience before going back home.
Monday May 5, 2008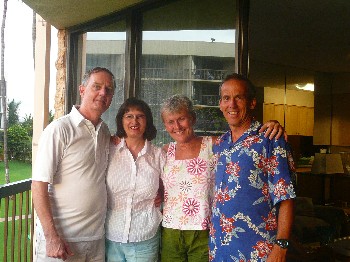 We were delighted to meet with
more friends, Lance and Judy Nicols
from Edmonton, then visit with them
in their Kihei time-share condo unit.
Tuesday May 6, 2008
Carllie: It was a great pleasure to have Lance and Judy aboard Light Wave for the afternoon to take them for a very very short mini-sail in the light winds, then motor back to Black Rock for snorkeling and swimming. The water was so clear that the snorkeling was fabulous. Garett and I snorkeled while Lance and Judy swam ashore (a far greater distance, especially when they returned as the boat had by now been blown back from shore on her anchor, making the distance about 150 feet more). In the clear water, Garett and I again enjoyed snorkeling over the beautiful fish and frequently diving down into the water to hang onto a rock where we could watch them up close and personal. We just decided to snorkel back to the boat, and I set out but noticed Garett wasn't behind me. When he got to the boat he told me that just after I left "Amandah's turtle" had shown up, so he stayed to watch the turtle. This is a male turtle that habituates the area, even though it is full of tourists and locals snorkeling and diving or jumping off the high cliff into the water, and he never gets hurt. We have read that these sea turtles are very confident when they dive and swim under the water, but feel very vulnerable on top of the water, so it is hard to get close to them then. If you are lucky to see them swimming under the water however, you can quite possibly swim with them, as Amandah did here the other day! She was so funny I can still see it my mind: the turtle swims by very gracefully pumping his flippers, then this burbling bubbling blur charges by after him, and I think, "Dumb tourist! Harrassing the poor turtle!" not realizing it was Amandah. When I recognized her, I swam after her and saw her reach down to stroke the turtle's shell. Next time I see one, I will see if I can do the same thing.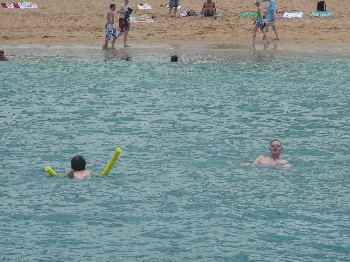 Judy (with noodle on the left) and Lance
swimming to shore from the boat, a considerable
distance that was longer when they returned as
the boat had drifted back on the anchor in the wind.
A solid 400 feet one-way.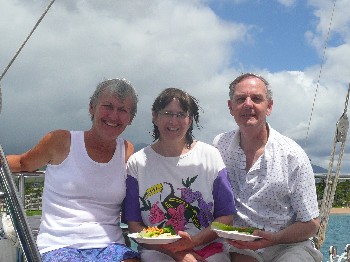 Lunch on Light Wave after a great snorkeling
and swimming afternoon.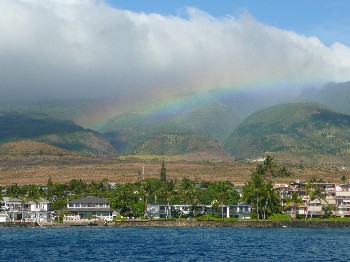 Another rainbow over the beautiful hills
behind Lahaina is our last gift from
Maui as we prepare to leave for Oahu.
Wednesday May 7, 2008
Garett: We did some last minute shopping and then pulled up the anchor for the trip across the channel to Moloka'i We were hoping to get to Lono Harbor on the west end of the south side of the island, but it was quite windy (again) and we were a little unsure of the entrance in to Lono so we saIled to Kanakaukai where we had been before. More on this later from Carllie.
Thursday May 8, 2008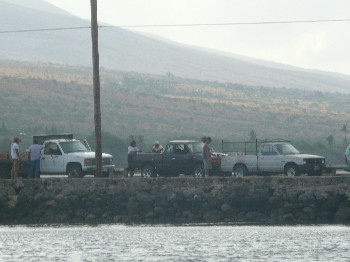 The half-mile wharf where all the locals
come down with the trucks to hangout.
Garett: We were off early for the 13 miles to Lono Harbor as we make our way slowly to Oahu. We had a great little sail and found our way behind the breakwaters to the small anchorage area. This harbor was made in the '60s when they were exporting gravel and sand from this area to the other islands, especially to Waikiki Beach (which would eventually leave the beaches here devoid of sand and Waikiki in perfect state!). Everything closed down in 1980 when the state passed a law banning inter-island trade of aggregates. There are no buildings here and it is quite a quaint spot.
Carllie: Yesterday we had another rough crossing of the channel between Maui and Moloka'i. It was so rough that we again stopped at the anchorage at the one town on Moloka'i, Kaunakakai, instead of sailing another 14 miles with waves and spray washing over us to Lono Harbor. Did not go ashore at Kaunakakai, and again had a very early morning start this morning to reach Lono Harbor, where we tucked into a nice anchorage protected by two big breakwaters.
We laid down for a nap, planning on going for a walk and run along a beautiful two-mile white sand beach that starts at Lono, but when we got up and Garett opened the hatch to the head hull he discovered about 50 bees swarming in the hull and around our fresh water washing basin. We had seen a couple of honey bees before we anchored, but did not think anything of it, presuming they were just attracted to Light Wave's yellow color. In the Sea of Cortez we learned to be very careful with honey bees knowing they were seeking water because it was so dry, and at the first sight of a bee we closed up all our hatches and portholes and put in the screens in our big hatches so we could get air, because once the "scout bee" found water on our boat, he would lead the whole hive to us.

This time, due to our lack of vigilance, we had to deal with the whole hive! There was no way we could go inside the hull to chase them out, so we had no alternative but to pull up the anchor and again head out into the big wind and waves. While Garett manned the anchor and steering/engine at the same time (I usually steer the boat while Garett pulls up the anchor), I swatted bees away with a tea towel (very effective). By now, the whole hive was flying toward the boat, just like you see them flying toward their hives. I usually love honey bees and go to great pains to feed them honey and water if I find them crawling around exhausted. This time, it was us or them, so I am sad to say I had to kill 10 or 15 of them before they finally vacated. By the time Garett had pulled up the anchor and I opened the hatch again, there was only one bee left drinking at the basin, and I dispatched him quickly. Meantime, one bee did manage to get into the holes in my Crocs and sting my foot–a fair trade, we figured, for my killing 15 of his buddies… Good thing Casey wasn't with us during this encounter as he is one of those people who swell up like the Michelin Man when stung by a bee.

Anyway, we have now just finished a very long hard slog upwind to Papohaku Roadstead, the anchorage off the west coast of Moloka'i, where we had planned to go tomorrow morning and stay overnight tomorrow before heading for Oahu on Friday. Now that we are here, the jump-off spot for Oahu, it looks like, fingers crossed, weather permitting we will head out very early in the morning (hopefully before the channel between Moloka'i and Oahu gets windy and rough) to Kane'ohe Bay on the northeast side of the island right across the island from Honolulu, which is on the southwest side.
Saturday, May 10, 2008
Carllie: The wind continued through the night, and when Garett checked marine weather on our VHF this morning, he confirmed that these strong winds will not abate until Sunday. As well, NOAA has issued a small craft advisory for the whole area around Hawai'i, including all the channels, so we will not be going anywhere until later Sunday or Monday, and then only if in fact the winds have abated. We hope so! While we are confident of our anchor, and are secure anchored, because of the strong winds, we will not be swimming or launching the dinghy to go to shore, so this is our time to catch up on our emails and hopefully update our website!

Open roadstead off beach at Moloka'i
Saturday, May 10, 2008

Carllie: We have just finished our second night anchored at Papohaku Roadstead at the northwest end of Moloka'i, waiting for strong winds to abate and a small craft advisory to be lifted so we can safely sail across what will undoubtedly still be another windy channel full of big waves and swell to Oahu. Yesterday, in the strong winds and because of the many rocks and reefs on the bottom, our anchor line chafed through in the middle of the afternoon – POP! – and we were no longer at anchor! We had to dig out our second, smaller, anchor, find a spot to drop it and set the anchor. Then Garett quickly put on his wetsuit, flippers and snorkel mask and paddled out against the wind and waves to check its set (not good–we would have to re-set it), then find our original big anchor. Luckily he is something of a mathematical genius, and by checking our swing pattern recorded on the GPS when we had it on and using the pointer from the waypoint we had entered once we set the anchor last night to that swing point plus the length of anchor rode (chain plus rope) we had deployed when we set the anchor, he was able to calculate where the anchor should be (bearing 302 degrees from our present position, approximately 245 feet away), so in a fairly short time he held up his arm to indicate he had found it. I was of course closely (and tenselyl) watching him from the boat, and then held up my arm to point to Garett and checked the compass. Sure enough, it was 302 degrees from our position. He swam back to Light Wave to get our small red buoy with line attached, than swam back out to again find our detached anchor, and attached the buoy to it. After he got back on the boat we retrieved our poorly set second anchor and then motored over to the buoy marking our lost anchor and then retrieved it as well.
What a lot of work! And we were still under pressure as the daylight was waning and we had to find somewhere we could safely anchor. Papohaku is a very picturesque spot, with a resort hotel on shore that is hardly used but the grounds and a golf course are kept up, lights at night from the resort and a few scattered houses (that conveniently have high-speed internet we can share!), and a lovely beach though the cruising guide warns that swimming here could be dangerous because the waves roll in unimpeded from the wide open ocean (right now though there is always an swell coming in from the ocean, the wind is offshore–blasting at us from the northeast). However, the bottom of the bay is strewn in rocks and reefs, and "little canyons," mini-abysses about 4 feet deep between rocks and reefs where you could jam your anchor good and never hope to retrieve it. We wanted a clear sandy patch. Spent about an hour going up and down the long bay in the waning daylight, then settled near to where we had been but where the rocks were smaller. We attached our remaining 10 feet of chain to the 50 feet we already had, and put out less line so that the rope would not be lying on the bottom where it would be chafed again. Garett jumped into a third time to check its set, and thankfully confirmed it is okay. This was a pretty tense time for both of us as we really did not know what we would do if we could not set the anchor–head out in a wild channel to cross to Oahu? Hah! Garett says we would have had to motor up and down this coast all night long if we could not have set the anchor safely. I think we would have been better out sailing out to sea a ways, then angling back toward Oahu in the morning. Anyway, happily we didn't have to choose.

Lady Luck smiled on us again, as this hard-won lesson in good seamanship (use lots of chain when anchoring in areas like Hawaii with lots of reef) happened (a) during daylight hours when we were awake and knew immediately when the anchor rode parted, and (b) when we were not on a lee shore (wind and waves blowing us towards the shore). When the anchor line parted, we just started slowly drifting out to sea, and remedied that quickly by turning on the motor. We now plan to buy another 50 feet of chain, and will have to figure out how Garett is going to deploy our big anchor and 100 feet of chain (plus the light stretchable rope that makes anchoring so much more comfortable and weighs far less on a cat, a critical factor) and pull it up, as we don't have a windlass and you cannot wrap chain around a winch to winch it up if you are having trouble pulling the anchor out of the bottom as we sometimes do with the anchor rope. Sigh! Visions of an expensive windlass dance in my head… Hope not!

We have now safely completed our second night at Papohaku and hope the winds will abate today so that we can sail to Oahu tomorrow morning. We will see!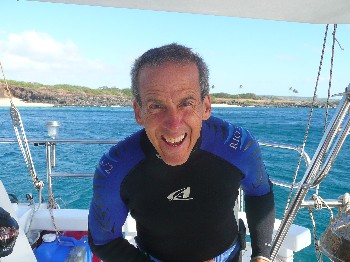 Garett happy after retrieving the lost anchor.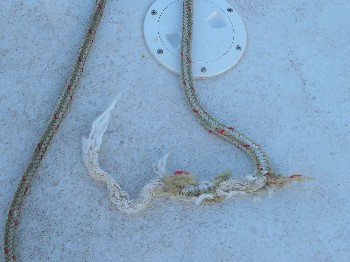 What sharp rocks and coral do to an anchor line.
We need more chain …. and maybe a windlass!
Sunday, May 11, 2008
The winds had eased off a little today but in the channel over to Oahu they were still 25 knots-plus, so we decided to stay one more day tethered to the far west end of Molaka'i. Carllie snorkeled today and she couldn't believe how rocky the bottom was that cut our anchor line two days ago.
Monday, May 12, 2008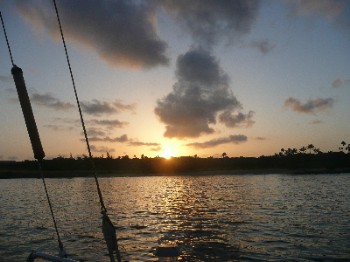 Sunrise at Papohaku Roadstead, Moloka'i.
When we awoke this morning the winds in the channel had moderated to 15 knots, so off we sailed for the Oahu. We enjoyed some of the best sailing of our trip on a nice broad reach under sunny skies with just the odd puffy white cloud. About halfway across the channel we could clearly see the north shore of Oahu where Kane'ohe Bay is located. We had decided to go there instead of Honolulu on the south side as this is a much quieter area than the marinas in Honolulu. From Kane'ohe it is a very scenic one-hour bus ride over the mountains right into Honolulu.
By 2 p.m. we were rounding the point that protects Kane'ohe Bay. We entered the channel through the barrier reef and sailed into the perfectly flat waters of the bay, then made our way to the east end and found a spot about 1/4 mile from the Kane'ohe Yacht Club. The water was perfectly calm with no swell – our first anchorage in about 6 months with no motion from swells.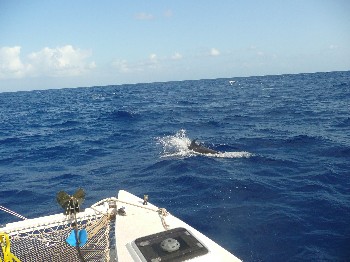 Some bottle nose dolphins
on the way to Oahu.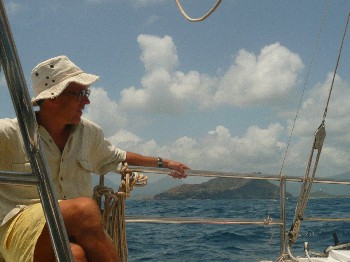 Rounding the point into Kane'ohe.
Tuesday, May 13, 2008
After our six days of being boat bound–traveling from Maui to Moloka'i, anchored 4 nights at Papohaku Roadstead, and for the passage to Oahu–we were eager to go for a run and enjoy the hot showers at the yacht club where we paid for day privileges. For $2 you can take the public buses ("The Bus") all over Oahu, and the price includes one transfer that we found was not time-restricted. The No. 56 bus stops right in front of the yacht club and then winds through Wailua and up the Pali Highway that slowly ascends through the serrated ridge mountains that separate Honolulu from the north shore.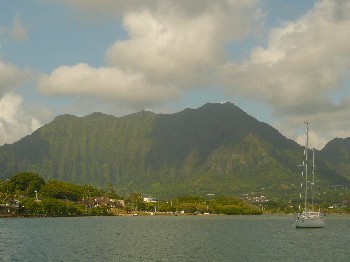 Our view while anchored in Kane'ohe Bay. The
township is also called Kane'ohe. Honolulu
is on the other side of this mountain ridge.
The Pali Highway and pass are just off to the left.
After 60 minutes we arrived in downtown and after hitting the sidewalk had some lunch at a great new "fast food"place called Salad Creations. Now this is our idea of fast food! For only $6.75 you get a huge stainless steel bowl full of salad. The person behind the counter first fills your bowl about half full with your choice: romaine lettuce, mixed spring greens, or leaf lettuce. Then she scoops out a big scoopful of about 30 different yummy things to add to your salad, adds the dressing of your choice and mixes it up for you.The result is a huge salad big enough for about 8 servings of salad if you were serving it with other things at home. We divided one bowl between us.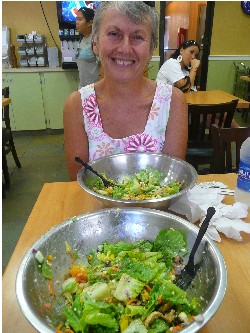 We bought one huge salad and
split it between us. Perfect.
We then walked a short distance into Chinatown where we at last found some reasonable produce compared to the high prices of Safeway and Big Save. One more bus and we were then at Waikiki. One of our objectives today was to find the beach where our good friend Dhorea Delain from Vancouver had photographed the sand in the front of the Sheraton Waikiki with our initials in the sand and Diamond Head in the background. She gave us this picture before we left Vancouver in 2006 and we had it plasticized and had prominently displayed in our boat. When we found the spot we put our initials again in the sand but now put ourselves in the photo. Unfortunately, this time the tide was much higher and the water kept washing away our initials. Thankfully we found a Japanese fella to take the picture and managed to get most of the initials left in the sand before a wave swept them away.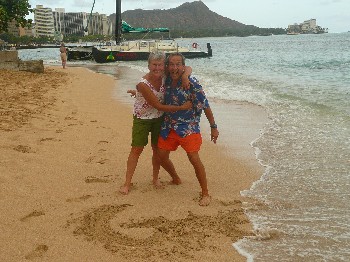 Proof that we have arrived in Waikiki!
Dhorea had also recommended that we go to The Cheesecake Factory for cheesecake. Somehow we had thought it was just a small sidewalk cafe that served cheesecake only. Not so. Property prices are so astronomical on Waikiki that no small venture like that could have survived. The Cheesecake Factory is a huge, elaborate, beautifully appointed, full-service restaurant that seats 650 people! The food was great. We split the dishes and we were still stuffed.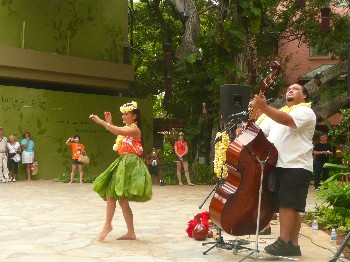 Dancer and band outside the Royal Hawaiian Hotel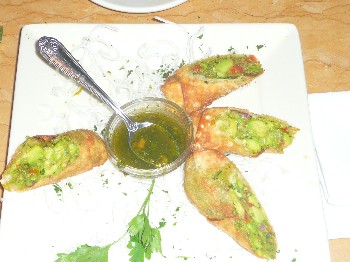 Delicious avocado spring rolls at
The Cheesecake Factory.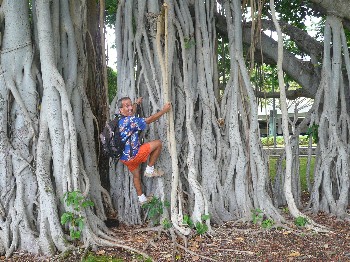 A banyan tree in one of the parks
near Waikiki.
Wednesday, May 14, 2008
After yesterday's full day, Carllie stayed on the boat and I went to town on my own to play squash with a friend, Tim Holley, who had moved here to work three years ago. He and his wife Pam live on their Catalina 36 sailboat in a marina a few miles out of Honolulu.
As I had only played squash twice in the last 8 months and Tim is a very good player, I knew it would be a tough day. Tim worked me pretty hard and I was completely spent by the time we called it quits. I had a feeling I would not be able to walk the next day. After a bite to eat Tim was kind enough to drive me and my broken body back to the boat as the buses had stopped running.
Thursday, May 15, 2008
Garett: I woke up stiffer and sorer than I have ever been. Nothing can replace squash for fitness. We took the bus again to Honolulu to visit the Academy of Arts Museum. It had an amazing display of Chinese, Japanese and Polynesian art and we enjoyed walking through the many rooms inspecting it all.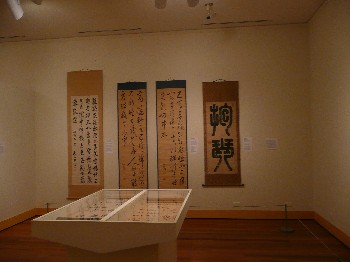 Antique calligraphy art at the Honolulu Academy of
Art Museum.
After our culture session we headed down to Waikiki again.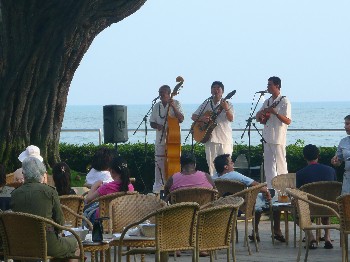 Musicians playing in the Royal Hawaiian courtyard
on the beach side.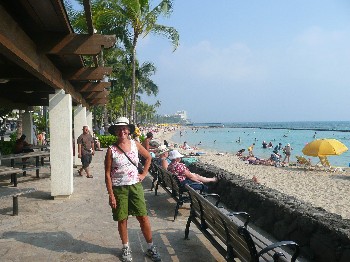 Starting our exploration of Waikiki.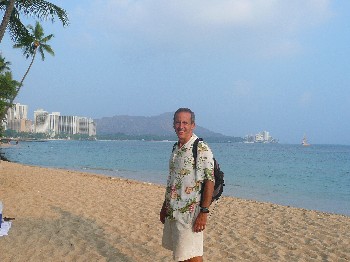 Waikiki is a beautiful beach, but most of it is
so heavily populated with tourists frantic
to have a good time in one or two weeks
that it is not as enjoyable as it could be.
Friday, May 16, 2008
Our friends Hilton and Sakara had invited to visit them and stay in an extra guest suite they had for us in their modern downtown Honolulu condominium complex. We arrived at dinner time and then after a quick dip in their pool we headed off for sushi with them and their little niece, Destiny, who was staying with them over the weekend.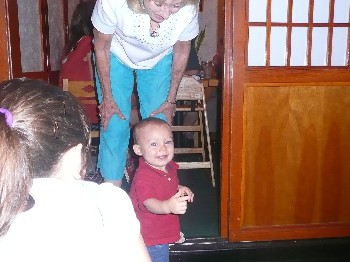 Max, a very friendly baby at the sushi
restaurant, was very keen on Destiny.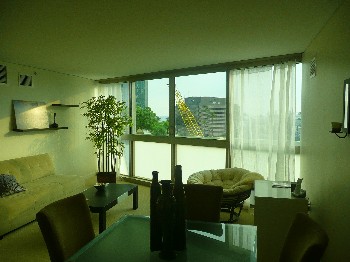 The lovely apartment that Hilton and
Sakara invited us to stay in overnight.
They were between renters, much to our
good fortune!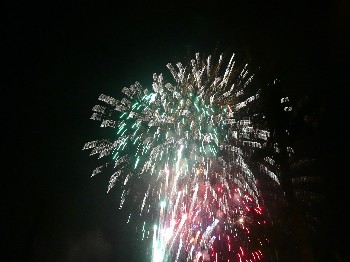 We ended the night with fireworks at the Hilton
Hawaiian Village. These fireworks happen
every Friday night, and lots of locals bring
their children down to the beach to
enjoy them.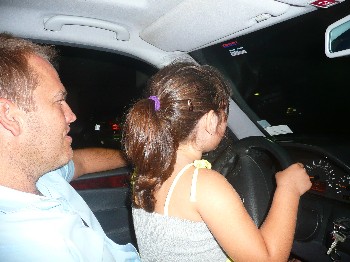 Six-year-old Destiny gets to steer the car
on her Uncle Hilton's lap–only a short way!
Saturday, May 17, 2008
We were up early and they drove us for the hike up Diamond Head before it got too hot and then we went to the nearby Farmers Market.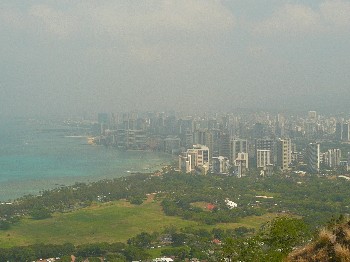 Spectacular view from the top of
Diamond Head.
Carllie: On our way up Diamond Head, we met many Japanese locals and a few Japanese tourists, and we both practiced Garett's Pimsleur Japanese lessons with them, saying, "Konichiwa!" (Hello!) and "Ikaga des ka?" ("How are you?") Just like the Mexican people when we spoke Spanish to them, these folk lit up right away and responded in kind. It is great to be able to speak to people in their own language.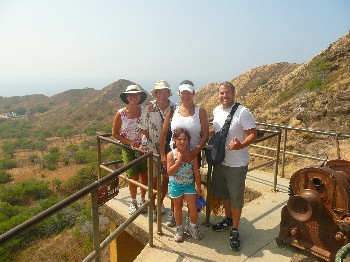 Carllie, Garett, Sakara, Destiny and Hilton
at a lookout on the way down Diamond Head.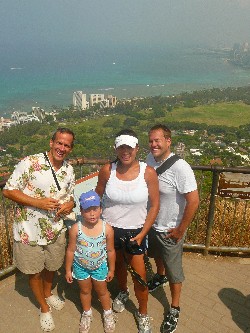 Another view from
the top of Diamond Head.
In the afternoon they took us to the Contemporary Art Museum high up on hillside behind Honolulu. The art was….interesting…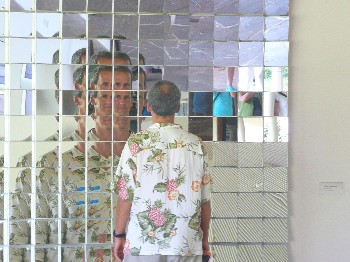 A mirror collage provided many photo ops.
Hilton and Sakara were very generous hosts to show us around town and to let us stay in their rental suite.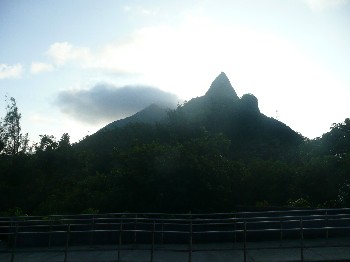 View from the Pali Lookout on the
way back to the yacht club that night.
Carllie: Hilton drove us home to the yacht club that night, as we were too late for the bus, and on the way we stopped at the Pali Lookout, where King Kamehameha I (with the questionable "help" of canon provided by European ships) conquered those who resisted him. This is what is printed on the plaque at the site:
"In the late 1700, Kamehameha I, from the island of Hawaii, sought to unite all the Hawaiian Islands under one rule. The battle for Oahu began with the arrival of his forces at Waikiki in 1795.
"Oahu forces had been defeated by Maui forces a decade earlier, and Maui's Chief Kalanikupule now lead the forces on Oahu. After many hard-fought battles, he was driven up Nu'uamu Valley to this location. Both sides fought with Hawaiian spears and western firearms, but Kamehameha's cannon gave him the winning advantage.
"The battle, called Kaleleka'anae (leaping of the "anae" fish), refers to the men forced off the cliff during the battle. An estimated 400 warriors died in this battle. With Kamehameha's victory on Oahu and the signing of an agreement with Kaua'i, he became the first king of the Hawaiian Islands."
Garett and I are very skeptical (or should we say "cynical") about these events. What were the Europeans (British, Russian, and so on) doing messing about with the politics of these tropical islands? Perhaps they wanted control of them due to the strategic location of the Hawaiian archipelago, or perhaps they wanted to exploit the fertile islands and their cheap or free labour to grow sugar cane and eventually pineapple. Interestingly, with respect to Kaua'i, Carolyn and Bob Mehaffy report in their Cruising Guide to the Hawaiian Islands:
"In 1810, faced with the preeminent power Kamehameha had garnered, Kaumuali'i [the king of Kaua'i] agreed to become a part of the new kingdom, though he retained the governance of Kaua'i.
"In 1816 Kaumuali'i entered into an alliance with a Russian, George Scheffer, to conquer the other islands, to which Kaumuali'i had ancestral claims. Kaumuali'i would supply men and food for the campaign, and the Russians would supply guns and ships. The only tangible result of this failed scheme was the star-shaped Fort Elizabeth, built by Scheffer ont he banks of the Waimea River and above which blew the Russian flag for a few months."
One has to ask oneself what the Russians stood to gain from this "alliance." No doubt they viewed the Hawaiians in the same way that latter-day Americans viewed them. There is an infamous history of the Hawaiian monarchy illegally being stripped of its power, and eventually being forced to abdicate to American control. In our time here, we have read many accounts of the whole diabolical process, and early on had hoped to find a Hawaiian flag to fly as our courtesy flag instead of the American flag. Unfortunately, we never found one. Even if we had, the Hawaiian flag itself shows European influences.
Sunday, May 18, 2008
Back to present day, at anchor in beautiful Kane'ohe Bay…
Garett: We were up early with our objective to go to the huge Flea Market at Aloha Stadium to see if we could buy a new ukulele for our Carllie. Two buses and two hours later, we arrived and walked around about 500 stalls that circle the stadium. After about one hour walk and a blur of booths we decided to buy a ukulele from Denise and Kafika, a Hawaiian couple who sell ukuleles for a living. Kafika is a musician and when he was young made his living as a musician. They were very helpful and made the experience of buying Carllie's first "serious" ukulele was a really enjoyable and happy experience.
.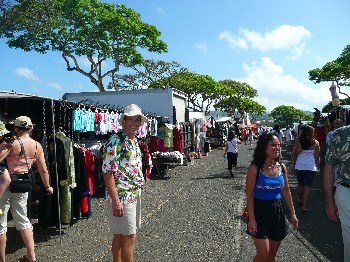 Wandering around the huge weekly
"Flea Market" (new stuff only) at Aloha
Stadium in Honolulu.
Carllie: Garett bought me a new, very good quality, ukulele today (a long day that started at 6 a.m. and ended at 10 a.m., involving long bus rides and much walking), because I am learning to play, and he had promised that if I really showed progress on our rinky-dink little beginner's uke, he would buy a proper one for me. So that is quite inspiring, as I have always wanted to incorporate music into my life. I have been short-changed in the "voice" department, but being able to play an instrument is lovely. I have really realized here in Hawaii where the Hawaiian people are so musical and express such a lovely quality in their music, that music is very important to the development of one's highest qualities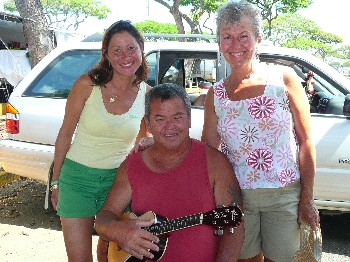 Denise and Kavika demonstrating
Carllie's new ukulele. They are such a kind,
helpful couple and made the experience
a happy and memorable one.
C&G: We then took another bus even further west of town to Ko'olina Resort, a huge, posh resort-condominium complex that includes a modern, well appointed marina, to visit Tim Holley and his wife Pam who had invited us to their boat for dinner. Unfortunately, we had to walk about three miles from the bus stop through the resort property to the marina, but that's the life of cruisers without cars…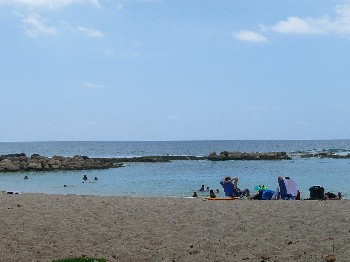 One of the three manmade lagoons at Ko'olina
Resort. These are beautiful, protected swimming
lagoons, with fresh sea water pouring through
over the rocks and lovely beaches. Although they
are part of the resort complex, they are open to
the public and lots of locals bring their families
here to enjoy the water.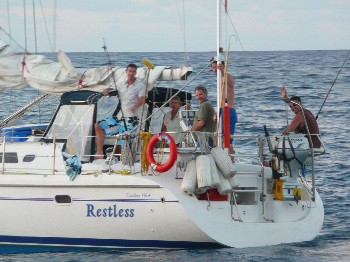 This is a photo of Tim and Pam's Catalina that we
took about 10 days later as we motored into
Hanalei Bay on Kaua'i and they motored out. Tim
is at the wheel and their three grown sons, visiting
from Vancouver, sit around the cockpit.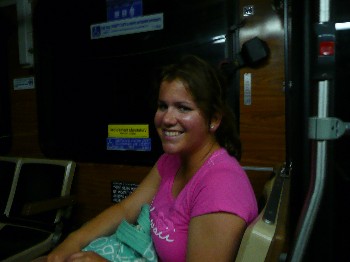 After visiting Tim and Pam, on the long way home
on the bus, we met Damara, a very friendly young
German-Swiss woman who is living in Honolulu
temporarily. We had a nice chat and became
friends on the long bus ride.
Monday, May 19, 2008
After the hectic last three days, we took it easy, staying in Kane'ohe, going for a run and then a shower and swim at the yacht club.
Tuesday, May 20, 2008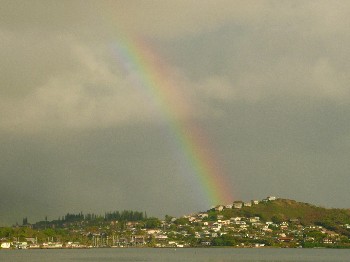 Rainbow from our anchorage in Kane'ohe Bay.
Unfortunately, the tall craggy green mountains,
volcanic formations eroded over millions of years,
are obscured by the rain clouds.
After 5 days my legs had recovered and I was able to walk again so I had arranged to play with the squash pro, Ken, at the Honolulu Club that Tim had introduced me to last week . Carllie wanted to play too, so we caught the early bus in to Honolulu. The Honolulu Club is a lovely, well appointed club, and Carllie and I were able to play for 45 minutes before I played with Ken. He is the club pro and a very good player, and he had me running. Though I had managed to win one game Ken won the other 4 to completely trounce me. After a very refreshing jacuzzi and dip in the cold plunge pool we took the bus to Ala Moana Shopping Centre for Sushi and then visited with another friend, Charlene, who took us to a small beach north of Waikiki.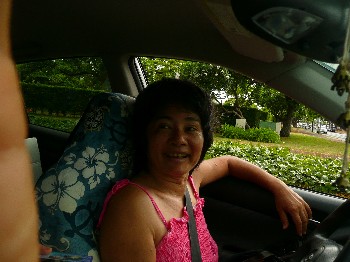 Visiting with a new friend, Charlene,
in Honolulu.
Carllie: Today, we again took the bus the hour ride into Honolulu from our lovely quiet anchorage here at Kane'ohe, to play squash at the Honolulu Club. It was wonderful!!! So great to play squash again, as it is such a perfect all-over exercise and so much fun that you don't even know you are exercising. After doing warm-up exercises, then a series of squash drills with Garett, we played one long game to 15. I played better than I have ever played (I think, knock on wood–quick!) because, along with all of my other goals, I have been visualizing my squash game daily and focusing on all the things I have to work on, seeing myself do it right. Isn't that interesting? Anyway, the piece de resistance, after a good workout when I got all nice and sweaty and felt terrific, was going back into the ladies locker/ change/ shower room where I showered, then spent about 15 minutes in a wonderfully hot and steamy steam room, followed by immersing up to my neck while standing up in the icy "cold plunge" pool, followed by about 20 minutes in a dry sauna, followed by another cold plunge, 5 minutes in the Jacuzzi tub, then another cold plunge. Wow! Does that ever feel wonderful. Gets all your blood cells moving, and you can feel everything just tingling…especially after a good workout. Plus it's good for the muscles and internal organs. Had a nice discussion with the ladies sharing the sauna with me, an older Korean woman (ahem! probably just a few years older then me), ditto a Japanese woman, and a young black woman.

Then, when I sauntered out into the reception area to find Garett, I found instead a great rack of racquets sports clothing. As the American dollar is now (believe it or not) worth less than the Canadian dollar, their prices are very good. When Garett did come out, he approved my purchase of a new squash outfit, so now I am really looking forward to wearing my "hot" new outfit next time I play…which we hope will be Friday as the club squash pro has given us a day's guest pass, and I think promised another one… I am happy to go and spend several hours!

Anyway, feeling very invigorated and full of energy after we left the club, we walked over to the Ala Moana Shopping Centre, where we bought some sushi for lunch. Yum yum. Love that sushi!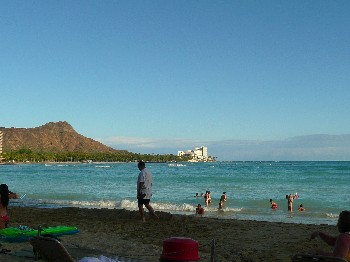 The beach we visited with Charlene just
past Waikiki Beach, was much less populated
and much quieter.
After visiting with Charlene, we again walked along Kalakaua Avenue on Waikiki to the Royal Hawaiian Hotel. We knew wanted to have a nice romantic dance to real live Hawaiian music on the beach at Waikiki, so we stopped at the Mai Tai Bar in the outdoor beachside courtyard at Royal Hawaiian Hotel, where they always have live music. We sat down, ordered virgin chi-chi's , and thoroughly enjoyed the music and the view from this beautiful spot. Today's performers were a Hawaiian fellow who sang and played the guitar, and a very lovely and outgoing hula dancer. They played the Hawaiian Wedding Song, and we danced to that, then we requested Hanalei Moon, and we had our second romantic dance while listening to the surf at the beach.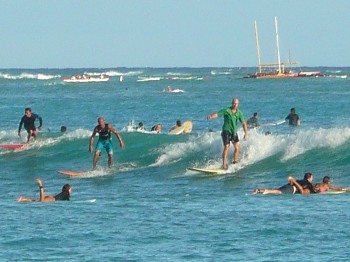 View of the surfersfrom the Royal
Hawaiian Hotel courtyard.
Carllie: After searching around Waikiki a bit, we found the Surf Room at the Royal Hawaiian Hotel, where it has been for a millenia, we were informed. I had been here 30 years ago when I first and last visited Hawaii with some girlfriends and a few chaperoning couples. I had fond memories of the Surf Room as an older friend had danced me around the floor and it was so beautiful to hear the surf outside while dancing to lovely live Hawaiian music inside. And although we did not have dinner in the Surf Room, we did have virgin chi-chis at the Mai Tai Bar just outside, where a really talented Hawaiian fellow was singing while playing his Hawaiian guitar, as a lovely lady danced to some of his melodies. Both the Surf Room opens right up onto the beach and the Mai Tai Bar is outside in the courtyard, and as we listened to the music we also watched the waves and surfers. We danced twice, the only ones dancing other than the lady, to "Hawaiian Wedding Song" and "Hanalei Moon." It was great, and very romantic.

So today was a good day in Paradise!

Enjoying a virgin chi-chi
and anticipating a romantic
dance.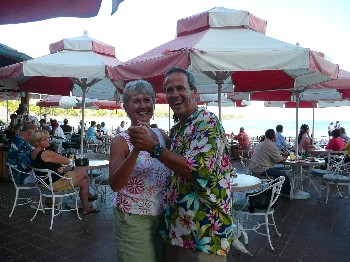 Dancing outside at the
Royal Hawaiian Hotel.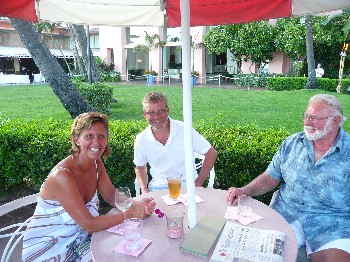 Wendy and John from England and Bob,
all visiting Waikiki on a cruise ship. They
took took our picture dancing.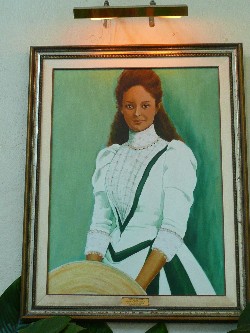 This portrait in the Royal Hawaiian
Hotel is of Princess Kaiulani. It was done
around the time of her European tour where
she was trying to gain support for the
Hawaiian monarchy that had been
illegally overthrown by the Americans.
Very sadly, this beautiful young lady
with such a sweet expression in her
face, died a year later at the very
tender age of 24.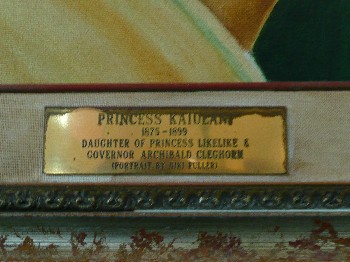 Wednesday, May 21, 2008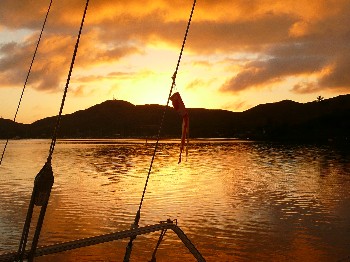 Sunrise at beautiful Kane'ohe Bay.
Carllie stayed on the boat while I took the bus to the only West Marine in all of Hawaii to buy some line, epoxy and parts. While I was gone it poured and Carllie was able to fill all the water tanks.
Carllie: By the time I got in the dinghy to return to Light Wave, it was pouring rain. I had just showered and was nice and dry, but by the time I got back to the boat, I was totally soaked. Plus, I got slightly lost in the channels in the downpour, and wound up motoring in shallow water over the reef, so I had to stop and row out to the channel. As I was already soaked, I ran around getting our portable water containers out and filling them with the rain water that was gushing out of the plastic pipe we have rigged up with our water catchment system on the hard top. When Garett called me on our portable VHF radio to pick him up from shore, I wore my storm jacket and took his with me so that he wouldn't be soaked too on the way back. Ahhh! The joys of cruising.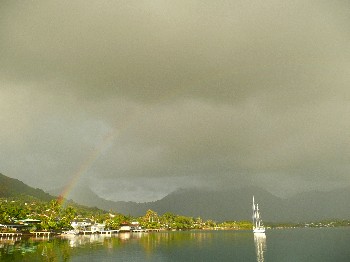 Another rainbow…just like the song,
"There's a rainbow following the showers…"
We had rainbows at Lahaina in Maui, and
now enjoyed many rainbows at Kane'ohe
in Oahu. Writing this update in Kaua'i
we have seen even more spectacular
rainbows in Hanalei Bay…
Thursday, May 22, 2008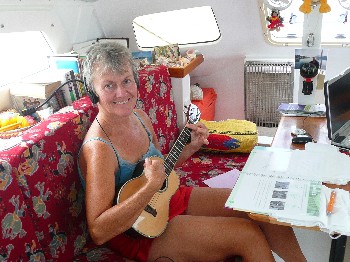 It is a real pleasure to play (or should I say
"learn to play") a good quality, tenor
ukulele. The one I had been learning
on is pretty cheap and the sound
quality just doesn't compare. The book
Garett had bought me in Hilo to learn
to play the ukulele utilizes much the
same method as do the Pimsleur CD's we
use to learn languages…repetition,
remembering what you have learned to
create neural pathways, listening to the
way it should be played and trying to
play it the same way. I am really enjoying
having music in my life, but have to work
on my left hand to build the strength and
flexibility necessary to play the many
different chords.
We took the bus today in the other direction to the mall in the city of Kane'ohe to watch the matinee show of new Indiana Jones movie. We rated it an 8 on 10. It was fun. (Carllie: But Harrison Ford is just a little past it as a swashbuckling hero. He's a little long in the jowls and tooth, I'm sad to say! I vote for Shia LeBeouf , the talented young actor who plays his son Mutt in the show as the next Indiana Jones.)
Friday, May 23, 2008
We went for our another squash day at the Honolulu Club with Ken while Carllie played with a Japanese lady, whose name we can't remember.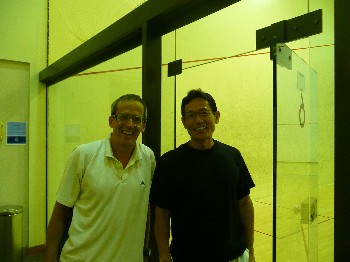 Ken gave Garett a real run for his money
and inspired him to seriously get to
work on his fitness! We have been
running regularly ever since, and now (as
of writing) here at Hanalei Bay on Kaua'i
with such easy access to the beautiful beach
and little town (pop. 474 including Pierce
Brosnan and family!) we dinghy to shore,
run barefoot 10 minutes in the hard sand
right at the surf line, then put on our
runners and run 30 minutes along the
road that runs behind the beach and by
the multi-million dollar properties. Then
we do circuit training with core conditioning
exercises and wind sprints, as well as
some "ghosting" on the grass to practise
our squash movements. Then we come back
to the boat, swim around it and have a
fresh shower on the aft hulls. Wow! Do
we feel GREAT afterwards! We swim around
the boat and shower every day, but only
do this routine every third day.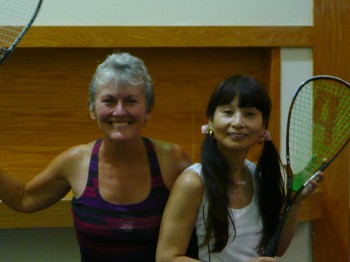 Carllie with the Japanese lady she played with.
We then visited with another friend, Loretta, for a sushi lunch and then took her out to the boat for a visit to Light Wave. Loretta is a lot of fun, and we really enjoyed her company. She treated us to lunch, a big surprise and a nice treat, and we were delighted to have her on board Light Wave.She was very impressed with our sailing adventure, and inspired with the simple life we live as cruisers. Thanks, Loretta!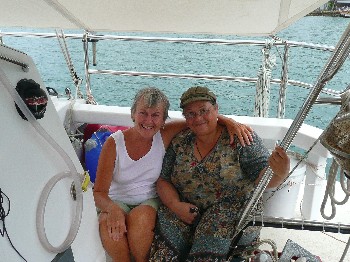 Carllie with our great friend, Loretta.
Saturday, May 24, 2008
Another friend, Gloria, came to visit us out a the Kane'ohe Yacht Club and then took us out for lunch at the City Diner, to Foodland for some shopping, and then back to the boat for a little tour.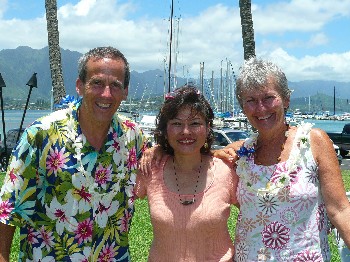 Can you see the leis Garett and I are wearing?
Gloria gave them to us! She also gave me
a beautiful necklace she had made, and then
after we had spent the afternoon together
and discussed the classes she is taking
invited us over to her and her husband
Gordon's home in Honolulu for dinner
the next day.
The only bad thing that happened today was that our wireless card finally packed it in and so we couldn't get onto the internet. (Carllie: This was a bad thing. No internet: no emails, no teleconferences with friends, no Skype calls, no movies downloaded from Aries Ultra. What a come-down! How ever did the early voyagers like Susan and Eric Hiscock and Ernest and Val Haigh survive without the internet and emails???)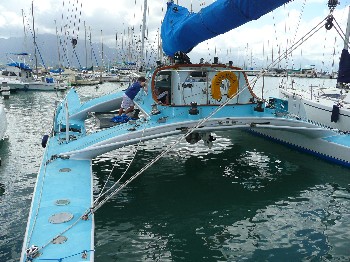 Super-wide and extreme racing catamaran
tied up at the Kane'ohe Yacht Club.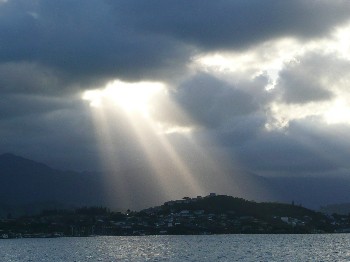 Sun shines through the clouds down
onto the town of Kane'ohe.
Sunday, May 25, 2008
Gordon and Gloria invited us to their home in Honolulu for dinner, and we not only enjoyed a delicious dinner with baked salmon and wonderful cheesecake dessert (yum yum!), but they gave us a big "care package" to take home with us as well, and lots of fabulous papaya and oranges from their garden. Thank you, Gloria and Gordon!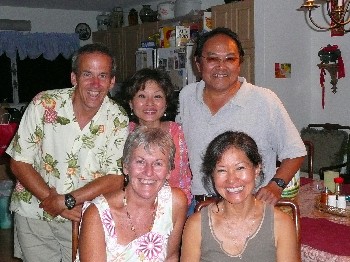 The happy crowd at Gloria and Gordon's
home: Garett, Gloria, Gordon, Gloria's sister
Brenda, and Carllie.
Monday, May 26, 2008
We took the bus again into Honolulu today (maybe we should have bought a bus pass?) to go to the Kahala Mall to visit with another friend, Bruce. We had a lunch in the central courtyard.
As you may know we like the TV series, Lost, which is filmed in Oahu and we have been downloading episodes throught the internet whenever we can while on our trip. We often had joked while crossing from Mexico that maybe we would see someone from the cast here. Well sure enough while I was wandering around the mall I bumped into not "Jack,""Kate,""Locke," "Sawyer" or "Ben" but "Jin" who is played by Daniel Dae Kim. We chatted a bit about the show and I told about our sailing trip. Very nice fella. It was so funny talking with him as in the show he plays a Korean fella who can't speak any English until season 4, but in reality he sounds like an American with no accent whatsoever. I gave him our boat card with our web site so he could read about our trip. You just never know who you are going to meet out there...
Tuesday, May 27, 2008
We were hoping to take Hilton and Sakara out for a sail today but they were short on time so they just came out to the boat for lunch. We were glad we could partially pay them back for their hospitality, and look forward to taking them out for sushi the next time they visit Vancouver.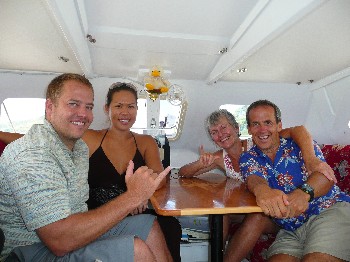 Hilton and Sakara visited us on
LIght Wave.
Garett took the bus to Chinatown for more veggies and then we both did one late night run to Best Buy for more parts for our wireless antenna and amplifier (so we can again access the internet!) and caught the very last bus back to Kane'ohe.
Wednesday, May 28, 2008
After 16 days it was time to move on so we struggled to get our anchor out of its very buried location deep in the mud of the bay. We cleaned up the gooey mess and then motored across the bay to fuel up at the harbor gas dock.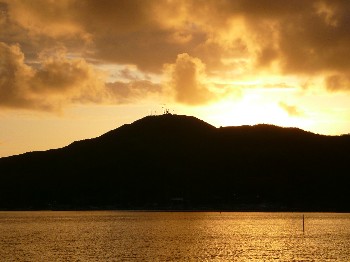 Sunrise the day we left Kane'ohe.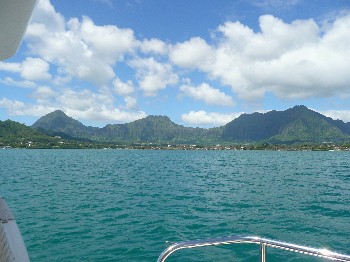 Leaving our anchorage at Kane'ohe.
Just a short two miles from the dock and still inside the protected waters of Kane'ohe Bay is what is called the Sand Bar. This is an area 1 mile by 1/2 mile of soft white sand that dries at low tide making this huge beach, and then covers with about two feet of water at high tide. On weekends a hundred or more boats come out here to anchor off. At certain times of the year they have big concerts with thousands of people when the tide cooperates.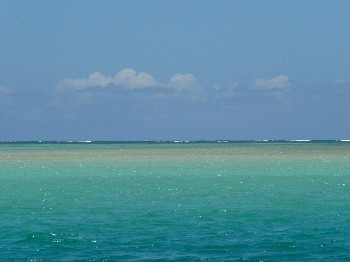 Approaching the Sand Bar
in Kane'ohe Bay….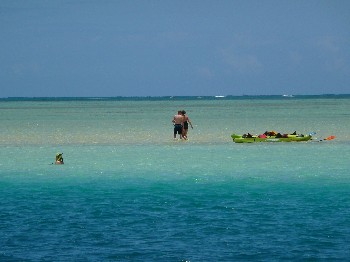 …where everyone anchors and walks in the
middle of the bay.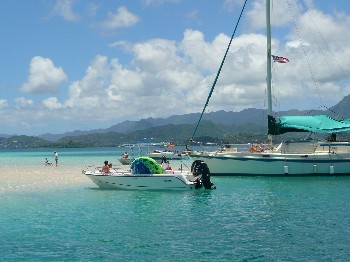 The Sand Bar in Kane'ohe Bay is the
sSite of many parties…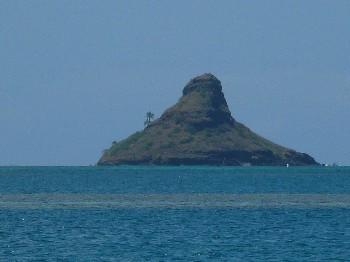 Chinaman's Hat Island just outside
Kane'ohe Bay.
By one o'clock we had to be on our way if we were going to get to Hale'iva before nightfall. The scenery of the north shore is very dramatic.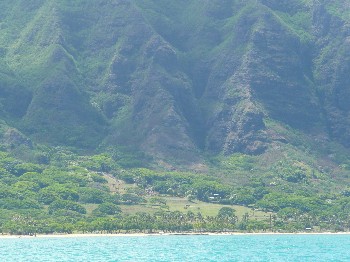 On the north shore, ancient volcanic mountains
eroded over millions of years and carpeted with
lush green growth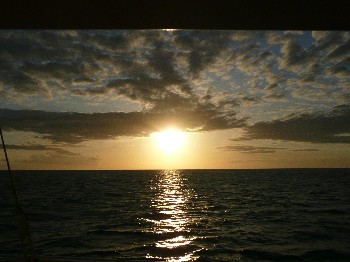 We took this picture of the sunset
just as we were approaching Hale'iva
Thursday, May 29, 2008
Carllie: It was great to tie up at the dock at Hale'iva. A new place means going through the whole process of adjustment again: where are the showers? is there a laundromat? where is the grocery store? and…how do we find the beach location of "Lost"?
As we arrived so late in the day, we decided to stay two nights tied up at the dock. It is a very protected spot, and quite pretty, though there are many homeless people wandering around on shore.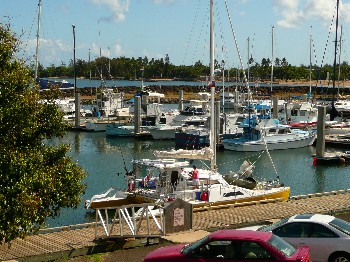 Tying up at the dock at Hale'iva was a
great treat, as we hadn't been tied up
at a dock since January, in La Paz. It's
nice to be able to simply walk off the
boat when you want to go for a walk
or run.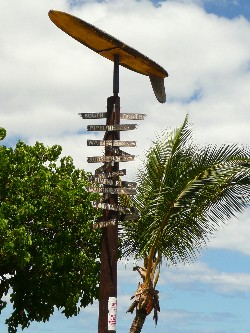 Sign post near Hale'iva.
We walked about a mile along the road to east end of Police Beach to visit the beach location of the TV film "Lost."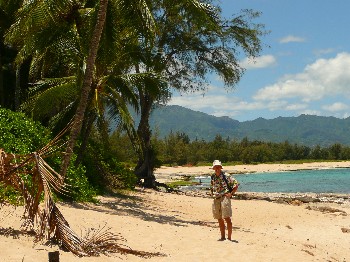 Walking along Police Beach.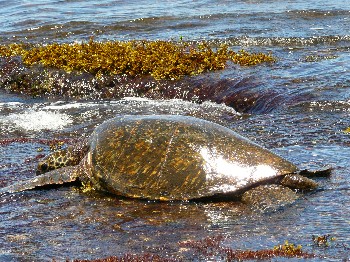 We were so excited to find these big sea turtles in a tidal
pool. This was the closest we got to
these big creatures., so far…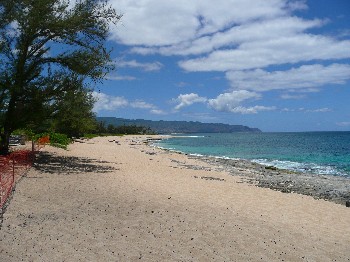 View down the beach from the
location for "Lost." Recognize it?
When we found the "Lost" location we saw all of their little shacks (made with bits of the plane wreck, palm fronds, grass, etc.) now all shrink-wrapped to protect them. Funny. Also funny that they are using a sprinkler to water the surrounding "jungle" so that each time a character goes charging off into the jungle, it is believable. hah hah hah. Anyway, now when we watch the show we will be right there mentally.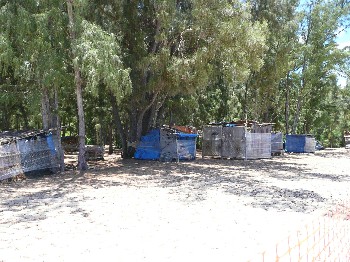 Shrink-wrapped shacks for the TV film "Lost."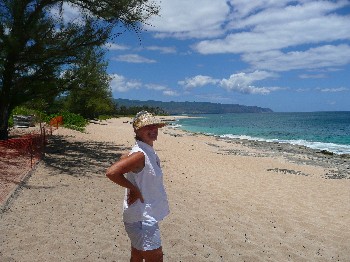 Where's Sawyer? How about Kate?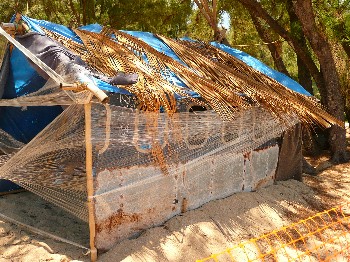 Close up views of the shacks from "Lost."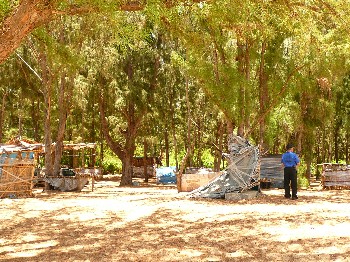 There is a guard on duty all the time, probably
because silly people would take souvenirs.
Instead of returning home on the road, we walked along the beautiful meandering white sand beach back to the harbor, and along the way found 20 or 30 more big green sea turtles either paddling about in the shallow water of tidal pools or sunning themselves on the beach. Eventually, we cautiously made our way right up to them, touched their shells and took all the photos we wanted. They are such old creatures (they can live 100 to 150 years), that their faces look wizened and sort of, well, bored…"Oh. It's just another human. No cause for alarm."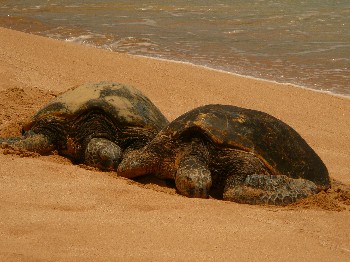 We made friends with a lot of these beautiful big
green sea turtles walking along the beach where they film "Lost."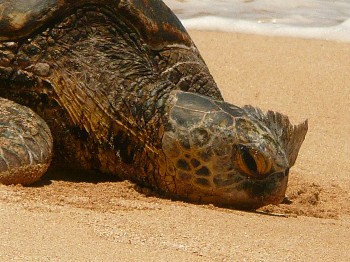 Isn't he beautiful?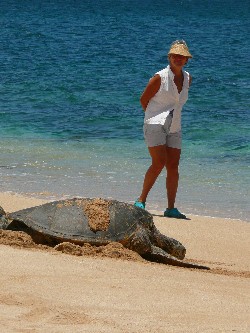 After we had exchanged greetings, this turtle cooled
himself off by throwing
sand onto his back with his flippers.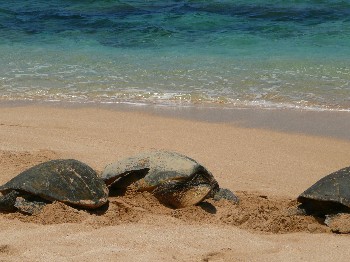 More green sea turtles cooling off
with sprays of sand…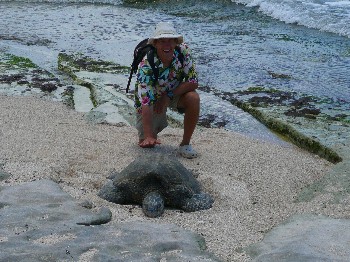 Garett and a turtle friend.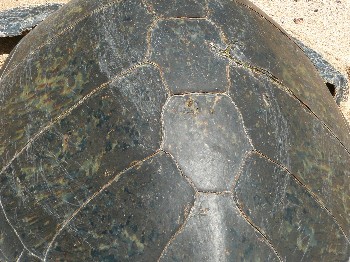 The shells are very colorful in certain lights, but
some of the older bigger ones are quite scarred
from bashing into coral and
rocks in big tidal currents and surf.
Garett: Before setting out on our walk on the beach I had met Don Germain the owner of North Shore Catamaran Charters in the morning and we talked about catamarans and stuff. He invited us to join him and some of his paying guests for a sunset sail on his catamaran, Ho'o Nanea, for some star watching and maybe even to see some sharks. Carllie wanted to work on her latest article and so I joined Don, his first mate Jonathan, Don's 11-year old daughter, Paulina, and six guests. Don has a really first class operation and his infectious enthusiasm makes for a really fun, exciting outing.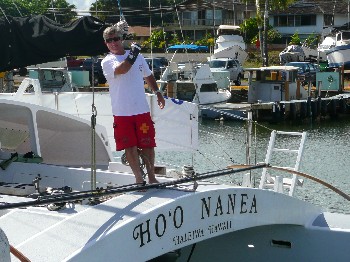 Enthusiastic Don Germaine on his charter
catamaran Ho'o Nanea.
Paulina is equally enthusiastic, and later when they stopped by to see Carllie she told us how she had jumped into the water to swim with the spinner dolphins and saw a baby dolphin about a foot long swimming alongside his mama. She also swam with the Galapagos sharks off her Dad's boat, and when he asked her if she had lost anything, she said, "Just my fear!" In winter time most of Don's cruises are for whale watching and in summer when the north swells abate he takes groups out to the prime snorkel spots. He provided snacks of popcorn shrimp, hot wings, and fruit to keep us well nourished.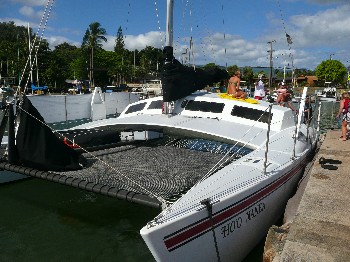 Don's 40 foot level sailing catamaran,
Ho'o Nanaea.
As we motored out as the sun set it looked promising for a possible sighting of the green flash that occurs in certain conditions just as the the last tip of the sun goes below the horizon when on the ocean. Don had seen it many times as he has been sailing these tropical waters for 30 years, but I had never seen it. We were all watching as the sun went down with Don saying, "There goes the sun, watch, watch!" and sure enough just as the sun goes down the tip of the sun flashes to bright emerald green. Wow! My first green flash. You need a really clear sky to see it though, and unfortunately since then there have always been a few clouds on the horizon just at sunset, so Carllie hasn't been able to see the green flash yet.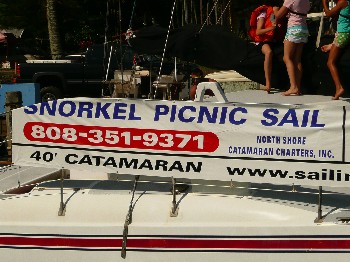 Here are the details in case you
want to book a cruise on Ho'o Nanea.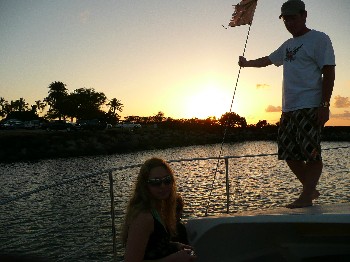 Sailing off for a sunset cruise on Ho'o Nanaea.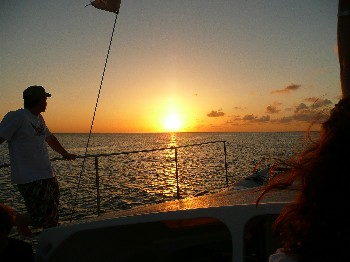 All of us waiting for the green flash.
We motored through the evening waves out to a spot about 2 miles from the breakwater where over the years a group of Galapagos sharks have become accustomed to the fisherman pulling up their crab traps and feasting on bait that falls out of the traps. Now, as soon as the sharks hear a boat motor they come up to the surface from 200 feet down. One company runs shark encounter tours where they put guests in a steel cage and lower them in the water for an up-close-and personal encounter with these relatively tame sharks. Don knows where the spot is and takes his guests out there to see the sharks as they swim around his catamaran. He has actually gotten in the water with them, as has his daughter Paulina. These Galapagos sharks are known as "bumpers" instead of "biters" which means that they bump the seal, fish, or person to see what it is. They eat diseased fish and sea mammals, so their role in the ecological balance of the sea is important. They have bumped Don, and that is all they do.
We got to the right spot with only a bit of light left and sure enough one shark came by and Jonathan fed him some small tunas we got from a local fisherman. It was quite something to see them take the fish almost out of his hand.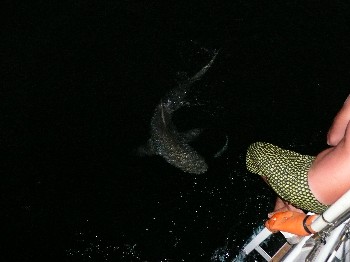 A Galapagos shark comes up from 200 feet
deep to dine on some tuna.
We then sailed for an hour back in forth in the bay under the stars. It was grand evening with some very nice people and now good friends. I would highly recommend Don's North Shore Catamaran Charters if you want to do something very special on the North Shore of Oahu or better still to get away from the hustle and bustle of Waikiki. See his web site at www.sailingcat.com or call him at 808-351-9371or email him at: info@sailingcat.com.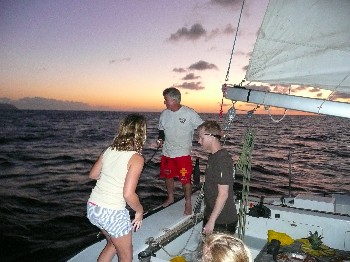 Don at the helm.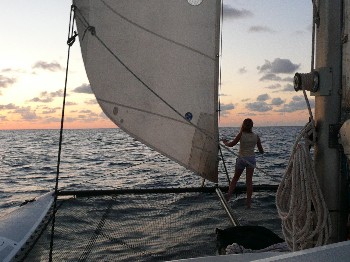 Paulina at the bow.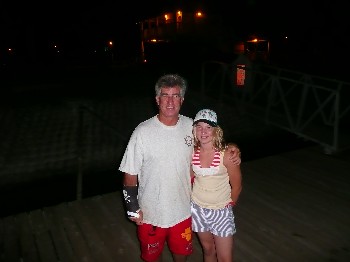 Don and his daughter Paulina,
whose enthusiasm and naturalness
was delightful.
Friday, May 30, 2008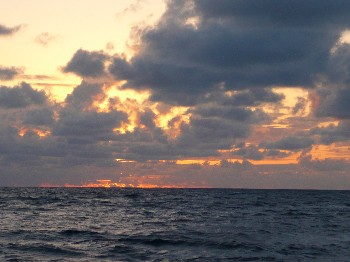 Sunrise as we say "Aloha!" to Hale'iva.
We woke up early this morning at 3 a.m. and quickly got underway for the big 85-mile trip to Hanalei Bay. This was our biggest passage since we crossed the Pacific Ocean and arrived in Hilo back in March, and we wanted to get it over with. We had steady winds and smooth seas as we made our way west. About halfway at 45 miles out you can see both islands of Oahu behind and Kaua'i ahead. We were really looking forward to Kaua'i as we had heard so much about its beauty and lack of commercialism from many of our friends. After the busy-ness of Oahu and the rampant commercialism and just plain business in Honolulu, we were looking forward to being in a more natural environment and just enjoying the beauty of Kaua'i.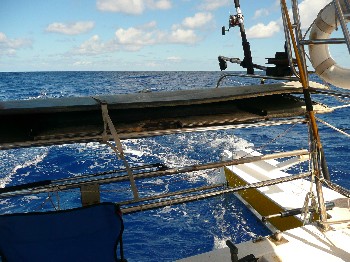 Back to the beautiful blue of mid-ocean water.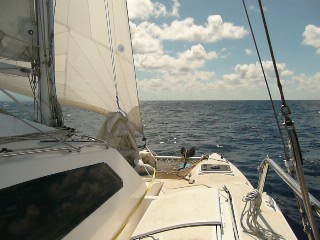 Nice puffy white clouds for our crossing with
just the right amount of wind.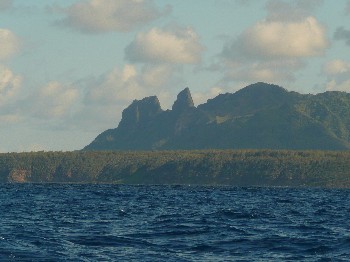 Pinnacles of the northeast corner of Kaua'i.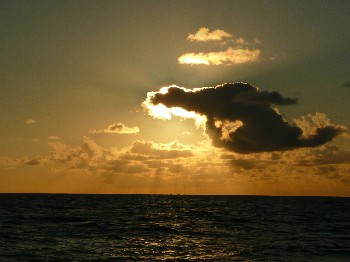 Sun scoots behind a cloud
but isn't quite ready to set…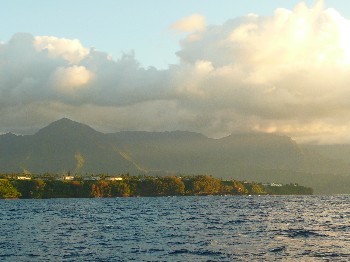 Rounding the point where the Princeville Resort
and town are located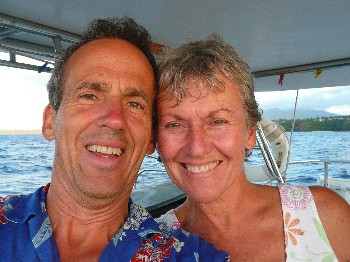 Happy to be in beautiful
Hanalei Bay at last.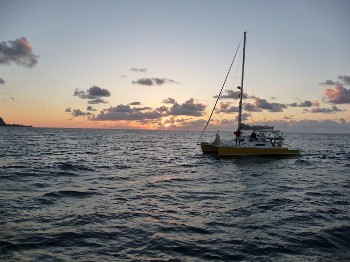 Light Wave, Garett, and Carllie entering
Hanalei Bay. Picture taken by our friend Tim Holley
as he was leaving.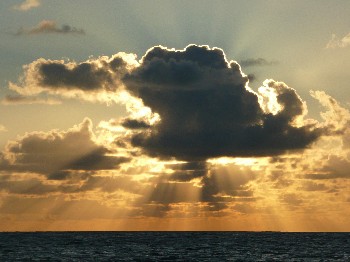 The best sunset on our trip so far. Note the ring of white
around the cloud.
Saturday, May 31, 2008
This is such a beautiful spot with the dramatic green backdrop of the serrated mountains.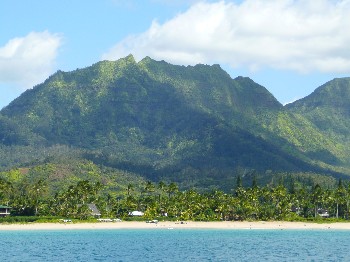 Hanalei Bay is unique and beautiful with
its full 2 or 3 mile white sand crescent beach
framed by beautiful craggy green covered
volcanic mountains.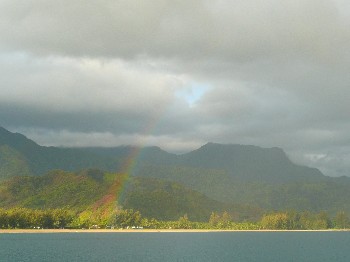 As there is a small shower or a big deluge
pretty well every day, we have seen
many beautiful rainbows. Unfortunately,
we get so excited we haven't taken any
really good photos of them yet.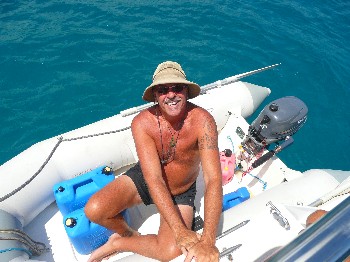 Kevin visited from his Gemini catamaran,
anchored nearby. He gave us the rundown
on where to find what on shore and was
very helpful.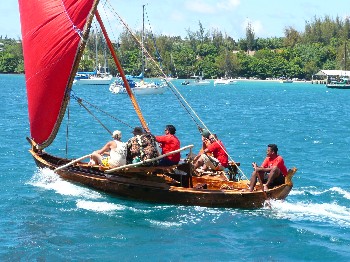 A traditional sailing outrigger canoe
whips past. Throughout the day, surfboard
paddlers, kayakers and sailors of small boats
such as this one pass Light Wave where she
lies at anchor in the bay.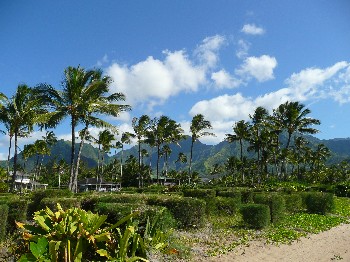 View from the beach across some
protective shrubs to modest to somewhat
grand homes built on very pricey land.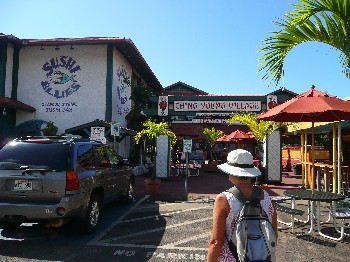 Checking out the local markets.