December 2007 – Catamaran Sailing Cruising in the Sea of Cortez
---
Saturday December 1, 2007
Carllie: Can it already be December? With the south wind giving us a break and the rain stopping to make way for sun, we motored to shore and I did three weeks' worth of laundry in the great facilities provided by Singlar marina next door. Although I have gotten used to hiring my laundry out, it is nice to do my own as some of these Mexican senoras use too much soap and they don't have enough water to do a thorough rinsing, so the clothes come back a little sticky!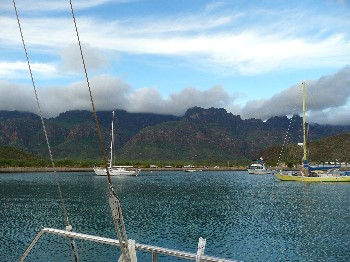 Anchored at the Ellipse at Puerto Escondido.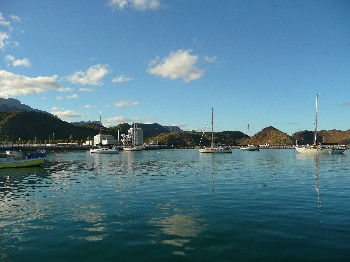 Finally back to sunshine after four overcast days!
Sunday December 2, 2007
Carllie: Today we socialized: We participated in a potluck brunch in a space provided by Singlar Marina ashore where we met a lot of cruising and land-based folks.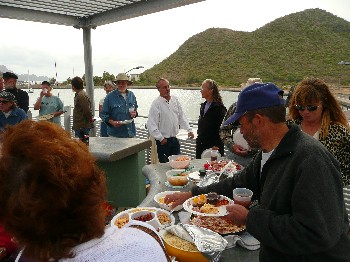 Potluck brunch meeting other cruisers and
land-based Americans and Canadians.
Then in the evening we motored over to another boat, Angelos, and where we had been invited to share prawns with Kip and Mary. It was great to get to know this friendly couple who hail from Courtney, B.C. I contributed a rice mixture and a baked fruit crumble, in which I had used up all of our soft apples and a few oranges, which turned out pretty good and will likely make a standard treat for us in the future.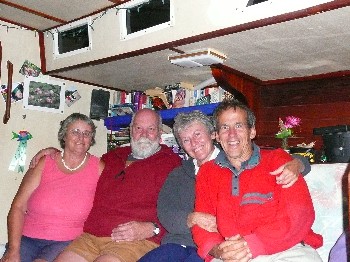 Visiting with Mary and Kip on Angelos.
This day we sat out a norther, but it did not blow too hard. Nothing like what we had sat through for four days on three anchors back at Este Ton in October.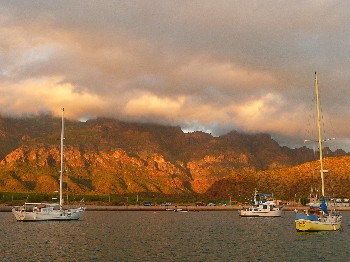 Our anchorage at Puerto Escondido.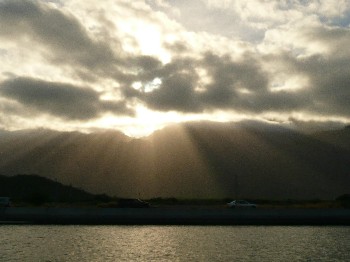 A dramatic sunset through the clouds at Escondido.
Monday December 3, 2007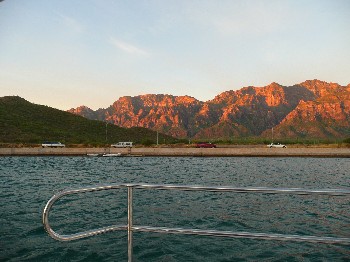 A pretty sunrise at Puerto Escondido ends another
very chilly night and promises a day of sunshine and warmth.
At night temperatures are now dropping to 54 degrees F., and we shiver, wear socks to bed, and snuggle way down under our two Polartec blankets. Our blood is so thin now, we are sure we will freeze to death during our first winter back home! Never mind. We will have all those friends to warm our hearts!
Tuesday December 4 to Friday December 7, 2007
We spent a few days writing our December 5 web update and getting an internet connection at the nearby Singlar Marina facility. Finally by Friday we were now up to a whole week here and we just had to start moving again. The barnacles were starting to grow on the bottom of the boat! It is time to go.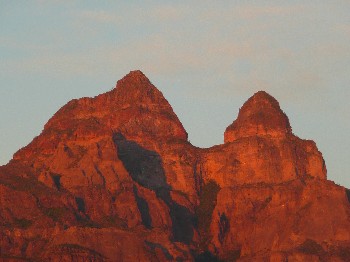 These are the mountains just to the west
of our anchorage at Escondido, called
"The Two Gorillas." The one on the
left is a standard black gorilla
and the one on the left is a Silverback.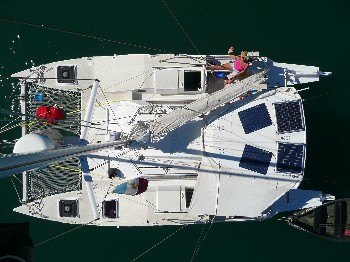 Here is the view from the top of the mast,
35 feet above the water. Doesn't Light Wave
look yar?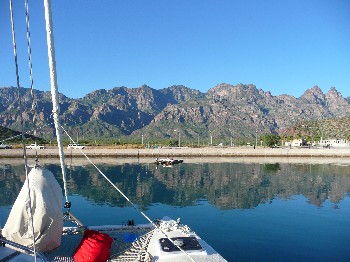 Beautiful early morning view on our last day at
Puerto Escondido. You can see the "Two Gorillas"
on the far right.
When we finally got going at 1 p.m. on Friday, we had a near miss as we left the small anchorage as I had forgotten to put the second rudder back in its slot (I take it out at anchor to stop the rattling). This meant that we were only steering with one rudder. Oops my job, my fault. I had just pulled up the anchor as Carllie was steering and we just missed the expensive solar panels off the back of a fella's boat as Carllie didn't have enough steering power. Usually I put the rudder back in the morning as part of our morning departure routine but after a week I was starting to forget things – a sure sign we have to get back on the water.
Carllie: I have to add here: Garett kept saying, "Watch that boat!!!!" and on and on, while I struggled to turn the boat that was just not responding… It was hard not to rub it in too much when we got out into the channel and I discovered El Capitan had not put in the second rudder!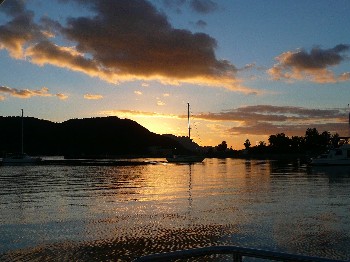 The sun dawns on a peaceful scene at Puerto Escondido.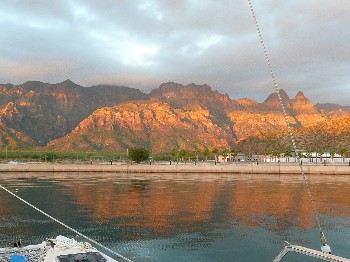 Another view of the spectacular mountains at
Puerto Escondido.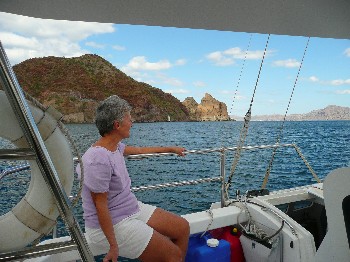 Finally under way after our close call
because of only having one rudder in the water.
(Notice how calm and kind Carllie looks??? No
screaming; no recriminations (well, beyond a point!)- C)
We motored only two miles over to Isla Danzante and as we approached Honeymoon Cove, the anchorage we wanted to try out, we spotted another sailboat approaching, and Carllie said, "Isn't that Moon Hunter?" Sure enough, our friends Bill and Miriam, whom we had not seen since Bahia Los Angeles in the northern Sea of Cortez almost two months ago, scooted into the cove just before us, waving cheerily. They are very experienced long distance sailors who hail from Sechelt, B.C., and it was quite hilarious watching them: they lowered their anchor, backed off to set it, and were sitting casually on the deck waiting for us within about 2 minutes. We tied up to them and caught up on our mutual recent adventures. We were going to anchor off about 100 yards beside them but Honeymoon Cove is a very steep-sided anchorage open to the southwest so we decided to move on, sailing another 10 miles to Candelero Chico, a very small bay.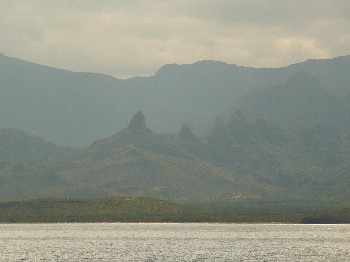 Peaks of the Gigante range west of Loreto.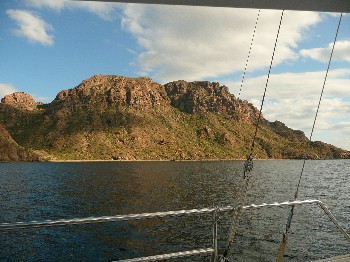 More mountains…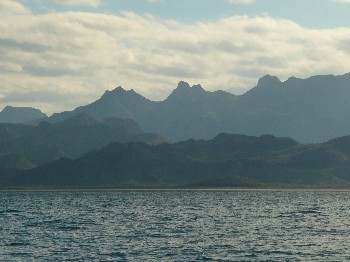 …and even more mountains…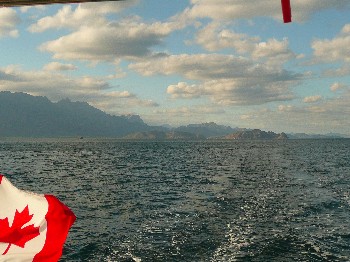 Fast sailing to Candelero Chico.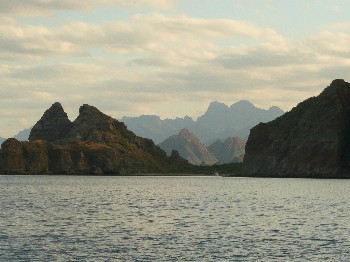 Approaching tiny Candelero Chico with
one boat hidden inside.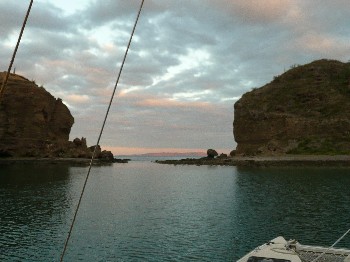 Nestled in at Candelero Chico just before dark.
We had a great sail to Candelero Chico, and arrived just before, anchoring close to the beach just near a nice cruising trawler, Storm Haven, having met the couple on board further north. They called over and told us to watch for the burros on shore, and sure enough while Carllie prepared dinner we saw a couple of playful burros on shore who we could initially hear their neck bells and then later spotted as they roamed the beach. They were really quite playful almost like dogs, bumping each other and running around.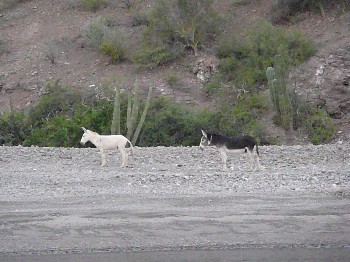 Burros playing on the shore at Candelero Chico.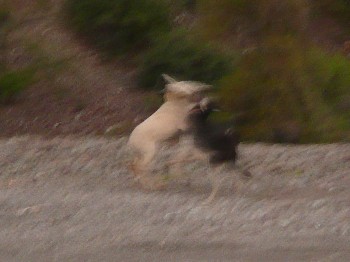 Saturday December 8, 2007
We hadn't been in the water snorkelling for almost 2 weeks so we both headed to the west shore by dinghy and had a good time exploring the shore and even managed to spear a small grouper.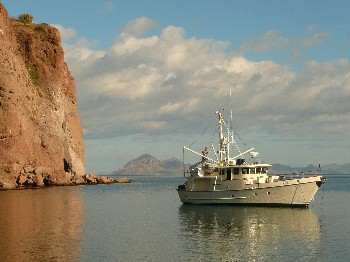 Storm Haven anchored near us in
the very small Candelero Chico.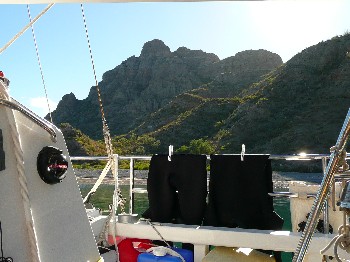 Dramatic mountains surround us.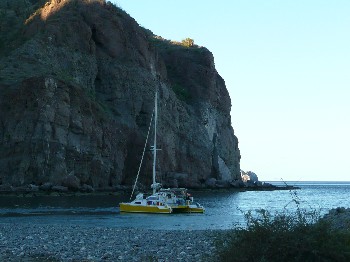 Anchored all by ourselves for our second night
The other boat left on our own and so we went for a walk trying to find the burros. I kept telling Carllie we would find them and then maybe go for a ride. After reaching a dead end in the trail after an hour with no burro rides in sight, we gave up for the day. This is another really special place.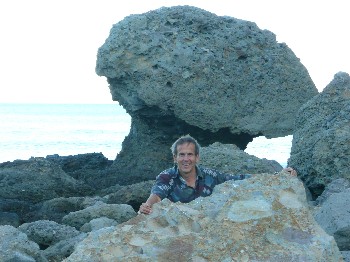 Exploring the shore at Candelero Chico.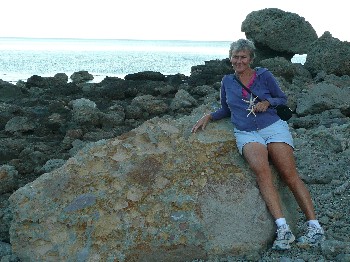 I found two great starfish skeletons, that were
nicely desiccated by the s un and washed by the sea,
so they have preserved well for my collection.
Sunday December 9, 2007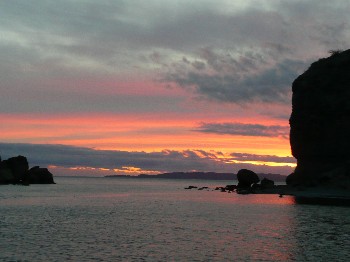 Clouds at sun rise at Candelero Chico.
After a beautiful dawn we headed out for the next 20 mile jump to Bahia Agua Verde. En route we caught up with Bill and Miriam again on Moon Hunter, and sailed side by side for an hour and then ended up motoring under cloudy skies with the threat of more rain, our second rain storm in two weeks.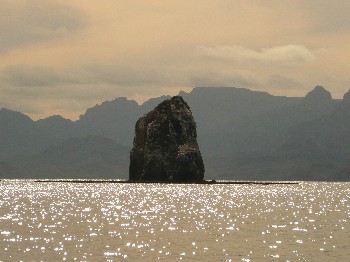 Here is a pinnacle rock that is about 2 miles form shore
approaching Agua Verde. This picture taken at low tide
shows the reef that ominously surrounds the rock and would
not be visible at high tide. You have to keep your distance here!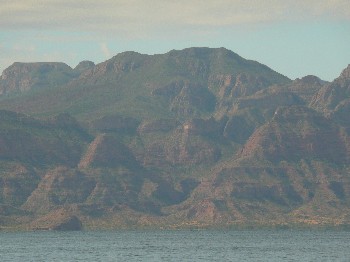 Dramatic backdrop at Bahia Agua Verde.
Monday December 10, 2007
After the overnight rain, Bill, who is a serious spear fisherman (C: actually, a rabid spear fisherman!) and has been free-diving since he was 4 years old, took me out to the point at the entrance to Agua Verde. He had encouraged me to try spearfishing when we first met them over a year ago at Turtle Bay, while making out way down the outside of the Baja. This was before I had even snorkeled and at the time the thought of spearfishing was kind of overwhelming! It is amazing to watch Bill in the water as he looks almost like a fish. He would dive down to 20 feet and just wait there for the longest time. It was great fun but after 40 minutes we were both so cold in the 69 degree F water even though we had wetsuits, although I unfortunately did not have a hood. However, I did manage to get my first parrot fish which are very elusive and turned out to be fantastic eating that night.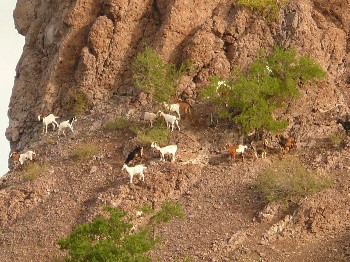 A big herd of goats makes its way across the hillsides
as we approached the eastern bight where we anchored.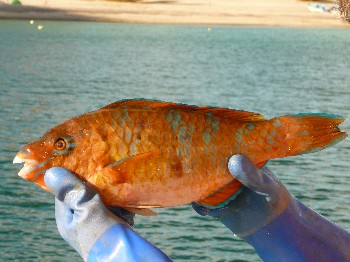 Garett's first parrot fish. Very colorful.
zz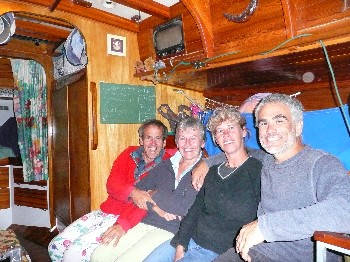 Enjoying Miriam's cooking and Bill's endless tales
aboardMoon Hunter at Bahia Agua Verde.
Tuesday December 11, 2007
It was calm in the morning so we decided to leave Moon Hunter behind and head down to Los Gatos. After a few cloudy and rainy days it was nice to see the sun again.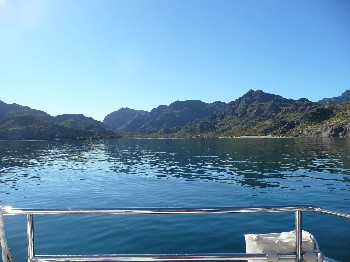 Thankfully, the skies cleared after two days
of rain and cloud.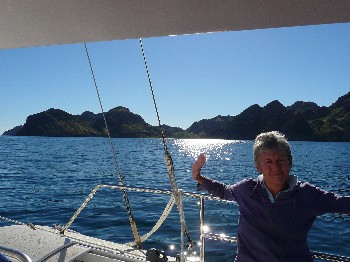 Basking in the warm sun en route to
Los Gatos from Bahia Agua Verde.
Carllie: While we were out a ways from shore en route to Los Gatos, we wanted to test the deployment of our parachute anchor… This is the Paratech Parachute Anchor that we bought about a year before we left home. We had tried it in home waters, but were not happy with our deployment system. Another very experienced blue water cruiser, Iian Young, who had given a class on Storm Tactics at one of our Blue Water Cruising Association meetings, who also owns a catamaran, a big heavy-duty Wharram, strongly advised practising with your drogues and parachute anchors in calm weather before you really need them. We figured that was pretty good advice: same as practising man-overboard techniques when you learn to sail. We knew we had to get comfortable and confident with our system. Otherwise, when the wind is over 40 knots and the seas have gotten big, there is a good chance you could make a mistake in deploying it and then not get the protective benefit of it. Other very experienced blue water cruisers, Joe and Kathy on Katy Kat, who are from San Francisco, sailed for several years in Australia and whom we first met in Santa Barbara on the California coast on our way down, said they use the parachute anchor whenever they just want a rest from sailing.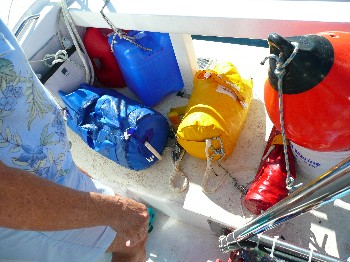 The bags of the system ready to deploy, in the right
order: red, yellow blue.
Carllie: When we leave to cross the ocean, we will secure all four components of the parachute anchor system to our aft starboard hull, ready to deploy. I remember it by the most urgent color to the least: red, yellow blue. When we deploy, we throw over the big red buoy first with an additional long trip line that we have in the pail, then the red bag which contains the original trip line that comes with the system, then the yellow bag from which the big parachute itself unfurls, then the blue bag with 350 of special springy line which is connected to Light Wave at the port and starboard bows, thus holding the boat into the waves. We practised this four times after we left Agua Verde, each time getting better at it. I threw all the pieces overboard, with the idea that if for any reason Garett was incapacitated I would know how and be able to do it. As soon as the 350 feet of line feeds out and reaches the end, the boat slowly stops and turns around into the waves, just like it does if you are in a harbor at anchor. The parachute opens, and slows the boat's motion right down. We know one couple here who are from Anchorage, Alaska. On their way down here, 18 years ago, they ran into a severe storm in the Berring Strait off Alaska, with winds up to 85 knots. They deployed their parachute anchor and safely sat out the storm, in relative comfort with motion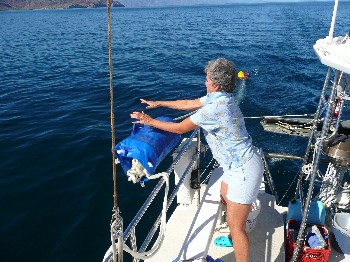 Practising deploying the parachute anchor.
Garett: After our 3 hours of practice we resumed motoring and came to another amazing spot called Los Gatos. The colorful read rocks were so red.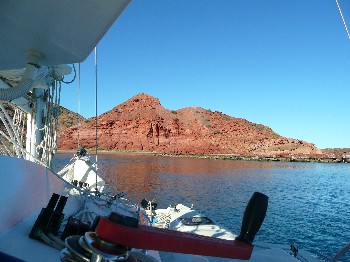 Approaching Los Gatos.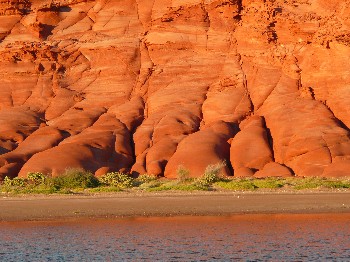 Beautiful rock formations at Los Gatos.
We found a cozy spot for the night and looked forward to some exploring shore and of the nearby reef. Carllie decided to cut my hair again and did a pretty impressive job – unfortunately no before and after picture – next time.
Wednesday December 12, 2007
We woke up at about 3 o'clock in the morning to the boat rolling in the fresh north winds that had come up. We had thought that there was enough protection behind the reef at Los Gatos, but it turned out the swells mercilessly wrapped around the corner. We made a quick decision to head off on the 25 miles south to Punta Evaristo, both disappointed that we would miss our shore expedition. It looked so promising.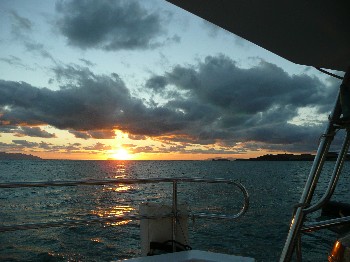 A windy and rolly dawn at Los Gatos.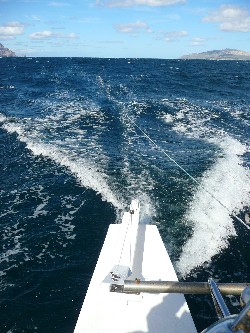 9 knot sailing south to Punta Evaristo.
You can see that we are dragging our Aquair
power generator through the water. We
found out it only reduces our speed by
about 0.2 kts., while generating about
3.5 amps of power.
In the strong north winds of about 25 knots we made great progress and was another good test for the boat.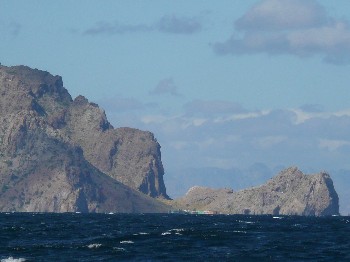 Sailing by Punta Napolo.
Thursday December 13, 2007
We anchored securely at the bay in Punta Evaristo, re-assembled the dinghy, and motored to shore to the micro village (100 people – 1 store – sometimes open) to see if we could find the store. From a neighbor we found out the owners were away so we went for walk with directions to a river bed where we supposedly could find these crystals embedded in rocks.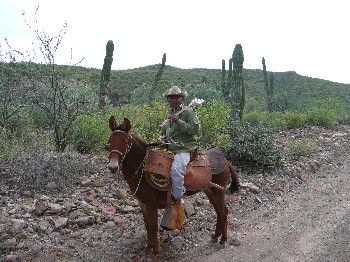 Francisco, an elderly Mexican man, rides his mule
to and from his casa near Evaristo.
Carllie: It was an interesting hike, but it's pretty hard to examine all the rocks to find that crystal rock! We were lucky, though. We walked quite a long way along th dry river bed, then turned around, and on the way back up on the edge of the bed someone had left a big amalgam rock that they had broken open, which had a nice big crystal formation inside. So we scooped it, and stopped looking at every rock, picking up likely suspects and smashing them against other rocks.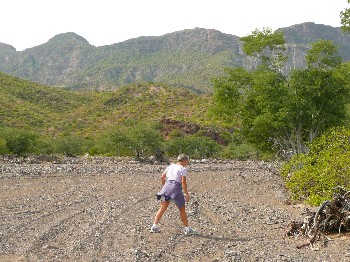 Looking for amalgam rocks that
contain crystals. Like looking for
a needle in a haystack.
Garett: We eventually found the river bed which was dry but would be very exciting when there is rain after a hurricane. We walked along trying to pick promising rocks which I would then be encouraged to lift over my head to smash against a bigger rock on the ground, hoping to break it open. After about lifting and trying to break 100 rocks I was exhausted and we still hadn't disentombed (is there such a word?). Carllie still seemed to have alot of energy left to keep picking out more possible rocks but I was spent. As we made our way back down the river to the road on the riverbank we spotted a crystal in a broken open rock! Maybe the rocks break open naturally. We at least went home with one souvenir.
Back at the boat I decided to clean some of the barnacles that were growing on the bottom. After an hour of hard work I went to the nearby rocks to spearfish. There were quite a few fish and then a small school (15) of these yellow tail fish which are called "Goat Fish"( they have a distinctive goatee trailing down from their lower lip) swam by. I had seen this type before but had never tried to get one. I fired my spear gun and amazingly I speared two fish with one shot! I couldn't believe it. We cooked them up for dinner and they were really tasty.
Friday December 14, 2007
Garett:: We thought we would go for another shore trip to check on the store. When we reached the beach we could see this big dog bounding down the beach. I yelled out to him in English, "Come here! Come on!" in my best dog encouragement voice which prompted to get very excited and come racing to meet us at the beach. He jumped in the boat and was all over me. Not a very imposing watch dog. He was definitely another love starved Mexican pit bull.
Carllie: You know, to see these dogs you would think they would be mean, but they are so affectionate, one wonders how they get a bad rep. Maybe it's their owners' personalities rubbing off on them?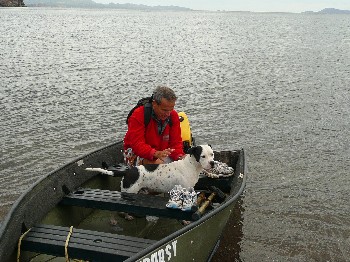 Very friendly pit bull jumps into our dinghy
to say hello. He bounded all over us when we
got out to walk to the tienda, and was
just as friendly the next time we came ashore.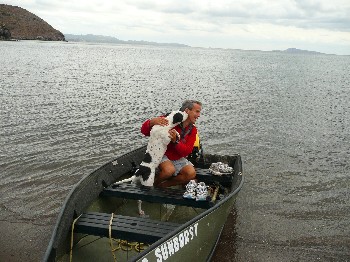 We tried the store again but no luck so this time we went for walk to north to the salt pans where we hoped we might be able to scavenge some sea salt. After a pleasant walk we came to the pans but they appeared to be in disuse with only some saline water in the pools (maybe the rain had put a damper on things) but no salt.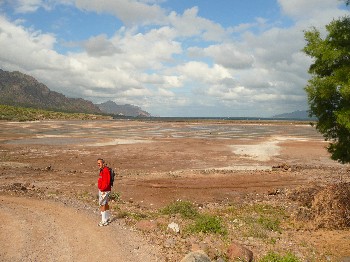 Walking around the salt pans at Punta Evaristo.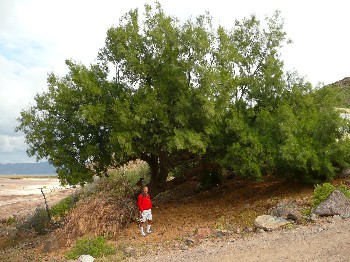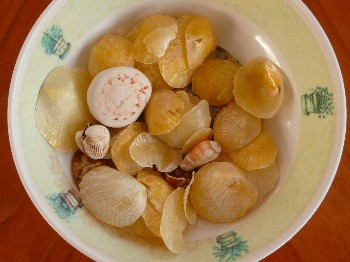 Carllie: We picked up a great selection of these lovely
yellow transparent shells (and one or two other
types) that can be used in making jewelry (if I
ever get to that!) Each beach offers different shells.
Saturday December 15, 2007
We were going to leave today and continue heading south but it was really windy, so windy that we couldn't even go off in the dinghy to again check the store again for the third day.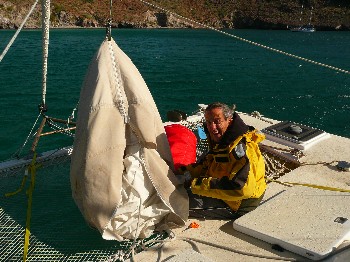 Garett repairing our jib sail cover.
We remained boat bound and did some boat work and reading. It still was a very sunny day.
Sunday December 16, 2007
Carllie: Meanwhile, Moon Hunter caught up with us and was anchored not far away. Bill and Miriam do not have a motorized dinghy, but more of a standard rowboat with two sets of oars. When they are both in it, they go like gangbusters hauling on their oars, but it is heavy weather for one person to row a long distance to shore. So I picked up Miriam in our dinghy and we motored in to again try our chances with the tienda. Luckily, this time it was open, and as the owners had been away stocking up, there were fresh bags of produce. We stocked with what they had, confirmed that yes, they are open "Todo los dias," meaning every day, and scratched our heads as to the meaning of "every day" in the Mexican psyches. Ah well, we didn't starve, and what's the rush?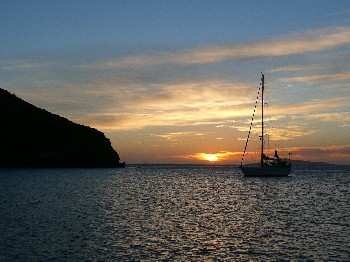 Sun rises at Punta Evaristo.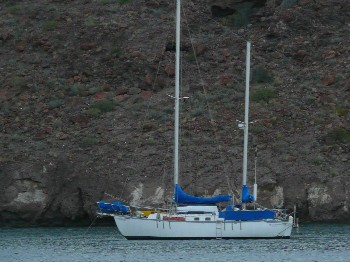 Moon Hunter in Punta Evaristo.
Garett and Carllie: There was still a bit of wind left over from yesterday but it had calmed down considerably (we thought) so we headed out hoping for a good sail. We weren't disappointed as we sailed at 5 to 8 knots all 25 miles to Isla Partida (just 25 miles north of La Paz).
The first 12 miles to Isla San Francisco, things weren't too bad, but once we cleared Isla San Frnacisco, we were no longer protected from the sweep of swells and waves that had built up over the last three days of intense wind, so things got a wee bit rocky. Raaaalph! Beuuulagh! and Euuunice! almost paid Carllie a visit, so she resumed the safe position of prone on the settee, and let Garett have the pleasure of a boisterous sail to Isla Partida.
Bill and Miriam had recommended we try the small anchorage of Cardoncita (Little Cardonal) instead of Cardonal. We tried it out and found it to be the nicer than any bay we had previously stayed in these islands, with spectacular red cliffs surrounding you and room for about 3 boats. We were lucky and were the only one there.
Monday December 17, 2007
We spent a quiet day of reading, hiking, and garbage burning as you will see below.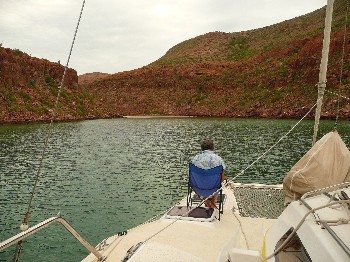 Carllie reading at Cardoncita, where we had
the anchorage all to ourselves for two nights.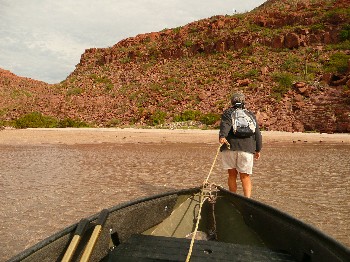 Reading for a walk on shore.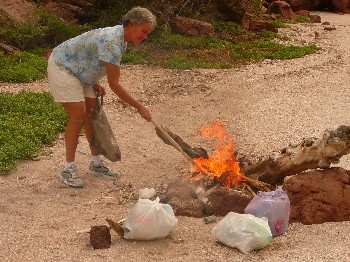 Again, we burned our burnable garbage
so we wouldn't have to take it back to
La Paz with us.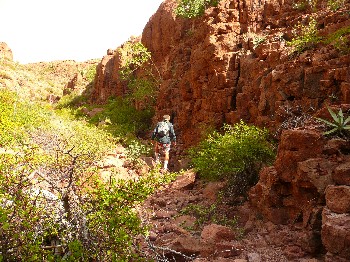 Hiking up a short rocky trail, to
find an interesting well used now by
thirsty honey bees.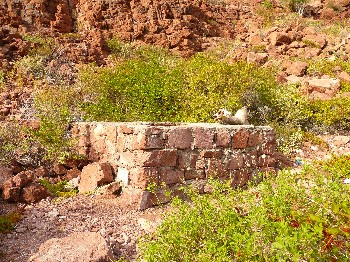 We don't know when this well was built,
but there is still water in it, and Bill Brooks
told us he loves doing his laundry here.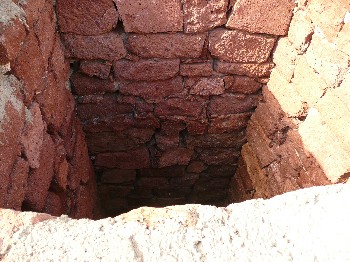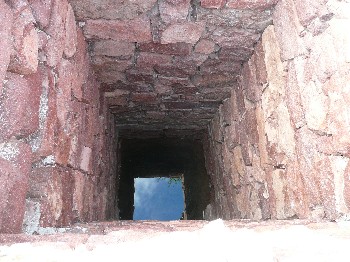 You can't see them, but there are dozens of honey bees
buzzing around the water, as water is scarce here as it
was in the northern Sea of Cortez.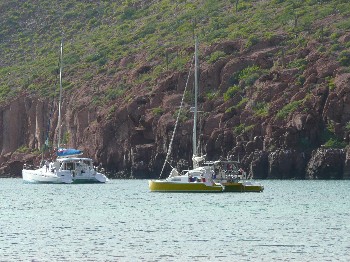 Another catamaran came in for a couple
of hours but then left before dark. It was
one of the fleet of catamarans that Moorings
offers for charter out of La Paz. At the prices
they charge ($5,000 to $6,000 for a week),
we figure we have got a pretty good deal!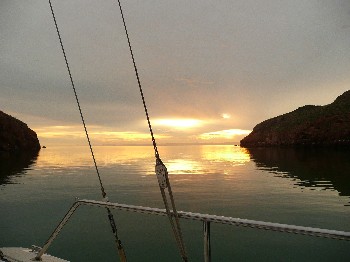 Beautiful sunset. You are protected from all
directions except for southwest so you always
have to be prepared to leave in the middle of the night.
Tuesday December 18, 2007
Garett: We were very excited to get back to La Paz and civilization after two and half months in the northern Sea of Cortez so we got an early start on the 25 mile trip, which we had to motor the whole way.
It was great to come back to this great little city (our favorite, just ahead of Guaymas) and anchored off the Magote. We took the dingy in to Marina De La Paz to see about a slip though Christmas so we could do the work we wanted on the boat.
We made arrangements with the office to come in tomorrow and then proceeded to hit the town to do some shopping!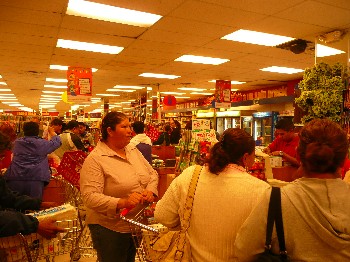 Carllie: Ahhh! Back in civilization! WAIT!
What are we saying? The crowds in the big
supermarket, C-C-C, that I very nearly fainted
during the interminable wait for a cashier, due
partly to not drinking enough water, but also
due to the crush of people.
Wednesday December 19, 2007 to Sunday December 23. 2007
We made our way into the end tie at the marina. Our projects for the 8 days we would be here were:
Extend the rudders 12 inches each
Have the mainsail modified by having the battens removed and the roach trimmed off so we can raise and lower the sail down wind.
Reinforce the bridle attachments points for the head stay in the bows with more epoxy and fiberglass.
Have a good welder extend the autopilot extension arm for greater range of motion.
After settling in to the marina we started our numerous shopping trips for marine supplies, wood, and epoxy. The next four days were busy as we wanted to get most of the work done by Christmas.
The wind came up on the 21st. Little did we know this would be almost 7 days of strong north winds.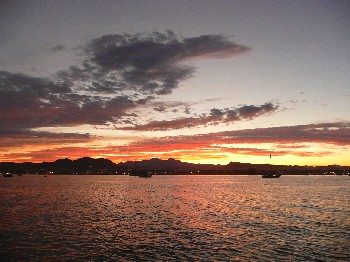 The view of La Paz from where we were anchored.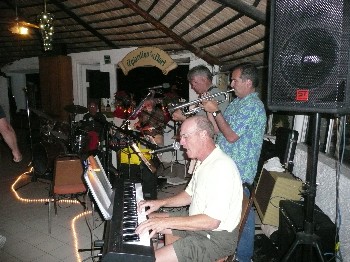 We enjoyed a night of fabulous music
at the nearby restaurant, courtesy of
the talented cruisers and land-based
American and Canadian musicians.
John, playing the trumpet, is amazingly
talented, as is Scott, on the keyboard,
who is also a great singer.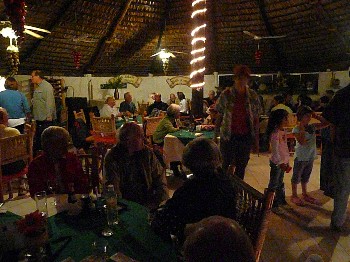 Enjoying music and friends
at a nearby restaurant.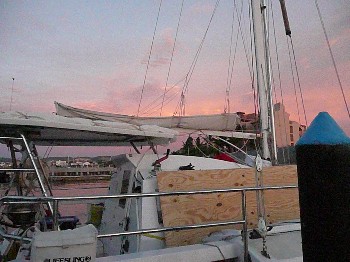 Uh-oh. Garett gets at it again.
Will the work ever cease? Maybe I will write a book
about this journey: Modifying your Catamaran Under Way, or…
Does Boat building Ever Stop?, or… It's Always Something!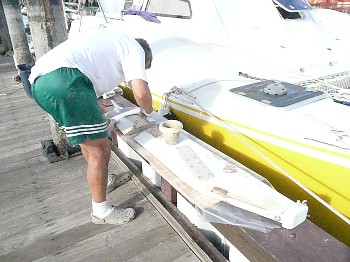 All right, already. We know you are an engineer,
and a brilliant boatbuilder, but can't you just STOP?
Seriously, changes Garett made to the rudders and had made to the tiller extension, have already proven (since we left La Paz to return to the islands) to make a huge difference in the maneuverability of the boat.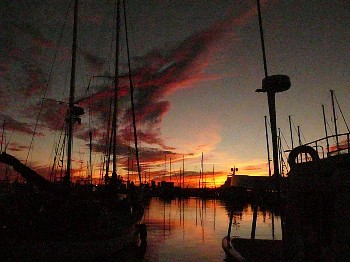 Clouds smoke through a dusky sky
as sun sets on peaceful Marina de La Paz.
Monday December 24, 2007
The last two days have been work days as I tried to finish off our epoxy projects on the rudders and the reinforcing of the bows before Christmas.
Carllie: As last year, we participated in the wonderful Christmas Eve day potluck feast at Club Cruceros on the property of the marina, where everyone brings either a savory or sweet dish, and shares. This time it seemed there were about three times as many people attending than last year, and the choice of food was wonderful. We certainly did not need to make dinner afterwards, and except for the really cool temperatures, we really enjoyed socializing with everyone.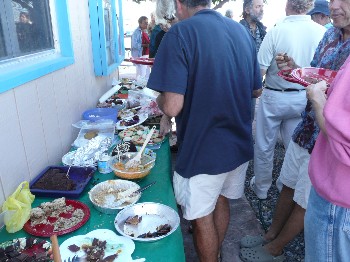 Wonderful spread of pot-luck dishes
at Club Cruceros enjoyed by all the
cruisers and local Americans and Canadians
who are also members of the club.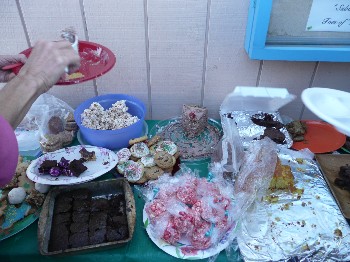 What a handsome couple! Miriam and Bill Brooks
in their Santa hats at Christmas Eve feast (well,
Bill has lost his hat…). Hey Bill! Why aren't you
spearfishing? Whatzamattayou?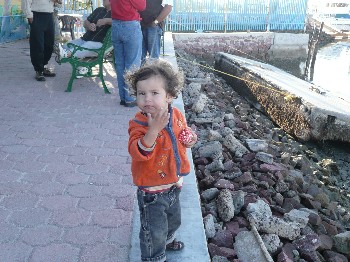 This is Juauepurro (pronounced WHY kay PURR oh
with those rolling Spanish r's) (spelling?) whose mother is
from Venezuela and father is German. We saw
the family often while we stayed at Marina de La
Paz during Christmas.
Tuesday December 25, 2007
Garett: The group present for everyone in the marina was a beautiful calm sunny day until 4 pm. It was such a change after the blowing of the last 5 days.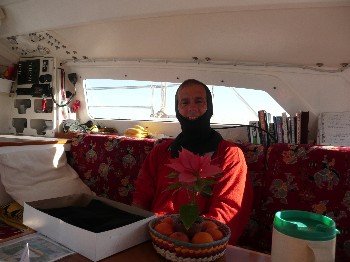 My present: new "gorro" (aka diving hood)
to keep me warm while diving. Wow!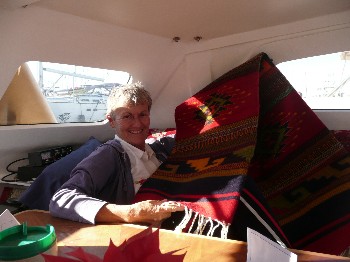 Carllie's new wool rug for our hallway
back home.
After opening our two presents (which we had bought together the previous day so there wasn't much of a surprise) we then invited Bill and Miriam over for Christmas morning French toast.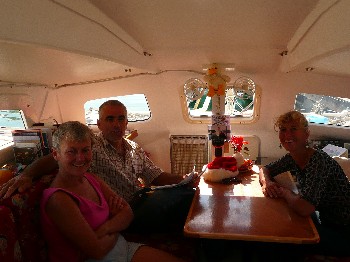 Christmas morning with Bill and Miriam.
For Christmas sinner (ahem that was Garett's Freudian slip…it was Christmas dinner!) we went over to Masquerade to share with our friends Cindy and Tim, whom we had been bumping into on and off over the fall since we first met them in October in Bahia de Los Angeles.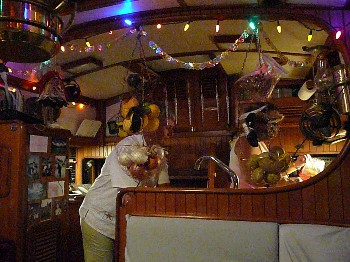 Carllie and Cindy work on getting
Christmas dinner put out.
Carllie: Desafortunadamente (unfortunately), I had been struck with the beginnings of the much dreaded Mexican tummy ailment on Christmas day, thanks to drinking some of the water on the dock without first treating it. I paid for that slip big time, let me tell you, and sitting through Christmas dinner was not as delightful as it usually is. However, it was great to enjoy the warmth of Tim and Cindy's company as well as their cozy teak-lined traditional vessel, and watch a movie afterwards.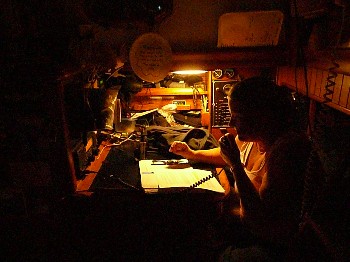 CIndy is net manager for the evening
ham"Southbound" net at 6:45 pm (0145 Zulu time)
so we had to break during dinner so she could handle
the check-ins(only 2). She splits the duties
with several other net controllers.
We had a great dinner of cajun fried prawns, yams, potatoes, caesar salad, and desert. It was great but we did pine for all of our friends back home throughout the evening.
Wednesday December 26, 2007
Garett: The winds were back up today and I was back at my rudder modification project. Our modified mainsail was returned as well. By night fall everything was done.
Thursday December 27, 2007 to December 31, 2007
Garett: We weren't sure whether we should stay in the marina or go out to anchor as I still had to write this article for Multihulls Magazine on how we stretched the hulls 4 feet. In the end we decided to move out so with the help of a half-dozen friends we turned Light Wave around at the dock so we could easily thread our way from the dock.
We again anchored off the Magote and for the next four days I typed away. It was kind of rolly as the wind was up and the strong tides turn your boat sideways to the waves so it was a little uncomfortable. This is known as the "La Paz Waltz." Finally by New Year's Eve I was done so we moved back closer to the marina and I sent everything to the magazine in Boston at an internet cafe, while Carllie enjoyed a special treat of a Chai Tea Latte. Yum yum.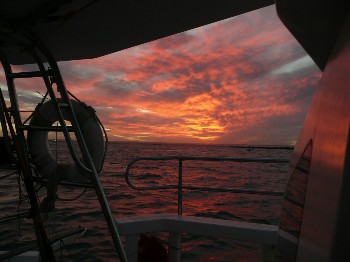 Nice sunset off the Magote.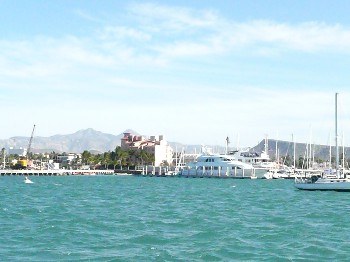 On December 31 we anchored close to the marina.